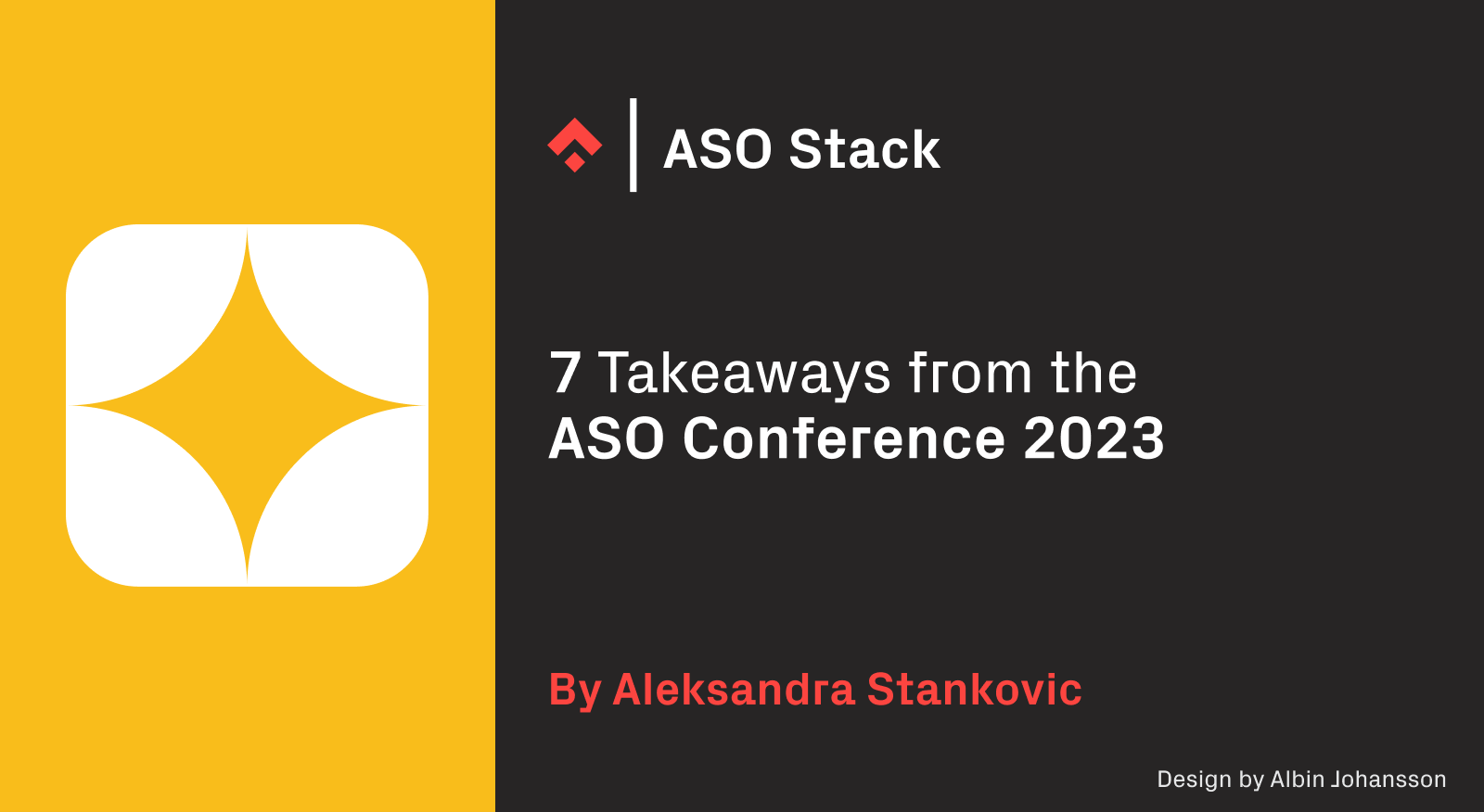 Aleksandra Stankovic is an ASO Consultant with Phiture, and a regular contributor to the ASO Stack blog, and the ASO Stack Slack. As our reporter on the ground, Aleks was there to watch the main stage talks and workshops, and here discusses the main take home messages from the 2023 edition.
Now in its fifth edition, this year's ASO Conference format was carefully designed to be dynamic and engaging. How? With a schedule that's not only topical but related to various aspects of the day-to-day work of ASO, and indeed, apps of various categories. On this, it certainly delivered, the only trouble was being able to see everything! 
If you weren't able to attend this year, we've got you covered. On the day itself, certain talking points quickly emerged from the presentations that reflect the current state of play with ASO, and which are summarized here below as takeaways, while you can access the workshop presentations here.

The Phiture Team at ASO Conference 2023
What to prioritize in creating an ASO strategy from scratch?
Anton Tatarynovich, Senior ASO and ASA Manager at Freeletics, introduced a familiar problem for those implementing an ASO strategy from scratch: work prioritization.
If there's no prior structure that you can rely on, it's particularly difficult to determine what to do first. This is very topical, as ASO is becoming increasingly complex. That said, doing research and collecting all the relevant information will help you understand the app store presence of your app better. Essentially, it means performing an audit for your own benefit.
Anton recommended investigating your creative assets, metadata, ratings and reviews, and the category rank to understand the position of your app. Check whether your assets have merely been translated or properly localized to reflect the local culture. Then, check your competitors and do a market overview. The important competitors to consider are those similar to you in size, market share, and target audience. Learn from their ASO efforts – successful and unsuccessful alike. It's crucial to do visibility and conversion rate analyses as well.
Once you have an overview of your app's performance in the past six months, Anton recommended using Phiture's ASO Stack to break down all the elements and color-code it to create a visual representation of your priorities. This process will greatly help you to develop your ASO strategy for the next six months. 
The main takeaway from this talk was understanding how to assign priority to a certain task. The effectiveness of keyword optimization depends on several factors such as search share, percentage of traffic coming from brand keywords, and the maturity of the app. With each next cycle, keyword optimization becomes less impactful, and if you discover that branded keywords bring the most traffic to your app, optimizing generic keywords will not make much of an impact. 
This leads us to the growing importance of conversion optimization. Being able to determine what growth opportunities your app has will make all the difference.
Is ASA still worth doing? 
Thomas Petit, an independent Mobile Growth Advisor, addressed the hard truths regarding Apple Search Ads, which raised important considerations regarding the relationship between ASO and ASA. 
Thomas outlined ASA limitations that deserve more attention, such as new placements performance, UI limitations, data glitches, auction logic, and attribution reliability to name a few. According to Thomas, even though you may be targeting a vast number of keywords, most downloads come from five to ten keywords, which makes Apple Search Ads a very pricey acquisition strategy. Still, Thomas did not say ASA is not worth doing anymore. On the contrary, he argued you have to be much smarter about it and connect it with ASO to create an overall growth strategy.   
Thomas also underlined that CPPs can be powerful in specific cases, however he emphasized that a lot of people are looking at the results the wrong way. Specifically, he warned against comparing custom CPP data to the default page. CPPs are a direct bridge between organic and paid marketing that is well worth exploring.  

Thomas Petit at the ASO Conference
Thomas also argued you shouldn't compare ASA to other services, but he sees the value of running ASA to inform ASO. He concluded his talk by saying we shouldn't value ASA just by how much money it brings, since the insights we're getting are much more valuable for an overall acquisition strategy. 
The main takeaway from this talk is realizing how valuable ASA data can be in creating an ASO strategy. The future will see both subsumed under a broader app growth paradigm that makes the best out of both rather than choosing one. 
What is Apple Arcade and how to optimize for it? 
One of the wildcard topics at this year's ASO Conference dealt with how to optimize for the Apple Arcade, delivered by Isak Strom, ASO Manager at Bandai Namco Mobile. 
Apple Arcade is a subscription service that was launched in September 2019. It hosts over 200 games that can be categorized into two groups: Arcade ports and Arcade originals. Isak went on to show us what the product page on Apple Arcade looked like, making it clear that creatives such as the preview video and the icon are focal points of this storefront. 
There are a lot of challenges in optimizing the storefront on Apple Arcade. Unlike the Apple App Store, there's no native testing, no option to run CPPs, or subscription promotions. Isak shared his take on overcoming these challenges by testing the non-arcade version of the game on the Apple App Store or Google Play Store and then applying the results to the Apple Arcade version. He went on to list a couple of successful case studies of Galaga Wars and Pac-Man that both used this testing method.

Isak Strom at the ASO Conference
If you're interested in publishing a game on Apple Arcade, the most important takeaway from this talk is to optimize for it the traditional way on the App and Play Store. Despite limitations, it's possible to achieve significant results as Apple Arcade gets large traffic volumes from relevant users with intent. 
Understanding paid-to-organic relationships
As the relationship between paid and organic traffic evolves, it's becoming more important to understand this relationship better for your strategy. For this end, Talia Hermesh, Organic Growth Manager at Playtika, shared her own insights into paid-to-organic relationships and how to analyze them. Talia explained how to examine data for opportunities to grow organic traffic through paid activities and maximize the quality of traffic. 
For example, Playtika has active user acquisition campaigns, including TV campaigns. At the same time, they optimize organic acquisition along with creatives. At Playtika, "data is life." It's very important to measure correctly to define the relationship between paid and organic traffic properly. 
What Talia showed was how user acquisition activities ping the algorithm that leads users to search for an app organically. User acquisition campaigns coupled with brand awareness campaigns lead to an increase in brand search traffic and potential virality. 

Talia Hermesh at the ASO Conference
The important step is regression or figuring out "what Y is from X variables" and predicting the results. For example, this means tracking organic traffic after paid campaigns to determine how many organic installs you're getting for every paid install. 
The main takeaway from this talk was adding this relationship to your KPI list, and then testing gradually to see what works for your app with the end goal of maximizing the ROI. Test results will depend on geos and operating systems, that is, you'll probably get different results on iOS than on Android.
Mastering A/B testing 
Mateusz Wrzeszcz's talk brought to the table a valuable topic, mastering A/B testing, and for this end he brought his experience as ASO Lead at Klarna. 
As Matt argued, "not all A/B tests are created equal." He grouped such experiments into two types: the first type provides observed difference and real-time data, while the second provides predicted, future difference and probabilistic data. 
As is the case with many ASO activities, research is the most important step in preparing an A/B test. Testing is an iterative process, and it requires heuristic assessment, prioritizing, qualitative insights, and past experiment results. To find out more about the process, refer to this blog post by Matt. 
There were (in fact) several important takeaways from this talk. 
The first one is understanding the minimum detectable effect (MDE) as A/B testing is about finding the sweet spot among the conversion rate, minimum detectable effect, and the confidence level. 
The second is grouping your markets into tiers based on traffic volumes, where low markets are not worth testing. If your market is moderate you can consider making bold changes, and in markets with very high traffic, opt for reserved changes as impact to the conversion rate can be significant. Test one hypothesis at a time rather than one element at a time, and don't use the same creative variant in multiple markets. 
The third important takeaway is that statistical significance increases with time, so don't apply experiments after one week. And most importantly, consider applying tied results. Not applying positive ties can limit your progress. 
And finally, the fourth takeaway refers to product page optimization (PPO) and how to make it more reliable. Matt suggested using a third-party Bayesian calculator to confirm your PPO results. 
Going global vs. going local 
The concept of localization was explored in depth by two speakers at this year's ASO Conference, Davronbek Makhkamov, Business Developer at Ulysses, and Anastasiia Baranchikova, Senior ASO Manager at Prequel. 
As Davron explained, most publishers concentrate on the English-speaking markets, particularly the US market. However, the app stores offer access to a range of global markets. Why go global? Because by not going global you're missing out on significant growth opportunities in other markets. 
Instead of focusing on your primary market only, Davron suggested treating all global markets as one, naming this process as globalization. According to Davron, you should start with an English market and simply translate your app, creative assets, and metadata into another language. The next step is trying to localize those same assets, as he says "go beyond borders". He calls this process internationalization. How to do this? Understand the needs of a local market by doing proper research. Try to emulate "a native feel." As Davron stated from his own experience "we went global when we really started going local.".
Continuing this exploration of the localization process, Anastasiia shared insights on how to overcome cultural differences while trying to provide authentic experience to your users in different markets. Cultural research on adaptation to different cultures in different countries is not a new concept in traditional marketing. Anastasiia suggested employing the same technique to your app marketing as well. 
After you've done cultural research, develop different creative assets to test out in different markets. Don't use the same set of screenshots in different countries even if the language they speak is the same. People might not understand the message you're trying to convey and that might affect your conversion rate. 
The most important takeaway from these two sessions was how to approach cultural research. Investigate how close certain cultures are to each other, not necessarily geographically, and get to know your audience. Try to understand the image they have of themselves rather than relying on the image you have of them.  
AI tools: yay or nay 
Since the beginning of 2023, AI has been one of the hottest topics, so inevitably it was one of the hottest topics at this year's ASO Conference as well. ASO professionals Skylar Grabecz, ASO Team Lead at Picsart, Max Ostapenko, Product Manager, and Nataliia Drozd, UA Lead at Fabulous, all shared their thoughts on using AI in their day-to-day work. 
All three of the speakers found value in using AI. Natalie argued it was good for boosting productivity as it can be used for manual repetitive tasks. She doesn't believe AI can replace human workers entirely as humans are better at capturing details and thinking creatively. But she did warn professionals would need to learn how to properly use AI to stay competitive in their fields. She also argued that AI would be extremely helpful in answering user reviews or doing a ratings and reviews analysis. 
Skylar agreed that AI, particularly ChatGPT, can be very useful for keyword research and brainstorming sessions. Another brilliant idea is to use AI to help you reply to your emails. 
In addition to performing manual tasks, Max suggested that ChatGPT could be used to enhance internal team communication, content visualization, and even training newcomers.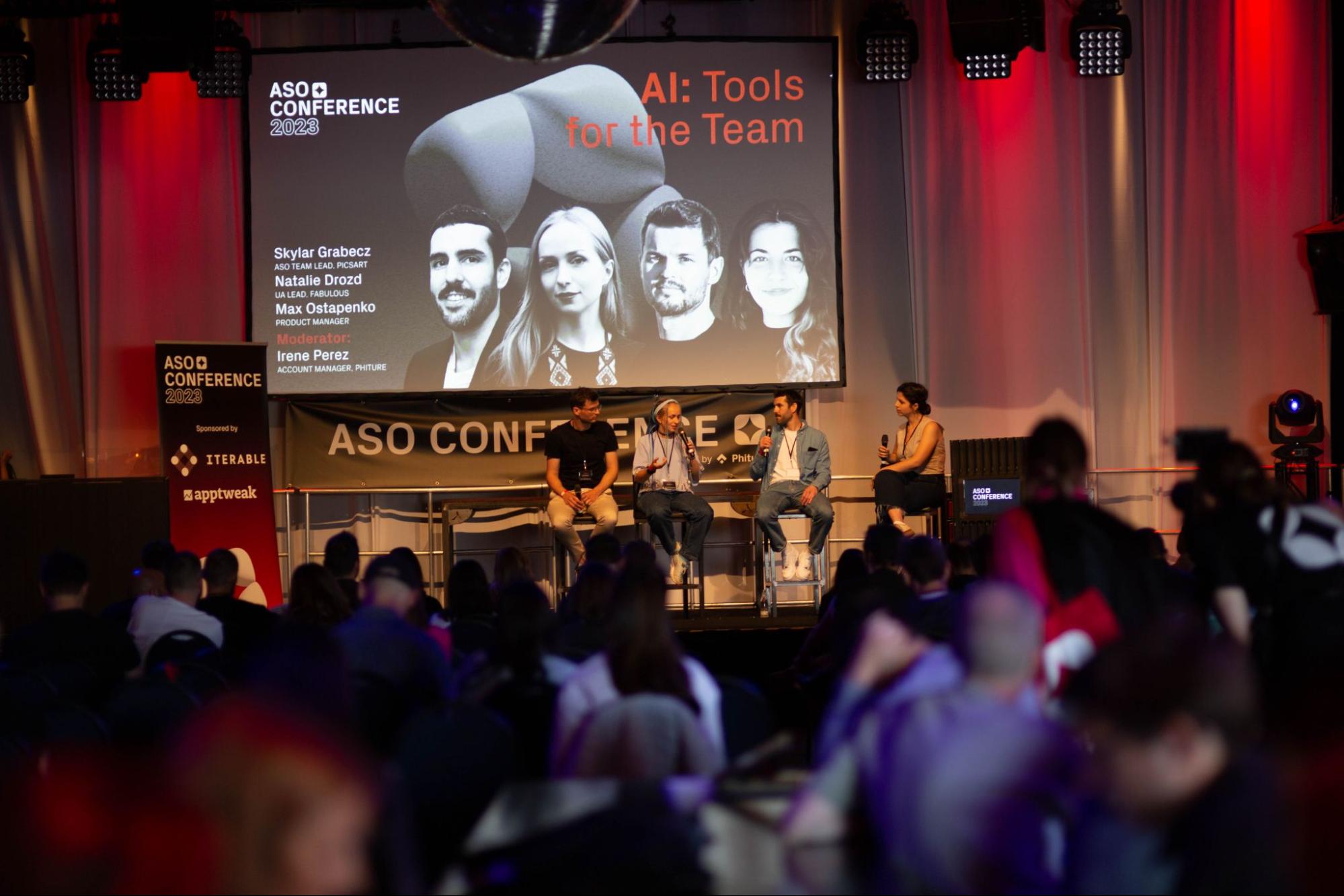 Nataliia Drozd, Skylar Grabecz, Max Ostapenko, & Irene Perez at the ASO Conference
Despite sharing great experiences, all three speakers warned that AI comes with limitations. As everything you say is recorded, you run the risk of leaking sensitive information to third parties, and intellectual property rights or privacy have not yet been regulated. 
The main takeaway is that AI can be a good assistant to experienced professionals who have learned how to write good prompts. Despite advising to approach AI with caution, they recommended getting familiar with it and exploring its capabilities so as not to be "left behind."   
Before you go: 
The welcome speech at this year's ASO Conference was delivered by Wolfang Peters, Phiture's Director of Acquisition, where he reminded everyone how ASO has evolved over the years. Starting from a common misconception that ASO is simply SEO for apps, we learned about the importance of conversion optimization, particularly in the gaming industry, and how ASO has started to merge with paid marketing to create a holistic user acquisition field. Recent developments such as CPPs (Custom Product Pages), In-App Events, and Promotional Content have created a strong bridge between ASO and other disciplines. The ASO evolution is continuing and the future promises to bring exciting developments in mobile growth. To help you navigate this ever evolving field we have

updated the ASO Stack

. This marks the third edition since its first publication in 2017. The updated ASO Stack is more user-experience-centric, interconnected, strategically relevant, and forward-thinking, and reflects the latest updates from both Apple and Google. You can

get the framework here

.    

Need help with your ASO strategy?

Reach out to us to see how we can help you

.
Learn how user surveys and pricing…
---
September 20, 2023
by Pierre Neau
Explore Phiture's AI Labs: Shaping the…
---
September 14, 2023
by Moritz Daan