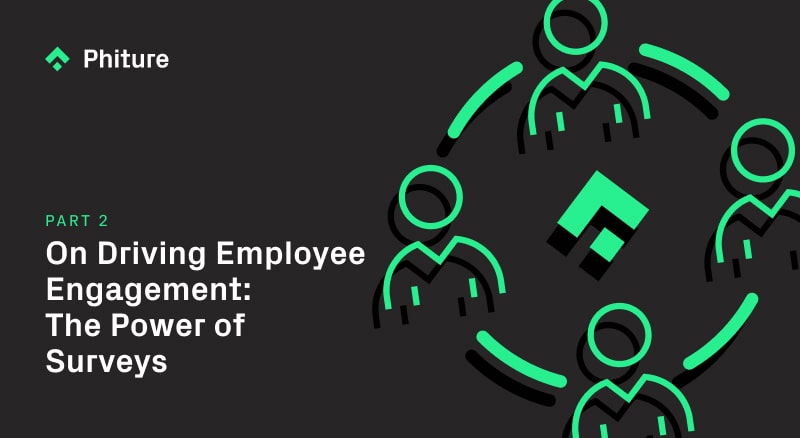 Phiture is evolving. Rapidly. At the start of the year, we were a team of just under 70. Today, as we approach the end of Q2, we've built out new services, expanded our client portfolio, and are edging ever closer to our goal of becoming the world's leading mobile growth consultancy. 
Soon we'll reach the big 100-employee milestone — after that, the sky's the limit. 
While we're grateful for all the company's success to date and excited by the opportunities that lay ahead, we're mindful that such rapid growth needs to be carefully managed. Since day one, we've always wanted to be guided by our company values––most importantly, people-centricity. This means that no matter how big our growth ambitions are or how many milestones we reach, we make sure to keep our feet on the ground and walk towards new missions, strategies, and culture changes together as a close-knit team. 
In our previous employer branding article, we spoke about how the time is ripe to take a step back, look inward, and reaffirm what it means to be part of the Phiture team. So, to kick things off, we've reverted back to what we know works best and launched a company-wide survey. And, in our bid to help improve workplace culture across the industry, we've invited our readers to take part in the survey, and help us build an image of what an ideal employer looks like in today's evolving job market.
Why Surveys? 
According to a study conducted by the Harvard Business Review, 71% of participants said they felt that high levels of employee engagement were the third most important factor in a company's success after effective communication and high levels of customer service. Similarly, a Gallup report revealed that companies with highly engaged teams produce 21% more profits and are 17% more productive than companies without. 
We've always found that surveys are the best way to understand how people really feel about working at the company and drive engagement. In the age of advanced tech, more companies rely on sophisticated algorithms to assess employee engagement using metrics based on time tracking, network connection monitoring, or upticks in people looking for new jobs. For us, giving our team members a voice is by far the most impactful. 
Not everyone is comfortable raising concerns or discussing difficult issues with their managers. It doesn't matter whether this relates to confusion about a new strategy, dissatisfaction with pay, or concerns about career prospects; what's crucial is that team members have the opportunity to express their opinions in the knowledge that whatever they share will be met with zero judgment and will never result in adverse repercussions. 
Every quarter we run a survey across the company to assess how people relate to the Phiture brand and compare the results with previous cycles. While the findings aren't always gleaming with 110% satisfaction across the board, they go a long way in helping us identify drops or changes in morale before they can develop into serious problems. Equally, the transparency afforded by these surveys helps us understand what employees really want and reveal unhelpful obstacles, so we're able to take steps to modify our culture and keep up with changes both inside and outside the company more easily.  
Just in the past year we've introduced a new flexy-time policy, provided more days for the team to work from abroad, made working from home a permanent option, and implemented a quarterly bonus scheme that allows everyone to share in the company's profits. Looking back even further, initiatives that are now standard such as free access to a Udemy for Business account and the last Friday of the month being allocated for learning and development are all a direct result of the collective insights we've gathered from surveys. 
Next Steps 
Now, at this crucial juncture in the Phiture journey, we're eager to see the results of our latest survey and use the insights to steer our internal branding and help shape the wider industry. There's a big difference between being an employee and team member, and the company's success depends on the talent, drive, and overall engagement of each individual. As we welcome so many new faces, ideas, strategies, goals, we want to make sure that everyone is aligned with the overarching company vision, values, and missions in the long run. 
Next up, we'll be taking a deep dive into the survey results and sharing the data. In the meantime, if you'd like to take part, follow this link to the survey and let us know your thoughts. 
Explore other recent articles