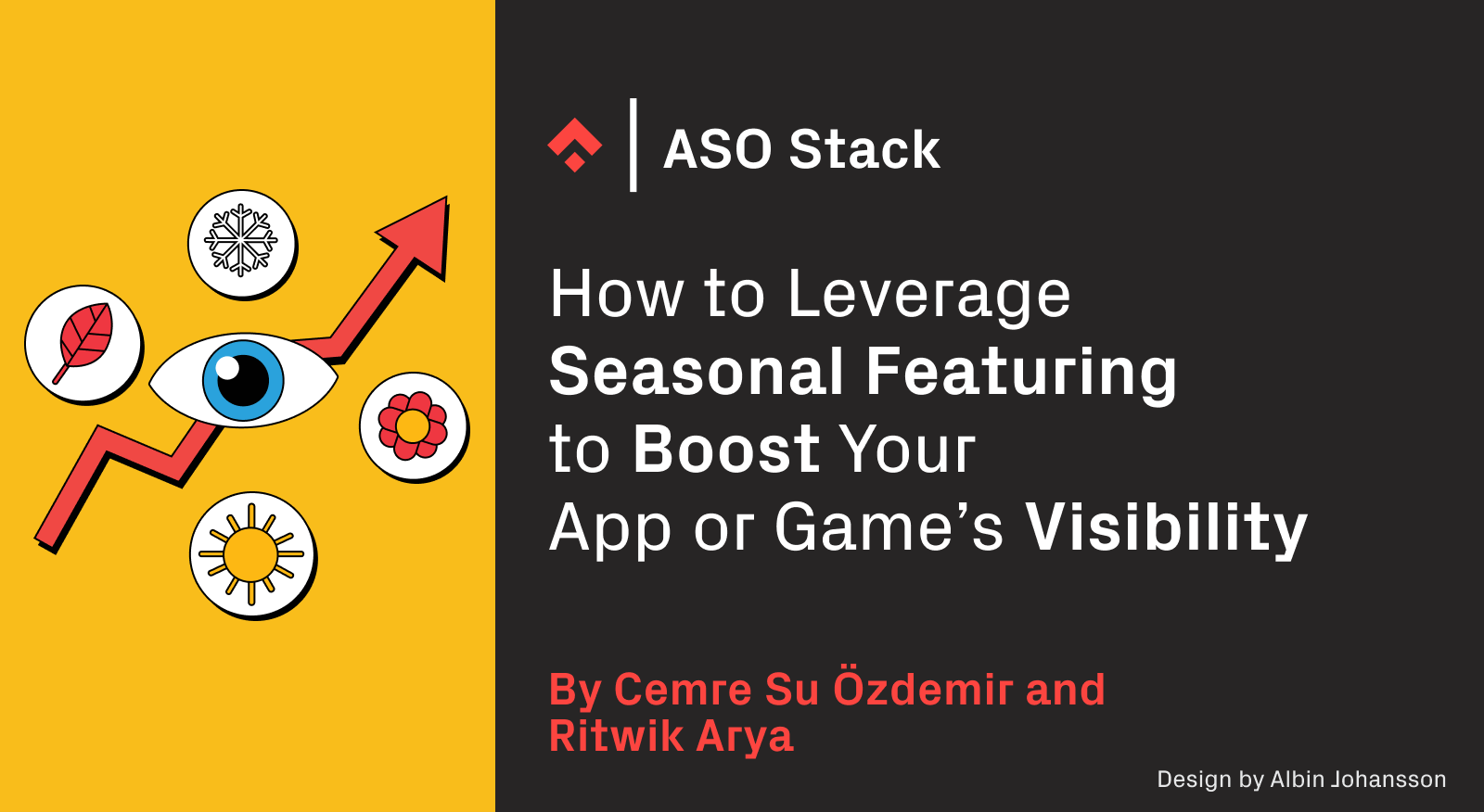 For an introduction to being featured on the App Store, check out this comprehensive guide to the concept by Maggie Ngai, where she explores just how impactful featuring is on the App Store. 
App Store featuring is the process whereby App Store editors showcase apps or games. This is an excellent way to boost your app or game's visibility, and most likely as a result, your downloads. There are several placements available for featuring from the 'Must Have Apps' section in the Apps tab to being featured as 'Editors' Choice.'  No matter which placement you're featured in, you're likely to see an increase in category ranking,  which in turn provides even more visibility, and by extension, even more downloads.
There are several strategies to get your app or game featured, but in this article we're going to focus specifically on leveraging seasonality. At Phiture, we regularly advise our clients on how to effectively do this for maximum benefit, and this article is based on our own recent research into seasonality for App Store Optimization. First however, let's briefly introduce how app featuring works on the App Store, what the factors are behind it, and how apps are curated and featured in the App Store Apps Tab. So let's get started!
App Store Featuring Explained
So what does the App Store typically feature? It could be new apps and games as well as those receiving major updates, or it could be special or exclusive in-app events that relate to  seasonal or topical cultural highlights. Additionally, the App Store surfaces unique stories, such as behind-the-scenes looks at apps reshaping an industry, supporting their community, or even solving uncommon problems.
The criteria Apple uses to pick out apps to highlight are no secret. On its official webpage, Apple lists these factors as: 
UI design, 

User experience,

Innovation,

Uniqueness,

Accessibility,

Localization,

Compelling App Store product page.
For games, there are additional factors such as:
Gameplay design, 

Art and animation, 

Controls,

Story and characters (if applicable),

Replayability (if applicable),

Sound effects and music,

Technical performance,

Overall value.
If you've been trying to get an app featured for some time without success, it is worth going through each of these factors to identify areas for improvement. Remember, you can always also reach out to Apple to request an app feature here although you should do this six to eight weeks in advance if you want an app with significant updates to get featured.
Seasonal Featuring
While there are several placements where the App Store features apps, the Apps Tab is the place where the Editorial team at Apple typically features apps based on seasonality. Here you'll find collections of apps, grouped thematically. For example, "Capture the Moment," groups together photo apps, and "Manage Your Money" groups together finance apps. The App Store similarly creates special collections of apps that have something unique to offer during seasonal events, such as Black Friday, Halloween, or Christmas. The common denominator linking these collections can be extremely simple. For example, for St Patrick's Day the collection is called "Add Some Green to Your Home Screen," and features apps which have a green icon.

"Add Some Green to Your Home Screen" collection that was published on Apps Tab in the App Store on St. Patrick's day.
Creating a Mobile App Seasonality Calendar
The first priority when planning to get featured by seasonality is to create a calendar. We highly recommend making a list of important days that are likely to resonate with the users of your app and category. If your app relates to women's health, then International Women's Day would be a natural choice. Then, brainstorm how your app can contribute to the users on that day. eCommerce apps, for example, are likely to show you hot deals on Black Friday. 
Bear in mind the App Store typically chooses to prioritize the most popular apps that are likely to bring the most revenue to the App Store, though priorities can and do shift. 
As a starting point for you, we have gathered a list of the most important seasonal days in the United States, the world's most important market.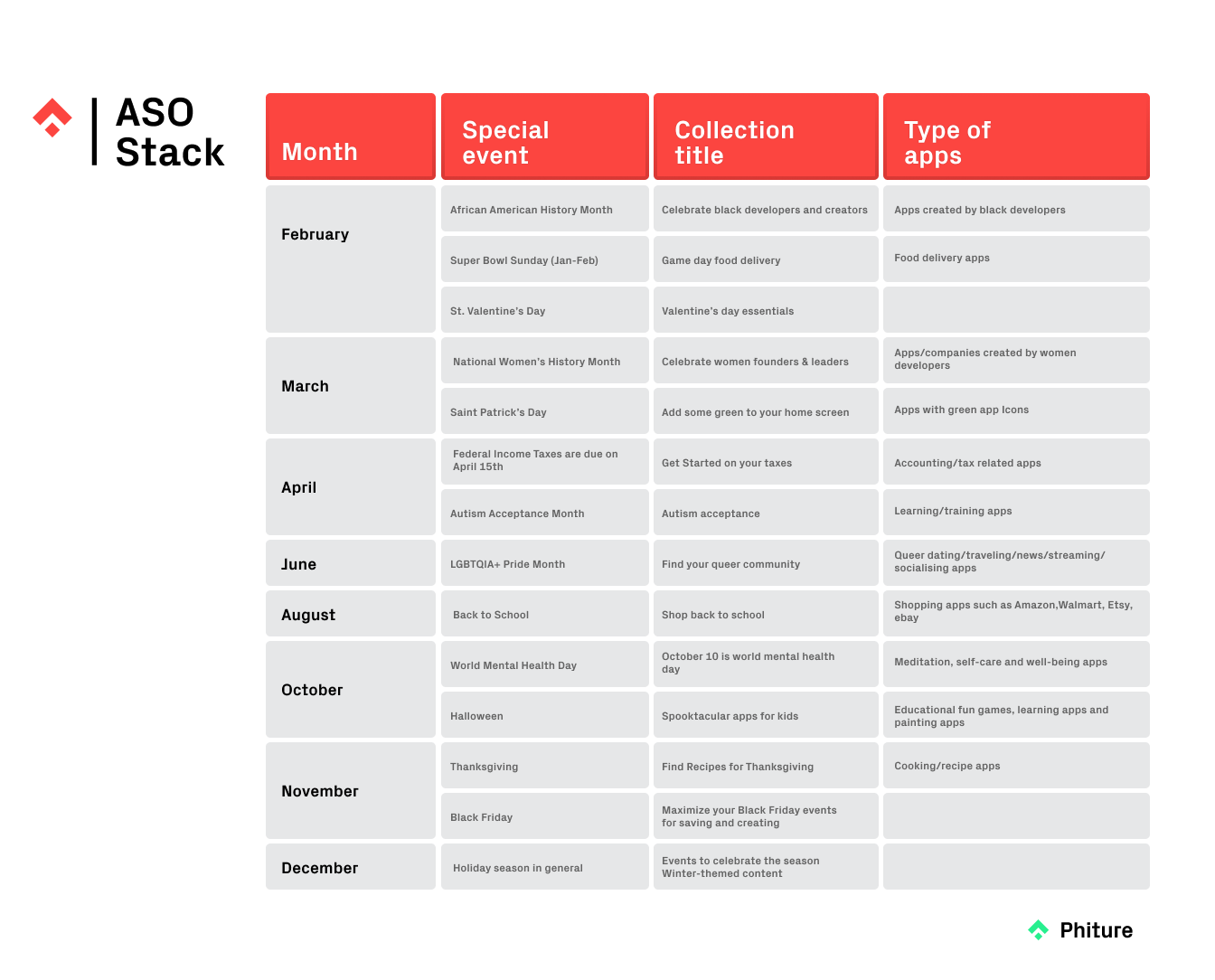 In order to come up with this table;
We researched the important days in the US across five different categories: national holidays, religious holidays, cultural or traditional events, events for a social cause, and other major events.

Then, with the help of

AppTweak

, we retrospectively compared our list with App Store's featured collections.

Lastly, we matched the days in our list with the days when the App Store featured apps based on seasonal days.
Seasonal events don't have to be a single day, however. The collections below are taken from the US App Store and demonstrate that seasonal events can be very broad in theme too. 

A collection that was published in the US in Apps Tab in the App Store during summer holiday season.

A collection that was published in the US in Apps Tab in the App Store just before the start of the academic year

A collection that was published in the US in Apps Tab in the App Store towards the end of tax season.
Although some seasonal events here are common for most countries, like Black Friday, or Valentine's Day, there are of course some seasonal events that are rather more country-specific.
You can repeat  our exercise above to prepare  a table for any country. By gaining these insights, ASO practitioners can plan out a seasonality calendar in accordance with their apps' features and content.
What is valued by Apple when choosing apps for seasonal events?
As shown above with the St Patrick's Day example, the link between a seasonal event and your app can be quite tenuous! That said, you should actively consider how your app might appeal to users that celebrate that event. For example, in Brazil, Carnival starts at the end of February and the App Store has created in recent years various collections and stories highlighting this. Below are some photo filtering apps that users can benefit from for Carnival, while also reflecting the colorful atmosphere of one of the biggest festivals in the world. 

A collection that was published in Brazil in Apps Tab in the App Store during Carnival season.

Another collection in the App Store Apps tab during the carnival time called "Children's Carnival."
In Turkey during the month of Ramadan the App Store features various apps that can help fasting  users,  including food ordering apps that deliver at the time of breaking fast, or social networking apps that connect users with loved ones, as Ramadan is a time of gathering the family together.

A collection that was published in Turkey on the Apps Tab over Ramadan

A collection that was published in Turkey in Apps Tab in the App Store during Ramadan month.
Best practice when submitting to Apple
When you submit to Apple you have the opportunity to explain why you should be featured. However, before you do so , it is very important to be fully prepared to maximize this opportunity. 
We highly recommend optimizing your store listing page, including the title, subtitle, icon, and screenshots ready: You only have a second to impress the visitors! Of course, if it's a long time before your chosen seasonal event, you probably wish to refrain from overhauling your metadata completely, that said, it's worth being attentive to how your app will be perceived in general. 
Make sure you tell Apple a great story about your app and seasonality — highlight the solution that your app is solving, new features, and key performance metrics such as user engagement and retention, all in light of the seasonal event. For example, if it's the holiday season and you're a satellite navigation app or a transport platform, explain how you can help users bring them home to their loved ones faster and cheaper. 
Thirdly, bear in mind that if they are interested, Apple is likely to contact you asking for images. Therefore, make sure to prepare eye-catching visuals that showcase seasonal design. If your apps have been featured several times, you can still proactively contact your Apple representatives to seek featuring opportunities. In addition, you should develop a creative asset library containing all the UI and related graphics to reduce the ad-hoc effort required for featuring.
Summary
You should now have a better understanding of the impact of featuring, and how to harness seasonality as a means to boost your app's visibility. Done well, this can be a useful tool to boost conversion rate across the year, and we highly recommend putting together seasonality calendars for you key markets to work towards. 
Before you go 
Explore other recent articles