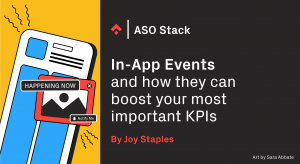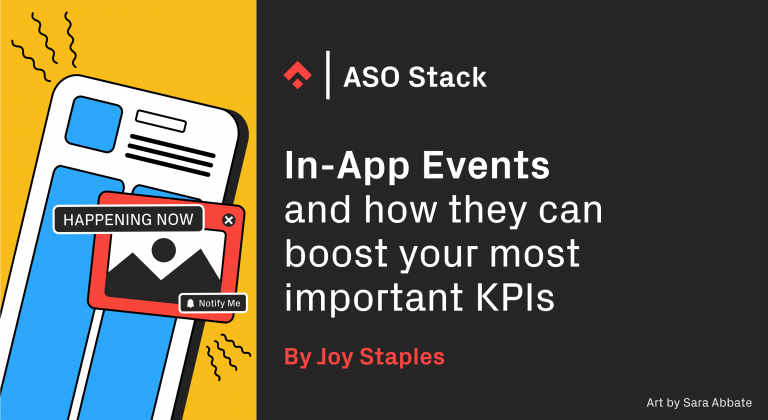 On October 27, 2021, after much anticipation and build-up, 
the long-awaited in-app events finally went live on iOS. In a short space of time, a client of ours saw a massive increase of over 50% in their impressions and First-Time Downloads, as well as significant increases in the number of product page views and their conversion rate. Additionally, a specifically targeted keyword located in an event's name also made some noteworthy movement up the ranks in the Productivity category. 
But let's bring it back to square one for the readers who have yet to understand the full picture of the famous in-app events.
What are in-app events?
In-app events are timely events – meaning that they happen in real-time – within apps and games, such as game competitions, movie premieres, live streamed experiences, and more. They can be created for the purpose of reaching new users, keeping your current users informed, or reconnecting with previous users.
In-app events appear on your product page, in search results, and in editorially curated selections and personalized recommendations on the Today, Games, and Apps tabs.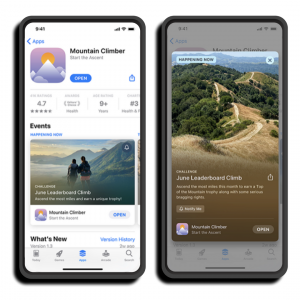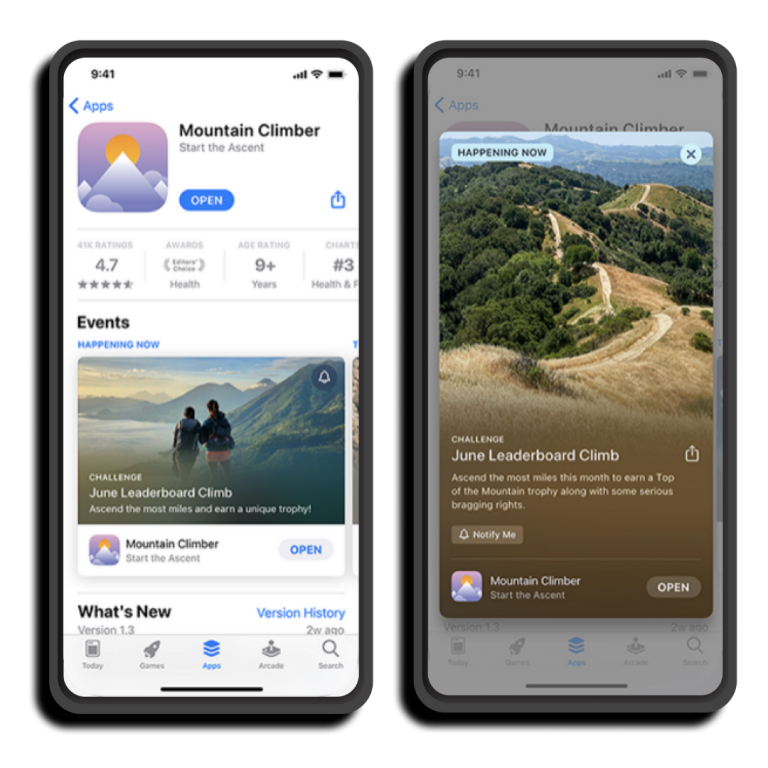 Event setup and preparation for ASO
When setting up your in-app event, there are certain assets and metadata which need to be created and are required for the setup of your event in App Store Connect. Some of these are largely linked to app store optimization and should be utilized as a means to improve the visibility of your app even further. This opportunity for increased visibility stems from the following elements:
Name: The actual name of the event(30 characters)
Short Description: A brief summary of your event(50 characters)
Long Description: Additional information about your event(120 characters)
Keywords appear to be indexed in the name, short description, and potentially even the app's metadata. The graph below indicates the short-lived boost in ranking of the keyword [creative], which was targeted in the event's name and had gained better visibility throughout the time in which the event was published on the App Store.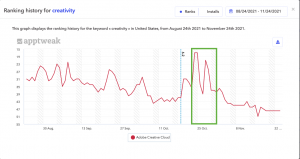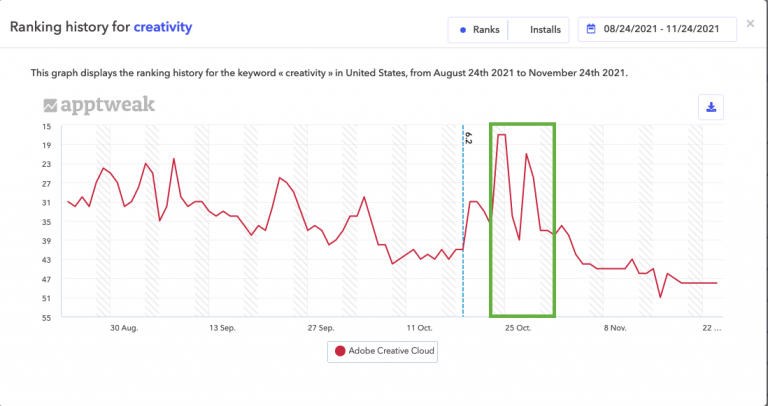 An example of the keyword [shooter] is also interesting, as it was targeted in neither the name nor short description, yet Call of Duty showed up in first position for the search phrase, allowing us to conclude that the keywords in the app's metadata are also indexed.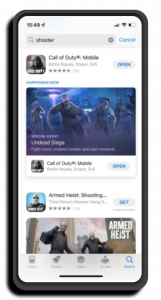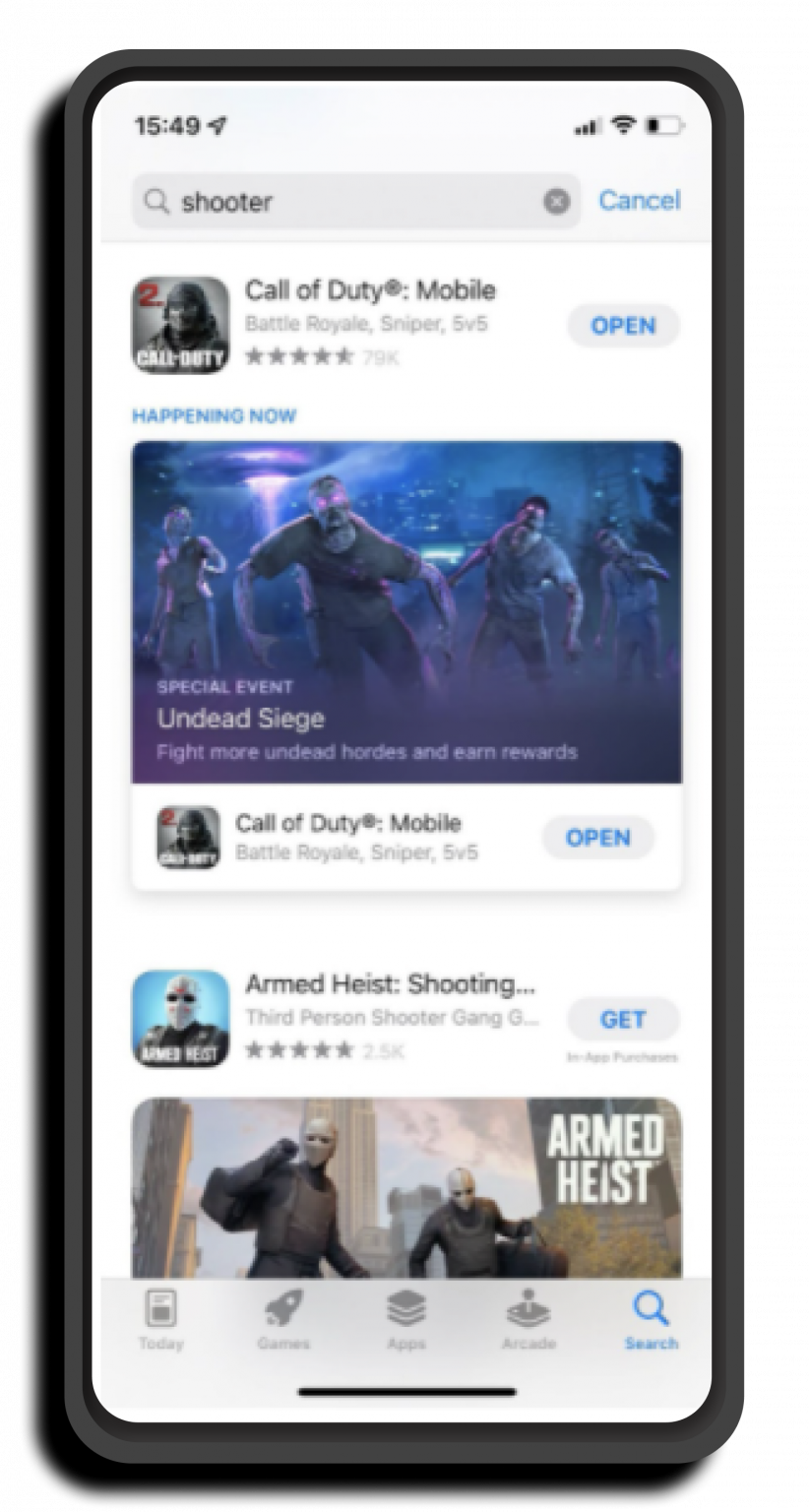 Additionally, regarding the metadata guidelines, Apple has also provided us with the following specifications for our creative assets: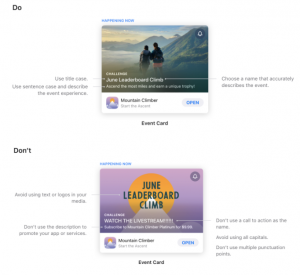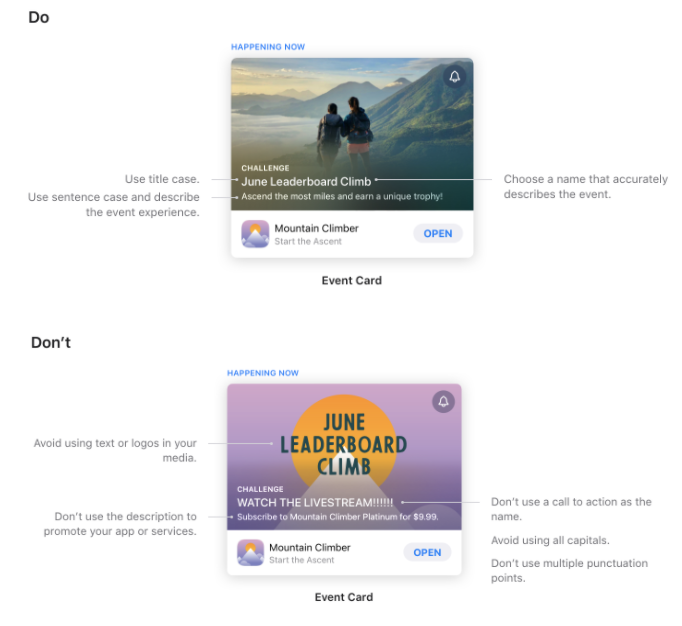 It is of utmost importance to follow these guidelines to avoid your submission being rejected and then having to rework your assets and resubmit them at a later stage.
During the setup process, we were pleased to discover numerous simplified aspects offered for the preparation:
One in-app event can cover multiple languages

Localizing the content per language is possible: simply select the language on the dropdown menu and copy/paste the corresponding content
One time zone setup will automatically sync  all others

If your event takes place at the same time worldwide, only one in-app event is needed – while selecting and setting up your in-app event to a time zone (e.g., New York) the other time zones will automatically be reflected.
Multiple countries can see the content

You can select the countries or regions in which you want to make your in-app event available. When a country is not covered by the desired localization, it will be displayed in its default language as featured in App Store Connect (ie: en-US). This can be changed at any time.
Analysis and findings from in-app events
In-app event data is not yet available on App Store Connect's new dashboard, but it is expected to arrive by the end of 2021. We do not know exactly which KPIs which will be available to us, but so far have been promised the following:
Impressions

Downloads

Opens

Notifications
To measure the impact until then, we have used the following KPIs from the standard App Store Connect dashboard:
Number of impressions:

the number of times your app showed up on the App Store and whether an in-app event boosts this figure or not

Number of First-Time Downloads

: it is important to determine whether in-app events trigger more users to download your app

Product page views:

to determine whether an in-app event will result in more users visiting your app's Product Page

Conversion rate:

to determine whether or not an in-app event will appeal to the users on the App Store and convert them into becoming a user of your app
The app we hosted the event in had two events within a short period of time: 
Event #1 included a link to participate in a live, virtual conference and was available throughout the duration of the event (26–29 October 2021)

Event #2 included a link to a recording of the event and was available for one week after the event (29 October–5 November 2021)
The results obtained from each event were interesting, to say the least.
Number of impressions and First-Time Downloads:
When looking at the increases in the number of impressions, we saw significant spikes for both Event #1 and Event #2, at approximately 50%. 
The spike in the number of First-Time Downloads was significant for Event #1, yet comparatively very slight for Event #2, implying that users take action during live events but are less likely to convert once they have ended. 




Product page views and conversion rate:
Despite seeing an increase in the number of product page views during both events, the spike was much smaller and smoother compared to the increases in impressions and First-Time Downloads. This is due to the new users being able to download the app directly from the event card, without having to view the product page. 
Comparatively, the conversion rate during Event #1 was considerably higher than usual, whereas the increase during Event #2 was almost negligible, once more confirming that the live events are much more appealing to users than a post-event recording.


Final remarks and recommendations
As depicted in the graphs on the previous slides, it is clear that in-app events help to boost your number of impressions, the conversion rate, and First-Time Downloads. Comparatively, the number of product page views doesn't see as much of an increase, yet the smooth curve still indicates a small increase and showcases the value of in-app events. 
Although the KPIs see great improvement during the events, it is a short-lived boost that decreases immediately after the event has come to an end. This is due to the increased visibility of your app while the event is being promoted, followed by a return to normal ranking and statistics when the advantage of being showcased in additional places on the App Store has been removed.
When creating an in-app event, try to target your most important keywords in the name and short description, as this could lead to drastic improvements in your app's ranking (although, this appears to be short-lived too). In addition, it is worth including the targeted keywords in your app's metadata in an attempt to improve the ranking of these terms as well.
Because in-app events have proven that they can boost numerous vital KPIs, it will be important to host multiple events in the upcoming period. By ensuring your app has deep-linking capability and features event-worthy activities, you can take advantage of this opportunity to improve your conversion rate while generating more impressions, First-Time Downloads, and product page views. 
Well, it's time to get cracking on your own in-app events! The moment is now, and our team at Phiture looks forward to seeing what you've got in "Store".
If you need specific ASO advice, reach out to us on ASO Stack and one of the Phiture team will be in touch!
Efficiently compare the costs of your…
---
May 24, 2023

by Simon Thillay
Key subscription metrics help growth…
---
May 17, 2023


by Alice Muir and Sameer Ginotra