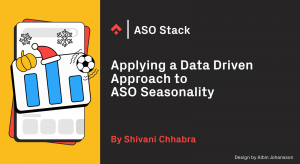 Tapping into seasonality and understanding in which time periods your app receives more (or less) attention is crucial to long-term planning for ASO activities. In this article we're going to cover some basics around ASO seasonality and how you can take advantage of it.
What is ASO seasonality?
ASO seasonality is a short-term or long-term time period during which a change in user behavior is observed on the AppStore and PlayStore, leading to increased activity in some app categories or softness in others. Every app experiences the impact of seasonalities throughout the year, depending on the genre of the app and the category the app is in. Common seasonalities include:

Holiday seasons such as Christmas, Hanukkah or other observances.

Large-scale events such as the World Cup or Super Bowl.

A change in the weather or seasons. 

Other category or genre-specific seasons such as i

ncome tax season, wedding season, property tax season, summer holidays, back-to-school, and so on.
Seasonality usually impacts how users engage on the app stores and affect the kind of apps they choose to download during that time period.
In Germany, for example, the Puzzle Games Category usually experiences increased activity around the end of year holiday season whereas the Productivity Category sees an increase in activity after the holiday season. It is important to keep these user behavior patterns in mind when preparing your app for the holidays or any other upcoming seasons.
You can clearly see this trend taking place on the two graphs below. The first shows the peaks in activity for the Puzzle category on the app stores during the 'year end holiday period' while the second shows the activity peaks for the Productivity category after the holiday period has ended.

Games – Puzzle – AppStore – DE, AppTweak

Productivity – AppStore – DE, AppTweak
Why is it important to capture seasonality with ASO?
Seasonalities are as important to ASO as waves are to surfers. You need to be always on the lookout for the next (fitting) seasonality to take advantage of and ride for as long as appropriate. More specifically, seasonality also helps in the following areas: 
Capturing seasonality makes your app relevant for the season. The communication therefore resonates more with the users, indicating you cater to their specific requirements in that period of time.

It gives your app an edge over the competition.

If you are introducing seasonal content or seasonal offers/discounts within the app, strategically highlighting that on the store listing can help you generate more value than you would otherwise.

Personalization and caring about your users' local observances in your store listing shows you care about their culture and are offering something just for them.
How to match seasonalities to certain app types

The last thing ASO practitioners want to do is jump on a trend or seasonality just because it is the most popular topic. For example, if your app makes it easier for businesses to prepare and submit tax returns, it wouldn't make sense to create Oscars-related app store visuals between February and March regardless of how popular the event is. 
Understanding which seasonalities are important for your target audiences and locales begins with understanding when you expect users to download and engage with your app. Knowing when user engagement with your app is likely to slow down is also a key factor.
For our tax return example, it would make more sense to know when the income tax deadlines are by country and plan your localized ASO efforts around those dates. This is of course an oversimplified example. Take time to see which on-diary events would work best for your activities. For example, travel apps experience an increased number of downloads and engagement during holiday season, whilst shopping apps experience increased activity on 4th July or Black Friday.
While some considerations and seasonality best practices may seem like common sense upon first viewing, many app marketers still make the mistake of not researching locales, especially if they are new markets. It is always good to keep the following in mind:
Not all seasons are alike around the globe. Summer in the northern hemisphere is Winter in the southern hemisphere. So, the seasonal screenshot copy or design you prepare for the US will not work in Brazil. In fact, it might even lead to a drop in the store conversion rates because your store listing will not seem relevant to users at that point in time.




While many nations share the same observances (especially in Europe but also globally), many of these special days have different dates by country.

Mother's Day for example occurs around the world on 38 different days throughout the year.

And while the majority of countries celebrate New Year's Eve on December 31st, China celebrates New Year in accordance with its own calendar.

The same holiday could even be celebrated differently in different parts of the world. For example, Christmas in Brazil is heavily influenced by Portuguese culture and is even known by a different name 'Dia de festas'. So, it makes sense to keep that in mind when working on Brazilian store listing assets.

 It is also important to remember that weathers and traditions are not the same the world over either. Sticking with Christmas for example is celebrated on 25th December in the US and Australia, but the imagery and traditions attached to that date are vividly different. One of these countries celebrates by having a barbeque on the beach and swimming in the pool – the other certainly does not.

Seasonalities can also be categorized by life events such as wedding season, back-to-school (which also has different start dates globally) and tax season (another moveable feast).
Data points to analyze
Of course, knowing which seasonality to maximize and having a close eye on cultural differences is only half the battle. You will also need to make sure your decisions have a solid foundation in trends and are derived from observations in the data.
Data points we recommend you look into before launching any seasonality-based campaigns include:
Category trends – These might differ between Android and iOS.



Analyze the category trends for the previous years to understand which specific periods record an increase in downloads for the category you are interested in.





Below are two screenshots from the Graphics & Design category on iOS as well as the Art & Design category on Android for the US, highlighting seasonalities for upcoming holiday seasons.




Graphics & Design – WoW Category Trends from Data.ai – iOS, US

Art & Design – WoW Category Trends from Data.ai – Android, US
If you take a closer look at the charts, you'll notice that the categories trends are slightly different for both platforms. For example, Valentine's day or International Women's Day in iOS categories returns a more flattish trend, but for Android, an increase in downloads has been recorded.
As a comparison, Easter remained flat for both the categories.
2. Historical data for the app – this might also differ between Android and iOS.
Look at your app's download trends for the last 1-3 years to see which periods recorded increased traction for your app.
However, please also keep in mind that the historical downloads might also have an impact on paid acquisition campaigns or other growth efforts.


Day-wise search first time downloads – AppStoreConnect

Day-wise search first time downloads – Play Console
3. Competitors' historical trends and ASO updates.
Make sure you look at the download trends for your competitors using third-party market intelligence tools. Keep in mind that the competitors' estimated downloads might also have an impact on paid acquisition campaigns or other growth efforts.


4. Keywords – take a look at those which recorded an increase in downloads (Android only).
Seasonality-specific keywords usually record an increase in search popularity for a specific period. Sometimes, generic keywords also record an increase in search popularity.
For example, the search popularity of the keyword [send fax] fluctuates throughout the year.

Search popularity of [send fax] in US – iOS, AppTweak
The keyword [holiday greetings] becomes very popular towards the end of the year but doesn't do as well across the rest of the year.

Search popularity of [holiday greetings] in US – iOS, AppTweak
The keyword [holidays] sees the most popularity during the end-of-year holiday season.

Search popularity of [holidays] in US – iOS, AppTweak
Getting your app ready for seasonality
So, now we've covered the basics of seasonality in App Store Optimization, it's time to briefly cover how you get your app listing pages and offers ready for your chosen time period.
Consider implementing the following:

Introduce seasonality-specific content, discounts or offers.




Plan growth efforts around seasonality.




Leverage your app store listing page to make it relevant for the chosen seasonality. This increases the chances of your app and/or offer resonating well with potential users. Also, make sure your communications are consistent in all channels leading into your app store listing page. This includes paid advertising, social media channels, websites and so on.
How to capture seasonality in your listing
There are plenty of places you can show your seasonality and tune your app store listing page into the mood of your chosen holiday, event, season or sentiment. Below we have compiled some best practice examples from across the app stores:

App icon
      
Subway Surf – Christmas          Subway Surf – Halloween               WSOP – Holiday Season
Screenshots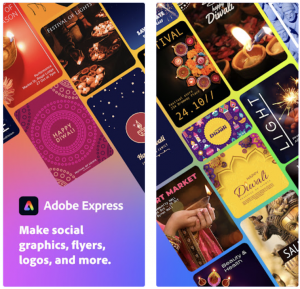 Adobe Express – Diwali Season, India

PicCollage – Holiday Season, USA
Feature banner (Android only)


Walmart – Black Friday, USA

Myntra – Festive Season, India
Short description/promotional text

Appears before the Long Description on both PlayStore and AppStore.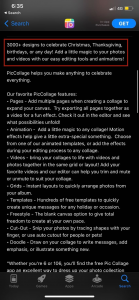 PicCollage – Holiday Season Promotional Text, USA
What's new section
If you are introducing seasonal content within the app.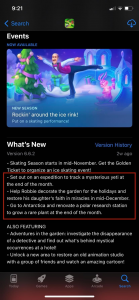 Gardenscapes What's new for iOS
In-app events and promotional content
A great area to call-out seasonal content/events with the app for a specific period of time.

Candy Crush – Halloween, USA

PicArt – Thanksgiving, USA

WSOP Poker – Munich Fest, USA
Possibly the most important aspect of running a seasonality campaign is to know when it's over. Don't be the person who has their Christmas lights still up well into January. Set a reminder in your collective calendars to revert all your store listing assets to the regular ones once the season or event has passed. 
Need help developing your next seasonal campaign? Get in touch with Phiture.
Before you go:
How to nail seasonal marketing in your ASO strategy.
How to create an effective store listing strategy in the Play Store.
How to ensure winning creatives for your user acquisition strategy.
Explore other recent articles