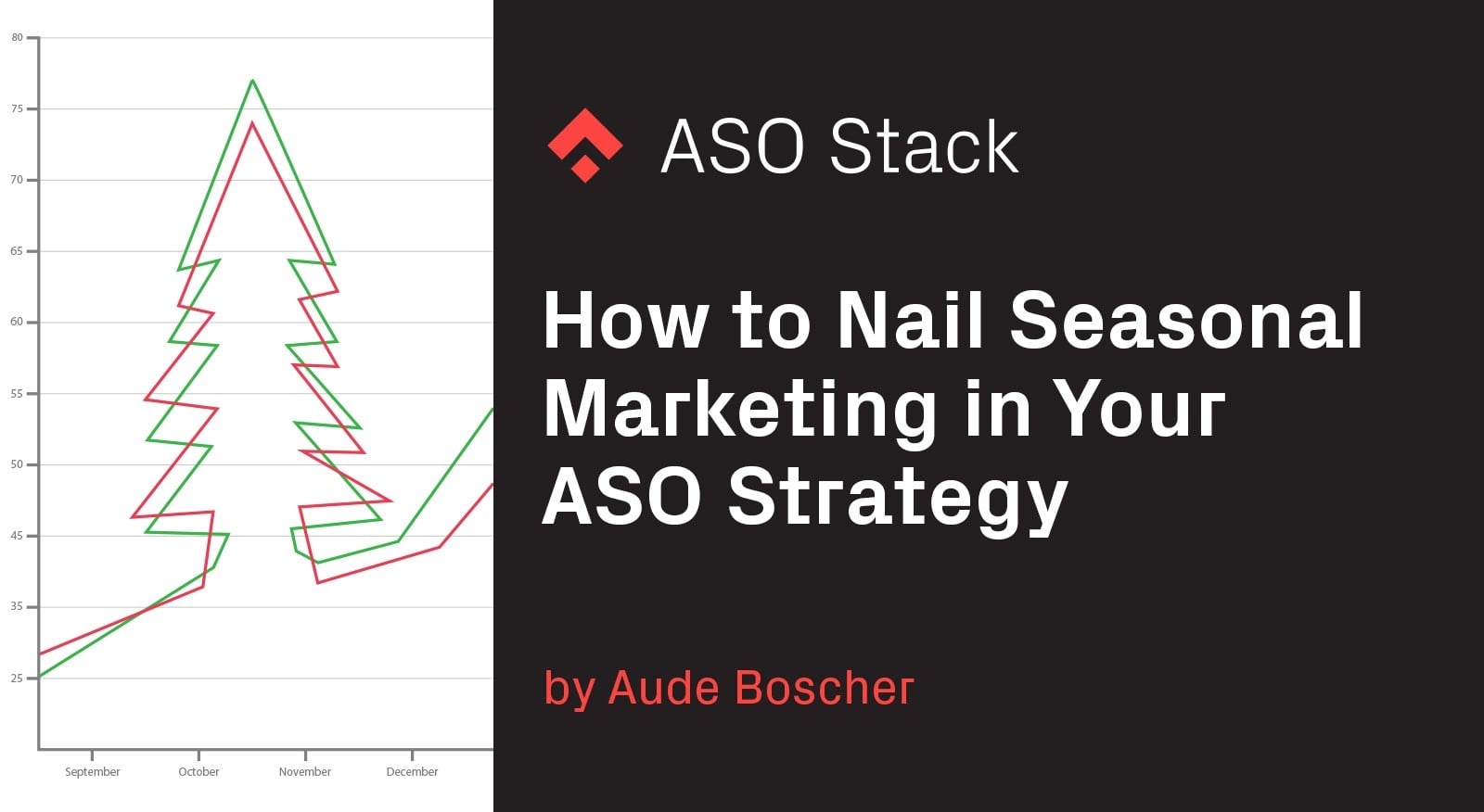 For the hundreds of shopping apps that flourish at the end of the year, Black Friday, Cyber Week, and the holidays present big opportunities in terms of App Store Optimization. On the other hand, productivity apps for businesses have opposing trends. On the app stores, just like in other marketplaces, demand fluctuates annually per vertical or category.
As you can see in the following graph, the search popularity score of various keywords (collected by keyword tracking tool AppTweak), is heavily influenced by the time of year. Tapping into these opportunities, not too soon, not too late, and creating a repeatable seasonal marketing calendar for ASO, can be a massive driver of downloads for certain apps.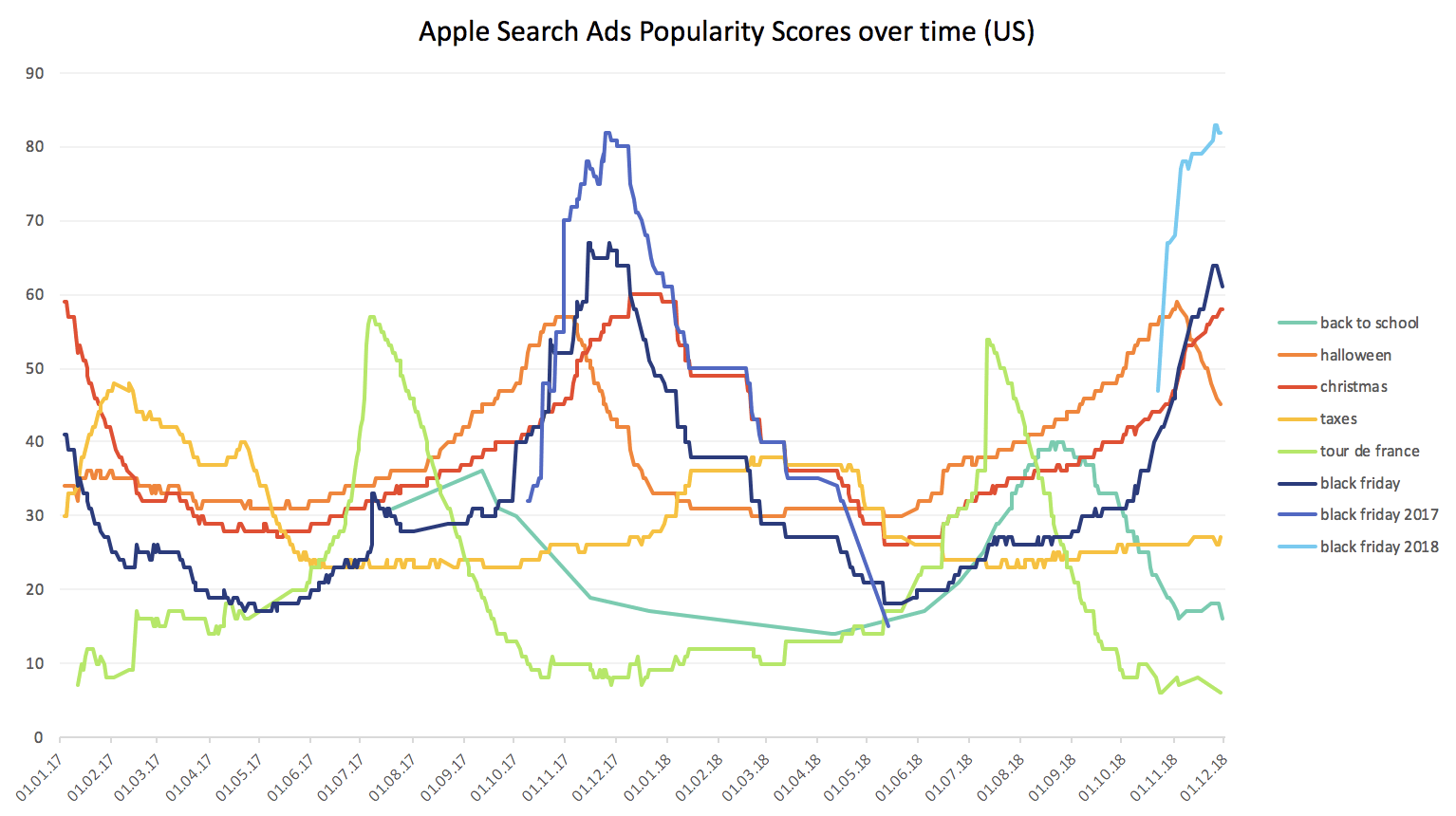 Search ads popularity over time can be pulled from AppTweak API
Seasonal Marketing and your ASO strategy
Seasonal marketing aims to capitalize on repeated interest for certain holidays, events, or entire seasons by adjusting one's marketing strategy. Although ASO is a long-term and iterative play, knowing what impact different times of the year have on search and conversion behavior, can help you ride these waves and grow your visibility and conversion all year long, years in a row. There are three ASO themes that should be linked to seasonal marketing:
Seasonality & Keyword optimization
Including seasonality in your ASO keyword strategy can help you benefit from increased search popularity for certain seasonal search terms and even put your app in front of audiences you may not have reached otherwise.
That said, only a few seasonal search terms truly benefit from massive search volumes on the stores. In the App Store Keyword Search Volume Report of 2017, MobileAction explains that only "black friday 2017" made it to the top 100 most searched generic keywords in the US last year.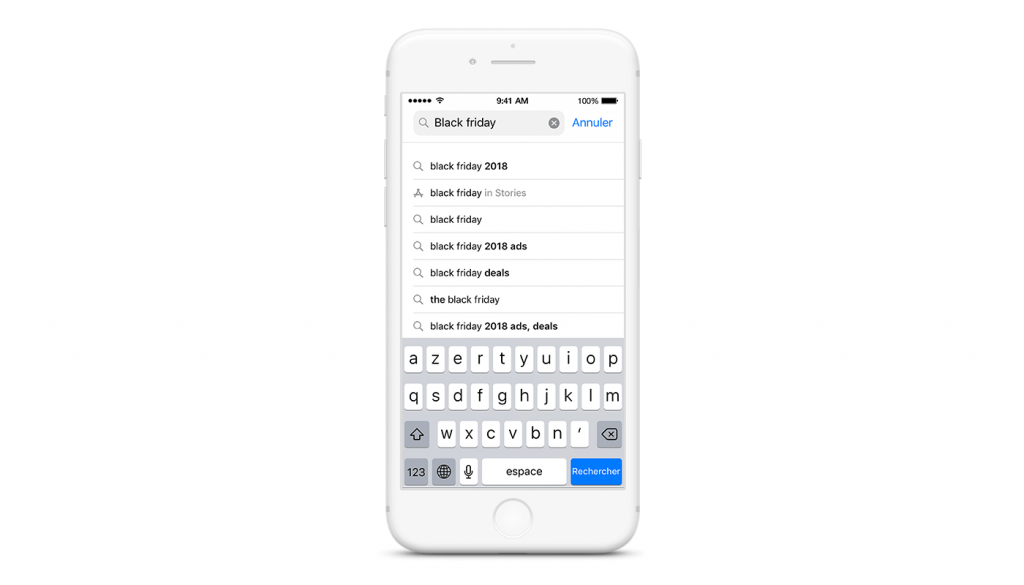 However, users change the way they interact with the app stores all year long. There are indeed seasonal trends for search terms: obvious ones tied to a specific holiday such as "Christmas", but also less obvious ones tied to a longer period of time, such as "tax returns". Understanding what seasonality of potentially relevant major keywords is per market can put you in a good position to capitalize on the seasonality of those search trends. Especially looking beyond your main market is important when it comes to seasonality. For instance, tax return apps operating in Australia, the UK or in the US won't have the same peak seasons. Having a look at Google Trends will help you know more easily when searches peaked historically.
However, as people search so differently on the app stores ("tax returns app") as they do on Google ("When do I have to file my tax returns"), you really need to look at search popularity trends in the actual app stores. A breakdown from Apple's Search Ads Popularity score over time with a tool like AppTweak will help understand the seasonality.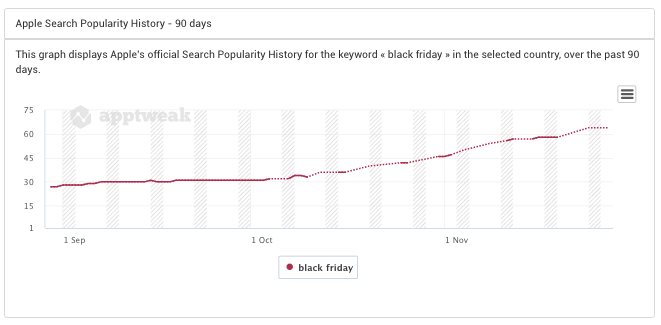 "black friday" Apple search popularity score between September-November 2018. (Chart source: AppTweak).
Seasonality & conversion rate optimization
The same goes for creative assets: crafting them with seasonal considerations in mind can positively influence conversion.
Consider a fitness app. Looking at women's magazine covers, one might think that the peak season is before summer as thousands of people are looking for miracle shape-up recipes. A simple look at Google Trends for "workout" will tell you that you shouldn't miss the opportunity to optimize for New Year's resolutions and that you should be ready for a search peak around Christmas also by targeting some competitors with Search Ads.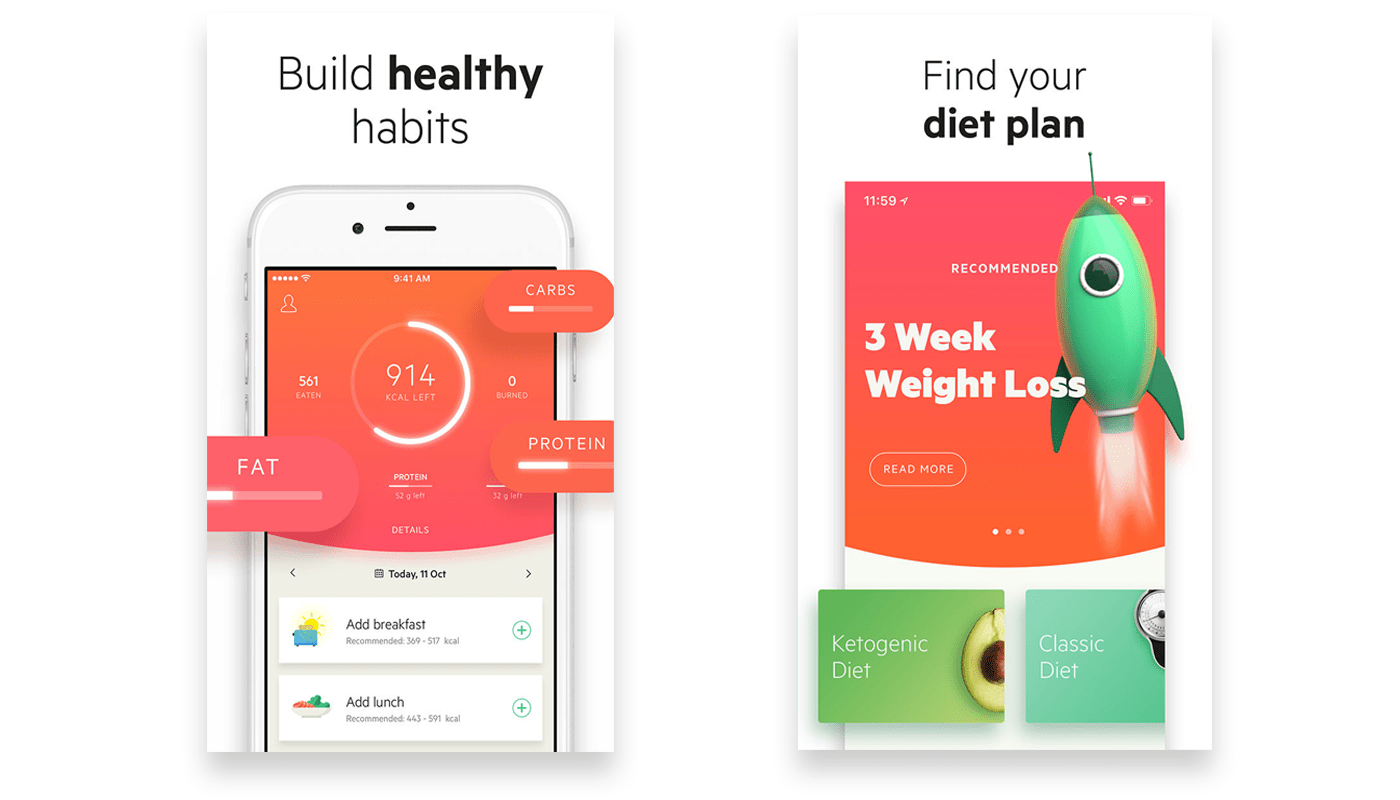 Lifesum screenshot #1 in January and June 2018
Seasonality & featuring
Generally, we have experienced both the Apple and Google editorial teams are really willing to receive suggestions as to which apps in which context, they should feature. Especially the context is where a "seasonality pitch" can pay off:
Phiture  helped an anti-depression app to create awareness with the Apple editorial team about the existence of World Mental Health day. They ended up landing an editorial feature purely because of the seasonality pitch, and not because of a product update pitch.
While it's often large publishers that have partnerships roles dedicated to maintaining Apple App Store/Google Play Store editorial team relationships, from our experience also smaller developers who are a bit more creative and persistent can benefit massively from their seasonality pitch.
As it's no small feat to start adapting to seasons and events, it's important to maximize your seasonal ASO marketing approach by thinking about it as a multi-year strategy rather than a one-off. It's key to measure these experiments and put them in a broader playbook that works for your app year over year.
Is Seasonal ASO for everyone?
A plethora of articles explaining how to craft your store assets for year-end events like Halloween, Black Friday, or the holiday season exist today. These events seem to be first and foremost relevant for apps linked to retail and consumer goods. Should your app not belong to the 1.7% of apps in the shopping category on the App Store (or 3% on Google Play), you might wonder if including seasonality in your ASO strategy is still helpful.
As mentioned in the ASO book, there are indeed several risks of trying to tap into time-sensitive opportunities. They might not be as pervasive throughout the general market for app users, there may be less data on catering to trends and learnings gained from trends often become obsolete.
But even outside of the Shopping category, there are good examples that show apps tapping into seasonality marketing opportunities.
An example would be interior design ideas apps like Houzz. While the home decorating app segment seems to be relatively seasonality-proof, it benefitted from a small boost in the United States at the end of August when Apple decided to create an editorial about how to decorate your dorm with AR (a clear Back-to-school-editorial event).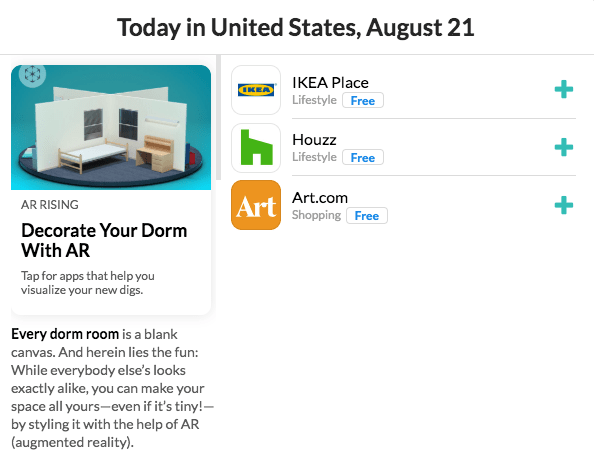 Source: AppFollow
A lot of mobile developers can benefit by tapping into seasonal ideas, beyond holiday events. However, remember that you can only benefit from these seasonal opportunities if the trend matters to your target market and if optimizing helps to showcase how your app can be valuable to your users.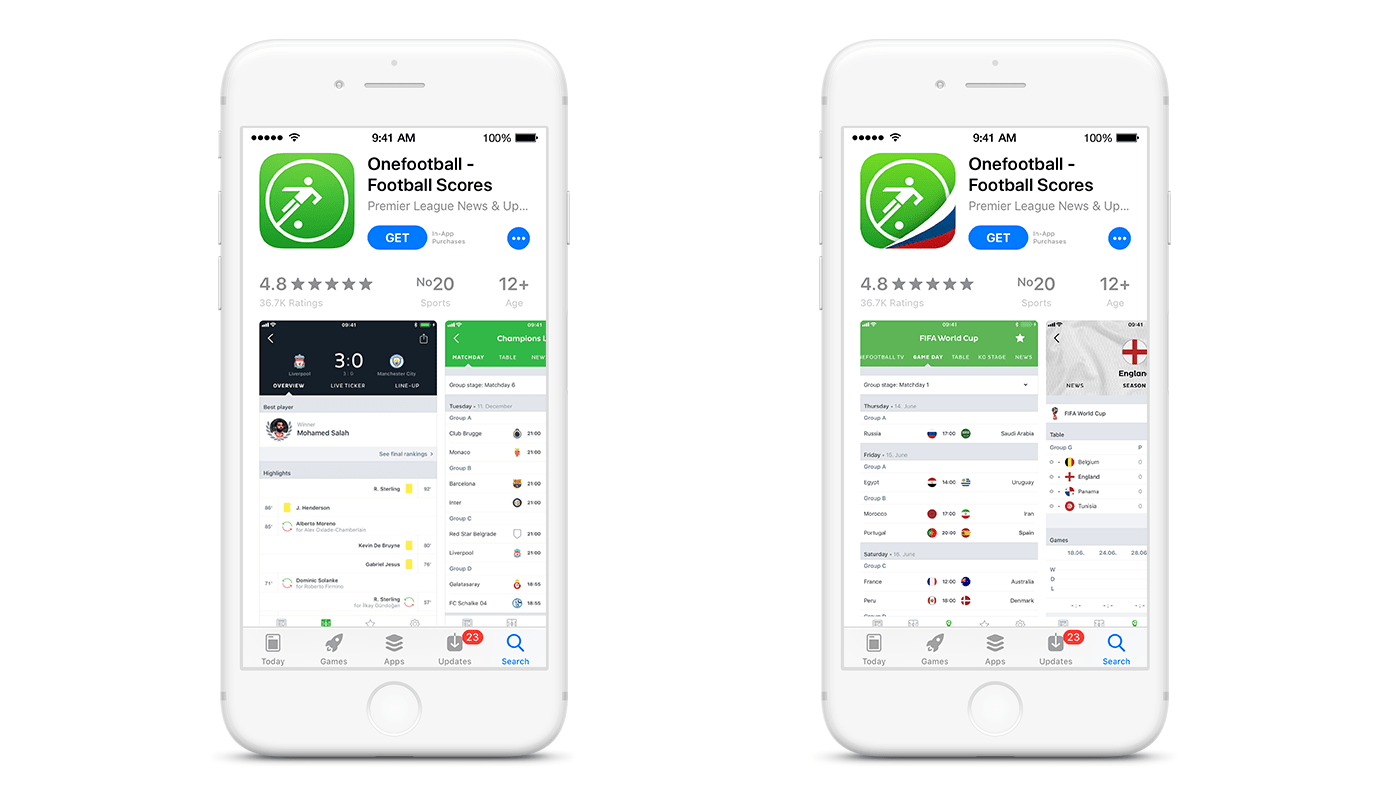 Onefootball updated its icon and screenshots prior to the World Cup
Setting up your seasonal ASO plan
1. Research
The first step when establishing a yearly calendar is to discover what trends apply to your niche and define your main targets.
One great tool to understand seasonality in search (and therefore interest) is Google Trends. Besides displaying the relative popularity of web search queries, it also helps:
Detecting when you should start optimizing.

Discovering the queries people also search for when they search for a term. This is not only a way to find additional keywords, but it also helps you to better understand the search intent.

Compare the relative popularity of search terms in different locales.
Consider the example of a flower delivery app. You'd immediately notice two yearly spikes in flower delivery interest in the last 5 years: Valentine's Day and Mother's Day. Let's say this app operates in the United States and the United Kingdom. We'll need to plan differently in these two markets as Mother's Day is held on the second Sunday of May in the US while in the UK its celebration falls on the fourth Sunday in Lent.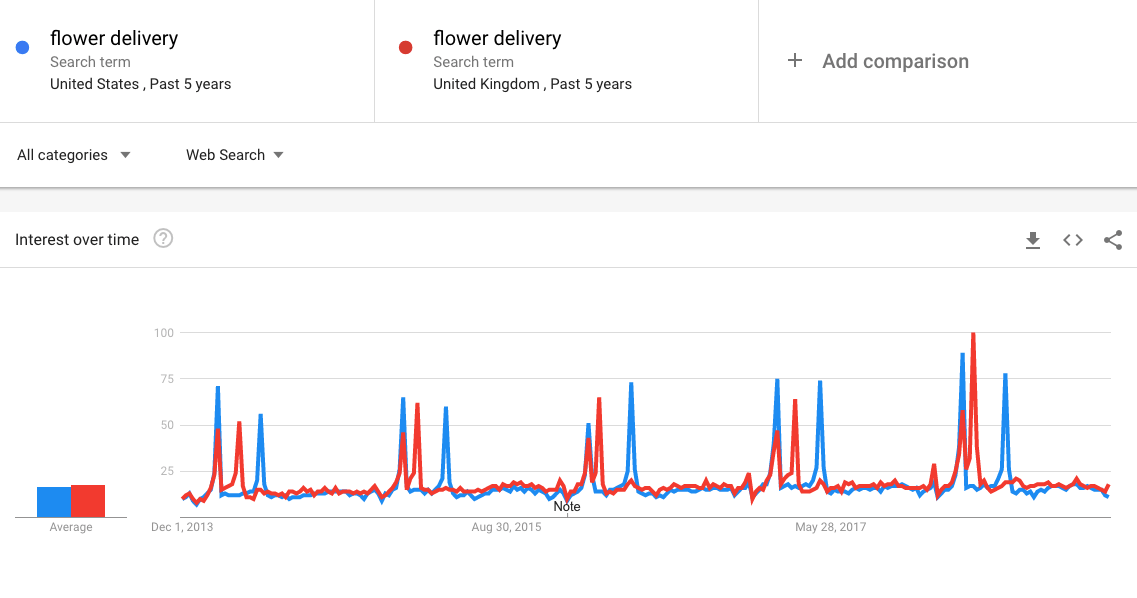 Flower delivery relative web interest over the past 5 years. Source: Google Trends.
Another good way to know what interests your audience, is to audit existing seasonal marketing from other companies. For apps, having a look at the editorial calendar from both stores should inspire you with a limited research time. Want to have a look? We've extracted some examples of App Store editorial content at the end of this article. Back to flowers: "Get date night right" in February, "Find a host gift fast"… Here are some ideas!

Examples of seasonal editorial featuring
Tools like AppFollow allow you to track competitors' store changes, which may provide valuable insights into their research and strategy.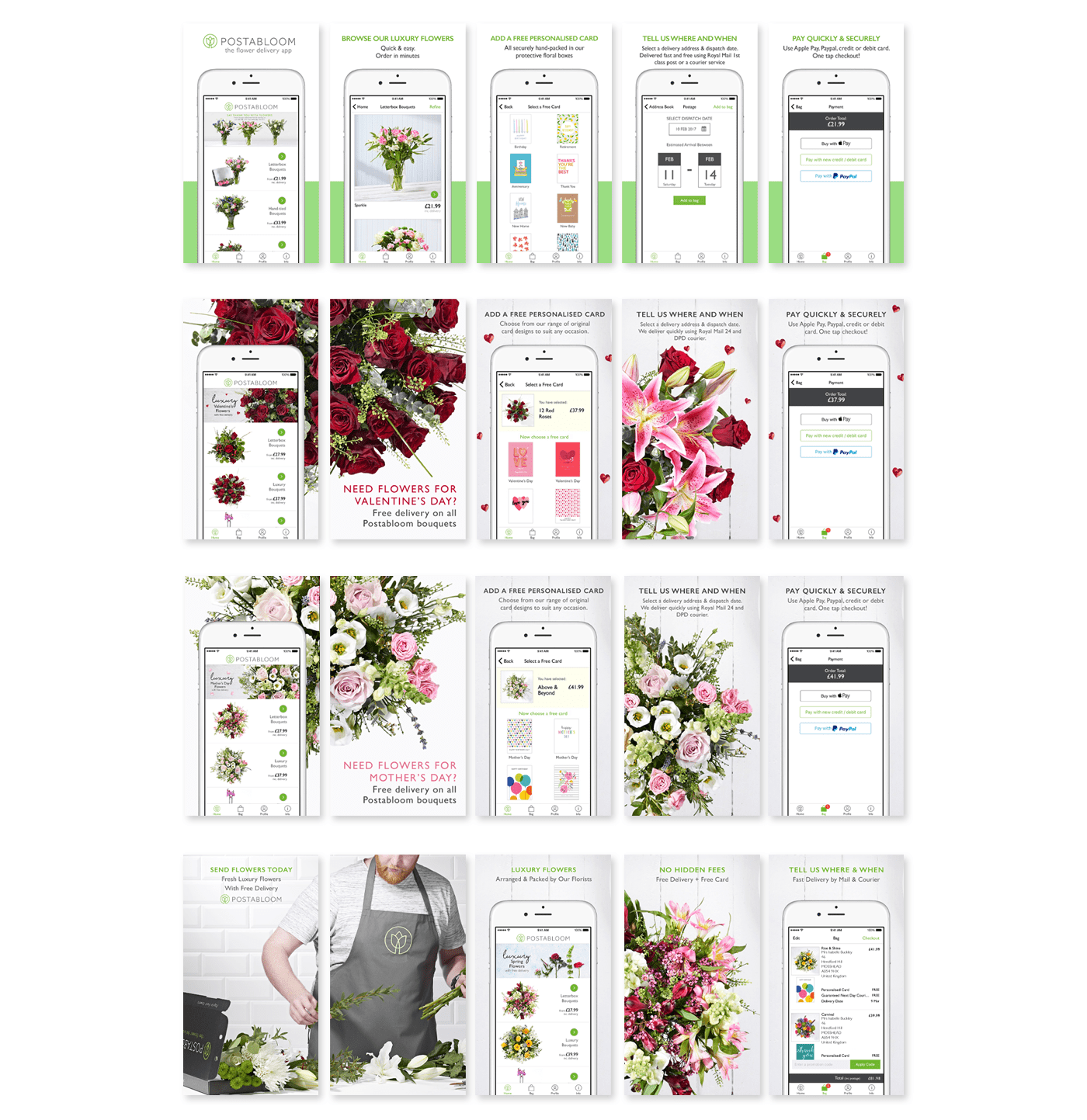 Postabloom updated its screenshots for several events: Valentine's Day (end of December!), Mother's Day, and before Father's Day (Have you also noted how the amount on payment screen gradually increases from £22 to £82?)
It goes without saying that you should also sync up with your marketing and product team to know about any existing plan. It can also be useful to:
Discover if there is any seasonality in feature usage.




For instance, a family organizer app like Picniic could see a decrease in the usage of the todo list feature doing the holidays.

Know what's the most appreciated content at a given time.




For instance, in summer, it might be better to feature light meals in a food delivery app, whereas in winter you might find based on order preferences that comfort-food might perform better.
Also, if your store listing assets aren't consistent with the in-app features, users will eventually drop. Therefore, to make the most out of your seasonal optimization, you should use these experiments to test popular content from your app or to reflect any major update.
2. Planning
Once you've collected all this information, start by establishing a list of all the relevant events and seasons, and high-level activities, to draw a yearly roadmap. For example:
Prio / 14 Feb — Valentine's Day: Keywords + Creatives + Pitch
Prio / 31 Mar — Mother's Day: Keywords + Creatives + Pitch

21 Apr — Easter: Screenshots (in-app content)

16 Jun — Father's Day: Keywords + Screenshots (in-app content)

1 Nov — All Saints. Screenshots (in-app content)

…
It will then be much easier to define your detailed project plan per event.
Per event, start by identifying your goals and work backward. What do you need to tap into:
Keyword optimization

: Long before the event, you need to plan for detailed keyword research in various markets, and understand at which points you want to move keywords into your keyword set to gain some ranking and relevancy, and at which point you need to switch it up a notch and bring the keywords into for example you subtitle.

Featuring

: Is there an opportunity to get Apple or Google to feature you? What would your story be? Can you work with the product team together to give the update an extra 'Valentine' character?

Conversion

: How can your app cater to the event with metadata updates that make your app relevant to the event/people searching for it?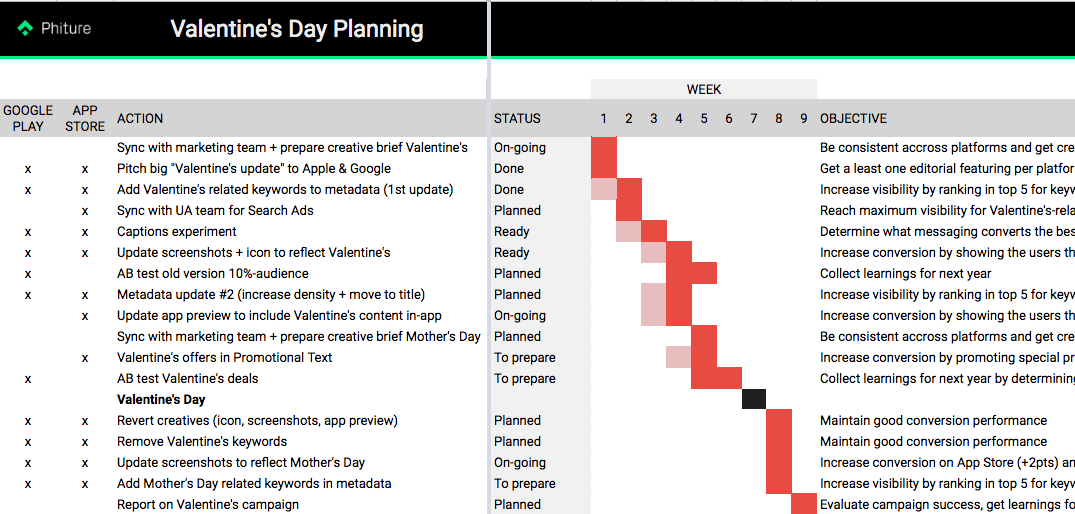 Plan your seasonal ASO marketing with a dedicated spreadsheet, as we do at Phiture.
Planning early will help you anticipate certain deadlines. Especially when it comes to getting a feature this is important: Apple advises submitting the form to fill out to get promoted on their store 6 to 8 weeks before targeted featuring. Remember that seasonal changes don't necessarily have to be included in all your assets. Skyscanner might, for instance, request a featuring around what to do during the Fringe festival in Edinburgh without updating its screenshots for the occasion.
One best practice for optimizing your assets is to work on your icon first. Being most visible, it has the strongest impact on conversion. As a matter of fact, SplitMetrics reported a+47% conversion uplift by incorporating festive attributes to a game's icon. If you lack design resources, the good thing about seasonality is you can repurpose your best-performing ideas every year.
Report and audit your performance during all planning execution and adjust your strategy if you feel it's needed.
Note: Apple's App Store traditionally closes around Christmas (from December 23 to 27 last year), which means that any releases should be submitted, approved and scheduled in advance.
3. Measure
How to test what works and solidify a playbook over the years? You don't want to lose out on too many downloads because of the need to A/B-test during Valentine's Day or Black Friday of course, but at the same time you also want to build up a playbook on one hand, and on the other definitely not risk a decrease in conversion because of false assumptions.
Here are two examples of solutions.
Google Play experiments.

You're very sure about the positive impact of a seasonal makeover? Update your store listing with your new assets, set your audience that sees the old version to 10%, and collect learnings for the next year.
Apple search ads creative set testing.

When optimizing for a seasonal event for the first time, you might not want to change your main screenshots directly. Apptamin

recommends

leveraging on Apple Search Ads Creative Sets testing for the holiday season.

Available since last May

, it allows switching in and out pre-approved screenshots and videos for Ad Group, and then

monitoring differences in their conversion

.
Recap
Drive seasonal installs with intent data.

Benefit from increased popularity for certain search terms.

Craft your assets with seasonality to boost your conversion rate.

Get to know your user's interests better and increase cooperation with product and marketing teams to benefit from their learnings.

Don't forget to test to get valuable learnings.

Win with seasonality! Plan ahead your featuring request, research and target the right keywords, sync with your UA team, prep your creative assets and promote special offers.
If you enjoyed this article, feel free to clap to spread the word.
Additional resources
We've collected a lot of examples throughout the year of how Apple ties their featuring into their own seasonal calendar. It can serve as a good source for inspiration:

Further reading:
The team at Phiture is very proud to…
---
December 11, 2019

by Emma Pressley