Mobile marketers and developers can as of now test different Apple Search Ads assets in the App Store.
Moritz leads the ASO Agency Phiture, the authors behind the book on Advanced ASO.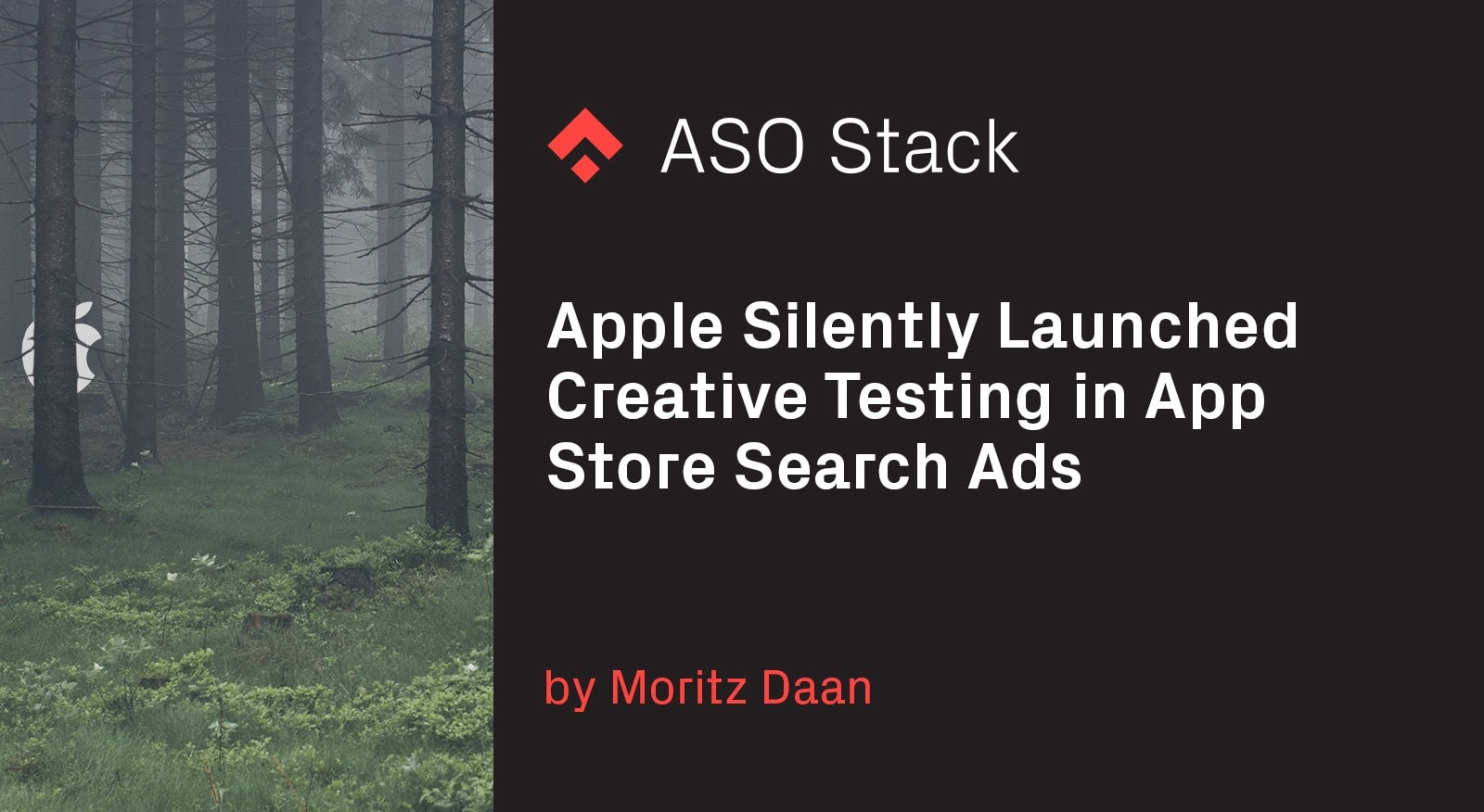 Mobile marketers and developers can as of now test different Apple Search Ads assets in the App Store.
This is not A/B testing as many folks had hoped for, and which the Google Play Console has offered for a while now, but it does give more power into the hands of the publishers. So far third-party testing tools such as Splitmetrics and Storemaven have filled the gap on iOS for A/B testing. These tools allow to A/B test creatives on fake HTML App Store landing pages that resemble the app store, before sending the user to the actual app store. The downsides of these testing tools can be found in the costs for the testing platform and traffic e.g. from Facebook, UX friction and conversion loss from the 'double install' and the test being influenced by the ad and the intent that the user had to download the app. As the new option in Search Ads is technically not an A/B test, it does give publishers a way to swap around creatives without that added friction of a fake landing page.
Testing on Apple Search Ads with a new Creative Set is straightforward:
In iTunes Connect you can upload up to

3 different app previews

and up to

10 different screenshots*

that need to be pre-approved by Apple in the review process

In the Apple Search Ads interface, you can then select

which app previews

and

screenshots

are shown in the creative set for your

Ad Group

or on a

Campaign level
*It's not unlikely that Apple increased the 5 to 10 screenshots that we reported on in February, in lieu and with the goal of enabling more assets testing.
To get started, go to Search Ads and click on your Ad Group level on the new tab "Creative Sets". There you can add and pause Creative Sets:

The different assets can then be selected in the new Creative Set:
Creative Sets consist of screenshots and app previews that appear on the App Store product page. For each iPhone display size, select at least one landscape or three portrait assets. For each iPad display size, select at least one landscape or two portrait assets.
What you can't unfortunately test, is the order of the screenshots as they seem to be fixed in the order that you've uploaded them.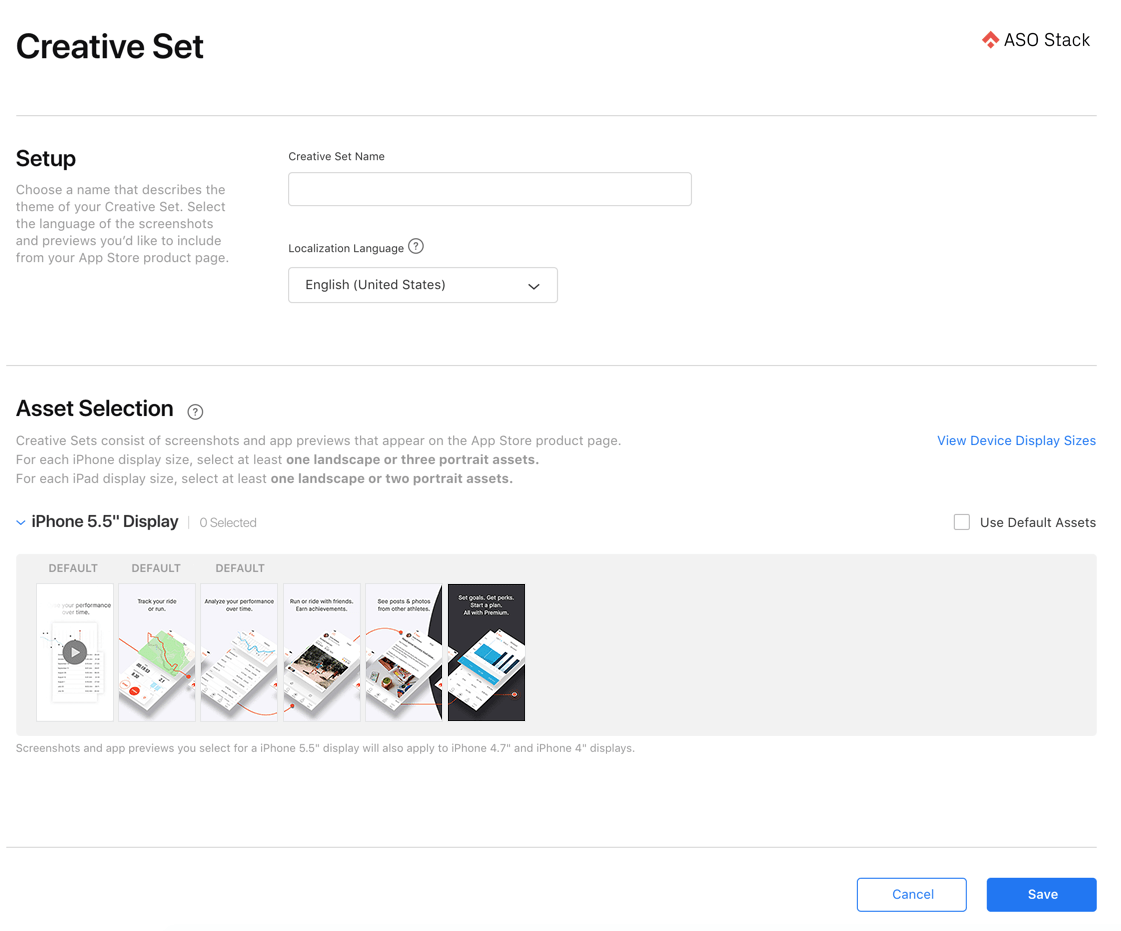 This is not the same as A/B testing, which Apple seems to be reluctant to as they would have to give away their tight control of reviewing everything that users are seeing in the app store. Still, it allows for creative testing by switching in and out pre-approved screenshots and videos on a Search Ads Ad Group, and then monitor real app store conversion of your different ad groups over time.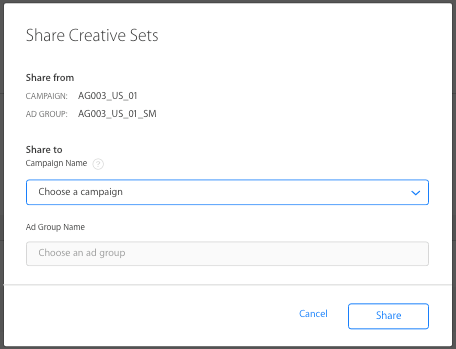 Creative sets can be shared across campaigns (via Ido Schoonen from our Slack channel)
After setting up your different Creative Sets, you'll then be able to measure in the creative sets how your different Creative Sets are performing (ie. CR and TTR). What is more is that due to Apple now splitting up your default text and visual ads, you can now get a better understanding on how your text ads are performing. The default text and visual ads can't be paused unfortunately.
Here are some things that you can now test however:
Different copy

on the same screenshots

Video vs. Screenshots:

the use of no video with 3 screenshots, 1 video with 2 screenshots, just a landscape video etc.

Ad groups that have

different gender targeting

with different creatives (ie. a dating app showing different genders in different ad group settings)

Different creatives for

different times of day

(ie. a fast food chain showing breakfast options in the morning and dinner options at night)

Different creatives for

existing / new users

(ie. showing a promotion to existing users and more value propositions )

Regional targeting

(ie. a food delivery app showing food deliveries in SF vs. New York)

Highlighting

different value propositions

of the app for different ad groups with search terms related to those value propositions (ie. a booking app showing hotels instead of flights for ad groups that target people looking for hotels)

Showing

different creatives for your brand keyword campaign

in the Search Ads than in your organic Store listing give you the ability to show up to 6 different screenshots in the results
These tests could not only help the app marketer to optimize their paid Search Ads presence, but also affect the impact on ASO when the learnings can be systematically applied to the organic store listing.
Edit: Apple has now also added information about Creative Sets on their website
Next to this big news we've also received rumours from several sources that Apple Search Ads will roll out into several other EU countries in the next 2–3 months. We expect France, Germany, Italy and Spain to be amongst the next candidates for Search Ads which would be understandable considering that Apple had rolled out Search Ads availability in the previous round, into the much smaller Switzerland which shows French, German and Italian localizations, as well as Mexico which hosts Spanish localizations.
Later more..
Abdul Majeed Alkattan works as Engineer…
---
December 10, 2019
by Merlin Penny
According to Apple, 65% of downloads…
---
May 14, 2019
by Pablo Penny