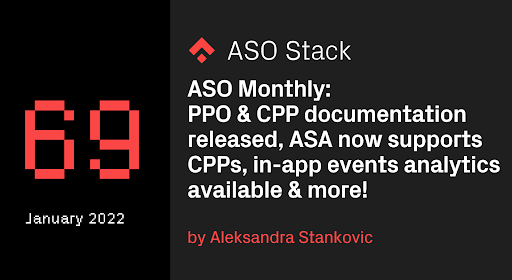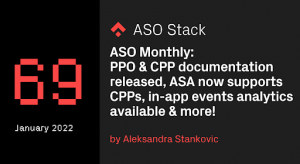 In this ASO Monthly series, the Phiture team reflects on the previous month and sheds light on trends in app store optimization, algorithm changes, privacy changes, conversion rate optimization and tool updates.
This update was prepared by ASO Consultant, Aleksandra Stankovic, at Phiture. 
Check out our recent articles:
App Clips: What are they and why do they matter?
How to Optimize Custom Product Pages in iOS 15
January 6 – Analytics now available for in-app events 
After a sudden removal from App Store Connect in December, analytics for in-app events are available again. Ever since Apple announced in-app events in October, they have been widely used by many app marketers. Access to analytics provides useful information about in-app events, including: 
event page views

reminder and notification data

the number of downloads and re-downloads driven by in-app events 
Furthermore, each metric can be filtered by territory, source type, device and more. This enables ASO practitioners to understand how in-app events influence app growth, and leverage that influence to boost important KPIs. (Apple)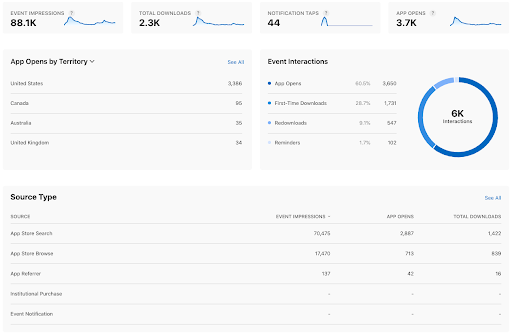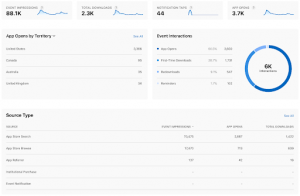 Source: App Store Connect
January 10 – Apple releases documentation about PPO & CPPs
After the release of two highly anticipated features (Custom Product Pages and Product Page Optimization) in December, Apple released accompanying documentation to help navigate the new features better. 
In addition to summarizing the set-up process and the assets that can be tested, the PPO overview issues an important warning that your app's status must be 'Ready for Sale' before the product page can be tested. This officially confirms the information shared previously by members of the ASO Stack Slack community. (Apple)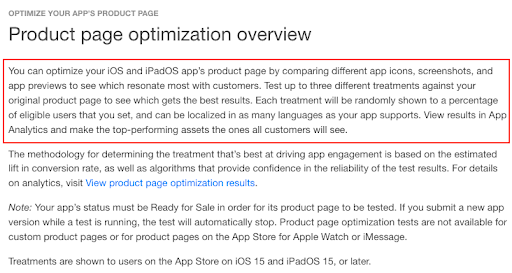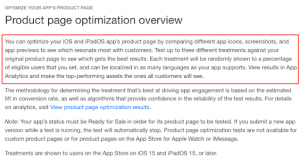 Source: Apple
There is also detailed documentation describing CPPs, including how to create them, submit them for review, edit or delete, as well as disable a CPP URL. (Apple)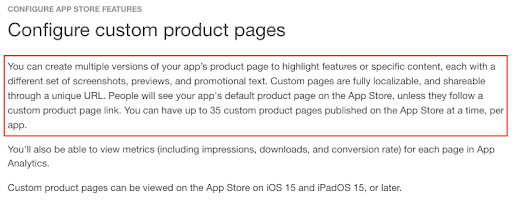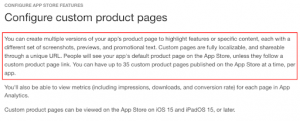 Source: Apple 
From an ASO perspective, this represents a useful guide on how to set up and use the newly released features. 
January 17 – Updated App Store submission process
App Store Connect now has a new way of submitting apps and metadata for review, and on January 25th this process was automatically updated for all App Store Connect accounts. The update now allows you to:
Include multiple items in one submission

Submit in-app events, CPPs and PPO tests without needing a new app version

Use the new App Review page to manage your submissions and communicate with App Review

Edit items in your submission

Remove items with issues from your submission and continue with the items that were accepted by App Review 

View a history of submissions including the messages from

App Review

. You can see four types of content in this section: App Store Submission, Beta Build, App Review Message and Submission Message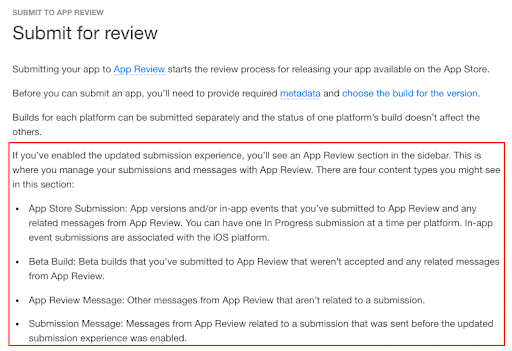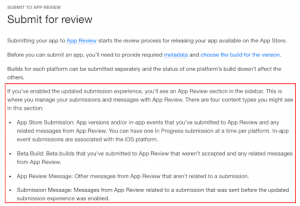 Source: Apple
After this new exciting update, all submissions are typically reviewed within 24 hours, which gives ASO practitioners a chance to plan the tests and app growth strategies in a more reliable manner. The process itself was largely facilitated, so now you don't need to have a new app version to be able to submit certain items to review. (Apple)
January 20 – Google Play algorithm anomaly 
As reported by members of the ASO Stack Slack community, a Google Play algorithm anomaly was spotted on January 20th. The anomaly caused a drop in Visibility Score (a widely-used AppTweak feature) across different locales, including the US, UK, DE, FR, ES, IT, RU, etc. Furthermore, AppTweak's algorithm change detector identified an anomaly occurring worldwide on that day. 


Source: AppTweak
Given that this sort of anomaly can affect metrics, ASO practitioners are advised to pay closer attention to this event when crafting their reports. 
January 22 – App Store extends deadline for in-app purchase and account deletion
Apple has extended the deadline for in-app purchase and account deletion requirements to June 30th 2022, in order to provide more time for the developers to update their apps. 
Let's briefly recap on the requirements in question. In 2020, Apple decided to support developers who needed to adapt their services from in-person to digital, due to the COVID-19 pandemic. Namely, the guidelines that required the apps offering paid online group services to do so via in-app purchases, were deferred. The deadline was then extended to June 30th 2022. 
App Store Review guidelines also gave users greater control over their personal data by requiring apps to allow account deletion from within the app. The initial deadline for this requirement was January 31st 2022. However, due to its complexity, the deadline was extended to June 30th 2022 as well. This requirement includes the following: 
The account deletion option should be easy to find within the app.

Temporary deactivation isn't sufficient; users should be able to delete the account along with their personal data. 

Apps in highly-regulated industries may need to provide additional support to facilitate the process. 

Developers must follow applicable legal requirements for storing and retaining user account information.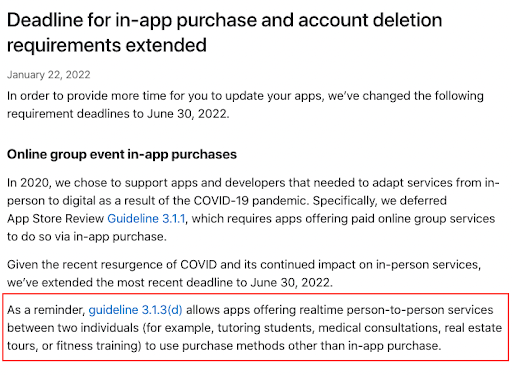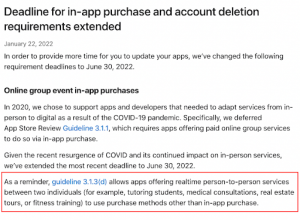 Source: Apple 
From an ASO perspective, the deadline extension is good news because apps are given more time to adapt marketing strategies and avoid interfering with the new requirements. 
January 26 – Apple Search Ads now supports CPPs
In the long list of Apple's recent updates you'll find that Apple Search Ads now supports custom product pages. 
It's now well known that you can create up to 35 additional versions of your App Store product page using custom product pages. This feature will enable you to showcase different app features, content or promotions, depending on your intended audience. What's also exciting about this, is the fact that the new seamless integration with Apple Search Ads lets you easily use these pages to create tailored ad variations on the App Store. (Apple) This unprecedented opportunity is revolutionizing ASO strategies, and ASO practitioners are strongly advised to take full advantage of the new feature.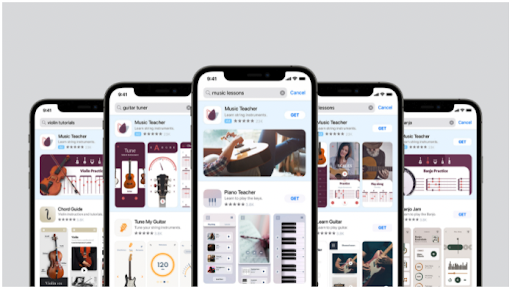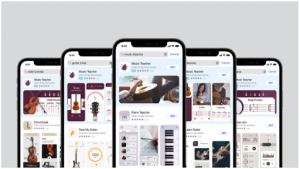 Source: Apple 
January 27 – Create ad variations with CPPs
In line with the previous topic, Apple also released a guide on how to create ad variations with the help of custom product pages. These custom ads allow you to align creative with specific keyword themes to target specific user groups. Here's a brief overview of what ad variations offer: 
Build up to 35 custom product pages with different app preview videos, screenshots, and promo text — all of which will be available in Apple Search Ads to use for ad variations. 

Easy management: you can change the assignment of a custom product page to an ad group in Apple Search Ads at any time.

Your ad creative will match your custom product page and users will land on that page when they tap your ad. Ad variations can be added when you start a new campaign or ad group, or anytime after in the Apple Search Ads dashboard. 
From an ASO perspective, this represents a great opportunity to unite paid performance marketing and organic ASO strategies into a larger app growth strategy. You can create a seamless experience for your users and increase conversion rates. (Apple)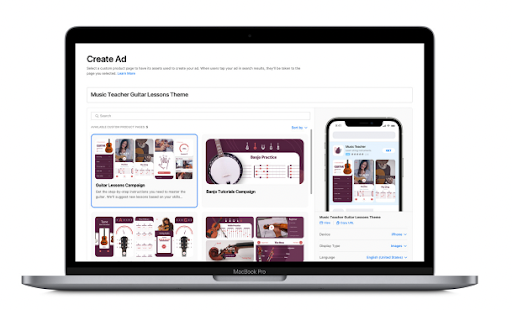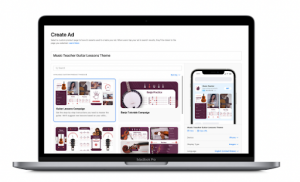 Source: Apple  
January 27 – App Store shows four screenshots on some devices 
A member of the ASO Stack Slack community reported seeing four screenshots in the search tab on some devices — specifically iPhone 12 and 13 Pro Max, running on iOS 15.2 and iOS 15.2.1. In addition, several community members confirmed seeing the same thing on devices of various sizes running on iOS 15 and higher.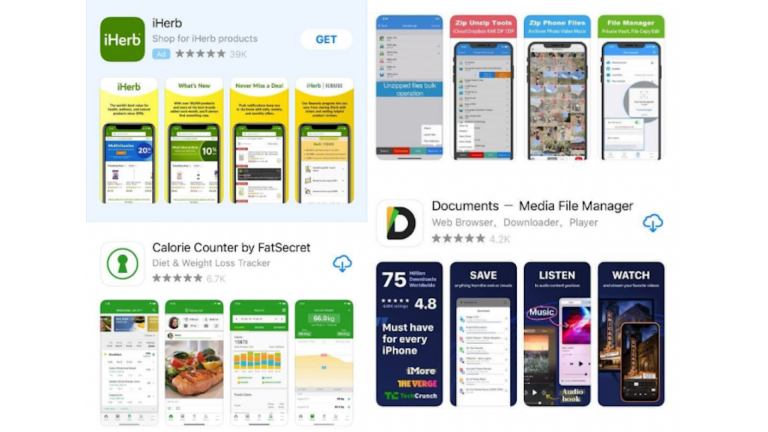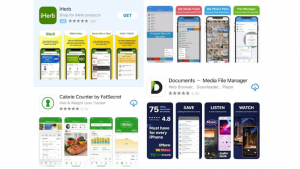 Source: ASO Stack Slack 
What this means for ASO practitioners is that special attention should be paid to screenshot design. With four screenshots visible for users whose devices run on iOS 15, the size of the design elements should be reconsidered, including captions. It's also an exciting testing opportunity since users can see one more screenshot than before, which could potentially increase the chances of improving conversion rates. (ASO Stack Slack Community)    
January 30 – Unlisted apps available on App Store 
Apple has released another interesting new feature called Unlisted App Distribution, allowing publishers to "release apps that aren't suited for public distribution as unlisted on the App Store, discoverable only with a direct link". This means developers can now publish apps that can only be installed via a direct link and cannot be found through normal App Store search. However, an unlisted app still needs to be submitted to the App Store and pass the review process. 
A word of caution: Apple makes it very clear that unlisted apps are not a new way to distribute pre-release versions. On the contrary, once the app is approved as unlisted, its visibility cannot be changed.
Upcoming events:
Mobile / App Conferences & Events List 2022
Tool updates
AppTweak: All Ranked Keywords Performance
Interesting reads 
How the Top Apps Ask for Ratings and Reviews | Rating Recipes
Creatives for ASO: The Complete Guide | Yellow Head 
How to Optimize Custom Product Pages in iOS 15 | Phiture 
How Contextual Mobile Ads Boost iOS 15 App Store Installs | Storemaven 
App Store Optimization Trends for 2022 | AppTweak 
Custom Offer Codes for Subscriptions Now Available | Apple Developer Blog
Before you go
An interesting detail to consider when reporting on the App Store metrics: the traffic counted as Web Referrer on the App Store comes from the Safari web browser only. This means that anyone discovering the product page through another browser such as Chrome, Opera etc. on their mobile device will be counted as App Referrer, even though those users are technically coming from the web.  
You may find the list of browsers referring to your product page in the Analytics section of the App Store Connect.


Thank you for reading this far!
Discover more ASO hacks & insights by joining the ASO Stack community
In our ASO Monthly September review,…
---
October 5, 2022


by Ritwik Arya and Ramazan Tugay Kahraman
In this interview, Agatha Bejan,…
---
September 29, 2022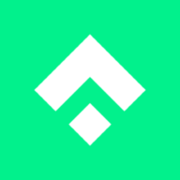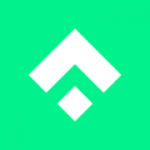 by Phiture