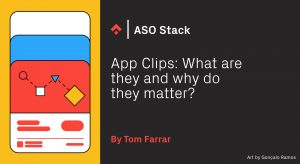 WHAT IS AN APP CLIP?
An App Clip is a miniature, more agile version of an existing app, which gives users the core functionality they need without the usual steps of searching the App Store, downloading a new program, and registering an account before completing a purchase.
This combination of speed and convenience is ideal for users, as it allows them to complete tasks and transactions almost instantaneously. Additionally, that same ease of use and integration with Apple provides new exposure opportunities for existing apps, making it easier for developers to connect with new users.
App Clips aren't something you download in the App Store; they are only there when you need them and delete themselves automatically once you complete the task or transaction. As long as you are logged into your Apple ID with an Apple pay account, you don't have to worry about a thing; the App Clips will take care of it all.
For example, when you're out and need to rent an eScooter or feed a digital parking meter, the transaction can be completed in a few simple taps, all without having to take up any space on your home screen. 

WHERE DO YOU FIND APP CLIPS?
App Clips integrate seamlessly into the iPhone's operating system. They are as easy for you to find as they are for you to use. 
Inside the device, they can appear while you're online shopping in Safari, when you click on a business in Maps or via a Siri Suggestion when looking for lunch. You can even send an App Clip to a friend through Messages. 
Out in the world, you can access App Clips physically by scanning a QR code or simply tapping an NFC (Near Field Communication) tag.  The beauty of an App Clip is that you don't even have to look to find one. Whenever you need an App Clip, there will be one ready to help you.
WHY DO YOU NEED APP CLIPS?
For users, App Clips are a revolution within the Apple operating system. With a size of 10MB or less, they streamline the direct payment process by giving you an instant solution to a problem at a fraction of the size. Whether activated through a restaurant menu QR code or inside an online shop in Safari, App Clips allow you to instantly and anonymously complete any transaction that would usually require a lengthy registration and login process, all from within Apple's operating system.
For app developers, App Clips provide potential users with the opportunity to experience the core function of an app without all of the typical stumbling blocks between awareness and activation. Additionally, developers can include a link to download the complete app as a part of the App Clip overlay, making it even easier to convert satisfied App Clip users into long-term customers.
HOW DO WE EXPECT APPS CLIPS TO GROW IN THE FUTURE?
While online shopping, e-commerce, food service, and mobility apps stand to benefit the most with this recent development from Apple, App Clips are also starting to show potential for game developers and entertainment apps. For example, a visit to a game site on Safari can trigger an App Clip which launches a playable demo of your latest game, hooking new players without ever having to visit the App Store. Those players can then share that App Clip with their friends via Messages, boosting exposure for your game without the commitment of a full download.
Furthermore, users can share specific parts of an App Clip with anyone inside their contacts list. So, when a visitor to an online clothing retailer launches a Clip, that user can share the new sweater they found with their friends via Messages, providing yet another opportunity for targeted organic growth through App Clips. With the use of QR codes and NFC tags continuing to grow exponentially, we expect opportunities to market and showcase an app's value proposition to thrive in the physical space as well.
While Apple does not require developers to create App Clips for their apps, it is clear that these tiny programs can offer great potential to users and developers alike.
App Clips are a part of iOS 14.3, which is available on iPhone 6S and later.
If you need specific advice, feel free to reach out!
There are solid reasons you should be…
---
March 22, 2023

by Gizem Akgül and Natalie Rozenblat
Here we outline why Apple Peer Group…
---
March 21, 2023

by Ramazan T Kahraman