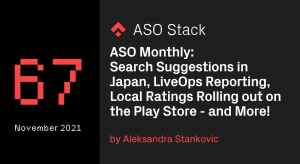 In this ASO Monthly series, the Phiture team reflects on the previous month and sheds light on trends in app store optimization, algorithm changes, privacy changes, conversion rate optimization, and tool updates.
This update was prepared by ASO Consultant Aleksandra Stankovic at Phiture.
Phiture has prepared a series of articles on iOS 15 to ensure you're ready to install!
iOS 15: How To Optimize Your App's Conversion Rate Post iOS 15
ASO Stack: How In-App Events Can Boost Your Most Important KPIs
November 5 – Search Suggestions in Japan
As reported by ASO Stack community member, Hiroto Inada, search suggestions are finally available in Japan. (ASO Stack Slack Community) Given that Japan's mobile app market is booming with some of the highest install rates worldwide, we can see how exciting this news is for ASO practitioners who work with the Japanese market. 
Search suggestions are a valuable element in app store optimization. When searching for the best suited keywords to put in your app's metadata, make sure to take advantage of search suggestions. 
When users search on the App Store, they see suggested search terms related to what they're looking for. This is what makes them a great discovery method. More often than not, users simply tap on a suggestion instead of typing the whole phrase, which means these suggestions have high user intent. In terms of ASO, high user intent describes a user searching for something specific, ready to download.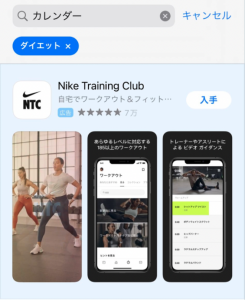 Source: ASO Stack
November 8 – Submissions Now Accepted Throughout Holidays
Apple recently announced that they will be accepting submissions in App Store Connect throughout the upcoming holidays. Get your apps ready and up to date in time for the busiest season of the year. A word of advice: since Apple anticipates high volume of submissions, plan to send time-sensitive ones early. In addition to that, reviews may take longer to complete from November 24th to 28th, as well as December 23rd to 27th. From an ASO point of view, holidays mark a seasonality period for a great number of apps. This is an excellent opportunity to optimize your apps accordingly and get more downloads. (Apple)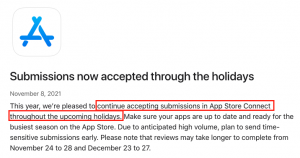 Source: Apple
November 9 – LiveOps Reporting in Console
Google's LiveOps platform has been updated, and an exciting new feature, LiveOps Reporting, can now be found in the Google Play console. You can use it to evaluate how your LiveOps offers and events are performing. That way you can learn more about what works well with your audience, and plan your future events accordingly. 
Let's recap briefly what LiveOps are. They allow you to create real-time events, offers and updates that will be displayed on the Google Play Store in the form of cards. This is a great way to promote your app or game as well as increase engagement. LiveOps cards appear in Apps or Games tabs, the Events tab under the Games tab, as well as the store listing page, and in the case of offers in special Offers collections. (Google) 
Unlike the App Store equivalent – In-App Events – which are available to all users who signed up for the new feature, LiveOps are only available to a limited set of developers. However, if you are already one of them you might find the following overview of data in LiveOps reports interesting: 
Daily

: shows you the user-generated data on each day your event was running 

Cumulative (all time)

: shows you cumulative totals by day, from the start date of your event. In other words, it shows the total number of people who interacted with your event. This metric is available for all events that run for up to 28 days. 

Cumulative (28-day rolling)

: shows the cumulative totals for the preceding 28 days from each date. This metric is available for all events and offers that run for longer than 28 days, including those that run indefinitely. 
This report will show you how many unique users your event influenced, since it covers users instead of impressions. Furthermore, you can evaluate your data and get an overview of your event's performance in terms of: viewers, converters and conversion rate. (Google)From an ASO perspective, you have a great opportunity to optimize for better conversion. Use the information to drive users to open or reinstall your app, or partake in an offer and align your marketing efforts across different channels.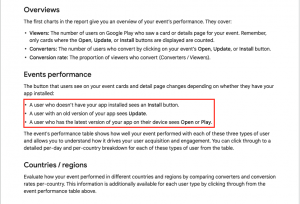 Source: Google
November 16 – Local Ratings Rolling out on the Play Store
Starting November, Google Play Store is displaying local app ratings. Several members of the ASO Stack community reported seeing different ratings for the same app depending on the country. Having different ratings per locale proves to be more useful than unified ratings from all over the world. There's an interesting discussion around this topic, so we recommend you read more about it in the ASO Stack Slack Community channel.  
Play Store ratings are calculated based on the app's current ratings from user reviews rather than lifetime average values, except in the case of apps with very few ratings. Google claims that this gives users more insight into the app and a better understanding of its current state, given that apps change over time, and often add or remove features. The number of reviews shown, however, is the total lifetime number with the purpose of providing the user with information about the app's overall use and longevity. 
In terms of ASO, ratings represent a powerful force that can help you boost your conversion rates. Now that users can see different numbers depending on their country, it's important to focus on raising your ratings per each locale separately.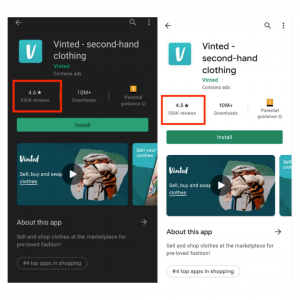 Source: ASO Stack Community
November 17 – New Campaigns Not Showing Ads
As reported by ASO Stack community member Ryan Kelley, newly launched search ad campaigns are not receiving impressions due to a bug, starting November 17th. The bug affected campaigns in several locales, and even though it was reported that it would be fixed that same day, it's worth paying closer attention to campaigns launched during this time period. (ASO Stack Slack Community) 
A word of advice for ASO practitioners: approach the reports around this period with an extra layer of caution, since paid campaigns affect organic downloads as well.
November 23 – Missing Data
Several members of the ASO Stack community reported missing data on downloads for several days. One of the members reported seeing the number of installs but pointed out that most of the other data was missing. Since this was happening only a couple of days after the reported bug on November 17th, it's a possibility that we're seeing the continuation of the same problem, or at least the consequences. (ASO Stack Slack Community) 
It's advisable that ASO practitioners pay special attention to this series of events, and take them into consideration when reviewing reports.
November 29 – Algorithm Change in Japan and South Korea
Google Play Store algorithm changes have been spotted towards the end of October in Japan and South Korea, as reported by several members of ASO Stack community. A sudden drop of page views from search was noticed, and at the same time the median conversion value increased, regardless of the category. (ASO Stack Slack Community)
Why these changes occurred is still unknown, however, ASO practitioners are advised to exercise caution regarding this matter.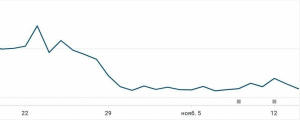 Source: ASO Stack Community
A few notes about In-App Events
Ever since the In-App Events rolled out last month, the Phiture team together with members of the ASO Stack community have been testing them out and made the following observations: 
In-App Events review times range from 24 hours to a couple of days 

You can pitch your In-App event to the editorial team and improve your chances of getting featured in the Today tab 

It's officially confirmed that the title and short description in the In-App Event metadata are indexed 

Setting In-App Events can lead to drastic, though temporary, improvements in your app's 
impressions, downloads, and even rankings
Events
December 15th: App Growth Summit APAC, Online 
January 25th-27th: GamesBeat & Facebook Gaming Summit, Online
Tool updates
Storemaven: Storemaven Presents a New ASO Platform, Built for iOS 15 
MobileAction: Track Your Mobile Ad Creative's Journey with MobileAction
Interesting reads
iOS15 and Product Page Optimization: The A/B Strategy | Phiture 
Google is testing a new Offers section in the Play Store | Androidpolice
Google's Play Store website getting a redesign | Androidpolice 
App Seasonality Trends for the Holiday Season | AppTweak
App Marketing in Australia & New Zealand | AppAnnie 
India: A Booming Mobile Economy | AppAnnie
Thank you for reading this far!
Discover more ASO hacks & insights by joining the ASO Stack community
Learn how user surveys and pricing…
---
September 20, 2023
by Pierre Neau
Explore Phiture's AI Labs: Shaping the…
---
September 14, 2023
by Moritz Daan