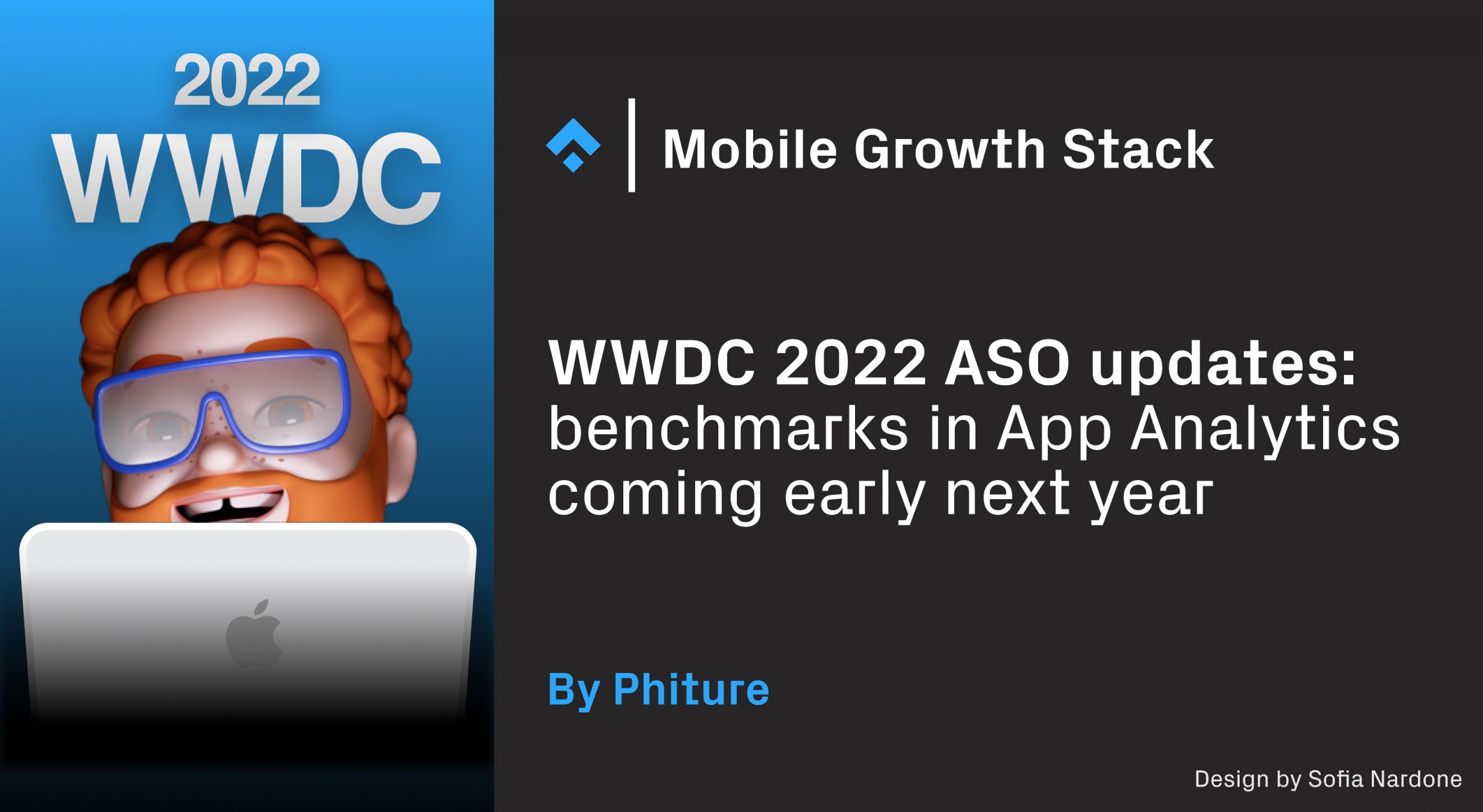 Editor note: The article was written by Phiture Consultants, Aleksandra Stankovic, Erica Saraval, Ksenia Klevtsova, Sergio Martinez, and Shivani Chhabra.
To wrap up this year's WWDC, Apple has announced updates to benchmarks in App Analytics that will be available early next year.
Previously this year, in the keynote Apple announced new features available in iOS 16, as well as, changes to App Store Connect. If you haven't yet, read in our blog posts how these new announcements will impact your app growth strategies. 
Now let's dive into benchmarks in App Analytics, and see how this new feature can help you measure your app's performance. 
Discover benchmarks in App Analytics 
The announcements mean Apple has finally caught up with Google when it comes to benchmarking. This feature will be of tremendous value in understanding how your app stands compared to its peers. App marketers should always be keeping an eye on the competition and looking for ways to improve app performance and conversion. This feature will enable the working out of the scope of improvements required for an app to compete with its peers. 
Overview 
The key announcement is that you will be able to learn about the performance of similar apps to your own in a privacy-friendly way, and check how your app is performing relative to the competition. 
Benchmarks add value when assessing app performance. For example, even if your app is making a steady progress in improving its conversion rate, it could still be in the bottom half of your peer group. 


Source: Apple
The benchmarking tool can provide valuable insights like these without revealing the performance of an individual app in your peer group. 
To protect the privacy of apps within a peer group, but still have high relevance, Apple aggregates the apps so the individual app performance is not revealed. 
To help you find your relative position, Apple displays the distribution of the peer group in terms of the 25th, 50th and 75th percentile. This way performance is shown relative to the peer group, and whether there is either a growth opportunity, or you're already performing relatively well.  

Source: Apple
Metrics 
One of the benefits of benchmarking is to get insights into how an app is performing throughout the customer lifecycle. 

Source: Apple
For that reason, benchmarks will be available for metrics related to acquisition, usage, and monetization. 
To measure acqusition better, there will be conversion rate benchmarks. This will show how often people download or redownload an app on the App Store. The higher the conversion rate, the more efficient the new user acquisition.

To help measure usage, you'll be able to see Day 1, Day 7, and Day 28 retention. This will help you understand what percentage of people actually use your app 1, 7 or 28 days after download. This is a good indicator of how engaging an app is. 

There will also be a metric for crash rate, as part of a peer group. This is important to know, because if an app is crashing more than normal, it could affect retention and monetization metrics negatively.   

Creating a good monetization strategy is not an easy task, but with monetization benchmarks around average proceeds per paying user, you'll have more information to assess performance.
Relevancy and privacy 
Peer groups are created in such a way that they show highly relevant apps. The privacy of each app within a peer group is well protected. Peer groups will be relevant to you no matter what kind of app you have on the App Store. 
One of the factors that is taken into account when creating peer groups is the category. This means the apps within the same category will share the same peer group 

The second factor that Apple will look for when creating peer groups is how your app monetizes: in other words, whether it is a free app, fremium, paid, paidmium, or a subscription app. This is logicial, as apps with different business models have different expectations.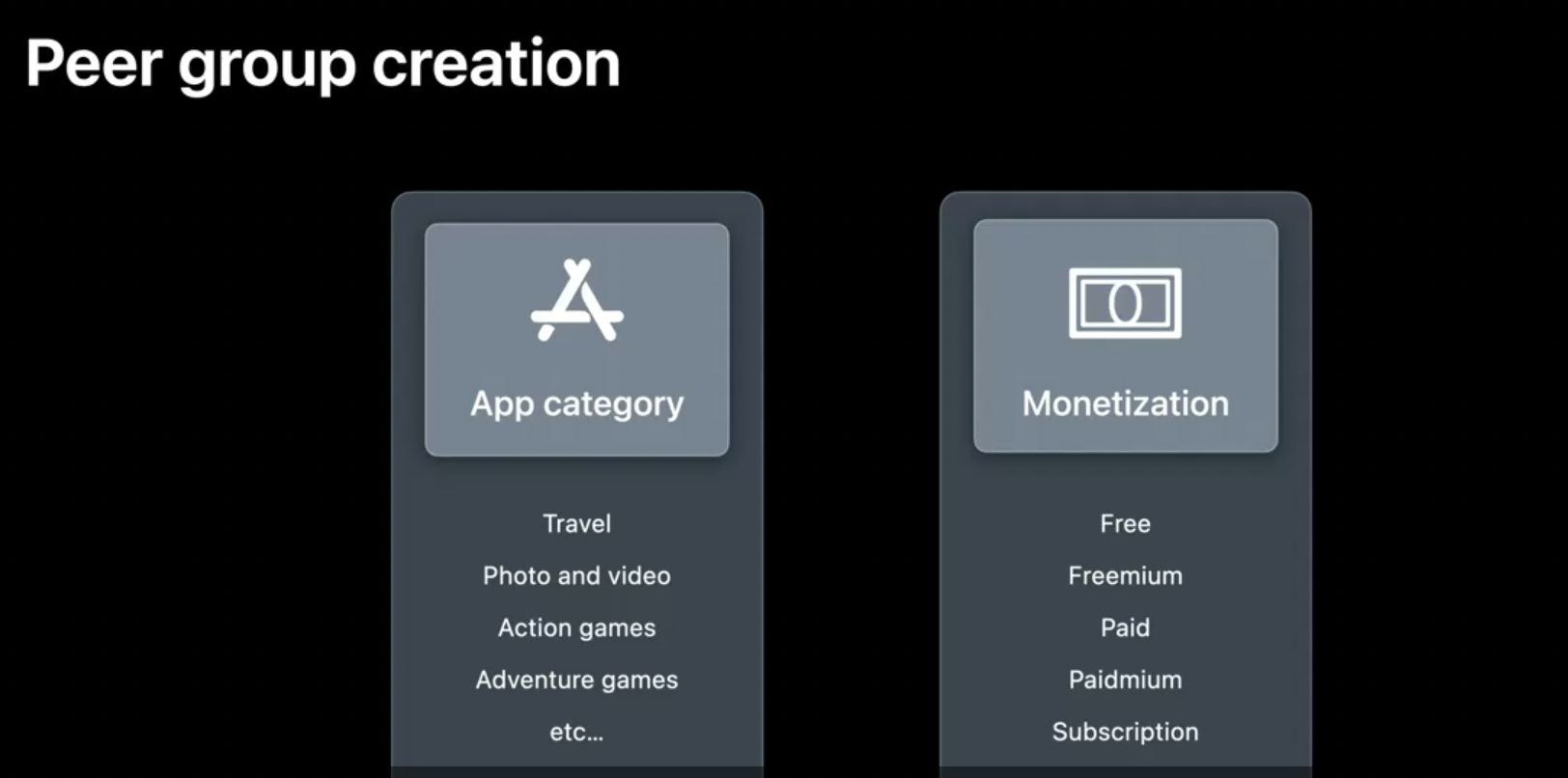 Source: Apple
Each attribute used to create your peer groups allows for meaningful comparisons over time between your app and its peer group. 
Apple puts a lot of emphasis on privacy. A technique called differential privacy is used to ensure that aggregated data remains helpful and private at the same time. This is achieved by adding a small amount of noise to each data point about your peer group, keeping all the apps within the same peer group safe and protected. 

Source: Apple
Taking action   
Apple suggests using other App Store tools to take action on this information. For example, leveraging Product Page Optimization and Custom Product Pages to show an appropriate product page to the right portion of your audience, and increase your conversion rate. To improve your usage metrics you can utilize In-app events and App Clips. This way you can increase your app's engagement. Finally, to improve your monetization you can try out different pricing and promote in-app purchases. 
With this final important announcement from Apple this year, we conclude the WWDC 2022  recap. A word of caution, even though benchmarking is announced to be released early next year, we know from last year's experience that sometimes it can take a while longer than expected!
Explore other recent articles