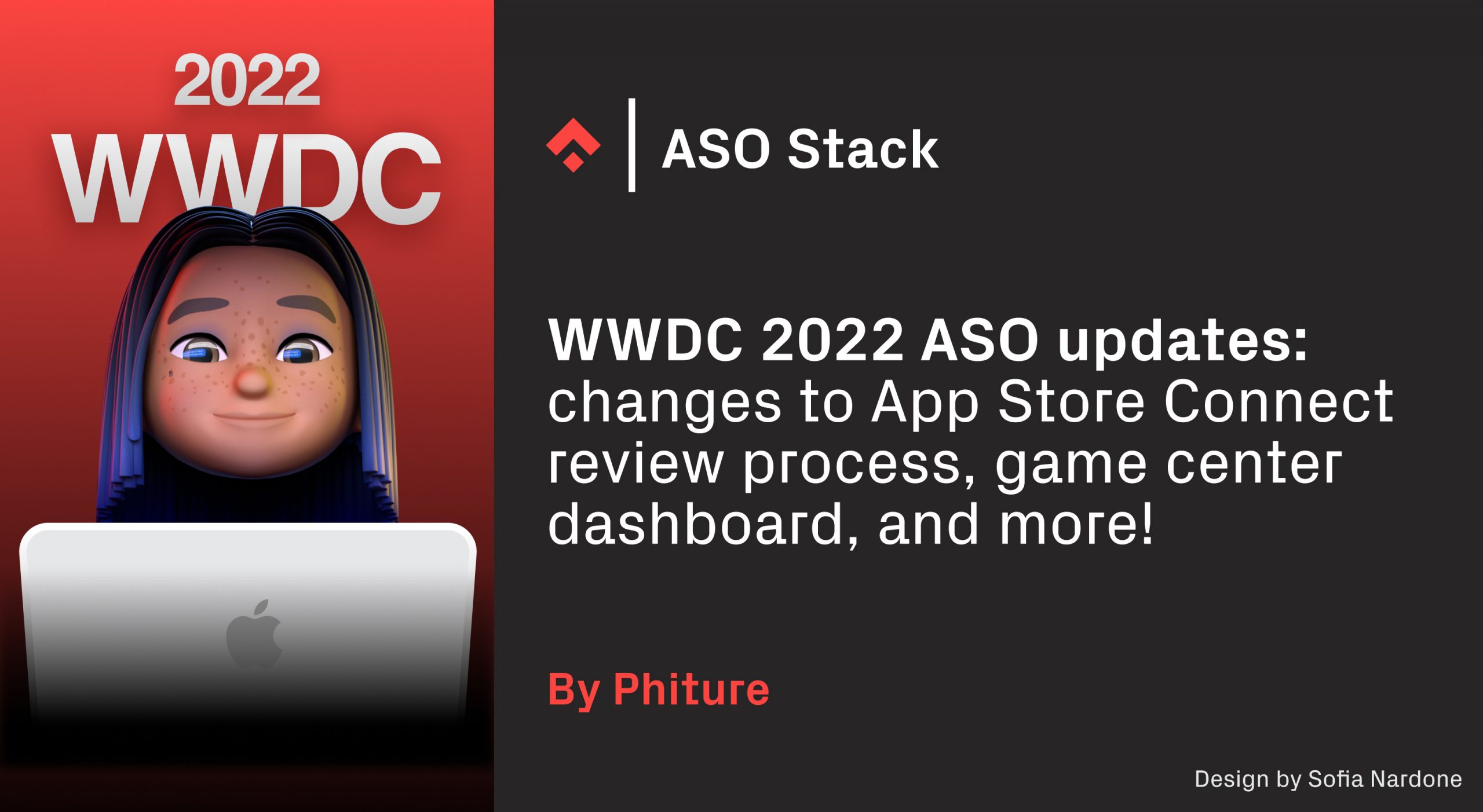 Editor note: The article was written by Phiture Consultants, Aleksandra Stankovic, Erica Saraval, Ksenia Klevtsova, Sergio Martinez, and Shivani Chhabra.
The WWDC week is still in progress, and we'll continue to keep you updated with all relevant updates. In this article we'll cover the following changes that are relevant to app marketers: 
The update to App Store Connect review process 

The App Store Connect API 2.0 to be released this summer 

A new game center dashboard 

Updates to requesting a review 
We'll share our thoughts on how these updates can be leveraged when it comes to app growth strategies, but first, let's dive into the most important update for app marketers, changes to App Store Connect.
3 major changes to app reviews for an enhanced App Store submission experience
Group multiple items in a review submission
After the latest update, you'll be able to group multiple items into a single submission. This means that different items, such as Custom Product Pages, In-app events, Product Page Optimization tests, and new app versions can now be submitted together. 
All submissions, regardless of the type, will be reviewed within 24 hours. However, the review will not be approved unless all submitted items are accepted. Incase one of the items gets rejected, you have two choices – either edit the rejected item and resubmit, or remove the rejected item from the group algothether. After this the submission should be accepted. If you still want to publish the items that you removed from the previous submission group, you need to make the necessary changes and submit those items as a part of the new submission. 
This is very exciting from an ASO standpoint because you'll be able to test multiple elements at once and speed up the testing process. That way, you'll be able to create more efficient strategies in a shorter time frame.

Submitting items without a new app version release 
In-app events and CPPs can now be submitted for review without a new app version release. The previously approved app version is required as the items will be reviewed against this version. However, if you included a new app version in the new submission group, then the other items will be reviewed against that new version.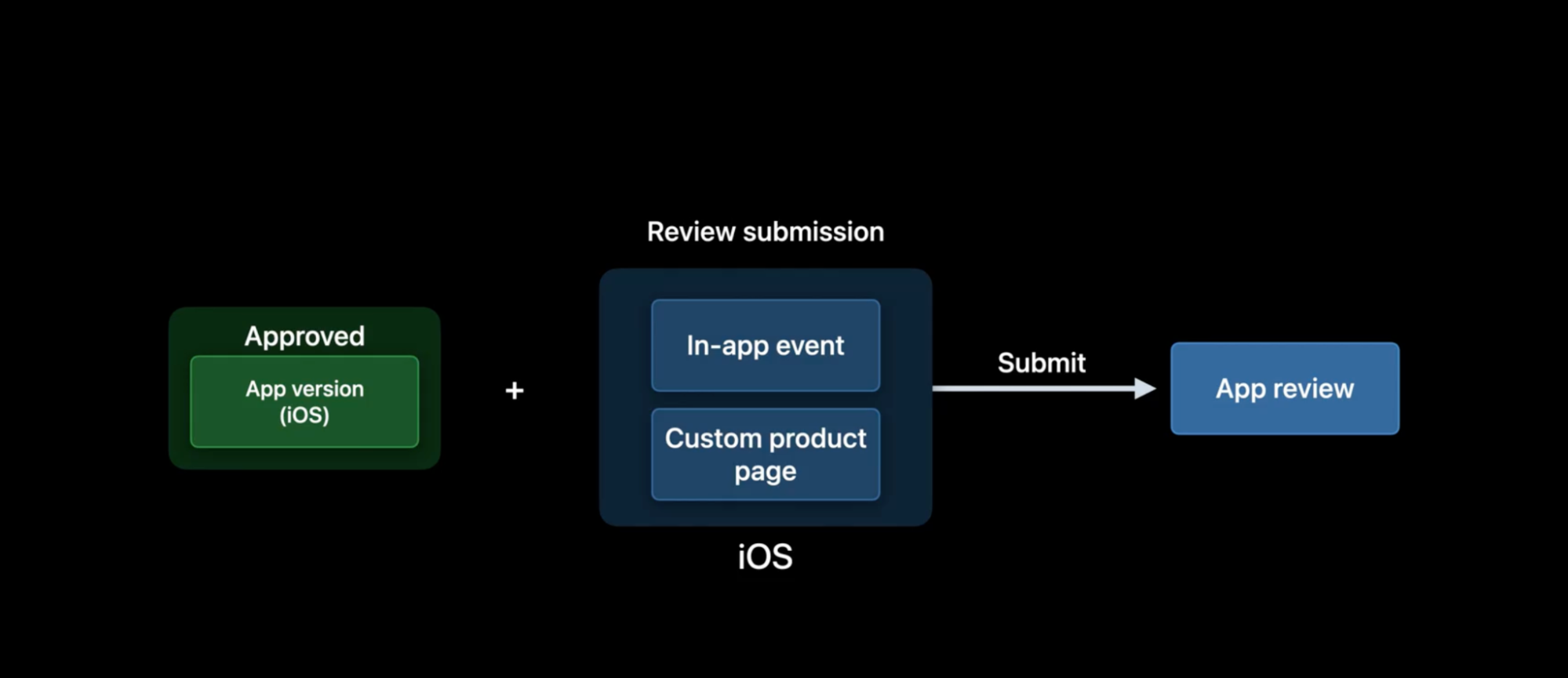 Dedicated app review submission page 
To help you manage the entire workflow more efficiently, Apple has released a dedicated page for app reviews in the web version of the App Store Connect. This page contains an overview of all submissions, which can be clicked on for more details. 
As it would be convenient to manage your submissions on the go, Apple has introduced the submitting process on iOS and iPadOS, which means you'll be able to submit any items ready for review from your iPhone or iPad. You'll get notifications to stay informed about the review status. Additionally, checking the rejection reasons, removing the rejected items, and replying to App Review can now be done on the go as well. 
From an ASO and developer perspective, this capability allows you to be more flexible and not lose any time if you're on a tight deadline. 
The release of the App Store Connect API 2.0 announced for this summer 
The 2.0 summer release of the App Store Connect API will bring new functionalities: 
Managing in-app purchases and subscriptions

Customer reviews and developer responses 

App hangs diagnostics 
Within in-app purchase and subscription APIs, developers will be able to break subscriptions into their own resources. They'll have a full control to create, edit, or delete in-app purchases and subscriptions, as well as manage the pricing, submit for review, and create offers and promo codes.
With the enhanced functionality of customer reviews and developer responses, developers will be able to receive and respond to customer reviews.
An additional feature in the reporting data, will be app hang diagnostics. This feature will allow the developers to identify and eliminate hangs in an app more efficiently. Previously, the only metric available was the app hang rate. After the summer release, it will be possible to diagnose the type of app hangs through the existing diagnostic signature resource. This will help to identify the specific issues within the app.   
From an ASO and developer point of view, this update will enable you to have more control over creating in-app purchases and subscriptions, responding to user reviews in an easier way, and fixing the app crash issues more efficiently. All of these elements should be a part of an advanced and succsessful app growth strategy. 
Reach new players with Game Center dashboard
Game center is Apple's social gaming platform, and the new update brings new features to explore games easier. 
Using GameKit, you can easily integrate with Game Center, and the players will be automatically signed in, ready to compare scores with other players on leaderboards, and track progress through achievements. It's possible to integrate support for multiplayer matchmaking and realtime play as well.     
The new update introduces a new plug-in for Unity, developed specifically for GameKit. Additionally, the Game Center dashboard has been redesigned to include activities from a player's friends in your game and across other games, all in one place. When a player opens the dashboard, they will see the recent activity in your game, which leads to more player engagement. 
From an ASO and developer perspective, this means having your game and all of its great activity discovered in more places and in an easier way. These are very exciting news for game developers.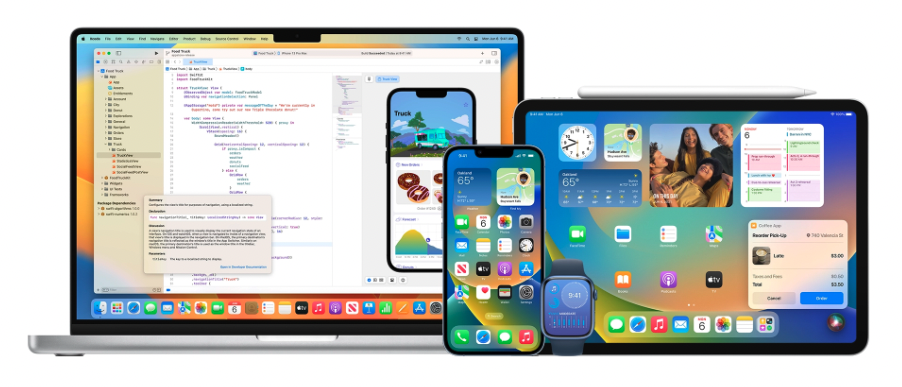 What's new in request review?
Getting user feedback is important because potential new users usually use your reviews as one of the deciding factors whether to download your app. The new update provides you with a tool that will make it easy to request a rating from your users. That way you can let them know you're listening to their feedback and continue engaging with them. 
An update to Request review API makes it easier to create Review dialogs. When it comes to best practices for user review requests, Apple has a few suggestions: 
You can decide the right time to request a review for your app, but keep in mind that the rating prompt will only be displayed to customers a maximum of three times within a 365-day period.      

You shouldn't ask customers to review the same version of your app multiple times.

Avoid interrupting customers with a review prompt. A good time to ask for a review could be after they've had a positive interaction, such as completing a purchase on an e-commerce app, or completing a level in a game. 

Finally, customers can disable requests from ever appearing on their device, so you shouldn't request a review as a result of a user action.
This update can improve efforts of ASO practitioners to get higher app ratings and better reviews, which is also an important element in a good app growth strategy. 
Stay tuned for the next round of updates. The WWDC week isn't over yet, and there are more exciting announcements coming our way.
Learn how user surveys and pricing…
---
September 20, 2023
by Pierre Neau
Explore Phiture's AI Labs: Shaping the…
---
September 14, 2023
by Moritz Daan