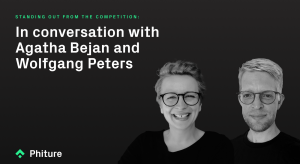 August saw the arrival of two new Directors at Phiture, Agatha Bejan, Director of CRM and Subscription Optimization, and Wolfgang Peters, Director of Acquisition. The pair come with a wealth of experience, particularly in the gaming industry. Agatha and Wolfgang's arrival marks an exciting juncture for Phiture, in our aim to lead the field through knowledge-sharing. We sat down with them to get their perspectives on this constantly evolving field, life at Phiture, and how they'll be applying their talents to Phiture's diverse portfolio of clients. 
How's it been since landing at Phiture? 
Agatha: My first few weeks at Phiture were a learning curve. I've been in the gaming industry for a decade, working on CRM for companies like EA, Zynga, and Jagex. I joined Phiture to help evolve the CRM and Subscription Optimization services with my experience from the industry. I've often worked with agencies in the past (as a client), but at Phiture, I was amazed (and thrilled) to see, firstly, just how much time is invested in understanding each product to its core, and secondly, the strategic thinking involved to realize goals. It's really interesting for me to see this firsthand across a broad portfolio of clients, and get to see the many talented minds at work that Phiture has in its teams.
Wolfgang: It's been a great start for me too, the onboarding was really well prepared, I knew how my first days look like before I started and from there on it went very smooth. Everyone is very welcoming and seems to really appreciate me being here and bringing in my expertise and way of thinking. I've been working in gaming for nine years, on the development and publishing side, and in a telemedicine company just before I joined Phiture. 
Is there anything in particular you're looking forward to?
Wolfgang: The first weeks I've been looking rather inwards to understand how we do Performance Marketing and ASO here at Phiture. Now I'm involving myself more and more with the clients which is exciting and interesting. I'm definitely looking forward to continue doing that and working more with Agatha and the other Directors that are joining. It feels like a great team already. 
Agatha: There's a lot I'm looking forward to, but in particular, I would say continuing to be part of the dynamic between my colleagues at Phiture and the product teams of our various clients. Coming from the client side myself, it's refreshing to see how hard the Phiture team works to make sure no stone is left unturned when it comes to finding mobile growth solutions. Taking pride in one's work is infectious, and it's been so enjoyable being a part of this team. 
What would you say are the main differences between ASO for apps, and ASO for games?
Wolfgang: For games, search optimization often plays a minor role and most of the effort goes into Conversion Optimization. Success in ASO is strongly tied to the creatives. In gaming you usually have less strict design guidelines that allow for testing much bolder and very different creative directions. Along with that, for example, icons are much more common to be part of the testing roadmap for games. And I don't mean changing some color scheme or adding a brand name, I mean going from one character to a vehicle or an item. Also the degree of freedom is higher for gaming assets, you don't have to be super accurate with your creatives. Much of the time, you need to break down very complex game mechanics into one picture to explain on a screenshot. 
This boldness, shall we say, means that the conversion uplifts – but also the losses – are often much higher. I've seen 100%+ uplifts in Google Play Experiments from a single Icon Test (several days, 1000s of installs on each variant); I've yet to see that with apps. 
What would you say are the main differences between retention for apps, and retention for games?
Agatha: Retention for both mobile games and mobile apps is centered around the content offered to the users, but the main differences arise from the levels of complexity – a mobile game often has a complicated narrative behind it and a lesser sense of functionality (as many apps have). Add to the fact that games are also complex economies, it's not surprising that retention rates are much lower for games.
In terms of development, a mobile game could be more challenging to develop, compared to a mobile app, which means adding extra channels to amplify retention is often deprioritized. For this reason, is critical for CRM & Product to closely collaborate in creating a 'retention stream' focused on adding owned channels that will be used to bring extra value to the players at each stage of the lifecycle (i.e. personalised push notifications can increase early engagement rate, but also reduce churn through targeted win-back campaigns). Another overlooked fact in the gaming industry is how a strong CRM tech stack would allow their game development team to spend more time on what's really important, like creating new game content (instead of embedding generic notifications in the build).
Is that something apps can specifically learn from the gaming sector? Is that something they could improve by looking at the example of the gaming sector?
Agatha: The obvious answer is "gamification" – implementing gaming elements to a mobile app could get users better engaged and focused on their goals, which would have a positive impact on the app's critical metrics like retention rate, churn rate, and even return on ad spend. Ideas for gamifying an app include progress display, incentives for daily use of the app, badges, leaderboards, etc. The less obvious answer, for those mobile apps built around engaged communities, exploring "live events / live ops / live services" is something that should be explored further by different apps (think a 'Fortnite season' in a hiking app with a really cool reward; this could also improve retention during a historical low season)
How do you plan to apply your previous experiences in Phiture's service offering?
Wolfgang: It's very much connected to what I said about the differences between ASO for apps and ASO for games, which is also true for paid User Acquisition. The focus needs to be on creatives and a healthy, clear relationship between consultants and designers. I've seen teams fail on that but I've also seen teams that have done extremely well. 
In terms of performance marketing, I've worked with some relatively advanced tech setups, which were very tailored to the use cases of the products or games. Of course, every product is different, but I think the experience of the thought process behind such solutions, and comparing marketing spend to the lifetime value is very valuable. Then there are the benefits of working with machine learning algorithms and automated campaign optimizations. We do this already to some extent, but we can definitely educate some other clients in that regard.
Agatha: A lot of companies have access to data, and in a way, game companies are data companies. But not all companies are fully staffed to access the data, interpret it and translate it into retention strategies. So that's what we are going to look to do further with the retention team on behalf of our clients.
The market is also evolving and right now we're seeing a shift in how apps monetize, specifically around subscriptions. Phiture is known in the industry for being at the front of the pack when it comes to subscription trends. I want to use my experience of enacting strategies for one specific app, to help continue making sure Phiture's clients are receiving the right advice at the right time when it comes to subscription optimization. In this regard, the role of a consultancy is to have a tool kit of different strategies laid out ready to adapt to changing circumstances.
What are the trends in the mobile growth industry you expect to see in the next few years?
Wolfgang: The trend of algorithms taking over more and more of the work that a classic campaign manager used to do will continue. In Performance Marketing that means we will do less of day-to-day adjustments of bids and budgets, instead, focus even more on creatives. 
There will also be a competitive advantage with new channels, for the ones who identify them early. In 2020 or so we were relatively early testing on TikTok which gave us a knowledge advantage at that time, plus the account managers were very keen to support us, add budgets for testing, whitelist us for features in development and such. At some point, there will be a new TikTok – whatever that is. Despite the pain it causes to explore such opportunities, the efforts are all worth it in case the platform turns out to be big. That said, I believe that Meta and Google are not going away too soon, and also the App Stores will stay relevant in the next few years. With Custom Product Pages for example Apple released a great feature last year that brings great opportunities to connect paid UA and ASO better. This connection will become more relevant. 
Privacy needs to be mentioned here as well. We of course like privacy from the user perspective, though as a marketer, it becomes more difficult to steer and optimize campaigns. It requires us to have a good attribution model in place to still run performance marketing campaigns.   
Agatha: We're seeing the changes in privacy across platforms/ providers having a direct impact on how campaigns are measured and optimized. And us at Phiture are also determined to protect users from intrusive campaigns, which means we work even closer with our clients to develop creative ways to onboard and retain users. Continuing our discussion about trends, in recent years personalization was seen as a game changer, and I think this will continue to be a trend for a while. Additionally, unified user profiles will continue to be a key trend in the upcoming years, as this will eliminate some of the issues brought by data fragmentation (lots of data is scattered across channels, platforms, devices) and will allow Product teams to deliver better user experiences, and Marketing/CRM to shift their focus from sales messaging to messaging relevant to the users experience.
Being ahead of the times and succeeding in applying the latest trends is important, but worth noting that many companies are still at the stage of integrating an elementary mar-tech stack to help them amplify their growth. We are here to support our clients by delivering a future-proof CRM strategy, including integrating the right tools and channels, which will drive an uplift in retention and extra value for their users for the years to come. 
Getting back to trends, Phiture is ahead of the curve with a new SubOps service. It will formalize what we are doing already for several clients into one clear offering, that is, the handling of subscription optimization across the entire funnel, taking in your acquisition, activation, conversion and retention efforts. Here we can really add value with our strategic thinking and our conceptual frameworks to bring about successful subscription journeys.
Wolfgang: I like your answer, and I think you're right: we can talk about trends that we want, but a lot of companies out there are still not really covering the basics which we, in our day-to-day business do and not really think about as the next thing that is really changing up the industry or so, but it's definitely changing up the clients, whether the performance of our clients just by implementing that.
What next? 
If you need specific advice on any of the topics Wolfgang and Agatha have raised,

you can reach out to us here

and one of the Phiture team will be in touch!

Having a solid framework for your creative strategy for mobile user acquisition (UA) campaigns is essential. Here Jorieke van den Broeke takes you through

how to ensure winning social media creatives for your User Acquisition strategy.

The onboarding experience is one of the most important steps in an app's long-term retention performance.

In this guide

, we address the role registration plays towards an app's retention and long-term success, what to consider when mandating sign-up process, and, finally, some cheeky ways to integrate the account sign-up to ensure a smooth user experience.
Explore the importance of free trial…
---
November 20, 2023
by Anastasia Karpikhina
This month's ASO Monthly edition…
---
November 6, 2023
by Ritwik Arya