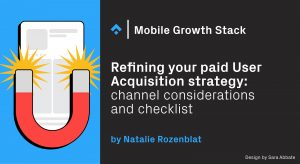 A key component of the Performance Marketer's remit is regularly deciding on the channels to incorporate into an acquisition strategy. This is something we regularly advise our clients on, utilizing our experiences of UA across a dynamic and diverse portfolio of apps. For us, this decision-making process typically covers five areas of consideration: 
The business model, 

Opportunity for scale and ROAS (Return on Ad Spend), 

Resources available, 

iOS15, and, of course, 

Actual budgets. 
With the landscape of potential channels changing all the time, here we share our learnings and offer further points of consideration to refine your own UA strategy within these five areas. For this end, please feel free to use our checklist that we've developed here at Phiture to guide your own decision-making process when it comes to choosing which channels to incorporate into your acquisition strategy, along with included tips on how you can measure success. 
Business model goals
Additional considerations
Opportunity for scale and ROAS
Inevitably, advertisers care about scale and ROAS the most. Where can we unlock additional revenue and increase volume at the same time? Normally, the answer is starting with the lowest effort search channels, that is, Google, Apple, and Facebook for paid social advertising. They have the largest reach potential and are the most common channels included in paid media strategy. 
However, there are also a lot of scale and revenue opportunities in other paid social media channels and DSP's (Demand-Side Platforms), especially in emerging social networks like TikTok.  Check out this article by Forbes for an overview of current trends. The channel decision is heavily dependent on your business model and goals, but don't disregard 'smaller' or 'newer' channels as high revenue and volume potential until you've had a chance to test them.
If you already have a proven performing channel, dedicate at least 80% of your budget towards your 'evergreen' top performing channels.  As a good rule of thumb, we recommend regularly allocating 10-20% of the total budget to testing new channels at least once a year, in peak season. Make sure to dedicate your largest chunk of spend to peak season(s). Remember, budgets can and should be fluid to spend money when it's most profitable. 
Resources available
Do you have the necessary resources available to run ads, i.e. non-search campaigns? If you have a creative and copy team, then you're able to set up an effective ad strategy on pretty much any channel. If you also have a localization team, then you're able to expand tests to other markets rapidly.
For iOS15
Is SKAdNetwork (SKAN) set up?
YES → Unlimited channel options (Facebook, DSPs, Google, etc).
NO →  Only Apple Search Ads, because Apple has no requirements for SKAN, instead they have an AdServices framework that provides full-funnel tracking without any limitations. 
AppTrackingTransparency (ATT) prompt? 
YES →  tracks user-level data and further channel granularity like ad set and ad level data. You can also run remarketing campaigns as users have consented into tracking. 
NO → Data aggregated at campaign level, and the option to run re-engagement campaigns (platforms such as Remerge, Facebook, Google, etc.) is off the table. This is because you have no access, nor consent to user level data. 


Budget
Finally, what is the actual monthly budget that can be allocated to paid media spend? It's important to note that a higher budget shouldn't necessarily indicate more channels. In fact, we recommend concentrating on a few channels and markets at a time in order to generate concrete learnings. This is for a few reasons: 
Bear in mind too that the advertising environment is ever-changing, whether that's because of competitive pressures or challenges with iOS. Paid social success is also largely dependent on creative wins, while performance may be affected by product updates and account bugs. It may not be possible to spend 100% of your budget if you're not hitting your KPI. If you're not hitting KPI, try to understand why that is. Is it the creative, audience/channel combination, not enough significant volume, CPM, low CVR, poor retention, etc.?
You can follow the considerations listed above, paired with our checklist, to select the channels that make sense for your strategy. We've also included recommended minimum budgets based on our overall client experience to guide your decision process. However, please be advised that these are not meant as hard minimums. There is no 'one-size-fits-all' approach, and of course scenarios exist where heavily increased or reduced budgets are required to give you an understanding of channel/market performance. Budget allocations are a much more complex topic, as each of the considerations listed above creates many different scenarios. If you have any other considerations or ideas that we may have missed, please write to us! 
How to evaluate the performance of channels you've selected
Remember, the key to success is finding channels that perform within your KPI targets and allow room to grow volume (and revenue) with increased ad spend. At least once a quarter, you can run a channel metric comparison to measure the success and growth potential of the channels you're testing. The metrics to look out for are: CPM, CPC, CTR, Install Rates, CPI/CPA, CVR, and ROAS.  
You can think of this funnel in two parts:
Channel performance metrics: Impressions > Clicks > Installs
Engagement metrics: Once in the app, is the user engaged and completing an event action such as a purchase? 
If channel performance metrics are promising but engagement metrics are not, it may be a question of audience and/or product fit. If you are encountering audience or product fit problems it's worth considering whether the ads are leading to users to what was promised. It's key to involve the following teams to measure success:
Analytics: to support LTV and CAC analysis of each channel and, if possible, to also measure organic uplift.
Product/Retention: to study the user journey and quality brought in from acquisition activities.
Creative: if you're running paid social campaigns (or Google App Campaigns), assess creative performance together to decide on the future creative direction, and whether the ads are speaking to the right audiences.
App Store Optimization: in order to assess organic uplift and install rate trends with app store changes. Also to align creative strategy from the ad to the app store landing page, as well as incorporating custom product page planning into the experiment roadmap.
If you can set up regular monthly (or at least quarterly) cross-team syncs to evaluate full funnel performance on the selected channels from your UA strategy, your performance marketing team will feel much more in control of understanding the user journey and life cycle from ad click to retention in app. This will also empower teams to make faster and smarter decisions on channel strategy changes, such as scaling certain channels up or down based on LTV, or entering new channels and markets based on growth priorities. 
What next? 
Explore the importance of free trial…
---
November 20, 2023
by Anastasia Karpikhina
This month's ASO Monthly edition…
---
November 6, 2023
by Ritwik Arya