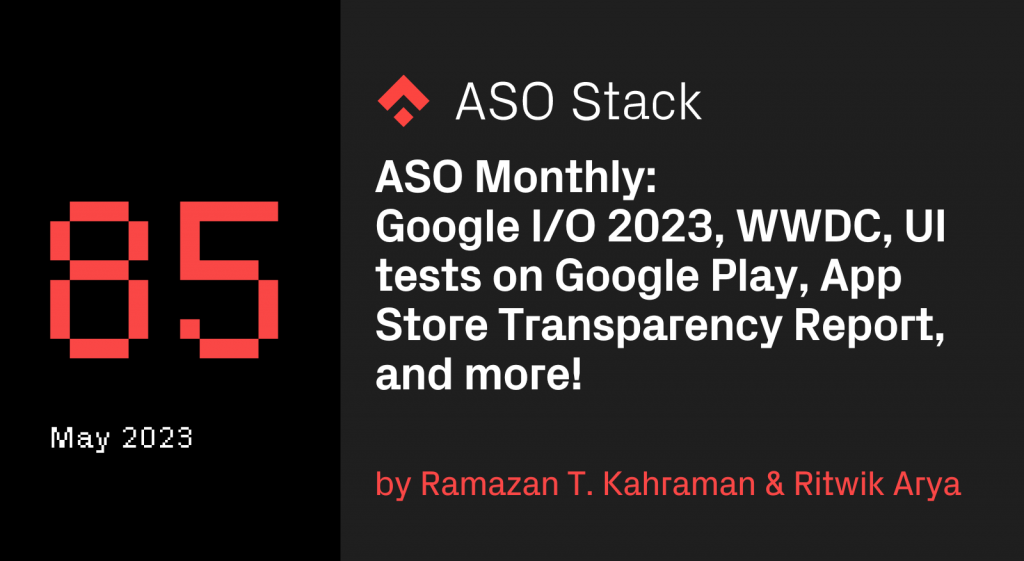 This month's ASO Monthly edition outlines the most relevant May developments. Here, we shed light on trends in App Store Optimization, algorithm changes, insights into conversion rate optimization, and tool updates. 
This update was prepared by Senior ASO Strategist, Ritwik Arya, and Ramazan Tugay Kahraman, Senior ASO Keyword & Metadata Specialist at Phiture. 
May 1 – Apple Benchmarks dashboard released
In recent months, Apple has introduced Benchmarks to its App Store Connect platform. This addition has allowed developers to access the average data for the categories their apps or games are listed in. 
However, the available data is limited to the specific categories that apps belong to. To overcome this limitation and provide a more comprehensive overview, Phiture has developed a broader benchmark dashboard for the App Store. This Dashboard enables developers to access and analyze crucial metrics such as Conversion rate, Day 1, Day 7, and Day 28 retention rates, Crash rate, and Average revenue per paying user for nearly all categories within the App Store.
With the help of this dashboard, developers can gain valuable insights into performance metrics and compare them against industry benchmarks. This comprehensive data empowers developers to make informed decisions and optimize their strategies for better outcomes in the highly competitive App Store environment.
May 1- Apple's user statistics in Europe
For the first time, Apple has disclosed the number of users it has in Europe for its App Store, following the introduction of new European laws. The company has revealed that it has 101 million users in Europe. This disclosure was prompted by the stricter regulations outlined in the EU's Digital Services Act, which applies to app stores with more than 45 million users.
Apple has provided a comprehensive breakdown of its user base across various app stores:
iOS App Store: 101 million

iPadOS App Store: 23 million

macOS App Store: 6 million

tvOS App Store: 1 million

watchOS App Store: under 1 million

Apple Books: under 1 million

Podcasts paid subscriptions: under 1 million
These figures specifically pertain to Europe and are shared in compliance with the new European Rules. Additionally, it is anticipated that Apple will implement a significant change with the release of iOS 17 to align with EU regulations.
There have been rumors suggesting that iOS 17 will introduce the ability to sideload apps on iPhones and iPads, enabling users to utilize alternative app stores alongside the Apple App Store. This change is likely later this year, coinciding with the launch of iOS 17,  which is expected to occur in September alongside the release of the iPhone 15.
May 2 – Dropdown button test in Google search results
Google is conducting tests on a new user interface (UI) for its search results. In this test version, a dropdown button accompanies all search results. Upon clicking the button, users are presented with live events, followed by a short description, a video, and screenshots.
This UI alteration highlights the significance of avoiding keyword stuffing in the short description, as it could potentially discourage users from visiting the store listing. Furthermore, it might be worthwhile to examine the impact of the first screenshot, as subsequent screenshots may not be fully visible in this new UI configuration.

Source – Google search 
May 7 – Google traffic attribution change
In recent months, Google has segregated user statistics in search results, categorizing them as 'Search Terms' and 'Explore Terms.' This parsing led to the appearance of an "X" symbol on analysis pages and brought changes in the statistical data.
Notably, Tran Suong from the ASO Stack community noticed yet another instance of traffic exchange. The alteration in the description on May 7 resulted in a noticeable difference in the traffic observed for Search Terms and Explore Terms.

Source – Google Play Console
Several other members of the ASO Stack community have also confirmed experiencing similar shifts in their statistical data. These changes in Google Play's traffic analytics in May may be attributed to this regulation. Therefore, it is advisable to take into account this modification while considering the ASO reports generated for May.
May 9 – In-app event feature lists
Apple has begun curating a dedicated list for in-app events, titled "The Best In-Game Events."

Source – App Store
With this new development, in-app events are gaining prominence, particularly in gaming. The introduction of these lists, although currently limited to a few markets, has the potential to expand the reach of in-app events to a larger user base.
By focusing on games exclusively, these lists aim to highlight noteworthy in-app events and attract increased user engagement.
May 11 – Google I/O 2023 announcements
Google introduced its new products and technologies at I/O 2023. Among others, AI-related announcements and changes affecting the Google Play Store featured prominently during the event.   
You can find all the explanations that affect ASO in our article titled Google I/O 2023: The Most Important Updates for ASO. But we can summarize all the changes as follows:
New AI-powered content generation for the Play Console

Updates to Custom Store Listings (CSLs)

AI-powered machine translation services

Google lays the ground for an expansion of Promotional Content

Android Vitals now better equipped to understand SDK-related issues

New 'Featured Products' hints at potential ASO opportunities

New update prompt for app users using broken versions

Beta app for Google Play Console available now

New Deep Linking feature in the Play Store

Updates to search UI with new user sentiment summaries

Google shares factors that can help apps get promoted

An intuitive and user-friendly interface

Great user experiences don't go unnoticed

A high-quality store presence is a must

Updated Store Listing Certificate available now
May 15 – Localized screenshot problem in App Store
Reported by Marina Roglic of the ASO Stack community, a localized screenshot of an app was unexpectedly removed, hinting at a wider App Store problem with screenshots. Strangely, there were no noticeable alerts or notifications regarding this removal, and the default screenshots are currently in use. Surprisingly, all other localizations remain intact, with no changes to the associated metadata.
There was no rejection or communication from Apple about the screenshot removal. It simply vanished without any official notice. This situation seems reminiscent of a previous incident when metadata automatically reset to default. A similar scenario has likely occurred in this case.
The reason behind the screenshot removal remains speculation, and it would be interesting to know Apple's official stance. 
After the incident, other community members reported similar problems.
May 22 – 2022 App Store Transparency Report
As part of a lawsuit settlement in 2021, Apple has released its first-ever App Store Transparency Report, fulfilling its commitment to provide developers with comprehensive statistics about the app review process. The report and the supplemental data are now available for download from Apple's official site.
The report reveals that in 2022, the App Store hosted a total of 1.7 million apps, with 6.1 million app submissions received and 1.6 million apps rejected for safety, performance, design, and legal compliance. Apple provides insights into the specific App Store guidelines violated by the rejected apps, with the highest number of rejections (149,378) related to violations of the Design 4.0 rule and the DPLA 3.2 Fraud rule (32,009). In summary, 27.5 percent of all the reviewed app submissions got rejected. Out of which, 15 percent were approved after a rejection.
However, over 250 thousand app submissions were approved after developers worked with Apple to resolve the issues identified during the review process. Additionally, over 180 thousand apps were removed from the App Store for violating its rules. Games constituted the majority of the removed apps, followed by Utilities, Business, and Education categories.
The report also highlights the number of app removals requested by various governments. China leads the list with 1,435 requested removals, predominantly games lacking the GRN license required by China. Other countries such as India, Pakistan, and Russia requested less removals.
Developers had the opportunity to appeal against app removals, resulting in a total of 18,412 appeals. However, Apple restored only 616 apps, as most appeals were related to apps removed for fraud or illegality.
Apple terminated over 400 thousand developer accounts in 2022, primarily due to associations with other terminated accounts. Only 159 out of over 3 thousand accounts were reinstated after appealing. Apple emphasizes that most appealed terminations are connected to fraud cases and are therefore rejected.
The report also reveals that over 282 million customer accounts were terminated, including accounts created on the website by non-iPhone and iPad users. On average, the App Store saw 656 million weekly visitors and 747 million weekly app downloads. Customers performed an average of 373 million searches on the App Store, with 1.3 million apps appearing in the top 10 results in at least 1,000 searches. 
Around 57 percent of App Store visitors download apps by searching for them. Therefore, Search traffic remains the most valuable traffic source for ASO practitioners to focus on. The average weekly app re-downloads were twice the number of app downloads.
In the future, Apple plans to provide these App Store Transparency Reports to developers annually, ensuring increased transparency and understanding of the app review and removal processes.
May 25 – More detailed information about Promotional Content
The Promotional Content interface of the Google Play Store has received an update, providing users with an enhanced experience to view overall performance and various metrics. The updated interface now includes information on viewers, converters, conversion rate, and a comparison against the baseline per event.

Source – Google Play Console 
This update allows developers and marketers to gain valuable insights into the effectiveness of their promotional content and make informed decisions to optimize their app's performance on the Google Play Store.
May 26 – Apple Design Awards 2023 finalists
As Apple's Worldwide Developers Conference (WWDC) is underway, developers from various industries are eagerly anticipating the announcement of the winners of Apple's Design Awards. These prestigious awards recognize exceptional apps that excel in categories such as Inclusivity, Delight & Fun, Interaction, Social Impact, Visuals & Graphics, and Innovation.

Source – Apple
Apple has recently revealed the finalists, highlighting apps that they deem exemplary and embody the key criteria for success in their respective Design Awards categories. The anticipation builds as the industry eagerly awaits the announcement of the ultimate winners at WWDC. Our team did a recap of the WWDC keynote, you can find the highlights for mobile growth marketers here. 
June 1 – The ASO Conference 2023 
Phiture hosted another successful ASO Conference in Berlin. The event brought together top industry experts who delivered talks on the main stage about a wide range of current topics, such as AI, the limitations of Apple Search Ads, paid-to-organic relationships, strategies for going global, and much more. 
Several insightful and dynamic workshops ran in parallel to the main stage talks, where over 230 attendees had the chance to learn about various ASO topics, including developing winning creatives, unlocking growth potential with CPPs and CSLs, amplifying engagement and acquisition with Promotional Content, and In-app events, leveraging UA and ASO in a CRM strategy, and more. 
We're also excited to announce that the recordings of the sessions will be available soon. Stay tuned for the release!

June 5 – WWDC 2023 
WWDC 2023 brought with it a number of exciting updates from Apple, not least the headline-grabbing Vision Pro headset. Key unveilings for mobile included the StandBy Mode, the Journal app, significant Message changes, and much more. iOS 17, confirmed for public beta testing in July, will be compatible with iPhone XS and newer models, will discontinue support for iPhone 8 and X. 
In our keynote recap, we take you through the main news from Apple Park relevant to mobile – of which there was plenty – and their potential influence on your app growth strategies. 
Upcoming Events
App Promotion Summit NYC – June 22, New York City. 
MWC Shanghai – June 28 – 30, Shanghai.
Israel Mobile Summit – June 29, Tel Aviv.
App Growth Summit São Paulo 2022 -June 29, São Paulo.
You can check out our full list of Mobile Growth conferences to attend here!
Tool Updates
AppTweak: Search Ads Manager
AppRadar: App Radar is getting a facelift
Interesting Reads
AppFigures: What's a Keyword Opportunity?
AppTamin: Upgrade your creatives with gamer motivations: customization and self-expression
Alchemer: Making Mobile App Ratings and Reviews Work for You
Gummicube: App Description Optimization Tips
Moburst: App Store Optimization (ASO) – The Complete Guide
Phiture Academy 
Take a look at the new Advanced ASO course. Designed for organizations trying to build ASO capacity, or individuals looking to work in ASO. By the end of the course, individuals should have the knowledge and ASO skills required to create, implement, and continuously improve an advanced strategy on the app stores. 
Before you go
Have you ever wondered what words Apple doesn't allow using? Luc from the ASO Stack community shared a GitHub library with us. In this list called the List of Dirty-Naughty-Obscene or Bad Words, you can see the list of bad words belonging to almost all languages.
Learn how user surveys and pricing…
---
September 20, 2023
by Pierre Neau
Explore Phiture's AI Labs: Shaping the…
---
September 14, 2023
by Moritz Daan