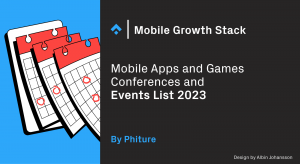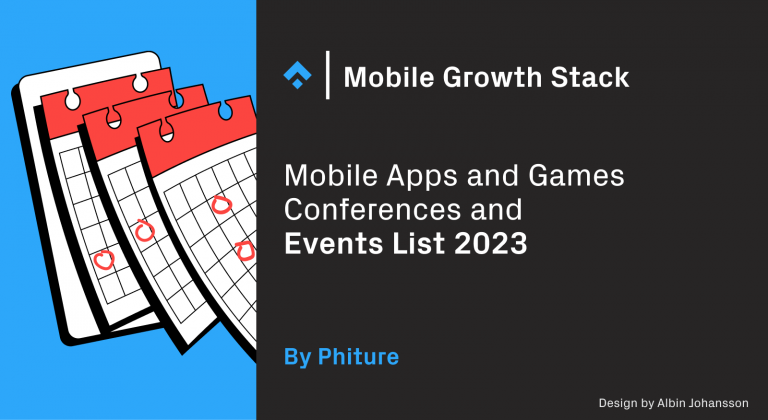 The 2023 calendar for mobile apps and games conferences is already filling up, in what promises to be an interesting – albeit challenging – year for mobile growth. Here, we've compiled our pick of conferences to attend, and you'll be able to find representatives from Phiture at many of them. 
Have we missed an event in 2023 you think we should be talking about? Feel free to leave a comment in this document here, and we'll add it to the list. Please note, some events have yet to announce their dates for 2023, and we'll be updating this page as soon as we get all the details. 
Quarter One
Januardy 23 – 27. Online.
​Our program of events comprises five sessions, led by key figures within our service teams. Here, we'll be reflecting on likely trends and developments and their effect on key areas of mobile growth, taking in everything from the macroeconomic outlook, to the impact of AI, to the consequences of more stringent privacy policies. 
January 23 to 24, London. 
Pocket Gamer Connects is the international conference series for the games industry focussing on bringing together delegates from across the entire ecosystem with key representatives from mobile, PC and console to XR, blockchain and web3 technology.
January 26, 9am PT / 12pm ET / 6pm CET. Online. 
App Growth Summit hosts this online event each year to give a platform to female thought leaders from some of the biggest names in app world. Expect fruitful discussions and a fun and constructive atmosphere, balanced across 12 insightful sessions. 
February 8 – 9
Focussing on User Acquisition and Ad Monetization, this event is all about discussing challenges in the mobile games space – and posing solutions.
February 22 – 24. Las Vegas. 
Hosted over three days, expect headline-grabbing discussions of mobile growth industry challenges and opportunities, plus the chance to build your nextwork and foster connections at the event itself. 
February 23. Los Angeles. 
Specifically aimed at helping app marketers, brands, and entertainment and gaming companies refine their 2023 plans for growth, on behalf of the Los Angles / California ecosystem. 
February 27 – March 2
eTail is a four day retreat designed for e-commerce businesses to increase the profits from business. Expect action-packed stories, disruptive strategies, strategic conversations, and connections.
February 27 – March 2. Barcelona.
One of the most influential events for the connectivity ecosystem, bringing together the telecom sector, alongside boundary-pushing leaders, and innovation powerhouses from across related sectors.

March 23, London.
Expect a conference focused on driving app growth through influencer marketing, App Store Optimization (ASO), user acquisition, social media, analytics, engagement, and retention.
March 23, Oslo
Apprise Conference is dedicated to mobile tech topics with two simultaneous tracks for attendees; one for more soft/visionary/inspirational subjects, and the other for more deep dive/hardcore tech and code subjects. Expect different content to cater for iOS, Android and cross-platform development.
March 30, New York City.
By invitation only, this limited-vendor event is designed to facilitate connections and in-depth learning opportunities, providing the Northeast US ecosystem with the latest up-to-date mobile app strategies and trends. 
Quarter Two
April 20, Berlin.
In our home town of Berlin, this event is invitation only, with limited vendors. This event aims to provide the German and wider European ecosystem with the latest up-to-date mobile app strategies and trends. 
May 9 – 12, Amsterdam.
Appdevcon is a conference by app developers, for app developers. The four-day program has multiple tracks, designed in such a way that whether you're an Android, iOS, Windows, Web, TV, or another app developer, there's always at least one session that should be of interest. 

May 23 – 26, Las Vegas. 
MAU Vegas provides top mobile brands with networking opportunities, hospitality amenities, two full days of innovative learning, and the opportunity to build relationships in the plush surroundings of the MGM Grand. 
Want to find out more about how we can help your app grow?  Feel free to reach out to our team in you will be in attendance too. From Phiture will be Andy Carvell, Partner and Co-Founder, Kiley Leong, Director of Client Operations, Alice Muir Retention Squad Lead, Arthur Kolayan Director of Sales, and Nicholas Pattichis, Business Development Manager.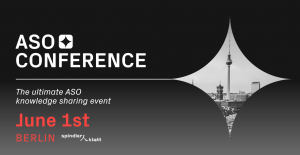 June 1, Berlin
The ASO Conference is back, focussing on the big trends and developments in ASO. Following on from last year's dynamic format, expect workshops, keynote speeches, and plenty of opportunities for networking on the banks of the Spree, Berlin.
June 22, New York City. 
Learn growth marketing strategies and tactics from top app growth experts, incorporating specialist App Store Marketing, App Advertising and App Engagement Zones.
June 28 – 30, Shanghai. 
MWC Shanghai is for the connectivity sector, and is attended by global mobile operators, device manufacturers, technology providers, vendors, and content owners. 
June 29, Tel Aviv.
The Israel Mobile Summit is for those in the apps, games, and adtech ecosystem. Here you'll find sessions on how to grow your app or game, how to monetize using advertising and in-app purchases, as well as how to acquire and retain users. 
June 29, São Paulo.
By invitation only, this limited-vendor event is designed to facilitate connections and in-depth learning opportunities, providing the Brazilian and wider South American ecosystem with the latest up-to-date mobile app strategies and trends. 
Quarter Three 
July 5 – 7, Berlin.
Android developers from around the world gather in Berlin to listen to keynote speakers, attend workshops, grow their skills and connect with other passionate Android developers.
July 20 – 21, Markham, Ontario.
Discover emerging trends and meet new partners at MGS Canada. Expect a diverse range of speakers tackling contemporary topics in mobile growth. 
September 14, San Francisco.
AGS San Francisco features is a one day event, carefully curated and aimed towards helping app Marketers, brands, and gaming companies finish the end of 2023 strongly while prearing for growth in 2024.
September 21 – 24, Tokyo.
The Tokyo Game Show is one of the largest game expos in the world. The first two days of the event are industry and press only (with Friday afternoon also open to the public), with days three and four open to the general public. 
Quarter Four 
12 October, London. 
Another on the AGS circuit, this invite-only, limited-vendor event is designed to create maximum high-quality connections with other app growth experts. Experience in-depth, interactive idea exchanges and learning opportunities.
November 30, Berlin.
Hosted in our hometown of Berlin, the App Promotion Summit is a fixture for Phiture, and marks the start of the holiday season and a look ahead to 2024. Expect stimulating talks and some of the brightest minds from the DAX region and beyond. 
To Be Confirmed 
Efficiently compare the costs of your…
---
May 24, 2023

by Simon Thillay
Key subscription metrics help growth…
---
May 17, 2023


by Alice Muir and Sameer Ginotra