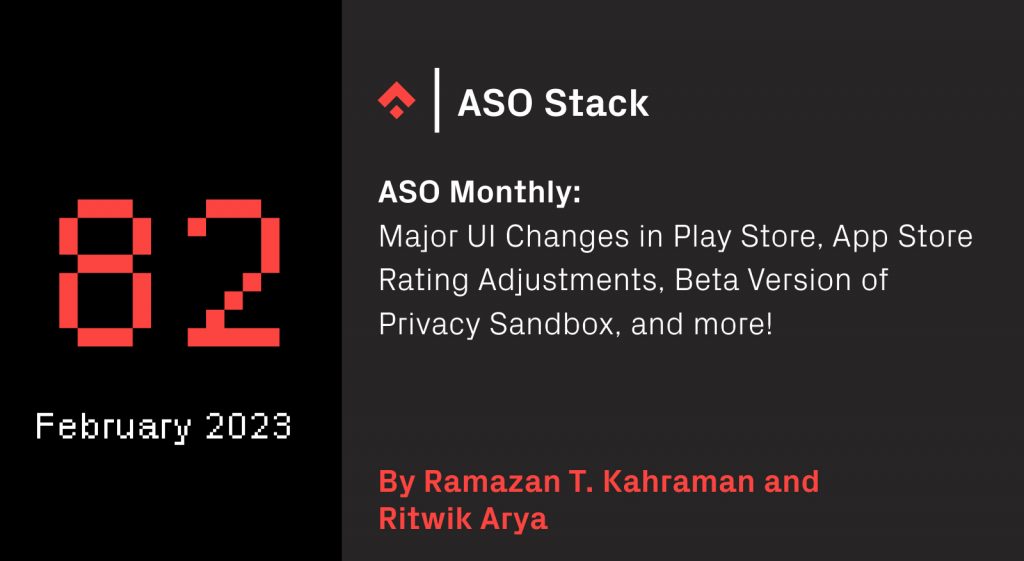 This month's edition of ASO Monthly 2023 outlines the most relevant February developments in the world of ASO. Here, we shed light on trends in App Store Optimization, algorithm changes, insights into conversion rate optimization, and tool updates.
This update was prepared by Senior ASO Strategist, Ritwik Arya, and Ramazan Tugay Kahraman, Senior ASO Keyword & Metadata Specialist at Phiture. 
February 1 – App Referrer bug in App Store Connect
Tal Sharabi, from the ASO Stack community, noticed a bug in the App Referrer data. Namely, filtering downloads by App Referrer resulted in seeing fewer downloads. On the other hand, filtering by Source Type has shown more downloads coming from the App Referrer. Importantly, this bug may have been the cause of an anomaly in App Referrer data on App Store Connect in January and February. However it can be overcome by trying out a few different filters. 
We highly recommend joining the ASO Stack Community to stay abreast of such bugs.
February 1 – US Government calls for changes to Apple and Google
The National Telecommunications and Information Administration of the US Department of Commerce released the outcomes of President Biden's 2021 Executive Order on Competition.
The report cites two key results claiming that the existing strategies of Apple and Google have the potential to hurt consumers by increasing costs and restricting innovation. It goes on to say that consumers usually can't get apps outside the app stores controlled by Apple and Google. This means innovators have very limited avenues for reaching consumers.
It goes on to offer several  recommendations to help foster more competition in the sector, including:
Consumers should have more control over their devices. They should be able to choose their own apps as defaults, use alternative mobile app stores, and delete or hide pre-installed apps.

App store operators should not be able to "self-preference" their apps in an anti-competitive manner. In other words, operators should not be able to favor their own apps in how they appear in search results or discriminate against other apps that are similar to their own.

Limits on in-app purchasing options should be addressed by banning requirements that developers use the app store operators' in-app payment system.
February 6 –  Bing and Google step up their game in the AI space
In February, we heard announcements that are likely to become discussion topics in the coming years. After the success of ChatGPT, Microsoft added AI support to the Bing search engine. Immediately after this, Google introduced its technology called Bard, which can be considered a competitor of ChatGPT.
After the announcements made by Microsoft and Google, the search volumes of many AI-related keywords, especially ChatGPT, increased.
App publishers may consider optimizing their metadata based on AI-related keywords, as more and more apps are integrating AI functionality into their apps.
February 7 – Mozilla is preparing for Apple's possible policy change.
Mozilla is working on a non-WebKit version of Firefox for iOS to anticipate changes to Apple's platform rules, The Register reports. Apple's ‌App Store‌ rules insist that browser apps on iOS and iPadOS must use its own WebKit browser engine. Mozilla is working on an update that does not comply with this policy, as seen in the code in the latest Firefox update.
In a statement emailed to The Register, a Mozilla spokesperson said that they abide by Apple's iOS app store policies and are simply undertaking exploratory work to understand the technical challenges for Gecko-based browsers on iOS if those policies were to change. The spokesperson goes on to say that they hope the day will come when people can freely decide to use the browser of their choice, including the opportunity to select the engine that underpins it.
Apple has yet to comment on the policy change. But developers, who already have Browser apps, can prepare for the possible policy change now.
February 10 – Apple adjusts ratings for major apps
Apple adjusted their ratings in February, en masse. The sweep has mostly affected larger apps, which saw a number of changed ratings. As AppFigures' study shows, some of the app ratings have been removed to prevent fake ratings from appearing on the store.
If you saw big changes in your rating numbers in February, this might be a direct consequence of these changes by Apple.
February 13 – Beta version of the Privacy Sandbox on Android released
Google has started rolling out the Beta version of the Privacy Sandbox on Android. The Privacy Sandbox APIs will replace Advertising IDs, which were previously the cornerstone of personalized ads and ad measurement. And it will be sunset by 2024.
As Aliaksandra Lamachenka of the Flo team noticed, the Google Privacy Sandbox will include significant changes. In an official statement, Google further elaborated upon the reasons, noting that 90% of current apps on Google Play are free and provide access to valuable content and services for billions of users. Digital advertising plays a key role in making this possible. But in order to ensure a healthy app ecosystem — one that benefits users, developers and businesses — the industry must continue to evolve how digital advertising works to improve user privacy. That's why Google originally developed advertising ID to give users more control. Last year they introduced improvements to these controls, but they believe it's important to go further.
For that reason, Google has announced a multi-year initiative to build the Privacy Sandbox on Android with the goal of introducing new, more private advertising solutions. More specifically, these solutions will limit sharing of user data with third parties and operate without cross-app identifiers, including advertising ID. Google is also exploring technologies that reduce the potential for covert data collection, including safer ways for apps to integrate with advertising SDKs.
February 16 – Change in the appearance of ads in the Google Play Store
Google has changed the appearance of ads in the search results,  with the aim of making the ads more visible. The new ad image is designed similarly to the branded search results. Working on targeting Google Play with Google Ads, ultimately Google aims to get more ad conversions from this increased visibility.

February 18 – Live Events in Google Play search results
The visibility of Live Events on the Google Play Store continues to increase. Adding the Live Events between the categories before, Google has changed the search results. Live Events are shown under the Limited-time events after any game-related download. In the example below, you can see how results of Limited-time events start appearing after downloading Twitch.

February 19 – Redesigned Recommended Apps in Google Play search results
Users can now simply tap on the drop-down menu beside each recommended result to see the screenshots, promo video, offers, and metadata. Promo videos and offers appear before the screenshots. This option will increase the chances of users installing the app without visiting the store listing. It could also reduce scrolling through other apps with no screenshots. Sometimes, the Recommendation section does not appear when you search for generic keywords. In fact, a few recommendations were unrelated to the actual search term.

Upcoming Events
MWC Barcelona – Onsite – 27 February – 2 March
App Promotion Summit London – Onsite – March 23
Appraise Conference – Onsite – March 23
App Growth Summit New York – Onsite – March 30
You can check out our full list of Mobile Growth conferences to attend here!
Tool Updates
ASO Desk: Keyword Explorer 2.0: history of metrics, dual search results, analysis by country
Interesting Reads
What are Android App Bundles, and how can they improve your ASO strategy? | Phiture
Phiture Forecasts: ASO Trends and Developments in AI, CPPs, and Third Party App Stores | Phiture
Learnings Gained from Reverse Engineering the App Stores | AppTweak
Top Most Common App Store Optimization Mistakes | Appbooster
How to analyze the correlation between Apple Search Ads keywords bidding and organic keywords rankings? | Appradar
Phiture Academy 
Take a look at the new Advanced ASO course. Designed for organizations trying to build ASO capacity, or individuals looking to work in ASO. By the end of the course, individuals should have the knowledge and ASO skills required to create, implement, and continuously improve an advanced strategy on the app stores. 
Before you go
Ensuring timely measurement of key performance indicators (KPIs) is essential for ASO practitioners. However, in some instances, the unavailability of data on platforms can pose a significant challenge. Therefore, while measuring first-party data for Apple devices, it is recommended to keep an eye on Apple System Status, including any ongoing issues with App Store Connect. This approach can prove to be useful in addressing potential reporting obstacles arising from the platform.
Learn how user surveys and pricing…
---
September 20, 2023
by Pierre Neau
Explore Phiture's AI Labs: Shaping the…
---
September 14, 2023
by Moritz Daan