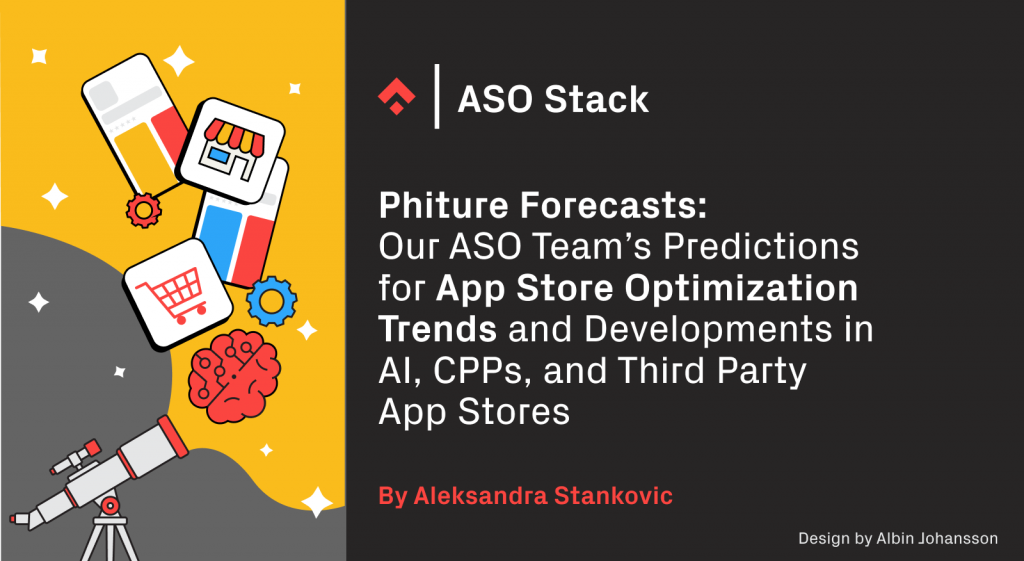 This is a follow up piece to our 2023 Mobile Industry Outlook Week session on ASO. You can see the full recording here. 
As part of this session, our ASO Team outlined their predictions for the top trends and developments in mobile growth for 2023, and the likely changes to the field of App Store Optimization. It promises to be a year of shifting priorities in light of the ever-changing landscape of ASO, and here we discuss the impact of third party app stores, Artificial Intelligence (AI) on ASO, the importance of CPPs, and more. 
These predictions were compiled by Anton Tatarynovich, Senior Acquisition Strategist, Ritwik Arya, Senior ASO Strategist, and Ramazan Tugay Kahraman, Senior Keyword Optimization Specialist.
Games could benefit from third-party app stores on iOS
In December 2022, Bloomberg reported that Apple is working on allowing third-party app stores on iOS. This decision is apparently in response to  the EU Digital Markets Act (DMA). The DMA is new legislation that mandates a higher degree of competition in the EU's digital markets. We will likely hear more about this throughout the year as the DMA comes into force in May 2023. 
What can this mean for ASO and app publishers? Our team predict it won't make much difference. 
It's unlikely that publishers and users will leave the Apple App Store with the arrival of third-party stores. For instance, Android third-party stores have existed for years and are still not popular outside China. Even there, the principal reason for their popularity comes from a lack of access to the Google Play Store. Another argument in favor of the Apple App Store's continued popularity is it's a good product that users love. Therefore, it is unlikely that apps could benefit from third-party app stores on iOS. 
The sole beneficiary of this could be games. Users are already familiar with third-party gaming stores such as Steam, Epic Store, Xbox LIVE, PS Network, and Nintendo eShop, which are experiencing year-on-year growth. Statistics say that in 2022, mobile gaming accounted for 61% of all gaming industry revenue, including PC and consoles. Also, the biggest gaming titles keep coming to the mobile space. Niche stores such as those focused on kids, crypto, or medical apps stand a chance of attracting publishers and users. 
Finally, external pressure to allow third-party stores may incentivize Apple to innovate further and improve features on its own Apple App Store.

User experience will directly influence visibility of Android apps
It's official – Google ranks apps by considering app experience quality, among other factors, and we expect that the new rating standards will change the Top Charts on the Play Store. Until recently, we had less clarity on how app experience impacts app visibility on the Play Store. In November 2022, Google announced a minimum rating bar of 3.0 stars in a blog post titled "Raising the Bar on Technical Quality on Google Play." The goal was to improve the Top Charts. 
What does that mean for apps? This change is coming into effect in February 2023, causing all apps and games with an average star rating of 3.0 or lower to be removed from the worldwide Top Free Charts. The same standards will apply to grossing and paid apps later this year.  
We're confident this change will impact explore visibility. In the US Top Charts, the highest impact will be in the Auto & Vehicle category, where 25 apps in the Top 200 Charts have ratings below 3.0 stars. We're also confident we can expect changes in the Top Charts for Business, Travel, Local, and Education categories.  
What does that mean for ASO practitioners? Ratings will become a core metric in 2023, impacting both explore and search traffic. To improve this metric, ratings and reviews management will become more significant. We may also see apps on the verge of losing category ranks resort to "black hat ASO" tactics. Check out our dedicated article to know what to keep an eye on.

Play Store will focus on quality over quantity 
Along with the new rating system in 2023, Google introduced a new Bad behavior threshold evaluated per phone model. We expect Google Play to start focusing on quality over quantity, and apps that can't deliver a good user experience will be penalized.   
Apart from lower visibility, the penalty could include a warning on the store listing of the respective app that the app may not be working well on a particular device.

What does this mean for ASO practitioners in 2023? App performance will directly influence App Store Optimization. In the first half of 2023, Google will lower the bad behavior threshold four times, from 8% to 2%. Therefore, ASO practitioners should ensure that phone models with significant user bases do not exceed 2% user-perceived crash rate (UPCR) and app not responding rate (UPAR). It will be imperative to track the bad behavior threshold by phone model rather than overall and flag any issues to the development team to avoid store listing warnings. These warnings could quite negatively impact the conversion rate. 
We predict that ASO and App Development teams will work even closer together in 2023, as ASO teams will provide more feedback and insights to improve the product. 
ASO and AI will start working together

The number of AI-supported ASO tools will increase in 2023. An ASO tool called SLAB already exists, and offers AI-powered ASO automations. The number of such tools is likely to increase to at least three in 2023. These tools could be used for generating automatic ads and store creatives, as well as keyword research for both ASO and SEO. 
The impact of ChatGPT is undeniable. Artificial intelligence can already perform basic App Store Optimization. As a test, we asked ChatGPT to create a long description for Spotify with instructions to repeat the keyword music ten times and the keyword podcast eight times. The result was astonishing. While the resulting long description wasn't nuanced, at face value, it would work well to convince users to download the app.

Will AI replace ASO practitioners then? The answer is no. AI tools are not yet capable of performing more advanced ASO tasks. ChatGPT itself answered the same question saying that AI could be used to assist with or automate certain tasks. However, it is unlikely to replace the work of human App Store Optimization specialists because the field of ASO requires a combination of technical and creative skills. Additionally, as the ASO field constantly changes, human specialists are needed to stay up-to-date with the latest strategies and best practices.

We believe we need to start thinking about how to integrate AI into our current workflows. AI might not replace us, but people who know how to use it could!
The biggest ASO wins will come from creative optimization 
Keyword optimization is still a vital part of ASO. However, its effectiveness as a growth lever has been decreasing for years. This is because app stores are more saturated than ever, and most publishers are aware of keyword optimization. Additionally, search results are dominated by ads, stories, in-app events, and in-app purchases. Therefore, keywords that used to appear in fifth place now appear in tenth, even though they still rank the same organically. Furthermore, the most popular search terms are brands, meaning that keyword optimization impacts a smaller percentage of generic terms than before. 
Creative optimization is the most important method to move the needle, even though keyword optimization is still marginally impactful.   
Slowly but surely, we are seeing more publishers use CPPs to optimize their conversion rates, as well as the efficiency of traffic sources. More case studies shared online testify about this. While Product Page Optimization (PPO) is still limited, apps with substantial traffic can benefit from it and get some winning tests. Besides, Google Play native A/B testing tool is improving with Minimum Detectable Effect (MDE) and confidence level settings. 
As an extra resource, third-party A/B testing tools like Phiture's Replika can provide more insights. Because organic tracking is limited, Google and Apple consoles don't offer substantial depth of information. However, third-party A/B testing tools could give you information about where your audience is coming from and who they are. 

The year of CPPs and CSLs 
In 2023, the adoption of Custom Product Pages (CPPs) and Custom Store Listings (CSLs) will increase. CPPs are already delivering excellent results in combination with advertising channels. From the initial tests that Phiture ran, we observed a drastically higher conversion rate from impressions to installs (IPMs) on Facebook Ads, up to 103%.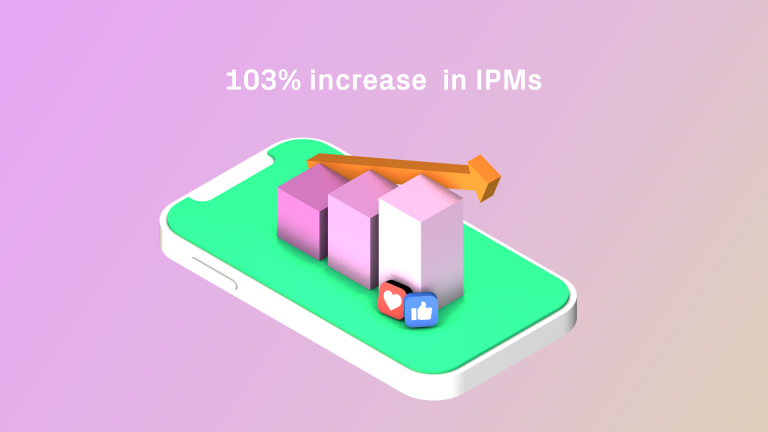 The importance of using CPPs and CSLs outside conventional advertising channels is evident. As a result, ASO specialists may have to think of more ideas in areas such as web-to-app and email marketing. For example, directing users to the right CPPs with web-to-app strategies may become the new challenge for ASO experts.
Closely tied to our prediction that keyword optimization will become marginal while creative testing will increase, new hypotheses centered around CPPs and CSLs will become more indispensable for marketers. New tools that measure the performance of CPPs and CSLs more closely will become more common.
Before you go 
The ASO Conference is officially happening in Berlin on June 1, 2023.

Early bird tickets

are available till February 28. Join us at the ultimate ASO knowledge-sharing event. 

Phiture Academy

has launched a new advanced ASO course.

Enroll now

to stay up-to-date with the industry's latest best practices.

This is a follow up piece to our 2023 Mobile Industry Outlook Week session on ASO. 

You can see the full recording here.

 
There are solid reasons you should be…
---
March 22, 2023

by Gizem Akgül and Natalie Rozenblat
Here we outline why Apple Peer Group…
---
March 21, 2023

by Ramazan T Kahraman