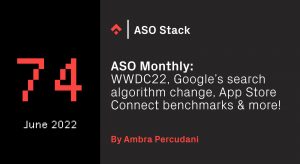 In this ASO Monthly series, the Phiture team reflects on the previous month and sheds light on trends in App Store Optimization, algorithm changes, privacy changes and tool updates.
Don't miss the recordings of the ASO conference! Check it out here.
This update was prepared by our ASO Consultant, Ambra Percudani at Phiture. 
June 6 – The Apple Worldwide Developers Conference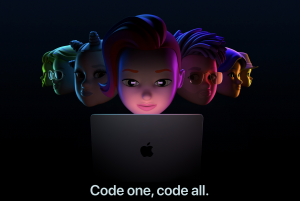 The Apple Worldwide Developers Conference (WWDC22) took place from June 6 to 10 with exciting reveals and new opportunities. 
Apple WWDC is an annual event where developers can attend sessions and meet with Apple engineers. It's mainly a software event since Apple gives a glimpse into the latest version of the operating systems (OS) for its devices: iPhone, iPad, Apple Watch and Apple TV.
There were lots of new  updates this year that have a direct and indirect impact on ASO practitioners, in particular:
1. New App Store Connect review process 
Tedious app review processes can be a pain point as they slow down testing velocity. At WWDC 2022, Apple announced steps to address this. You can now group multiple items in a review submission, submit items without a new app version release, and there's also now a dedicated app review submission page. This will allow for the testing of multiple elements at once, with more flexibility and without losing any time if you're on a tight deadline. 
2. App Store Connect API 2.0
With API 2.0 you will be able to manage in-app purchases and subscriptions, customer reviews, developer responses, and app hangs diagnostics. This will allow ASO practitioners to have more control over creating in-app purchases and subscriptions, as well as respond to user reviews in an easier way and fix app crash issues more easily.
3. A new Game Center dashboard 
With GameKit, you can easily integrate with Game Center. Players will be automatically signed in ready to compare scores with other players on leaderboards and track progress through achievements. This means having your game and all of its activities discoverable in more places and in an easier way. 
4. Updates to requesting a review
Ratings and reviews are vital factors that determine app developers to convert users.
The new update provides you with a tool that makes it easy to request a rating from your users. That way, you can let them know you're listening to their feedback and continue engaging with them. This will allow ASO practitioners to get higher app ratings and better reviews.
In this post prepared by our ASO consultants at Phiture, we outline how these WWDC updates can improve your work.
June 7 – Google Play Safe Initiatives impacting ASO performance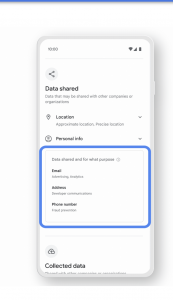 Source: blog.google
In the past few months, Google launched different safe initiatives. Below you can find the most relevant from an ASO perspective:
Google Play SDK Index

: this initiative provides insights and usage data for popular commercial Software Development Kits (SDKs) on Google Play, so developers can decide consciously which SDK is right for their business and users. 

Data safety section

: developers will be required to give people more information about how apps collect, share, and secure users' data. 
Importantly, showing the data safety info on the store listing page could potentially bring down the CVR, unless you request for more privacy than user expects. Otherwise, this section is not expected to have too much impact, as it is situated below the first screen and the new initiative applies to all apps. 
ASO practitioners should check its impact in the conversion rate, once you have filled the Data Safety form. 
If you want more insights about this Data Safety, take a look here. 
June 8 – Re-downloads data missing in App Store Connect
On June 11, ASO Stack Slack community member, Muhammad Adnan, noticed that re-downloads in App Store Connect have been stopped reporting. It seems the data stopped being available from June 8. (ASO Stack) 

Source: App Store Connect
Other members of the community confirmed the same issue, which has been solved around June 15. We suggest keeping this in mind when analyzing the performance of the month. 
June 9 – Google's search algorithm change
Google announced via Twitter the release of a broad core update named the May 2022 Core Update. This update began on May 22 and was completed on June 9. 
Google make substantial improvements (core updates) to their overall ranking processes several times a year. The main focus of these updates is to increase the overall relevancy of Google search results and to make them more helpful and useful for everyone.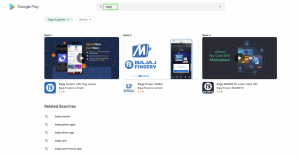 Source: nextgrowthlabs.com
At Phiture we performed different tests in order to understand the impact of this algorithm change, analyzing the impact on brand and non-brand search results. 
Branded keywords search results
Before the update, more apps were shown in the search results if you searched for branded keywords. Now, just the first and second ranked apps are shown in branded keyword results and to see other applications, users need to click the "More Results" button.

"You might also like" has been removed
"You might also like" and "Similar Apps" sections have been removed from the search results screen in some countries or for some users. For example in Turkey, the old search results screen is still displayed, while in the US, these sections are not displayed to users.
This means that Google Play apps that receive a lot of conversions from their competitors' search results may experience a significant drop in store visitors.

Different Search Results
In branded keyword search results, other applications of the brand are highlighted, but the number of results differs for each search. While the competitor app appears in second place when searching for "Snapchat," only official apps appear in "Instagram" search results. 
For example, 7 different apps are shown in the "Facebook" search result. In the "Instagram" search result, only 3 applications are listed. Searching for most other brand keywords is fetching up to 250 results, whereas in some cases there are only 3 results in a single card. Whereas, a search for most non-brand keywords is returning 11-250 results. 

Category Ranks
Before the update, we could get a maximum of 200 apps ranked in a specific category, but now, we are able to get many more, with a maximum of 1000 ranked apps.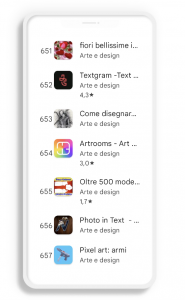 With these updates in mind, you might notice a drop in your main metrics if your downloads come mainly from competitors' keywords and you may need need to adjust your ASO strategy accordingly. We would suggest you do not rely too much on competitors' keywords and try to get more downloads from generic keywords. 
Thanks also to Sergi, a member of the ASO Slack community, who pointed out the algorithm change. (ASO Stack)
If you want more information, take a look at the full article here. 
June 10 – Benchmarks will be available later this summer in App Store Connect
App Store Connect will introduce later this summer a new section: Benchmarks. Apple said it will show to its users how to use the new App Benchmarks tool and how you can use Product Page Optimization and Custom Product Pages to improve your ranking on the App Store.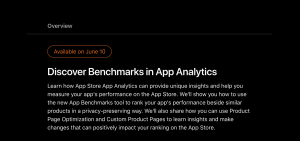 Source: Apple
ASO Stack Slack member, ilia Kukharev, shared with the community some insights about the new feature.
According to Ilia, data will be available by category and monetization model, and the metrics to compare will be:
– Conversion rate
– Retention rate
– Average proceeds from paying users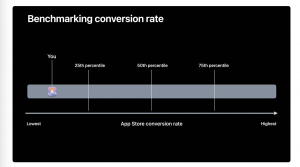 Source: Apple
As you may have already noticed, in terms of conversion benchmarks it's similar to what we have already in Google Play Console and will give users the possibility to compare their conversion rate with the one of their competitors in their category.

The data of the launch is not defined yet, but here you can find more details provided by Apple with which to align your ASO strategy.
June 16 – No data available from Google Play experiments
One of our ASO Stack Slack members, Juhui, highlighted a bug in the number of downloads showed by Google Experiments from June 16 to June 19, noticing they weren't changing across the days. (ASO Stack) 

Source: App Store Connect 
Other members of the community, confirmed that it's a reporting bug, and it won't affect new experiments. 
As always, do not forget to consider this when analyzing any test results. 
June 16 – Privacy Sandbox Developer Preview 3: support for conversion measurement, custom audiences, and ad selection

Source: Android Developers Blog 
The Privacy Sandbox on Android wants to develop new solutions that maintain user privacy and enable effective and personalized advertising experiences for apps. It includes APIs and developer resources for conversion measurement and remarketing use cases.
These APIs permit developers to measure when an ad click or view event leads to a conversion and to the download of a new game. 
You can also: 
Register attribution source and trigger events

Receive event reports and unencrypted aggregable reports.
APIs also provide the possibility to serve customized ads to users based on previous app engagement, without third-party data sharing. You'll be able to:
Manage Custom Audience membership and analyze how parameter values may affect auction outcomes

Fetch JavaScript auction code from remote endpoints

Configure on-device ad auctions

Handle impression reporting
These updates might be crucial for ASO practitioners as it might give us the possibility to analyze user behaviors on conversions. At the moment, it's only available for gaming apps. Take a look at the full article to learn more about it, in order to not miss any important updates to include in your ASO strategy.
Upcoming Events
Droidcon Berlin – Onsite – July 6th
Japan Marketing Week Tokyo – Onsite – July 6th
App Growth Masterminds Seattle 2022 – Onsite – July 28th
Tool updates
Splitmetrics: Apple Search Ads Important Updates and SplitMetrics Acquire Role
Data.ai: Reviews Speak Volume!
AppTweak: Get Advanced Insights About Your App's Featurings
Interesting reads
Turning Your Product Page Audit into Robust Experimentation| Phiture
7 App Store Creative Trends You Can't Miss in 2022 | AppTweak
MAU Recap: Privacy Changes, Emerging Channels, and User-Generated Content | SensorTower 
ASO Conference Series: Qualitative and Quantitative User Research to Understand Conversion Rate | Phiture 
Non-game apps need 37% more daily downloads to rank in top 10 | BusinessofApps
How to set confidence level for the new Play Store experiments? | Mateusz Wrzeszcz | medium.com
Before you go:
One of the members of our ASO community, Vadim Lysenko, highlighted that "Story featuring" or "Story collections" in search results is counted as Browse visibility. This is something we wanted to mention since it could be confusing (considering we are in search results). (ASO Stack)
Each ASO practitioner should keep it in mind while analyzing their traffic sources of downloads
Explore other recent articles