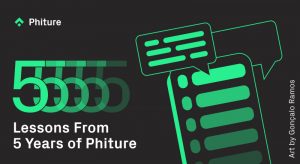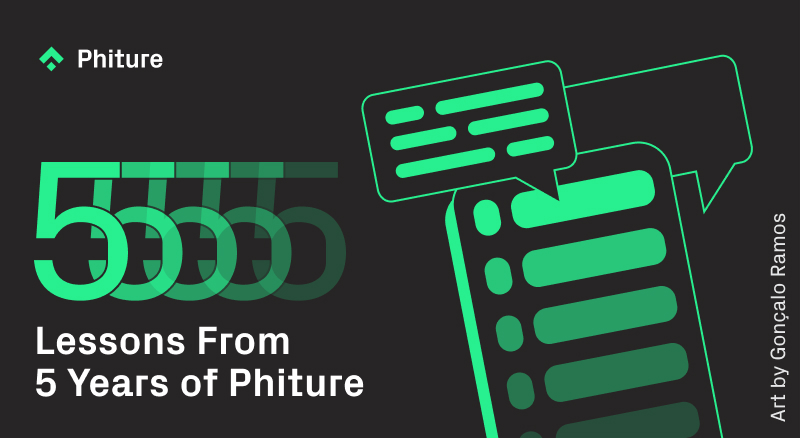 In case you missed it, Phiture recently turned five, and although the birthday celebrations are at an end, the lessons we've learned over the years are here to stay. We narrowed it down to our top five:
1. People come first
Call it a lesson, call it a principal, but we call it our no.1 priority. Right from when Phiture first began in 2016, it was clear that it was destined to be a people-centric business. Founders Andy and Moritz wanted to build a business model that centers around people rather than product, and five years on, this is still abundantly clear. 
As a new starter at the company, it's one of the first things you'll read about in your onboarding booklet, and it's definitely something that transpires through each and every day you work at Phiture. It's a culture that works hard to emulate itself, working from the inside out to drive bigger and better ideas. We're a support network, not only inspiring each other internally, but by making our knowledge and insights on mobile growth accessible to everyone. 
There's also a uniquely human component to our approach; that's why we're a consultancy rather than an agency. Our solutions are built around our clients' problems, not made to fit the other way round. We work closely with them to achieve this, sharing our knowledge and developing the way we tackle complex problems as a team.
Ultimately, it's the people that drive results, not the product. This is something that's remained deeply ingrained in Phiture's DNA and always will be.

2. Remote work works
Looking back at 2020, it was a sink or swim opportunity that forced businesses to chart a new course in how they work, and Phiture was no exception to this. But when the time came to return to the office, instead of doing a U-turn on our learnings from remote work, we decided to keep moving forward. The team had proved that this new practice not only worked but that there were more avenues to explore through our online presence.
There's been an undeniable shift in work patterns across all markets, with the flexibility of the home office providing freedom to work better hours to your own rhythm. It's become more than a business practice; it's a trust policy and a key ingredient for a healthy work-life balance. During recruitment, people now expect to see a change from the traditional office setup, and Phiture is embracing this head-on. 
3. Be ready for change
This one's more important than ever right now. The pandemic spurred lots of new developments across the market and in the working dynamic, and we're still not on the other side of it yet. Of course, developments like this are usually impossible to predict, but it's how we react that counts. 
One thing we're very aware of is that there's still a lot to learn about mobile growth. The whole industry is still learning, and so are we. It's our ambition to cover even more layers of the Mobile Growth Stack in the coming years so that our solutions are primed and ready for any new challenges.
4. We are an international company 
For a long time, being 'international' has been defined by our diverse team from around the world, but now this definition extends along with our global reach. The opening of our new US office has given us the opportunity to grow our client base and earned us an international title. We're now recognized as a global mobile growth consultancy, and if there's one thing we could do differently, it would be to jump on opportunities like this earlier. It's sparked our growth massively with partners and clients alike and also allowed us to break away from being perceived as an EU-first consultancy.
We're now working on growing our global network and extending our client base around the world. Watch this space.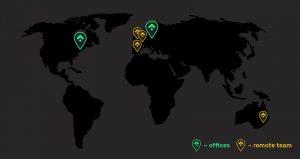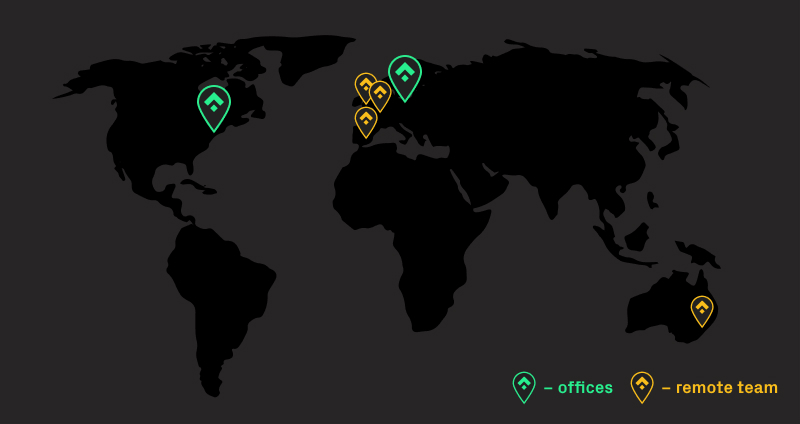 5. Growth is continuous
Five years on, Phiture has more than tripled in size, become a leading mobile growth consultancy and has now achieved global recognition — but we're not stopping there. We've learned to embrace each stage of our growth and are always preparing for what comes next on our journey. 
Here's a sneak preview of what you can expect to see from us:
New and expanded services that cover more elements of the Mobile Growth Stack — we're committed to building a fully comprehensive consultancy as the market evolves.

A growing client portfolio — we're excited to work alongside even more industry-leading brands across a range of services. 

Leading the way for Subscription Optimization — we're observing a seismic shift towards the subscription revenue model, and so we're building out world-class processes and tech partnerships to optimize subscription revenue for our clients as part of our holistic service. 

Expanding as a global consultancy — we're using our new ventures to explore remote opportunities and uncharted territories for our clients.
Interested in growing your app or becoming a Phiturian? We want to hear from you. Contact us by sending an email to [email protected].
Efficiently compare the costs of your…
---
May 24, 2023

by Simon Thillay
Key subscription metrics help growth…
---
May 17, 2023


by Alice Muir and Sameer Ginotra