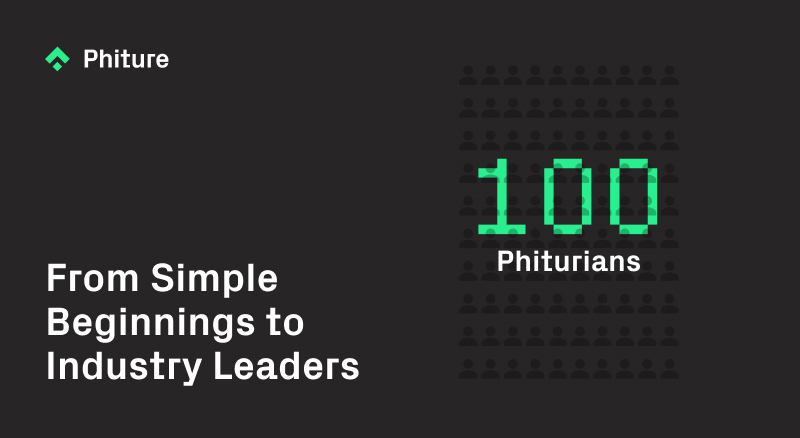 It's an exciting month here at Phiture as we welcome our 100th hire and celebrate this incredible milestone. I'm thrilled to see how far we've come and it's an amazing achievement for everyone at the company. 
When I first joined Phiture four years ago, we were still establishing our identity and position in the industry. Now, less than five years later, we've built an award-winning, multinational team, developed premium, highly specialized mobile growth services, and cultivated an international portfolio filled with some of the world's leading brands. And, while I'm of course thrilled with all our success to date, I'm even more optimistic about the prospects that lie ahead.
Company Growth 
Phiture was founded in 2016 when mobile veterans Moritz Daan and Andy Carvell noticed an impending change in the industry. With mobile marketing still a nascent field, they began developing strategies focused on full-lifecycle and funnel optimization from awareness and acquisition, engagement and retention, right through to monetization. Their hands-on experience laid the foundations for the company and later evolved into the Mobile Growth Stack––a renowned, systematic framework for holistic mobile growth that's since become an industry blueprint. 
Following the success of the Mobile Growth Stack, the company grew exponentially. We invited domain experts in app store optimization, or ASO (the process of increasing visibility and conversion in key mobile marketplaces to drive organic downloads), design, engineering, data science, and customer retention management to us help navigate our journey in the mobile space and fulfill our mission to become the world's number-one growth consultancy. 
In 2019, we were officially acknowledged for our hard work at the App Growth Awards. We won app marketing agency of the year, best retention campaign of the year, and Andy was recognized for his marked influence on mobile marketing, taking home the outstanding contribution to the industry award. We've also been acknowledged for our technological innovation and service excellence by The Drum and the Braze Torchie Awards—and we continue to push the boundaries as we build new creative services and leading tech tools to meet the needs of our diverse clientele. 
Our position as industry leaders extends beyond the work we do for our clients and into the realm of thought leadership. Since day one, our goal has been to grow the company and move the entire industry forward. Our Mobile Growth Stack and ASO Stack Slack communities invite mobile marketing practitioners from across the globe to collaborate and contribute to the industry by sharing news, tips, and strategic advice. The collective insights we share inform our day-to-day work and help create new standards and thought models.  
And, of course, we wouldn't be where we are today without the dedication and talent of each member of the Phiture team. We are inspired by our committed staff who pour their hearts into making the company a success and delivering excellence for our clients. As we continue to grow, we'll keep building the close-knit, collaborative environment we've created where people feel empowered and willing to bring their true selves to work and uphold the development of our company culture as a top priority. 
The Future
There are considerably more opportunities for companies to grow the mobile side of their business than when I first joined the company. In the last year, revenues in the app stores surpassed $100 billion—partly due to the COVID-19 pandemic—with that figure expected to rise to around $270 billion by 2025, according to the mobile marketing intelligence tool Sensortower. 
Mobile growth will always be a dynamic and challenging field; we'll need to remain on the front foot and respond to rapid changes in the industry. We want to keep servicing our clients with expert insights and support as the mobile marketing landscape evolves. We'll continue refining and building our own in-house tools so we can provide sharp data insights that steer our strategic decisions and offer robust solutions. 
Our end goal is to build the world's largest mobile growth consultancy and become the dominant market player—so establishing a foothold in key regions is the next step. Having an international team of over 41 nationalities, as well as an extensive localization network, gives us a real competitive edge, allowing us to gain a more nuanced understanding of cultural trends in key markets and cultural trends. To build on this, we'll be opening offices in Asia, the US, and other major European capitals and growing to several hundred employees in the coming years. But our number one priority will always be investing in our talent pool to develop the next generation of leaders in the industry, being home to the best and brightest.
Explore the importance of free trial…
---
November 20, 2023
by Anastasia Karpikhina
This month's ASO Monthly edition…
---
November 6, 2023
by Ritwik Arya