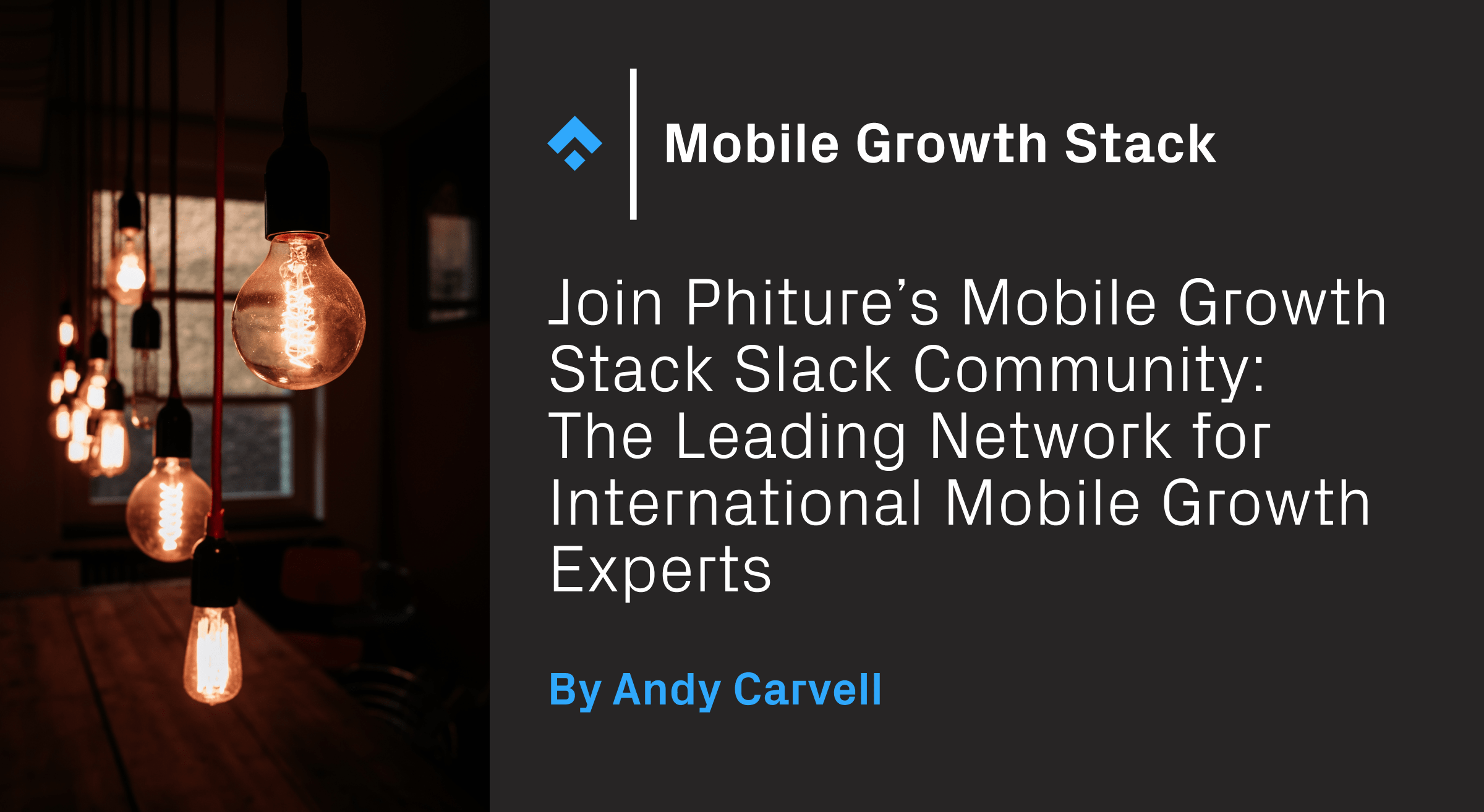 Calling all mobile growth practitioners! Connect with marketing professionals from around the world and get the latest in mobile marketing tools, analytics advice, mobile growth news, and relevant job opportunities. Join Phiture's Mobile Growth Stack Slack Community to gain access to the international, knowledge-sharing network. 
Mobile growth practitioners with an interest in ASO would have undoubtedly heard of Phiture's ASO Stack Slack Community. Since its launch in 2017, it's become the go-to source of knowledge for marketers seeking to increase their understanding of the ever-evolving field and stay up to date with all the latest news and trends. 
In our bid to keep the industry moving forward through collective knowledge sharing and collaboration, we've just launched a sister network, the Mobile Growth Stack Slack Community, which uses our renowned Mobile Growth Stack Framework as a springboard to initiate discussions around how to optimize growth strategies across a range of verticals and businesses. While the ASO Stack Slack is a network for the exchange of ideas and strategic advice concerning ASO, the Mobile Growth Stack Slack Community delves deeper into mobile growth strategies, tools, and opportunities. 
The global community is 100% dedicated to providing a positive and supportive networking space for keen mobile marketers to review all the latest tech updates and share tips, tricks, and techniques with other practitioners in the mobile growth trade. Its sole purpose will always be to advance our collective understanding of all things related to mobile growth, keeping the focus clear so that everyone can get the most out of the community! 
What is the Mobile Growth Stack? 
Developed by Andy Carvell, co-founder of Phiture, in 2013, the Mobile Growth Stack is a framework that helps marketers, founders and growth practitioners develop and evolve a strategy for growing the user base of a mobile product or product portfolio. The stack can be applied at any stage during a product's lifecycle and to many different business and financing models, although some layers and elements of the stack will be more relevant at different stages of the business.
For a detailed explanation of how to apply the growth stack to your business, check out our article on Applying the Stack.
What's in it for me? 
The Growth Stack Slack features channels covering acquisition, analytics, engagement and retention, monetization, privacy, and useful tools for mobile marketers. No matter the question, there's an expert on the channel who can provide an answer. The community even features a channel devoted to job opportunities, so it's perfect for young mobile marketers looking to break into the industry.
How do I Join?
If you're a mobile growth practitioner looking to join an international community of like-minded professionals, we'd love to hear from you. Fill out the form to reserve your spot.
Explore other recent articles