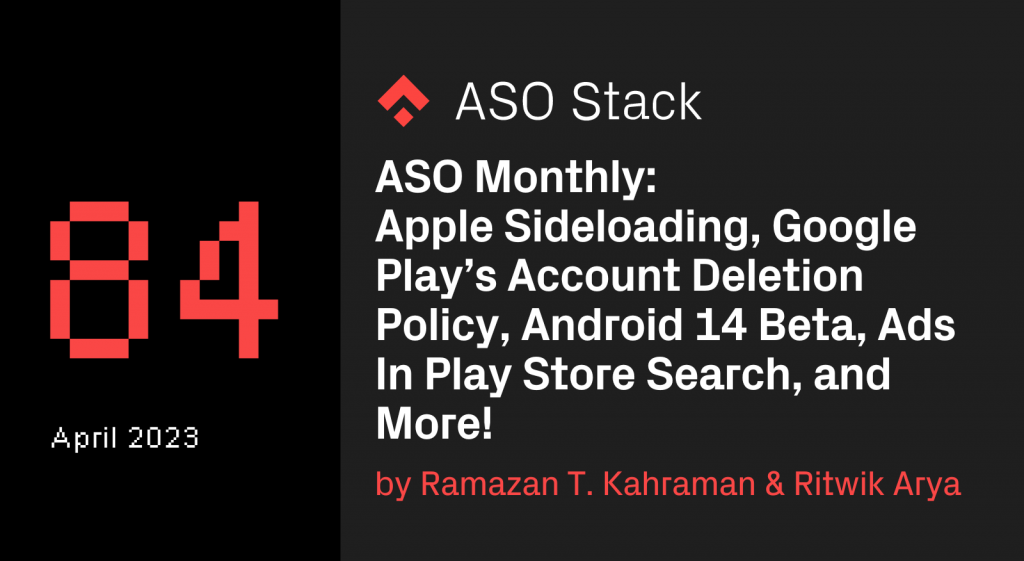 This month's ASO Monthly edition outlines the most relevant April developments. Here, we shed light on trends in App Store Optimization, algorithm changes, insights into conversion rate optimization, and tool updates.
This update was prepared by Senior ASO Strategist, Ritwik Arya, and Ramazan Tugay Kahraman, Senior ASO Keyword & Metadata Specialist at Phiture. 
April 4 – Missing data in App Store Connect
A problem with the App Store Connect data on April 4 caused a significant drop in impressions and page views although downloads remained stable. This issue was reported by Haykuhi Minasyan, a member of the ASO Stack Slack community. Apple corrected the numbers in just a few hours, which confirms that the issue was unrelated to ASO and was simply a case of missing data.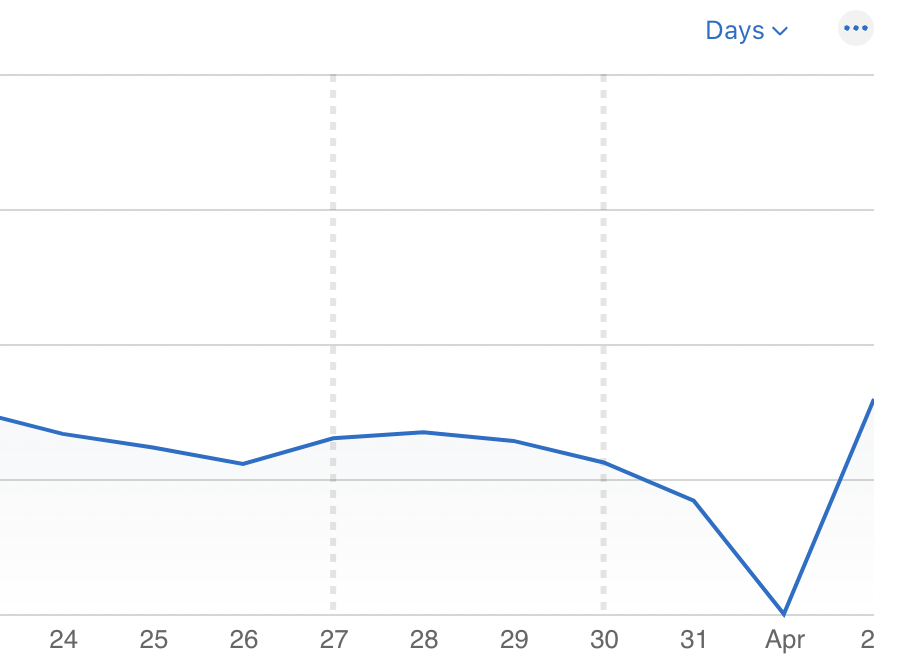 Source – ASO Stack Slack 
April – 7 Google Play's new account deletion policy
Google Play has implemented a new policy that mandates app developers to include a feature in their app that allows users to delete their accounts and associated data. Developers must also provide a web link for users to request account deletion. Failure to comply with this policy may result in enforcement actions, such as app removal or similarly strict measures by Play Store. 
Source – Play Console Help
The updated policy will be reflected in app store listings and will go into effect in early 2024. Developers have until December 7, 2023, to complete the Data Safety Form. It remains to be seen how this option will influence visitors browsing store listings and whether they will prefer apps that offer an account deletion option. We anticipate more industry reports on this matter next year given the potential for competitive advantage.
April 7 – Google's new policy to prevent user manipulation
Higher ratings and positive reviews can have a positive influence on the conversion rate of apps on the Play Store. Therefore some apps may resort to incentivizing users to rate their app five stars. Under the Play Console's new policy however, which comes into effect on May 31, 2023, such actions will be deemed a violation of Google Play policies. Similarly, Google Play will not permit apps to incentivize users to install other apps, or review other apps, as the primary function of their app. These measures aim to prevent apps from artificially inflating their downloads, ratings, and reviews to gain an unfair advantage in the Play Store.

Source – Play Console Help
April 16 – Algorithm updates on Play Store and App Store
Algorithm updates were noticed on both the App Store and Play Store around the second and third weeks of April. The following countries were affected:
App Store: Belgium, Czech Republic, Spain, Vietnam

Play Store: UAE, Argentina, Ukraine, Australia, Mexico, Philippines
Algorithm updates can bring sudden changes to your keyword rankings in affected markets. Its highly recommended that ASO practitioners should analyze the effect of algorithm updates on their keyword rankings, what competitors are not doing well and which ones have started falling, and what could be possible explanations for these changes.

Source – AppTweak
April 17 – Reports suggest Apple may allow sideloading apps with iOS 17
Apple may announce allowing sideloading of apps with iOS 17 at the upcoming WWDC 2023 event on June 5. 'Sideloading' describes the process of transferring files between two local devices and the news could potentially be one of the biggest developments of the year for ASO practitioners, as it would open up new opportunities to expand their ASO efforts beyond the confines of the App Store and Play Store.
Although this change was expected next year to comply with the Digital Markets Act (DMA), it is possible that Apple will allow iOS app sideloading this year, in a similar way to how iOS 16 was announced in June 2022 and rolled out for public use in September 2022. If Apple waits another year, the change could be implemented in September 2024, coinciding with the iOS 18 public roll out, which falls after the March 2024 deadline to comply with the DMA. Therefore, it is very likely that we can expect to see new app stores within iOS from September 2023 onwards. 
As reported in the news, this change will first be implemented in the EU and, if required by law, will then be expanded to other markets.
April 19 – New app collection in the Play Store 
The Play Store is currently testing a new app collection called "Other apps to try," located on the store listing just below the "Install" button. However, it appears inconsistently, raising questions about the factors that influence its appearance on certain store listings. It is crucial to note that this section pushes the app screenshots further down and places competitor icons with their average rating right under the install button. As a result, it may negatively impact the store listing's conversion rate by tempting users to try other apps. Therefore, ASO practitioners need to monitor whether this section appears on their app's store listing and assess its impact on the conversion rate.

Source – Google Play Store 
April 25 – Android 14 comes with new features
The newly launched Android 14 beta version offers an expansion on per-app language preferences, enabling developers to configure their apps to automatically adjust to the user's preferred language without requiring manual changes. Additionally, the Grammatical Inflection API will allow developers to optimize their app's language differences by considering gendered grammar and avoiding any negative experiences that may arise from mistakenly addressing users. These changes will further support the localization efforts of ASO practitioners, as users will be able to smoothly navigate from the Play Store to the app in the same language. Ultimately, these new features are expected to enhance the user experience.
April 28 – Play Store testing ads in search suggestions
As reported by Android Police, the Play Store is testing a roll out of app suggestions and full-on ads in the search suggestions section. When a user taps on the search bar, instead of getting historical searches at the top, app suggestions, including organic and paid, may appear instead. It is unclear how Google would decide to rank apps under the search bar organically. However, we may see that having ads in the search suggestions may increase competition in the store and could impact the traffic coming organically to search results.

Source – Android Police
Upcoming Events
App Growth Summit Paris 2023 – Onsite – May 11
App Growth Summit Singapore 2023 – Onsite – May 25
Nordic Game Conference – Onsite – May 23-26
Tool Updates
AppTweak: Now Integrate Your Adjust Data in AppTweak
SensorTower: Exploring the new Kids and Toddlers Taxonomy
AppFollow 8.4: Product Update
Interesting Reads
Why is Android Vitals Important for ASO? | AppTweak
How to 10x the Size of Your Keyword List in the App Store | Appfigures
Google's App Store Policy Updates | YellowHead
ASO for Gaming Apps | Yodel Mobile
How to Leverage Seasonal Featuring to Boost Your App or Game's Visibility | Phiture 
Phiture Academy 
Take a look at the new Advanced ASO course. Designed for organizations trying to build ASO capacity, or individuals looking to work in ASO. By the end of the course, individuals should have the knowledge and ASO skills required to create, implement, and continuously improve an advanced strategy on the app stores. 
Before you go
Search Popularity, specifically in the context of the App Store, originated with the launch of Apple Search Ads in 2016. Apple introduced a keyword popularity metric called "Apple Search Popularity" to help advertisers identify the best keywords to run ads on for their apps in the App Store. The metric, with values ranging from 5 to 100, indicates how frequently users search for a particular keyword in the store. The more often a keyword is searched for, the higher search popularity it will have. 
This metric was a game-changer for the ASO (App Store Optimization) industry, as it provided the first real user behavior data indicator for the App Store directly from Apple. As a result, ASO practitioners could use this information to optimize their apps' metadata with high Search Popularity keywords, improving their apps' discoverability and increasing the likelihood of downloads.
Explore other recent articles