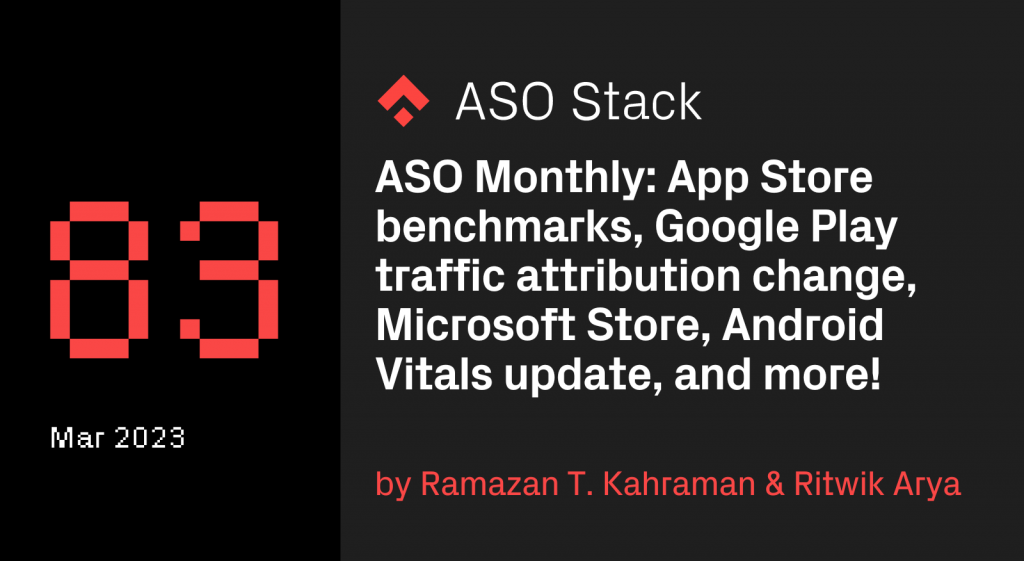 In this latest edition of ASO Monthly, we reflect on March and shed light on trends in App Store Optimization, algorithm changes, insights into conversion rate optimization, and tool updates.
This update was prepared by Senior ASO Strategist, Ritwik Arya, and Ramazan Tugay Kahraman, Senior ASO Keyword & Metadata Specialist at Phiture. 
March 2 – App Store's peer group benchmarks released
Developers can now use a new tool provided by Apple that enables them to compare their app's performance against competitors across a variety of metrics. Building upon the App Store benchmarks introduced last year, the peer group benchmarks provides insights on key metrics such as Conversion Rate, Proceeds per Paying User, Crash Rate, and Day 1, Day 7, and Day 29 retention rates.

For more comprehensive information on Apple's peer group benchmarks, refer to our article, which provides a detailed overview of the benchmarks feature, including usage information and analysis tips.
March 5 – Google Play traffic attribution change
Google has recently introduced significant changes to traffic attribution in the Play Store, which grouped keyword results into two distinct categories: Search Term and Explore Term. To explain the nature of the changes and their potential impact on app visibility and discoverability, Google issued an official statement.  
"From now on, categorical searches (for example, a search for 'racing games') will be categorized as 'Google Play Explore' traffic rather than 'Google Play Search' traffic in Play Console reporting. Navigational searches (for example searches for your app's name or closely associated brand) will continue to be categorized as 'search' traffic. As a result, you may see a significant shift in traffic attribution from 'search' to 'explore'. This won't affect the reported total number of visits to your store listing. Data will be affected back to February 20th."
Following the recent changes to traffic attribution in the Play Store, many developers reported seeing adjustments on their analytics screens, as depicted in the accompanying image. Google has not yet provided any further information on the specifics of the change or the reason behind this update. 

A screengrab depicting the change to traffic attribution. 
According to Simon Thillay, Head of ASO at AppTweak, the recent changes to traffic attribution in the Play Store may be related to the UI changes that Google introduced. Thillay suggests that following the UI changes, users were able to download branded keyword results without visiting the store page, which may have prompted Google to adjust its traffic analysis.
It is also possible that Google is preparing for significant announcements related to ad campaigns that focus on search results, which may have prompted the data editing. While the exact reasons for the changes remain unclear, many developers are eagerly anticipating further updates from Google.
March 7 – App Store UI tests
Lucy Bennett, Head of Agency at Redbox Mobile, has shared tests on the new UI that some App Store users can see. The tests have revealed that the total number of ratings, category ranking, and developer name are now displayed just above the screenshots. 

Screengrabs showing the change in App Store UI. 
This UI change is not yet visible to all users. However, if the testing option becomes public, it could potentially influence the conversion rate.
March 9 – Expanded App Store price points now available
Apple has announced that its expanded range of App Store price points is now available with all purchase options, including paid apps and one-time in-app purchases. 
Initially introduced in December for auto-renewable subscriptions, the updated pricing options have now been extended to other app and in-app purchases. With more than 900 price points available, developers can set both lower and higher prices and choose more granular pricing options. The range of price points starts at $.29 and goes up to $9,999.99 in the United States, with the 100 highest price points available by request only.
"Choose from 900 price points — nearly 10 times the number of price points previously available for paid apps and one‑time in‑app purchases. These options also offer more flexibility, increasing incrementally across price ranges (for example, every $0.10 up to $10, every $0.50 between $10 and $50, etc.)."
March 12 – Missing data in Google Play A/B tests
Google stated there was a problem with the data between 8 am on March 12 and 7 pm on March 13 in Play Console tests. Due to the error, all A/B tests between these dates were affected. 

If an A/B test in Play Console shows a straight line, as depicted in the image, the data issue has likely influenced it. The lack of data during this period can directly impact the results of A/B tests. Therefore, developers are advised to re-evaluate the results of any A/B tests conducted during this time.
March 14 – New keyword suggestions in the App Store
The App Store's search bar has been providing search suggestions for some time now, and recently Apple made a minor change to the search suggestions. App Store users will now see a dedicated section for suggested search terms. This update has provided apps with a new discovery area, thanks to the expanded range of App Store search suggestions.

March 14 – FPS will soon become part of Android Vitals
To ensure a smooth and enjoyable gaming experience, games published on Google Play should aim for a minimum of 30 frames per second. To help developers achieve this goal, Google has launched frame rate metrics for games in Android vitals.
The minimum frame rate allowed on games is 20, and the new rule only applies to Android 9 or later, which covers at least 75% of the user base. 
For ASO practitioners, this is a considerable change. If a game's frame rate drops below 20, its visibility will be limited for that device model in various placements on the store, and it may also trigger a warning prompt on the store listing. 
Games will be most affected by this as they are more graphic intensive and may suffer lower frame rate on lower-end devices. This change will take effect in the coming months, although the exact date has not yet been announced. The Android performance tuner can highlight which parts of the game have high or low frame rates.

Google's bad behavior threshold
March 15 – Google Play to offer free machine translation
At Google for Games Summit 2023 on March 14, Google announced providing free machine translation services for Android apps in seven languages. The initial languages that Google will translate apps into are Chinese (Simplified), Japanese, French (France), German, Indonesian, Portuguese (Brazil), and Spanish (Spain). The service will use Google Translate and transformer-based language models to translate in-app texts, Play Store listings, and app descriptions. Although it may contain some errors, the new offering could still be beneficial for app developers looking to reach new audiences and expand their user base without any costs. Previously, Google offered premium app translation services for a fee based on the number of words. 
The new service will allow app developers to localize their apps effortlessly and reach a wider audience, regardless of their language proficiency. The new service will use machine learning to automatically translate app listings and other content while also providing suggestions for human review and correction. The feature is expected to roll out in the coming weeks, and it is part of Google's efforts to make app development more accessible and inclusive.
March 20 – Microsoft App Store for Mobile Games
Microsoft is preparing to launch a third-party app store for mobile games in direct competition with Apple and Google's existing app stores. According to sources, the launch could happen as early as next year, subject to the approval of Microsoft's acquisition of gaming company Activision Blizzard. 
This move by Microsoft comes ahead of the European Union's Digital Markets Act, which mandates that Apple and Google open their iOS and Android platforms to third-party app stores by March 2024. In an interview with the Financial Times, Microsoft Gaming CEO Phil Spencer indicated that the company plans to launch its mobile app store around the time this legislation takes effect.
"We want to be in a position to offer Xbox and content from both us and our third-party partners across any screen where somebody would want to play," Spencer told Financial Times. "Today, we can't do that on mobile devices but we want to build towards a world that we think will be coming where those devices are opened up."
March 2024 will possibly open new opportunities for ASO practitioners, as third-party stores could create different ways to acquire users organically outside the App Store and Play Store.
March 24 – ChatGPT plug-in store
ChatGPT, an artificial intelligence chatbot that made a significant impact in the business world upon its release, has recently introduced its plugin store. The store allows ChatGPT to collaborate with various brands through its language model, allowing users to obtain more precise answers by training ChatGPT with different plugins. 
Initially, only eight add-ons were available to users. However, in the official statement, it has been announced that anyone can publish plugins for ChatGPT. 
This new store presents a new promotional area for app developers. Creating widely used plugins could allow developers to increase brand awareness and potentially increase app downloads.
It will be interesting to see how this will shape user behavior in terms of app usage and emerging possibilities for ASO practitioners optimizing plugin metadata (and maybe creatives in the future) on ChatGPT.
March 27 – US President's statement on subscription-based apps
US President Joe Biden recently made a statement on his official Twitter account that could have significant implications for subscription-based apps. Biden expressed concern that such apps often make it difficult for users to cancel subscriptions, resulting in wasted time and money.

This statement by the President and the related proposal by the Federal Trade Commission to make it easier for consumers to cancel subscriptions may provide an opportunity for app developers to improve their retention strategies and customer service. By prioritizing transparent and user-friendly cancellation policies, developers can build trust with their customers and potentially attract new users who are wary of subscription-based apps. It is worth noting that such policies may also become legally mandated, and businesses that fail to comply could face penalties.
Upcoming Events
App Growth Summit Berlin – Onsite – April 20
AppDevCon – Onsite – May 9 – 12.
Tool Updates
AppFollow: AppFollow 8.3: What's new
Adjust: Presenting Pulse: Smart alerts for more effective mobile marketing
App Radar: AI Review Summaries: Get user insights about your and your competitor's apps with a few clicks
AppTweak: Mobile Gaming Market Trends 2022: GameDNA Report
Interesting Reads
App Store Optimization Tips (2023) | Business of Apps
10 ChatGPT prompts to Improve Key Metrics for Subscription Apps | App Radar
Defining App Store Connect Metrics | AppTweak
Apple's Peer Group Benchmarks Explained | Phiture
The Apple Search Ads Stack: 2023 Redux | Phiture
Why Invest in Brand Campaigns on Google?  | Phiture
Phiture Academy 
Take a look at the new Advanced ASO course. Designed for organizations trying to build ASO capacity, or individuals looking to work in ASO. By the end of the course, individuals should have the knowledge and ASO skills required to create, implement, and continuously improve an advanced strategy on the app stores. 
Before you go
Android Vitals on Google Play Console now also provide information on what causes ANRs (Application Not Responding) and how to address them. This helps understand the root cause of ANRs, and what is causing the majority of ANRs. You can leverage this addition to better communicate with the product development team and improve app vitals.
Explore other recent articles