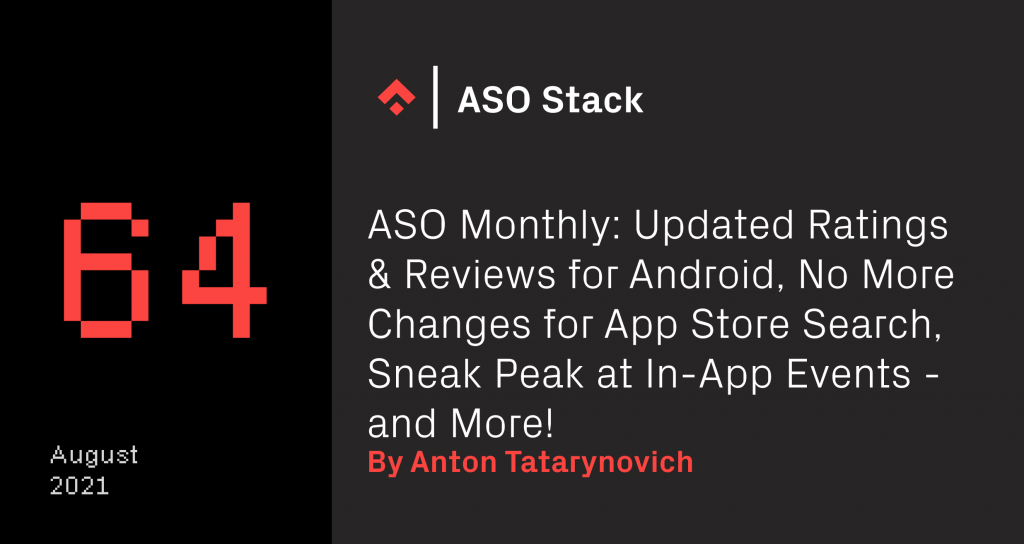 In the August edition of ASO Monthly, we cover anomalies which might impact your ASO metrics, new ratings & reviews management features from Google Play, Apple's new App Store search policy, and offer a rare glimpse at what the new iOS 15 App Store may look like.
This edition of the ASO Monthly was prepared by Anton Tatarynovich.
August 1 – Suspected change in keyword popularity calculation by Apple
As first reported in the ASO Stack Slack group, starting on August 1 a lot of industry professionals noticed a sharp drop in keyword popularity. This affected a number of markets: according to the ASO Stack comments, the drop was seen in the US and Finland.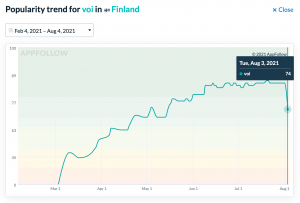 Context: Keyword popularity score is used by ASO professionals to identify and target valuable keywords to include into the app's metadata and rank for. Apple's keyword popularity score is especially important as it's the most reliable source of keyword-level popularity data available.
If you saw an unusual drop in keyword popularity at the beginning of August, or a glitch in keyword-level reporting – now you know the possible reason.
August 4 – Google Play algorithm anomaly detected in Mexico.

Tip: Google Play algorithm anomalies may reflect on visibility metrics (SL visitors, acquisitions) and keyword-level data.
August 23 – Google announces changes to ratings and reviews management 
Google announced that it is "starting a multi-quarter program of improvements" aimed at making ratings & reviews more useful for both developers and users. Specifically:
From November 2021, users on phones will start to see

ratings specific to their registered country

Early in 2022 users on other form-factors such as tablets, Chromebooks, and wearables will start to see

ratings specific to the device

that they're on
Status quo: Android users now see a global star rating for an app. The problem is that a potential bug in one of many countries may lead to an influx of negative reviews, decreasing an app's rating globally for all users.
The update should provide users with a more realistic view of an app's performance in their country. For developers this will mean more precise analytics of ratings & reviews, and its impact on visibility and conversion rate on a country level.
Tip: How to estimate your app's new country rating? Look at the past 90 days average by country in Google Play Console.
In addition to country-level ratings, some changes to the Play Console functionality were announced. Read the full announcement to learn more.
August 27 – A sneak peak at iOS 15 in-app events
We've been offered a glimpse of what the new in-app purchase card will look like on iOS 15. Users will be able to download the app right from the browse screen, without tapping through to the in-app event page.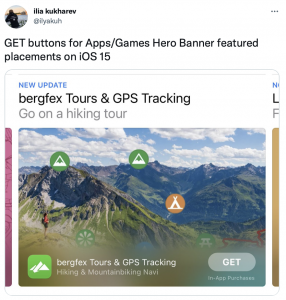 This highlights the importance of design for banners, which developers will need to submit for an in-app event: the more resonant it is, the more users will install the app without additional friction. To make sure your in-app event banner converts well, consider using learnings from your previous A/B tests.
August 26 – Apple announces no changes to its App Store search for the next 3 years 
In its press release announcing the resolution of a class action lawsuit, Apple announced that it reached an agreement with app developers to "keep the current App Store Search system in place for at least the next three years".
This may mean no search algorithm changes in the next three years, which is good news for app developers and ASO specialists. Generally, algorithm changes lead to disruptions in data reporting, i.e. bugs in data attribution by traffic source, as well as to fluctuations in keyword rankings.
Stability in App Store search will provide ASO specialists with more stable reporting data. Also, this gives developers more runway to adapt to the current search algorithm, as well as more opportunities to research and test its mechanics in the first place.

Reminder – On September 29 Google Play will update its Store Listing and Promotion policy.
New Google Play guidelines prohibit spam text and graphics in app titles, icons, and developer names. At the same time, the new character limit for the app title (30 characters, now – 50 characters) should be enforced.
As iOS 15 draws close, we'll be sharing more and more resources regarding the upcoming changes and how to get ready for them – from strategy to execution. In our first article (of many), we discuss the new iOS 15 PPO features and how to get your strategy ready for them.
Interesting reads
Measuring the Effects of App Updates on Keyword Visibility
How to Use Influencer Marketing to Promote mobile Apps
How to Drive More Organic Downloads to Your App
U.S Consumers Used an Average of 46 Apps Each Month in the Fist Half of 2021
The State of App Marketing in Latin America
Tool updates
AppFollow adds 15 new features for working with reviews and keyword translation.
Upcoming events
September 2 – AGS San Francisco (Online)
September 7-8 – DMEXCO 2021 (Online)
September 30 – AGS Berlin
September 30-October 3 – Tokyo Game Show
Check the list of all upcoming mobile marketing events here
Before you go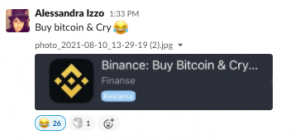 Learn how user surveys and pricing…
---
September 20, 2023
by Pierre Neau
Explore Phiture's AI Labs: Shaping the…
---
September 14, 2023
by Moritz Daan