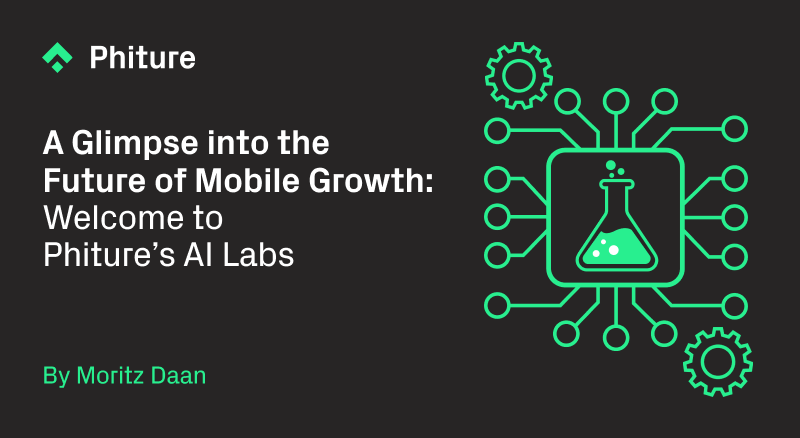 Listen along to the article with an AI-generated narrator. 
Artificial Intelligence is changing the digital scene fast, and it's here to stay. I'm super excited about a renewed wave of innovation for Mobile Growth, and therefore we've established Phiture's AI Labs task force. The task force tests new AI Proof-of-Concepts, and scales, iterates or kills these projects based on the direct client revenue impact we can gain for our clients.
Think of Phiture's AI Labs as a playground. Our Engineers, Data People, Designers and Marketing Experts play with ideas and work together. We all want to see how AI can help businesses grow. And guess what? We're seeing great things!
In this piece, we're giving you a peek into our AI Labs. You'll see what we're up to and how Phiture plans to use AI to help our clients succeed.

Visuals by Mariano Briozzo, crafted using Midjourney.
What are we trying to achieve?
Phiture's AI Labs is about more than just experimenting with a new technology; it represents a seismic shift that will bring AI to the core of our service proposition, and in effect, become an AI-first agency by 2026 – but always with a human touch.
For this reason, the testing environment of the AI Labs rests upon twin purposes. 
Purpose 1: Conceptualize and develop new AI-powered solutions that drive direct revenue growth for our clients. These big moves will deliver growth for mobile marketers.
Purpose 2: Integrate AI into our existing service offerings. By automating repetitive tasks, our experts can spend more time on high-value strategic work.
Another way of looking at these twin purposes is 'big bets' and 'table stakes.' The big bets will transform mobile growth marketing with solutions for personalized messaging, automated ASO, and bid optimization. 'Table stakes' can be thought of as the essential efficiencies, the minimum required to stay in the growth game, centring on automation, cost-cutting, and streamlined processes.
Ultimately, these ongoing efforts will set us apart from the competition, enhancing the value we provide to clients and increase the efficiency and scalability of our services. 
Who and how?
Our AI Labs initiative is a blend of advanced technology and human ingenuity. Our team of Engineers, Data Scientists, and Consultants are working together to take machine learning and automation to the next level for our clients, all the while integrating cutting-edge AI into everything we do.
The doors of the lab will be open for a further six months, and several enriching programs will run in this time. 
Our AI Champions program, for instance, brings together team members from across various departments who act as liaisons between AI Labs and their respective teams, ensuring AI-driven thinking is integrated throughout the company. 
Additionally, our AI Lunch Break Sessions offer a weekly platform for education and open dialogue on the latest AI trends and applications, serving as a breeding ground for new ideas. Through hackathons, bootcamps, and AI learning days, we'll continuously foster a culture of innovation and creativity.
Visuals by Mariano Briozzo, crafted using Midjourney.
Strategic Initiatives
The programs outlined above all rest on a 'build-measure-learn' approach focused on rapid prototyping. Already we're working on several strategic initiatives for AI and mobile growth, and we can offer a glimpse into the lab here. All of these initiatives can be read about in more detail on our dedicated website here. 
Automated User Acquisition Creatives at Scale: AI-generated campaign creatives to promise faster launches and lower customer acquisition costs.
Personalized CRM Messaging: Tailored CRM with AI, to make user experiences more engaging and contribute to retention. 
Experiment Insights at Scale: Analyze experiments using AI, and adapt your growth strategy based on proven results to drive impact faster. 
AI-driven Keyword Optimization: Revolutionize keyword optimization with AI, to expand impact and global reach with increased efficiency. 
Automated ASO Audits: Speed up optimization with AI-generated audits, providing faster insights to clients.
Optimized Campaign Management: Continuous adjustment of bids underpinned by AI-optimized Cost-per-Acquisition goals. 
Internal AI Guidelines: Foster responsible and ethical AI innovation with rigorous internal guidelines.
The results so far
Already we're seeing rapid results from this dynamic, creative environment.
Optimized ASA bidding: To find the optimal ASA bidding system, we've deployed a self-learning Machine Learning model in the Apple Search Ads campaigns of one of our clients.
Creative campaign tracking: We've launched a dashboard for our creative team, so they can track what experiments the market is running, and which were most successful for ASO. 
Keyword research & labeling: We've handed over all of our keyword research and labeling to AI, leading to new, more relevant keywords being found and used. We're aiming to automate the entire process with our AI-first Keyword Optimization initiative.
We've also recently launched our ASO Plugin for Chat GPT. This plugin was created in a hackathon with the AI Labs, and facilitates access to essential ASO information such as keyword search popularity for iOS, estimated impressions, and many more variables that we're tracking directly from stores. 

How to follow our progress
There'll be more results to share soon, as more real-world applications of AI emerge from the creativity of the lab. If you'd like to stay in the loop about how the results of the AI Labs can drive growth impact for your business, I'd highly recommend following me, Moritz Daan, and Merlin Penny on LinkedIn.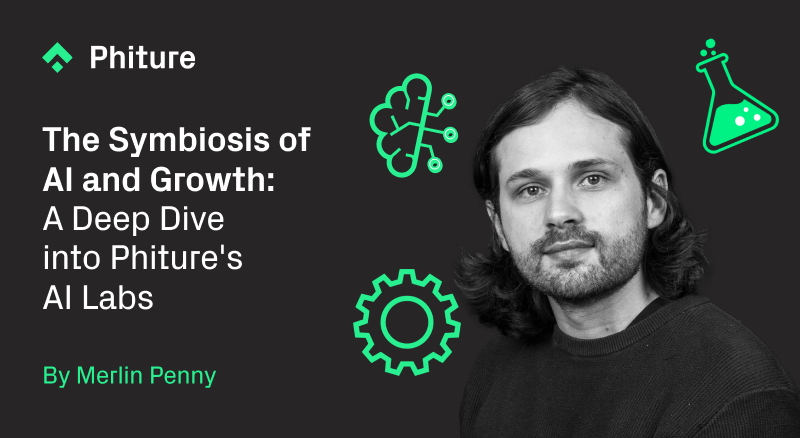 Merlin has already contributed a blog article on LinkedIn regarding AI Labs, and he'll continue to share more updates in the coming months. You can also subscribe to our Growth Newsletters here, a fortnightly summary of updates to inspire growth which will report on the progress of our AI Labs. 
Before you go
Learn how user surveys and pricing…
---
September 20, 2023
by Pierre Neau
Elevate ASO with competitor analysis:…
---
September 12, 2023
by Aleksandra Stankovic