Other than top brands, what are popular search queries – and how many unique high-volume searches exist?
Phiture
is an App Store Optimization agency and Mobile Growth Consultancy that helps large international brands with their ASO strategy
App store search is very important for app discovery:
But what exactly do users type into the App Store and Play Store search box to discover their apps? (The average smartphone user has more than 80 apps on their phone, according to AppAnnie.)
The answer isn't easy to find. Unlike web search, app store search remains a black box for the majority, only the big two platforms know for certain what their users are searching for — but that might change soon.
Third-party technology providers such as analytics or attribution services with access to a large number of apps can get a glimpse. The different ASO tools' search estimates often rely on Apple Search Priority or Apple Search Ads popularity (which only provides a score, not actual search volumes) at best. Most often however, it's mixed with other signals, mostly from web-based searches.
In March 2017, John Koetsier from attribution provider TUNE studied the 500 top app store keywords. The main finding: 9 out of the 10 top keywords are branded.
This means users have a habit of searching the app stores for brands they've already heard about elsewhere.
According to TUNE research, 86% of the top 100 keywords were brands. The top non-branded keywords in the top 100 were related to games or simple utility apps: games, vpn, free games, photo editor, music, calculator, weather.
With the top keywords dominated by brands and only a few exceptions of mostly very basic non-branded keywords, is there a significant long-tail for app search, and what does it look like?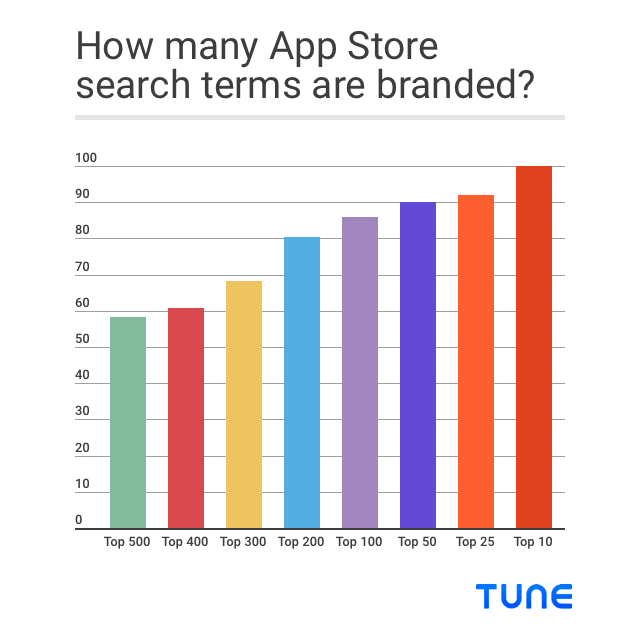 Source: TUNE
Apart from brands, what else are users searching for?
In 2014, Google released a video where product manager Relly Brandman, talks about different search types. According to Brandman, there are two types of searches:
Users who

already know

what they're looking for

Users who don't know what they want

and search by keywords such as 'puzzle' or 'goblin'
Back in 2013, Google Play's head of search and discovery Ankit Jain offered some deeper insights into Google Play users' search behavior at Google I/0 Here's what he shared:
Jain detailed two kinds of search queries —

categorical

and

navigational

. Categorical queries are broad search terms such as

free games,

or

train schedules,

while navigational queries are exact search terms like a

ngry birds

, or w

hatsapp

— i.e. branded searches.

He said that 12 percent of daily active users (DAU) search for apps daily, 50 percent of DAUs search for apps weekly and Google sees

six million unique phrases

searched monthly.
Assuming, that there are still millions of unique search phrases every month — how many of these unique queries drive significant volume and how many are branded vs. non-branded?
To find out which queries have a lot of volume, Apple's Trending Searches is a good place to start. I reached out to Sebastian Knopp, Growth and Product Strategist and creator of app store search intelligence tool appkeywords.net. This tool offers free insights into trending searches and suggested autocomplete searches. Sebastian shared some exclusive data: the global number of unique Trending Searches on iOS across different countries for 2016 (blue graphs) compared to 2017 (red graphs).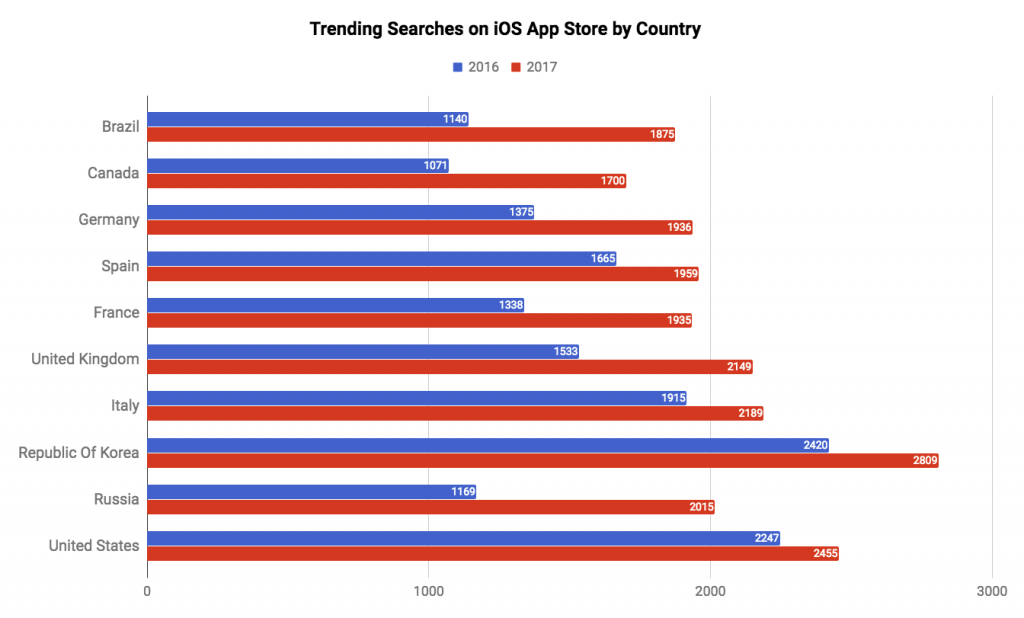 Number of unique search queries in the App Store Trending Searches section, 2016 vs 2017. Source: Sebastian Knopp (appkeywords.net)
According to this data, there were 2,455 unique search phrases trending in the US in 2017 — up from 2,247 the previous year. This means at least that users are searching for twice as many high volume queries than in 2015, when SensorTower shared unique Trending Searches data.
What does autocomplete reveal about search behavior?
For a more qualitative analysis, Sebastian provided us with a list of autocomplete searches for the App Store. Autocomplete is a common feature for search engines that is suggesting a shortcut for the user by displaying the most likely results when typing a query.
Whenever users type a single letter such as 'g', the App Store displays a list of 10 suggested searches that start with this letter. If a user continues to type, e.g. 'ga…' a new list of suggestions starting with 'ga' is loaded, etc. The order in which auto-suggestions are displayed is determined by Apple's Priority Index score.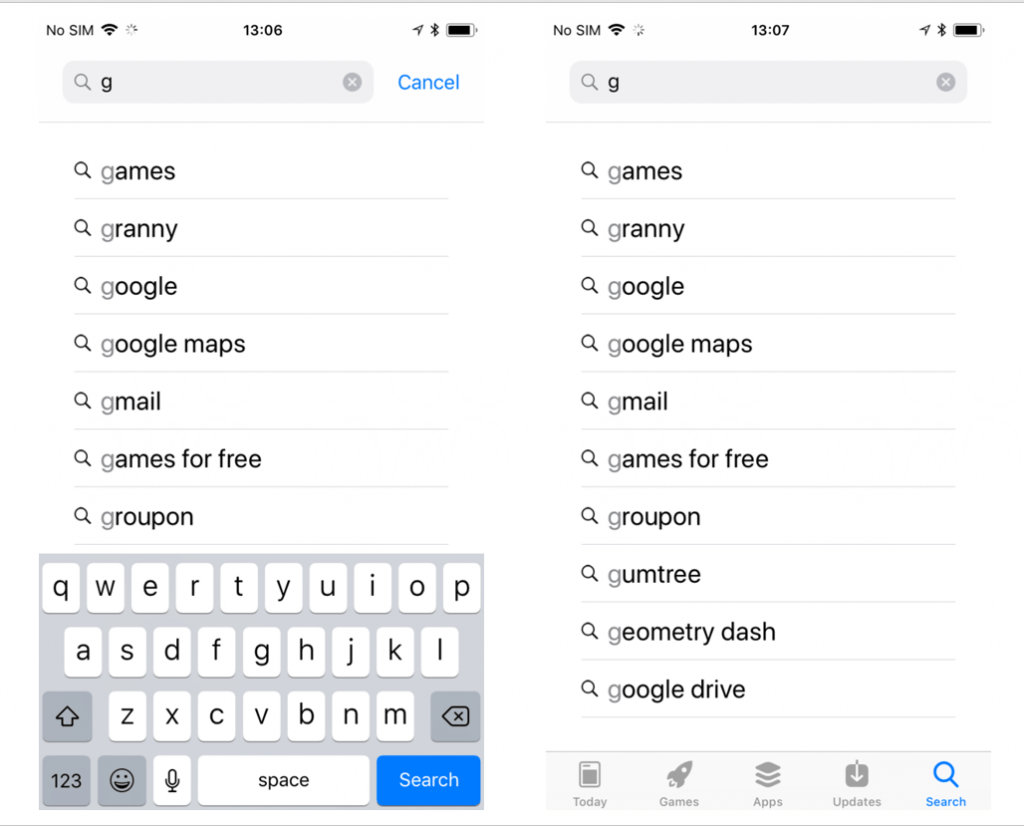 Auto-suggest in the App Store. Left side: last 3 items are obstructed by keyboard, right side: full list of 10 suggested items
The list Sebastian provided us with (linked HERE as a Google DOC) contains almost 9,000 search queries suggested by the App Store's autocomplete feature on a single day (February 19). These are the auto-suggestions for a-z, and their 2-character-combinations from 'AA', 'AB' … all the way to 'ZZ' – along with their Priority score assigned by Apple.
Unsurprisingly, brands dominate the auto-suggested lists as well. A quick manual analysis shows that out of these 260 suggested words (10 for each letter of the alphabet), only 13 words (5%) appear to be non-branded terms: bible, calculator, countdown, email, free games, games, mail, maps, music, news, notes, olympics 2018, photo editor.
For all of the 2-letter combinations, the list contains 8,300 items, after removing duplicates. Out of these, I searched for common repeated phrases to identify search patterns outside of brands. Here are the words that came up most frequently: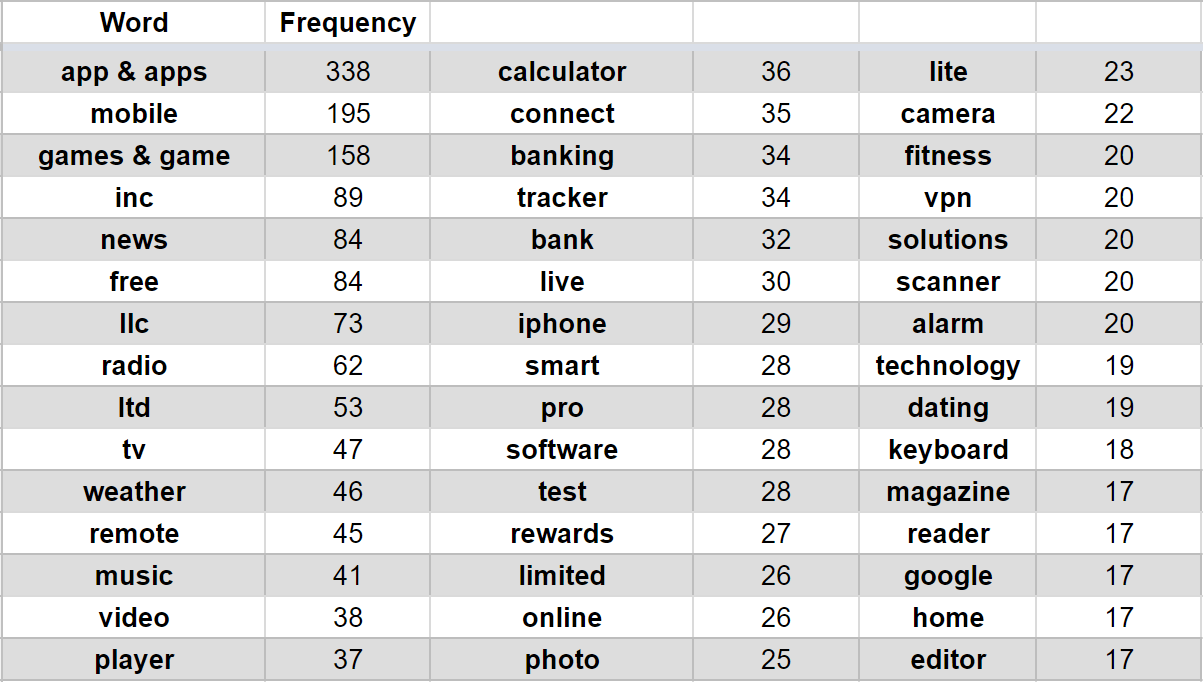 Most frequent words suggested by the App Store autocomplete feature when typing 1 or 2 characters
Interestingly, brand-related terms such as inc. or ltd, show up in the most common words as well. Other than that, audio and video apps, as well as utilities dominate again.
Navigational searches seem to be a lot more common for games than for apps: 'games' as part of a query appears 127 times ('game' 27 times), in queries describing genres such as skating games, zombie games, action games, or arcade games.
In contrast, the data contained only around 25 navigational queries containing the word 'apps', such as music apps, nursing apps, or dating apps while the singular 'app' appeared more than 300 times and referred predominantly to brands again, e.g. 'McDonalds app'.
Search-to-Install breakdown will eliminate a lot of the guesswork
The short- and mid-tail of app search is still firmly in the hand of brands with a few highly competitive generic keywords in the mix. The longer tail of relevant keywords remains a mystery that every app developer has to solve individually. Luckily, there is help on the way. In January, Google released new organic search data in the 'User Acquisition' section of the Google Play Console, rolled out to a group of beta-testers at first.
This allows splitting organic Play Store traffic into Search and Browse, i.e. if a user has found the app listing via a search query vs. browsing the store.
It also provides data around installs generated per keyword for the first time. Google is showing the top 1,000 search terms the app is ranking for, along with their individual conversion rate, broken down into store listing visitors, installers, retained installers or buyers.
The upcoming months will be very interesting for app marketers who will be able to demystify app search and finally answer the question 'How are users searching for my apps?' with actual, real-world data.
Thanks to Sebastian Knopp【ツ】 and Moritz Daan. 
According to Apple, 65% of downloads…
---
May 14, 2019
by Pablo Penny
Mobile marketers and developers can as…
---
May 29, 2018
by Moritz Daan