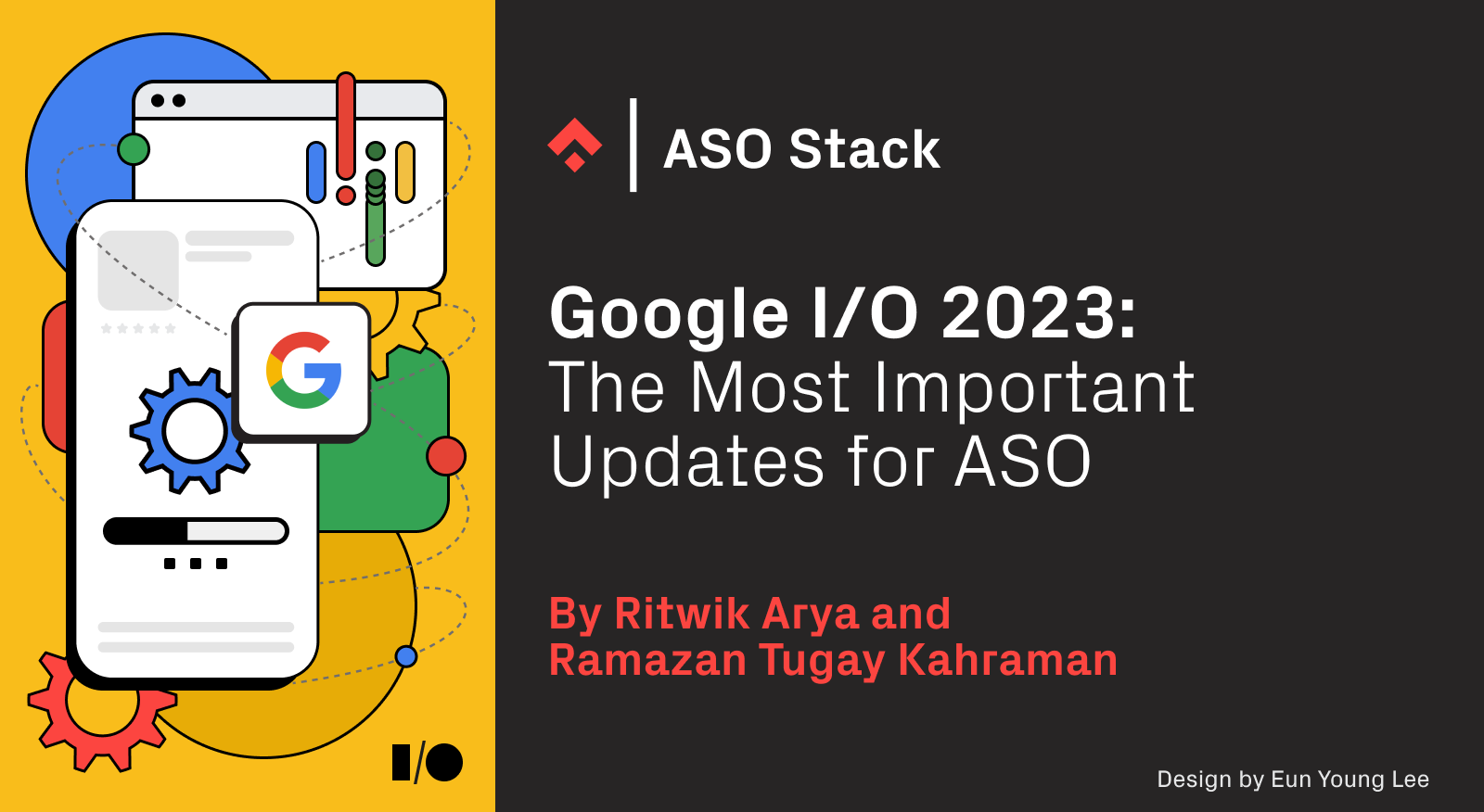 Google I/O 2023 was an action-packed event, the centerpiece of which was the numerous advancements in AI technology Google unveiled, that will change the day-to-day work of ASO practitioners. There were plenty of other updates too, and, in this recap, we take you over the most important news from Mountainview for ASO practitioners, and offer up our own analysis. 
Google also presented the factors they consider when looking for high quality apps or games to promote. We've included a summary of these factors below, with the examples Google called out for special praise to inspire your own app development. 
New AI-powered content generation for the Play Console
Google not only delved into its efforts to integrate AI with various Google Workspace apps but also debuted an experimental feature in the Google Play Console called "Generate Content." This feature leverages AI to produce short and long descriptions within the Play Console. To use this feature, users must input a theme, tone of voice, and target user to receive personalized descriptions. However, Google stressed that this feature is not intended to replace human involvement. Any content generated via Google's AI should still undergo thorough review and editing for optimal results.

Updates to Custom Store Listings (CSLs)
While Custom Store Listings (CSLs) already offer various ways to personalize your store listing, Google has announced two new use cases for CSLs: "Inactive users" and "Google Ads campaign." These additions will enable ASO practitioners to create a new store listing specifically designed to re-engage users who have uninstalled an app or have not used it for at least 30 days. Furthermore, with the integration of Google Ads, you will now have the ability to input your Google Ads ad group ID when setting up a CSL. This will direct Google Ads traffic to your selected store listing version, providing an additional opportunity to enhance the user journey for those coming from a Google Ads app campaign.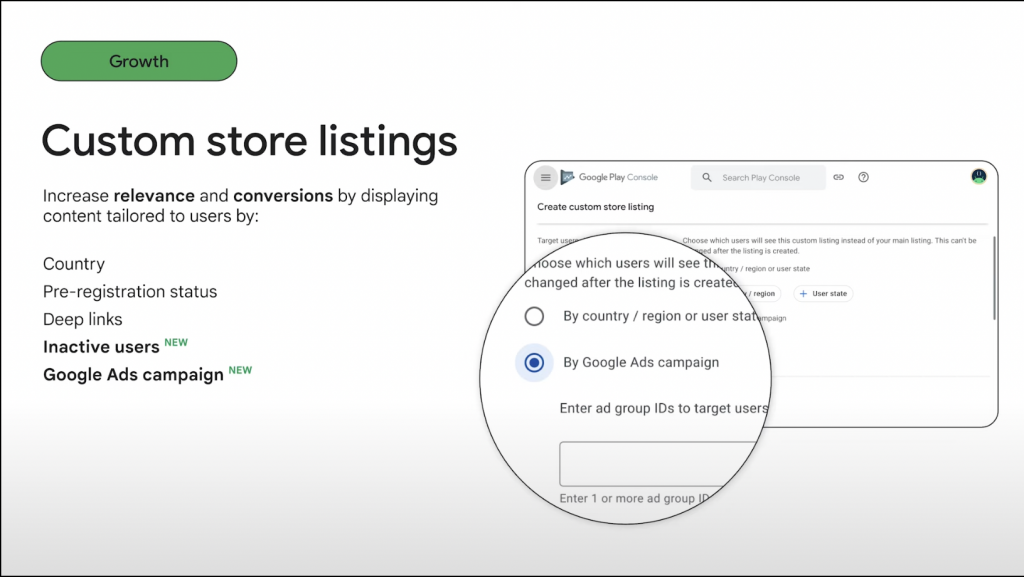 Google has also introduced new Listing Groups, a feature that will empower ASO practitioners to create multiple variants of store listings with increased speed and efficiency. By creating a listing within a group, the listing will automatically inherit the assets of that group. These assets can then be adjusted to create a unique variant listing. This enhancement simplifies the process of launching and managing thematic listings on a large scale and also facilitates the adjustment of listings in different regions, such as making minor tweaks to screenshots.
AI-powered machine translation services
During the event, Google highlighted the AI-powered machine translation services available within the Google Play Console. Now supporting 10 languages from Google Translate, this enhanced service is available to developers at no extra cost. The refined translation service enables the rapid translation of store listing metadata into native languages, making the localization process possible for all developers.

Google lays the ground for an expansion of Promotional Content
Google announced several updates regarding Promotional Content. Currently limited to 25,000 titles, the scope of Promotional Content is set to expand, as Google plans to allow more apps to use this feature later this year.  The strategic use of Promotional Content is intended to re-engage app users, prompting them to revisit the Play Store and the app itself. This strategy presents a win-win scenario for Google, developers, and app users alike.
In an effort to incentivize more developers to leverage PC, Google has declared that apps with compelling Promotional Content will be featured prominently within the Google Play Console. This includes having their app listing positioned at the top of search suggestions, search results for brand/non-brand keywords, and the explore tabs of the Play Store.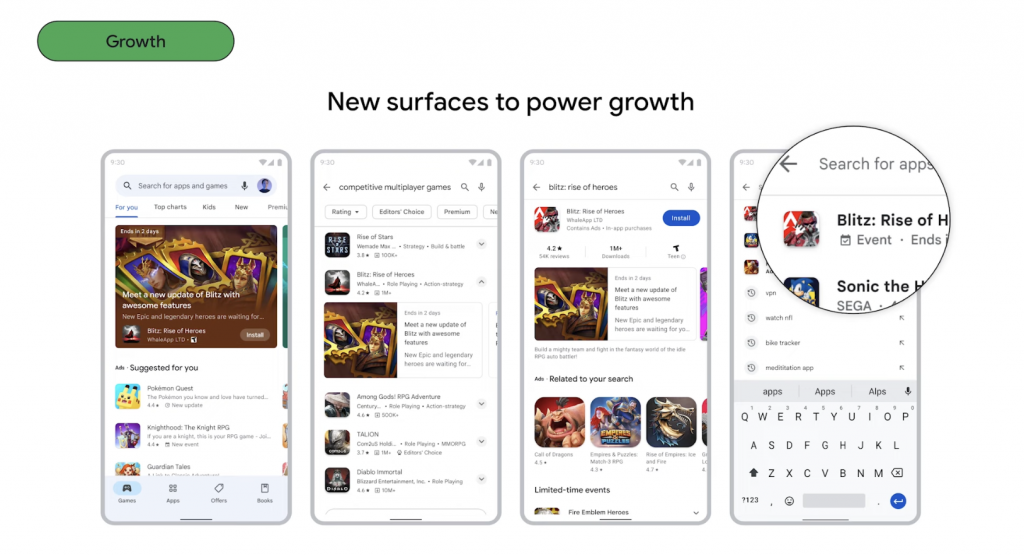 In addition, Google showcased several success stories, highlighting how certain titles have benefited from Promotional Content. These benefits included significant increases in new user acquisitions and reacquisitions, a surge in app opens, and improved user engagement.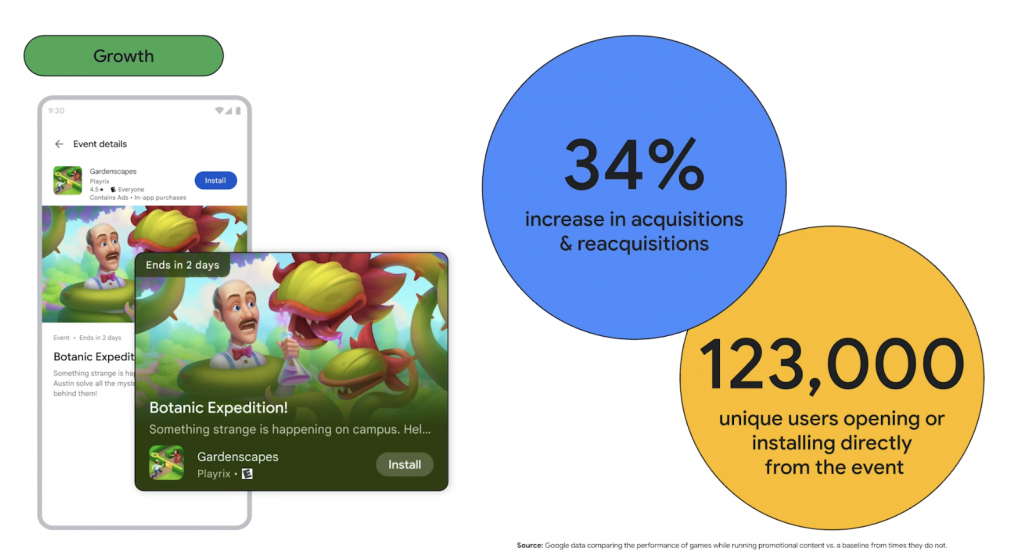 In conjunction with these broader announcements regarding Promotional Content, Google revealed a new reporting feature within the Play Console which will provide insights into the impact of Promotional Content usage on user engagement compared to baseline metrics. If the data indicates that users driven to the app via Promotional Content exhibit higher stickiness, it would serve as a strong indicator to increase the use of Promotional Content.

Android Vitals now better equipped to understand SDK-related issues
Since Android Vitals began offering insights into technical issues and their resolutions, Google recognized that addressing these issues could be challenging, particularly when they're related to the SDK. However, by collaborating with SDK partners, Android Vitals now allows users to understand SDK-related issues, monitor their status, and view additional notes from Google that assist in troubleshooting. This update highlights the importance for ASO practitioners to analyze SDK issues within Android Vitals and track their resolution, thereby minimizing any potential impact on a title's discoverability.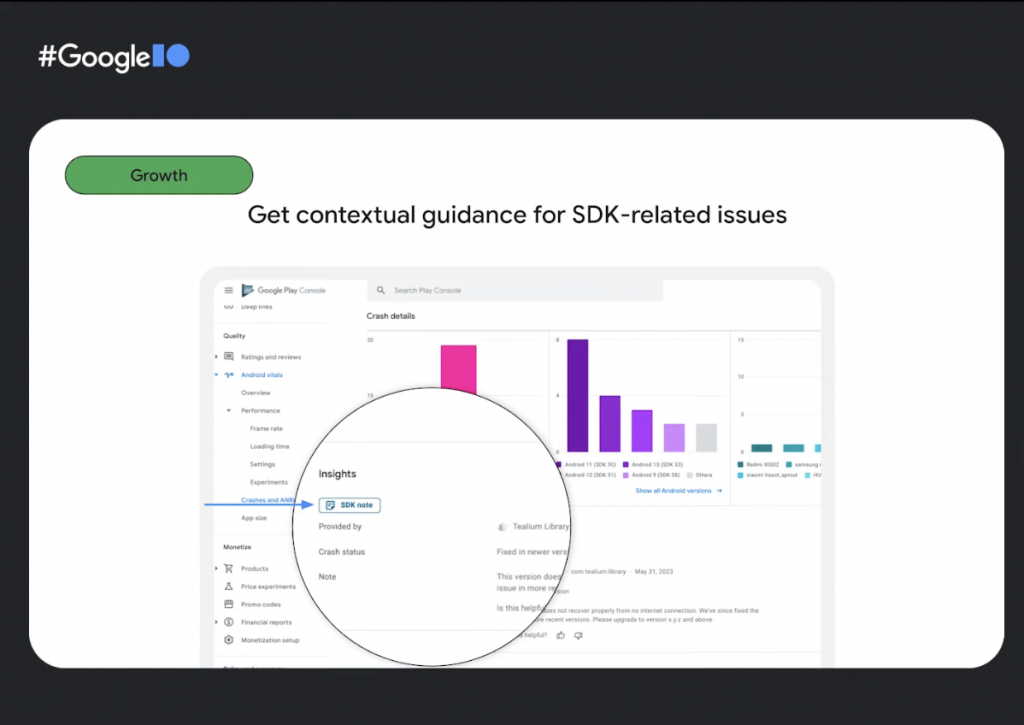 New 'Featured Products' hints at potential ASO opportunities
Mirroring Apple's In-App Purchase feature, Google has launched a new tool called "Featured Products". This allows developers to sell in-app items directly via Google Play. The Play Console enables the setup of Featured Products, and the preview shared by Google indicates the ability to name your In-App Purchase (IAP), upload an icon for it, specify its availability in target countries, and set its start and end duration. This unveils potential ASO opportunities in terms of keyword optimization, conversion improvement, and the increase of IAP from re-engaged store listing visitors.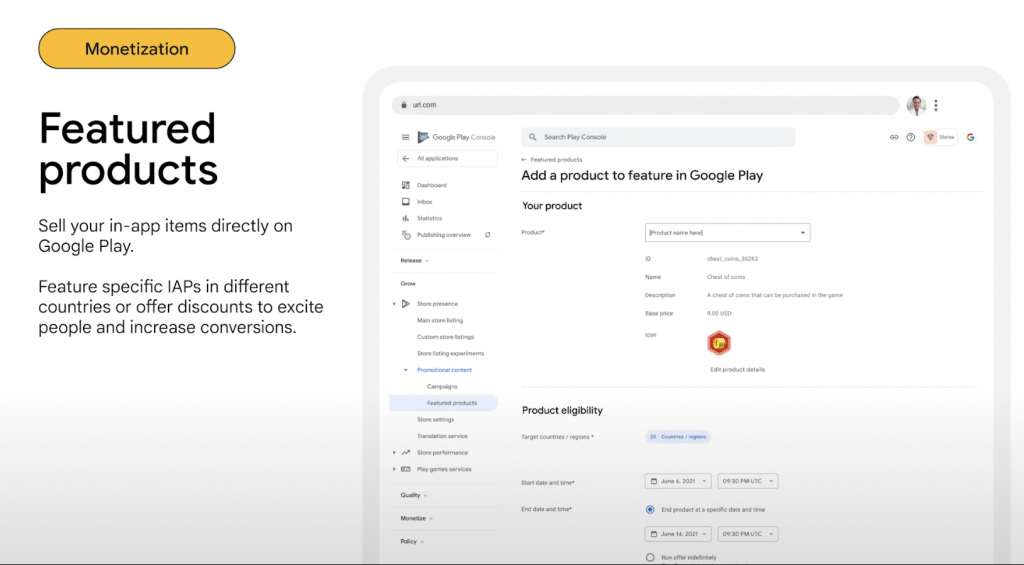 New update prompt for app users using broken versions
Developers now have the capability to prompt users to update their app if the current version is unstable. This feature has been introduced with the goal of helping developers reduce churn and sustain a positive user experience.

Beta app for Google Play Console available now 
If you're interested in having Play Console data readily accessible, you now have the option to join the Beta for the Google Play Console app. This app offers a quick overview of your app statistics, enables you to view notifications from Play Console on your mobile device, and allows you to actively respond to reviews directly through the Google Play Console app.

New Deep Linking feature in the Play Store
Google also announced the updated version of the Deep Linking feature in the Play Console. In the new dashboard, you can now see traffic coming to the app from different sources, including Google Ad and web traffic. The status column shows you if the source URL is deep linked or not, therefore, enabling you to find deep link opportunities from incoming traffic. More updates about this feature can be found here.  

Updates to search UI with new user sentiment summaries
Google has further developed its search UI with an unexpected shift. In the future, we will see AI-generated summaries of user-review sentiments displayed in search results. This move reflects Google's dedication to making the Play Store experience more user-centric. The introduction of such review summaries could greatly increase the importance of review management from an ASO perspective, as it could significantly impact conversion rates.

Google shares factors that can help apps be promoted
When determining which apps or games to promote and where, Google takes into account the quality of the titles and their promotional assets. During Google I/O, Google shared factors that influence app quality. Focusing on these areas will significantly increase the chances of your title being featured on Google Play.

Google also provided examples of how other apps deliver high value, great user experience and store listing to users. 
An intuitive and user-friendly interface
For instance, Canva provides great value to its users with its intuitive and user-friendly interface, making it accessible for both new and experienced users. It consistently introduces innovative features such as whiteboard collaboration, a document-to-presentation converter, a magic eraser, and a text-to-image generator, allowing users to enhance their design process. Its adaptive layout adjusts to fit different screen sizes, providing users with a seamless design experience across various form factors. Furthermore, Canva supports multi-window use for effective multitasking and offers continuity across devices, enabling users to resume their work from where they left off, regardless of the device used. This combination of features empowers users to create high-quality designs with flexibility and convenience.
While in other examples about core value, Google shared that Candy Crush Soda Saga offers versatility in gameplay, allowing users to play in both portrait and landscape modes. Spotify enhances user convenience by enabling music pre-downloads directly to their watches, freeing users to leave their phones at home during activities like running. Left to Survive optimizes its gaming experience for PC users by translating touch controls to keyboard and mouse controls, demonstrating adaptability across different gaming platforms.
Great user experiences don't go unnoticed
Google highlighted the importance of a great user experience, pointing out the onboarding experience of Duolingo, which uses user input to set up personalized learning plans. Asphalt 9 also received praise for its immersive onboarding process, taking players directly into a race and gradually explaining game controls. Google underscored the effectiveness of simplifying complex tasks into fun, easy step-by-step flows, enhancing overall app usability. Visual appeal was emphasized too, with Calm as an example, showcasing a diverse set of compelling content and customization options. Regarding monetization, Google recognized Pinterest for its non-intrusive and clearly labeled ads, emphasizing the relevance to users and ease of navigation back from ad content.
High quality store presence a must
Google emphasized the importance of a high-quality presence in the Play Store, using Spotify's store listing as an example. It features easy-to-read short and long descriptions and comprehensively showcases the app's features. Google also highlighted the value of providing videos and screenshots for all supported form factors, ensuring a consistent understanding of the app's functionality. Furthermore, promotional content should have clear text communicating events, alongside compelling images and videos that adhere to guidelines, to effectively engage potential users.
These examples can be used as a source of inspiration for you to deliver a high quality experience with your app. You can learn more about this topic by visiting this page.

Updated Store Listing Certificate available now 
The full ramifications of these various updates upon the practice of ASO will become clearer in time. That said, we'd highly recommend ASO practitioners get the updated Store Listing Certificate to update (and showcase) their knowledge on topics including the new targeting options within CSL and more.
Before you go
Learn how user surveys and pricing…
---
September 20, 2023
by Pierre Neau
Explore Phiture's AI Labs: Shaping the…
---
September 14, 2023
by Moritz Daan