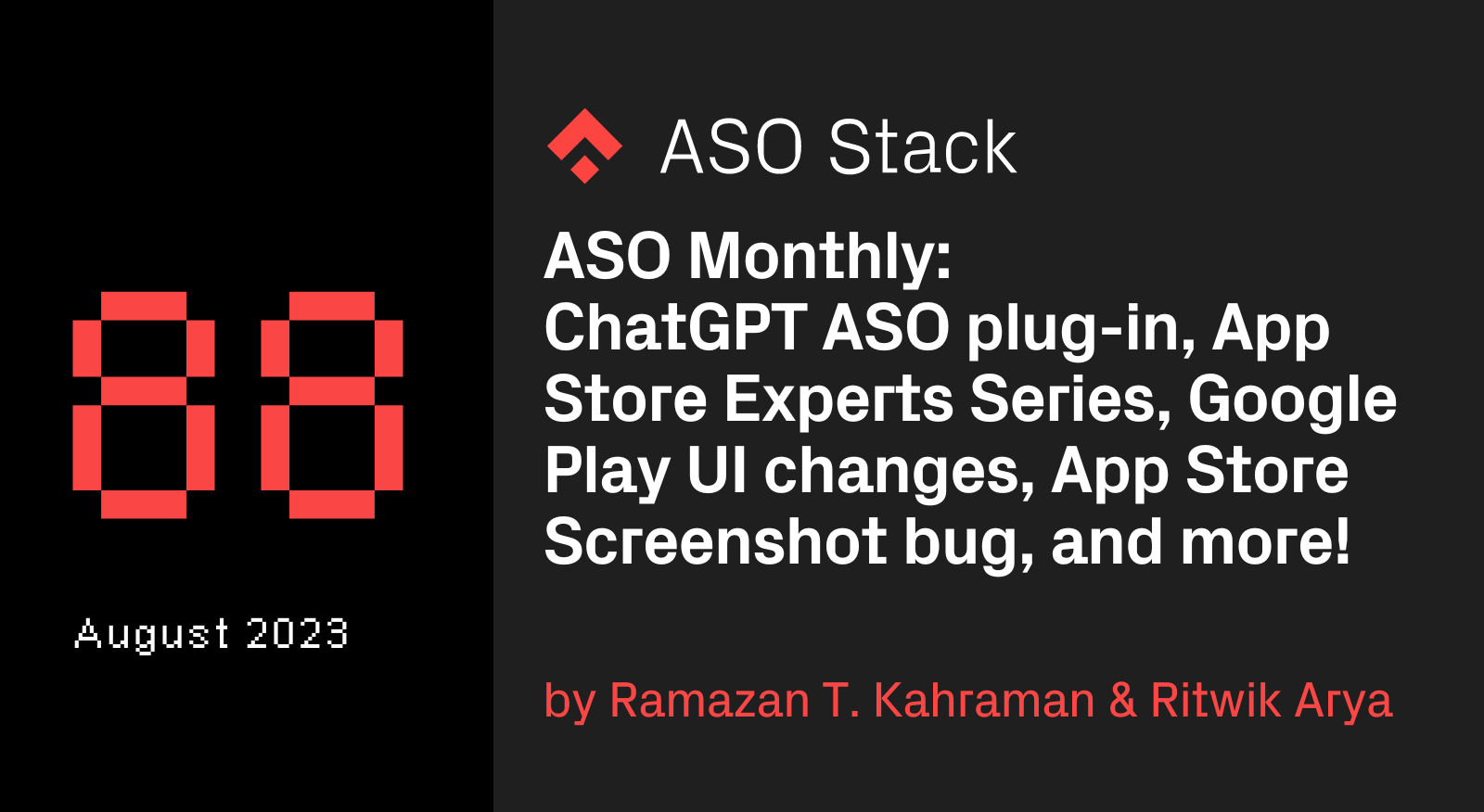 This month's ASO Monthly edition outlines the most relevant August developments. Here, we shed light on trends in App Store Optimization, algorithm changes, insights into conversion rate optimization, and tool updates.
This update was prepared by Senior ASO Strategist, Ritwik Arya, and Ramazan Tugay Kahraman, Senior ASO Keyword & Metadata Specialist at Phiture. 
August – Phiture AI Labs launches ChatGPT ASO Plug-in
Having access to the appropriate information at the appropriate moment is essential in the crowded sector of app store optimization (ASO). We are thrilled to share a ChatGPT plugin that makes it easier to access crucial ASO data like keyword search popularity for iOS, expected impressions, and more as part of an exploratory hackathon within Phiture's AI Labs. It's one of our advancements in continued efforts to better comprehend and assist the ASO community.

You can see all the details about the ChatGPT plug-in and the user guide at this link, while if you'd like to find out more about Phiture's AI Labs, you can check out our dedicated website here.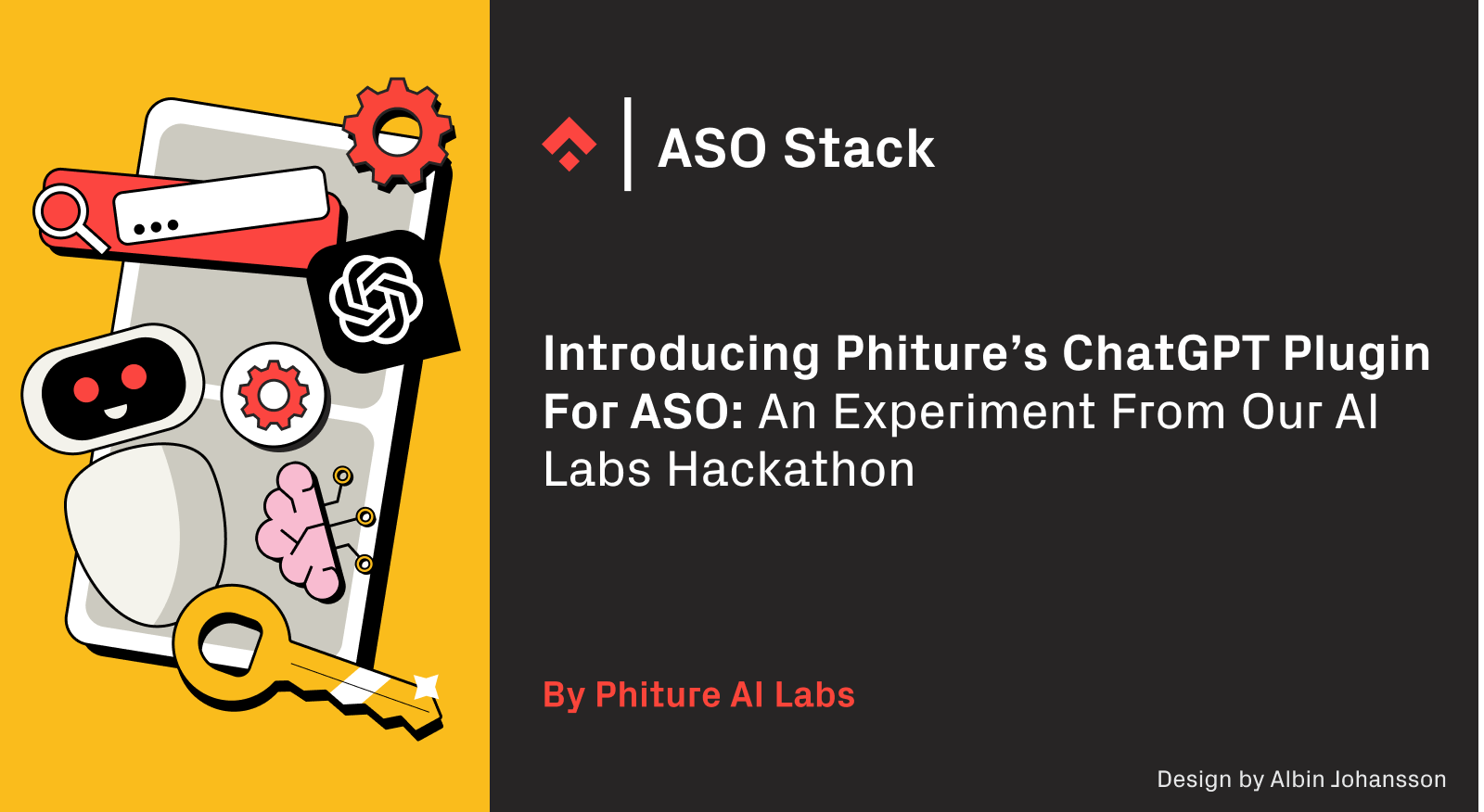 August 8 – Meet the App Store Experts online series
In August, Apple launched a free online series called "Meet the App Store Experts". The series aimed to provide a platform for developers to have their questions answered in real time. Some of the relevant sessions for ASO consultants in this series:
Make the most of in-app events

Use Game Center to boost discovery and engagement

Make the most of custom product pages

Make the most of product page optimization

Measure and improve acquisition with App Analytics
Even though all the events were streamed live and were not recorded, Apple shared a webpage containing relevant and useful resources for each topic. 
August 9 – "Our weekly app pick" section opens in Google Play Store
Google recently experimented with an app collection in the Play Store named "Our weekly app pick." Located within the App tab, this collection spotlighted a handpicked app each week. Designed to offer users a curated selection of quality apps, it also provided developers an avenue for increased visibility and engagement. However, after a trial period, this collection no longer appears in the store, suggesting that Google was testing this new collection.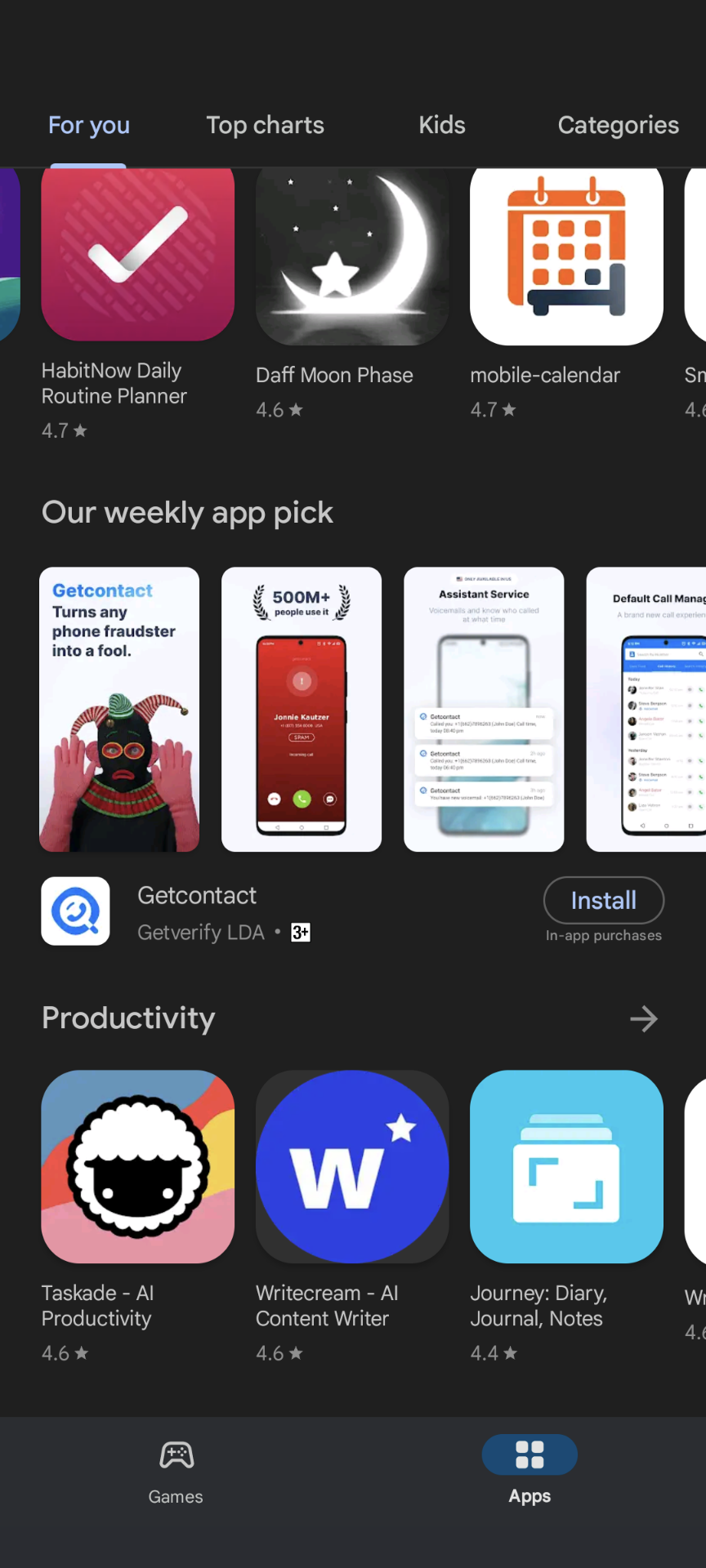 The new weekly app pick on the Google Play Store. 
August 10 – New, simplified and subtle display of ads in the Google Play Store
Google has revamped the display of ads in the Play Store's search results. With this update, the distinction between ads and organic listings has become subtle, allowing the top three apps to be prominently displayed on the initial screen. In response to the changes concerning organic keywords, Google incorporated downward-facing buttons within the search results. Tapping these buttons reveals events, short description, screenshots or preview videos of the respective apps or games.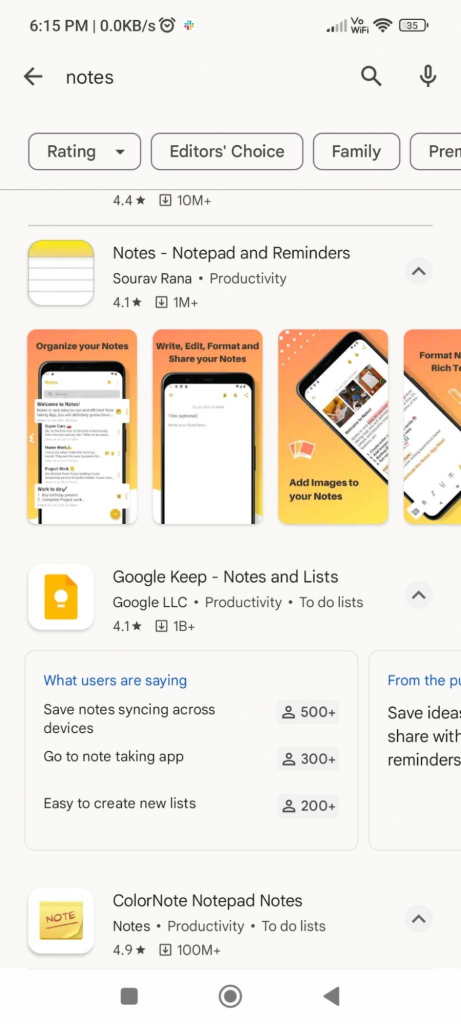 The new, simplified, and more subtle display of ads on the Play Store. 
August 16 – Significant change to branded search results
In August, one of the significant shifts Google implemented was the inclusion of ads in branded search results. Previously, searches using branded keywords would prominently display the brand's own app or game at the top, unaccompanied by any other apps or games. However, post-update, ads began to appear in results for branded keywords.
With ads now occupying the top position, apps will also now face competition on their brand search terms on Google Play.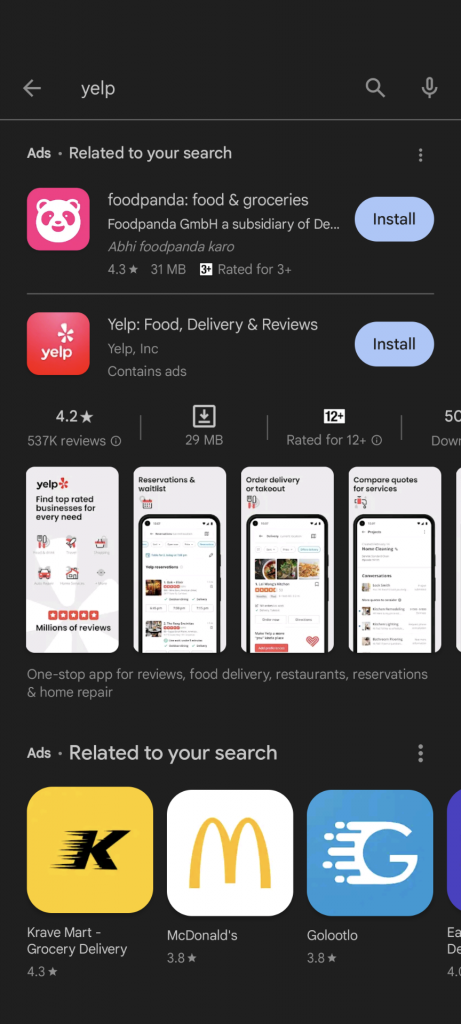 The new inclusion of ads in branded search results.
August 23 – iPad screenshot bug
A brief glitch in the Apple App Store resulted in iPhone users seeing iPad images. This issue was spotted by Anton Tatarynovich and swiftly rectified. However, the unanticipated fluctuations in CVR rates between August 22nd and 24th can be attributed to this temporary bug.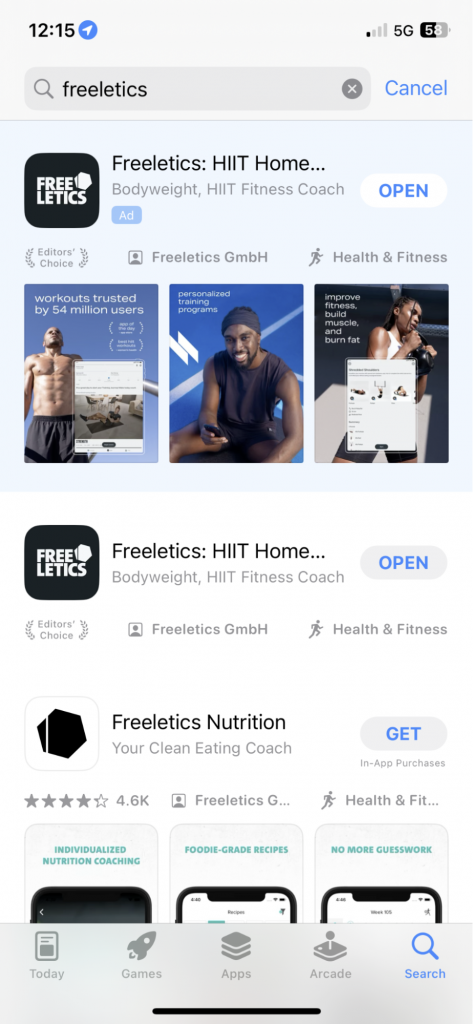 The glitch in the App Store. 
Upcoming Events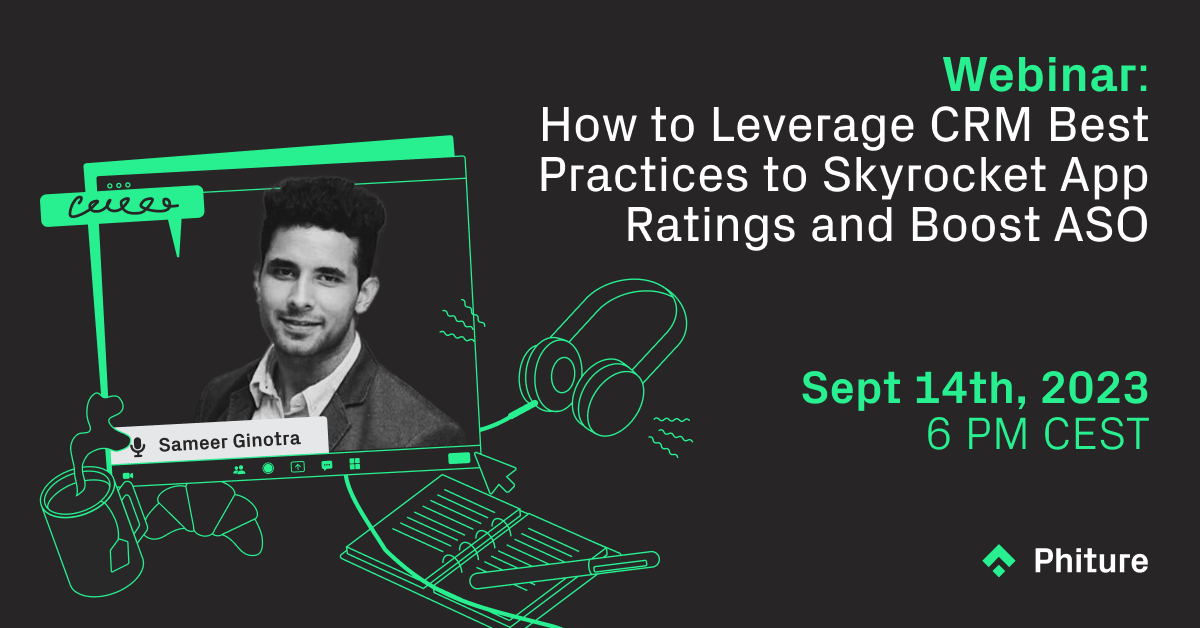 Webinar: How to Leverage CRM Best Practices to Skyrocket App Ratings and Boost ASO | September 14 @ 6pm CEST
Mobidictum Conference | September 5 – 6
App Growth Summit San Francisco | September 14
Droidcon NYC | September 14 – 15 
Tokyo Game Show | September 21 – 24
App Promotion Summit San Francisco | September 28
Tool Updates
AppTweak: AppsFlyer Integration Now Available in Reporting Studio
Interesting Reads/Listens/Watchs
Phiture: AI-Assisted Search and ASO: How to Prepare Your Strategy for Google Bard
Phiture: Localization for Motion Design: Plotting Processes for Success
AppTweak: Average App Conversion Rate per Category [2023]
MobileAction: Travel Category Revealed: Discovering the Gems Through Growth
AppFollow: On the future of app reputation management—Apptica Podcast recap
Yodel: Leveraging Custom In-App Icons for Brand Engagement
AppTweak: Improve Creatives' Performance for Mobile Gaming Ad Campaigns
ShyftUP: Boost Your App Downloads with Google App Campaigns: Top Tips for 2023
MobileAction: ASO + AI: The Formula Behind Remini's Remarkable Climb in Rankings
Before You Go
Apple recently launched their ad repository for Apple Search Ads, currently exclusive to European countries. This platform can be explored here. With the potential to study rival CTAs, color themes, creative designs, video lengths, and region-specific tactics, ASO practitioners can use this free-of-cost platform to understand what kind of creatives are used by your competitors to steal your organic traffic, therefore, helping you to rework on your ASO strategy.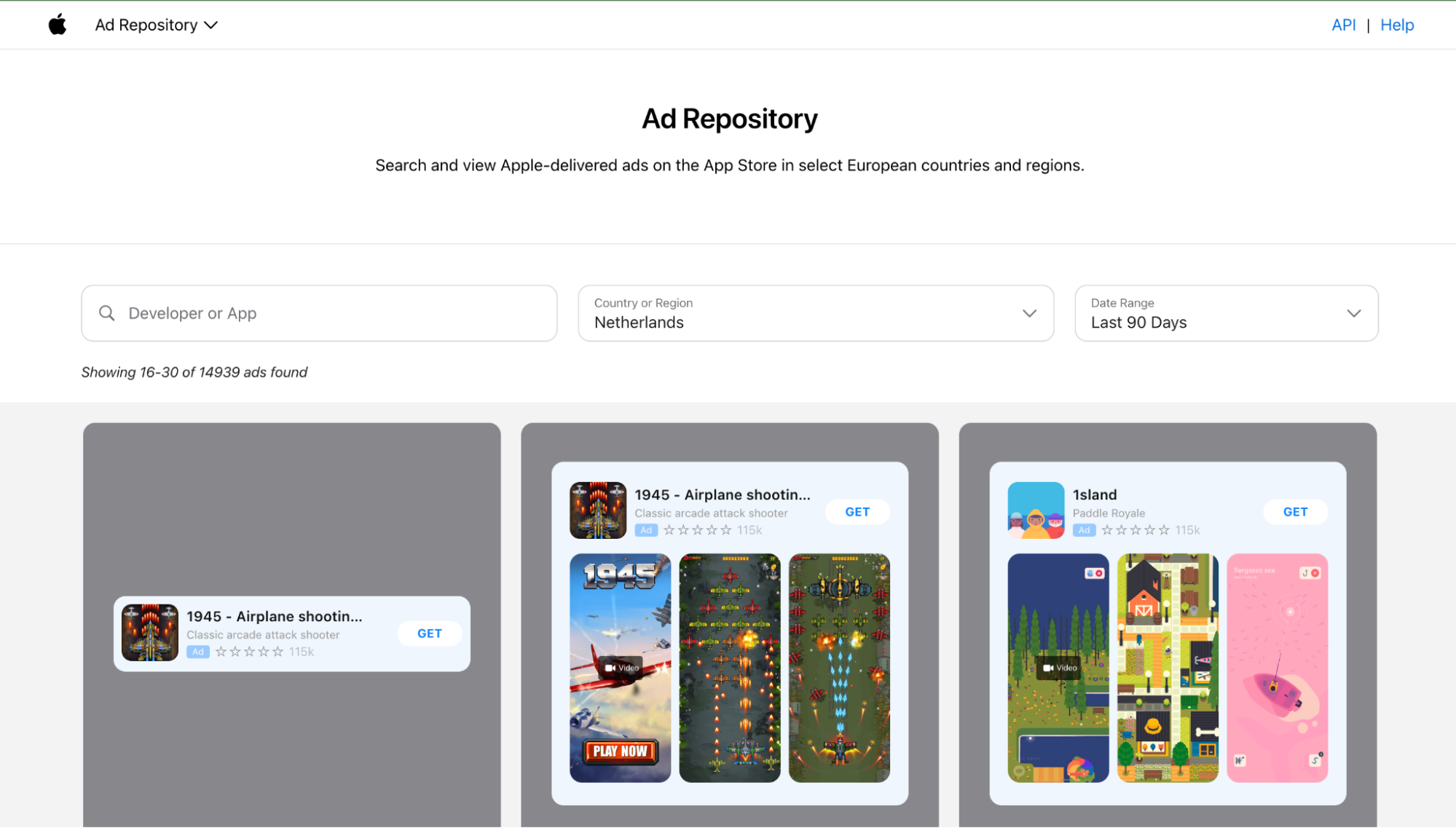 Learn how user surveys and pricing…
---
September 20, 2023
by Pierre Neau
Explore Phiture's AI Labs: Shaping the…
---
September 14, 2023
by Moritz Daan