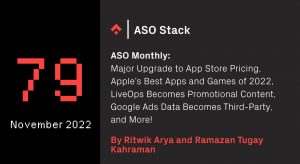 In the ASO Monthly series by ASO Consultancy Phiture, we reflect on the previous month and shed a light on trends in App Store Optimization, algorithm changes, insights in conversion rate optimization, and tools updates.
This update was prepared by Senior ASO Strategist, Ritwik Arya, and Ramazan Tugay Kahraman, Senior ASO Keyword & Metadata Specialist at Phiture. 
November 2 – Updated guidelines and recommendations for Promotional Content
Google released updated guidelines for Promotional Content (previously known as "LiveOps") based on the insights from the beta programme that was run over the past year. From November 29, developers are required to submit images without text, as well as more unique and value oriented long descriptions, and relevant and impactful images adhering to cutoff zones. More info on cutoff zones can be found here. Other than that, major updates will be visible for 14 days. The detailed guidelines can be found below. 

Source – Google Play Console
November 2 – EU's Digital Market Act may allow third-party app stores on iOS
The European Union Parliament passed the Digital Market Act (DMA) on November 2 which brings many rules and controls to the digital marketing world. 
The DMA represents a new challenge for Apple within the borders of the European Union. Along with DMA, Apple will be required to allow third-party app stores on its products, thus allowing app downloads outside of the App Store. The DMA also provides provision to allow third-party billing.
November 3 – Google introduces changes to app quality bar
If your app exceeds the device bad behavior threshold on any core vital for a given phone model, then Google Play may reduce the visibility of your title for users on that phone model. For example, Google may exclude the title from some discovery surfaces, and in some cases, a warning on your store listing will appear to indicate to users that your app may not work properly on their phone. The Play Store will start applying store listing warnings on November 30, 2022.

Source – Android Developers Blog
As well as this, Google is setting a minimum ratings bar of 3.0 stars to improve the top charts. Google will first launch the ratings change to Top Free charts worldwide and across all form factors in February 2023. Later next year, this change will be brought to top paid and grossing charts as well.
November 7 – Discrepancy in App Store Connect metrics
App Store Connect confirmed a discrepancy in App Referrer, Web Referrer, and App Store Browse source type attribution signals between September 12 and October 7, 2022. The affected data came from iOS 16 users, and it is visible only when viewed by source type. Apple is working towards fixing the data and will update this notification status once the backfill is complete. App marketing practitioners can expect to see changes in the reported data between this time range. 

Source – App Store Connect
November 8 – Play Console renames LiveOps to Promotional Content
Around the time that  Play Console stopped registration for the LiveOps beta program, it renamed the program to "Promotional Content." Developers who are eligible to run events in the Play Store can now see this change in the Play Console dashboard. Google has indicated that new content types will be added over time, therefore Promotional Content would better reflect the breadth of content developers can submit.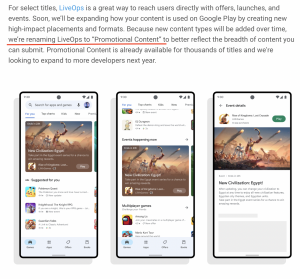 Source – Google Play Store
November 10 – Algorithm update in the Play Store
AppTweak's App Store Algorithm Change detected major algorithm changes in multiple countries this month. The affected countries include the United States, Sweden, Hong Kong, Belgium, Netherlands, Italy, Philippines, Spain, Japan, France, Australia, Switzerland, India, Singapore, United Kingdom (UK), Mexico, Canada, Argentina, Austria, and Germany. ASO managers will need to gauge the impact of this shift on the organic performance of their apps and, if necessary, adjust their strategy accordingly.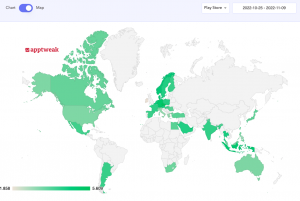 Source – AppTweak
November 10 – Autoplay screenshots in Play Store browse
Play Store now autoplays the first three screenshots in the games tab every 3 seconds. This unlocks new opportunities for app marketers to optimize the browse conversion rate for games, and this further increases the importance of experimenting with screenshots for conversion rate optimization.
November 10 – New meet with App Store Expert series
Apple has added new dates to its 'meet with App Store experts' series. On December 8, 2022, there will be the opportunity to speak with Apple experts in different languages and regions.
Topics include: 
Get started with app discovery and marketing

Optimized app subscriptions

Create In-App Events and make the most of them

Work with Customer Product Pages

Work with Product Page Optimization

Get started with TestFlight
You can find the calendar and registration form at this link.
November 11 – Play Console has started bifurcating organic and paid acquisition
Google Play Console will report Google Ads acquisitions under third-party referrals. Meaning, Google Play Search & Explore traffic sources will show the number of users acquired organically. This will open the door to understanding the behavior of organic and paid users separately, reducing the effort required to manually calculate organic acquisition, and also refine conversion rate improvement strategies for different source types.

Source – Google Play Console
November 14  – Foxconn hires over 100,000 workers
Foxconn will hire more than 100,000 workers to work at its Zhengzhou factory in China, as it prepares to set up its largest iPhone manufacturing center.
After this recruitment process, iPhone 14 production is expected to accelerate. With iPhone 14 sales increasing, 6.7-inch screenshots in the App Store may become more important.
Developers who keep the App Store in the background for their app or games may start to change these strategies in the coming days.
November 15 –  Google Play Store developing 'organic testing feature'
Instead of showing search suggestions under the search box, Google Play Store is testing a new feature that suggests apps under the search box. The apps visible here have "major updates, ongoing events, or offers that users may be interested in." This unlocks another placement where the icon and title of the app will be visible. The update also indicates that Google wishes to promote organically apps that are constantly evolving, running events, and offers.
.
Source – 9to5google
November 28 – Apple announces best apps and games of 2022
Apple today announced the winners of the 2022 App Store Awards, spotlighting 16 apps and games that inspired users to engage more deeply with the world, expand their imaginations, and stay connected to friends and loved ones.
Best apps
iPhone app of the year: BeReal
iPad app of the year: GoodNotes 5
Mac app of the year: MacFamilyTree 10
App TV app of the year: ViX
Apple Watch app of the year: Gentler Streak
Best Games
iPhone game of the year: Apex Legends Mobile
iPad Game of the year: Moncage
Mac game of the year: Inscryption
Apple TV game of the year: El Hijo
Apple Arcade game of the year: Wylde Flowers
China game of the year: League of Legends Esports Manager
Cultural Impact Winners
How We Feel
Dot's Home
Locket Widget
Waterllama
Inua – A Story in Ice and Time
December 6 – Apple announces biggest upgrade to App Store pricing, adding 700 new price points
Apple has added 700 new price points to pricing in the App Store. Developers can now select 900 different price points for in-app purchases and subscriptions, while they can also peg their pricing to local currencies (rather than have pricing converted with an exchange rate against the dollar). While this pricing upgrades adds more complexity, more variation is only a good thing for those experimenting with their pricing optimization. 

Apple's official comment on the new price points: "Under the updated App Store pricing system, all developers will have the ability to select from 900 price points, which is nearly 10 times the number of price points previously available for most apps. This includes 600 new price points to choose from, with an additional 100 higher price points available upon request. To provide developers around the world with even more flexibility, price points — which will start as low as $0.29 and, upon request, go up to $10,000 — will offer an enhanced selection of price points, increasing incrementally across price ranges (for example, every $0.10 up to $10; every $0.50 between $10 and $50; etc.). See the table below for details."
Upcoming events
App Promotion Summit Berlin – Onsite – December 1
App Growth Awards – Onsite – December 1
App Growth Summit Singapore – Onsite – December 8
Tool Updates
AppTweak: Gain Advanced App Store Insights with New AppDNA Taxonomy
Adjust: Adjust introduces our SKAN 4-ready SDK to the market
AppFollow 8.1: Faster than the speed of light
Liftoff: Liftoff Monetize in-app bidding available in open beta with Google AdMob
AppRadar: App Radar is getting a facelift
Interesting Reads
Applying a Data Driven Approach to Seasonality | Phiture
App Store Optimization is Easy When You Know This | App Figures
A/B testing in App Store: Full guide to Apple's Product Page Optimization | Appradar
The Ethics of Dynamic Pricing: The Good, the Bad, and the Ugly | Phiture
Competitive Intelligence is a mobile marketer's cheat code for success, especially during an unpredictable economy | Apptopia 
Optimizing App Metadata – Nordstrom Rack App Store Spotlight | Gummicube
Best ASO Tools – Data Comparison | Moburst
How to Localize Your App in Japanese | AppTweak
Branding as a marketing campaign: the thunderous success of Marvel Snap ⎮ Case Study | Apptamin
Before you go
Serhii Romanovych from the ASO Slack Stack community has discovered an interesting detail about rankings in the App Store. Some apps suddenly lost all their ranks in November.

It was predicted that this sudden rank loss could be related to Black Hat ASO. According to Vadim Lysenko of the ASO Stack Slack community, this could be explained as follows:
It seems Apple's finally taking steps towards limiting blackhat ASO.

I've heard about similar cases. Your app didn't just lost its ranks. It stopped indexing. Just type in a few keywords from your metadata and you'll see that it won't rank (The Promoted IAPs should work though)
Learn how user surveys and pricing…
---
September 20, 2023
by Pierre Neau
Explore Phiture's AI Labs: Shaping the…
---
September 14, 2023
by Moritz Daan