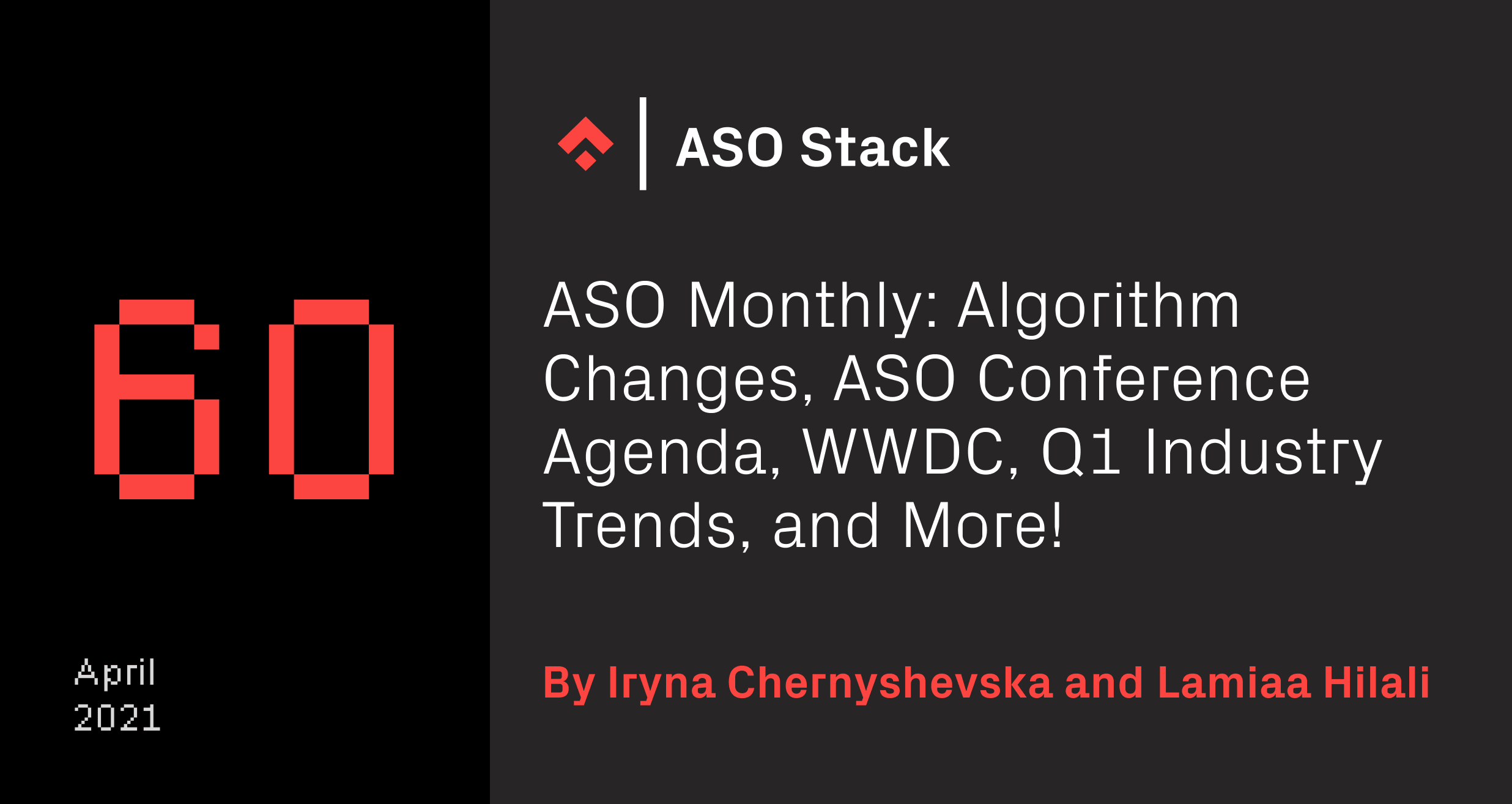 In this ASO Monthly series, the Phiture team reflects on the previous month and sheds light on trends in app store optimization, algorithm changes, privacy changes, insights into conversion rate optimization, and tool updates.
NB: Phiture is hiring! You'll have the opportunity to join Phiture and help us lead the way in mobile growth. Check here for current positions.
This update was written by Junior Project Manager Iryna Chernyshevska and Junior ASO Consultant Lamiaa Hilali at Phiture.
ASO Conference 2021 Online
There's less than one month to go until the ASO Conference 2021, and this year's conference is shaping up to be our most informative one yet.
There will be more than 1,500 ASO Experts present to exchange ideas and ASO tips, more than 10 speakers who will share ASO strategies and tactics, and more than 4 hours of pure ASO knowledge sharing.
You can see the full agenda and reserve your free spot here, and we'll see you on June 3rd!

March 30 – Google Search Ranking Algorithm Update WW
The AppTweak algorithm change detector uncovered a worldwide anomaly score above the usual 3 points for the end of March 2021 on the Google Play Store. This anomaly may affect your reporting results.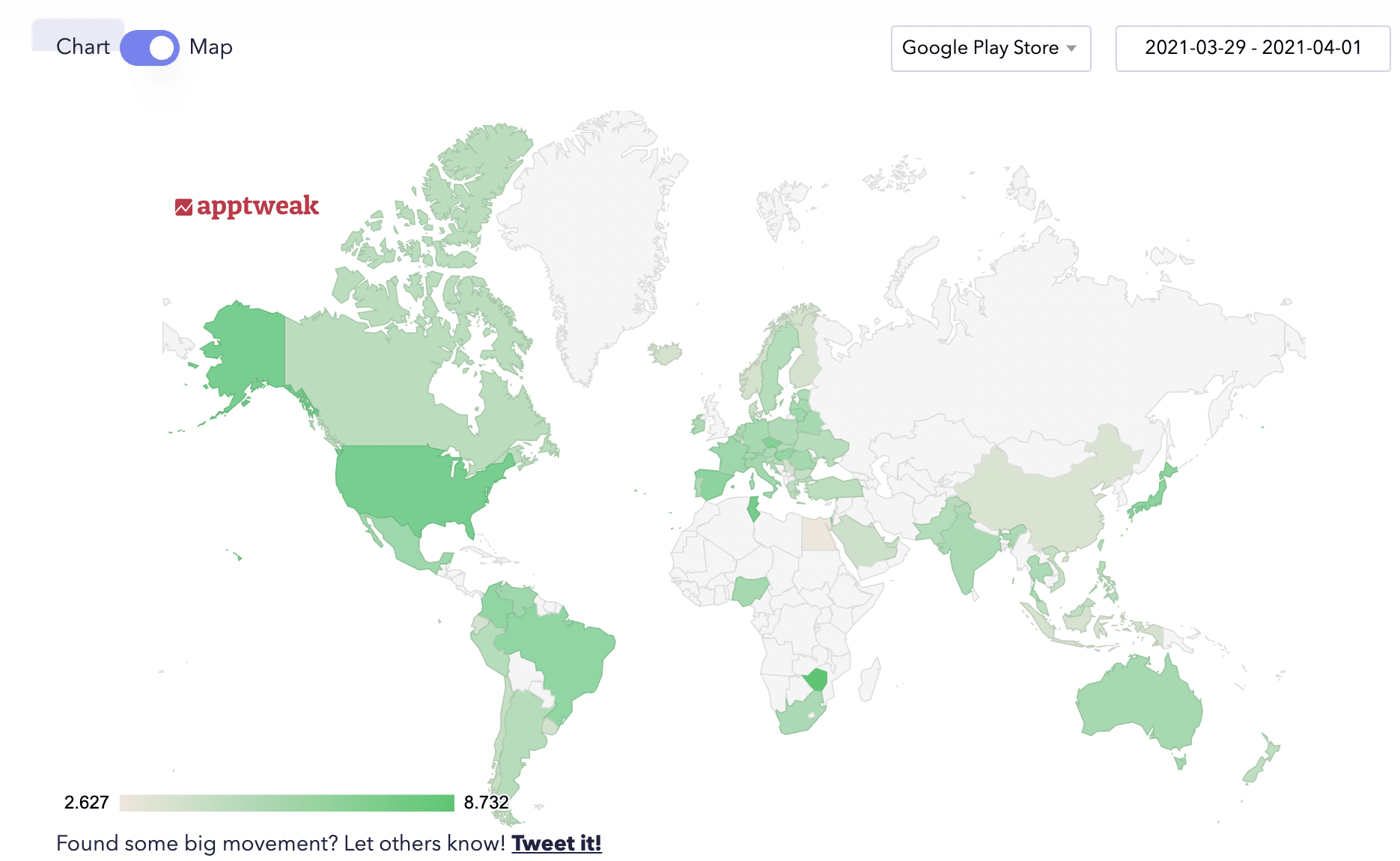 Source: Apptweak Algorithm Change Detector
March 30 – Apple Announced its Worldwide Developers Conference (WWDC)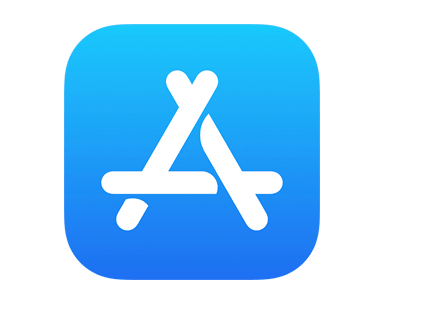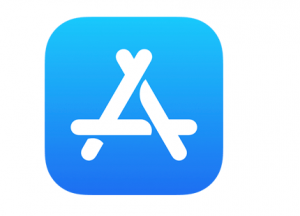 Apple announced that the annual Worldwide Developers Conference (WWDC) will take place online from June 7th to 11th. The agenda includes announcements from the keynote and State of the Union stages, "1:1 labs" offering technical guidance, and tips for developers to gain insights about the newest technologies and frameworks. 
Apple will share additional program information before the WWDC21 through the Apple Developer app, on the Apple Developer website, and via email, so keep an eye on the agenda because this year's conference will cover major software updates for iOS, watchOS, and more.
Apple often announces changes to the App Store and Apple Search Ads at the WWDC, so mark your calendars. Also, look out for anomalies in App Store algorithm behavior before the analysis.
Source: Apple Developer News and Updates
April 1 – Post-iOS 14: Get Ready for ATT (AppTrackingTransparency)
Privacy has become the most discussed topic in the mobile marketing field. Apple has set new privacy regulations with the launch of iOS 14, and they now reject any app using third-party SDKs to collect data without consent. Adjust SDK uses "device fingerprinting," a method that allows apps to collect data such as IP addresses, device models, and more to identify audiences.  
Apple announced on April 20, 2021 that all iOS apps need to have AppTrackingTransparency (ATT) enabled starting April 26. This means that any form of tracking that apps use must be declared in the product page's App Store privacy information section when apps are submitted for review, as well as the reason for tracking following the App Store Review Guideline 5.1.2(i). Read more about the checklist here.
If your app uses Adjust SDK, make sure to update to the new Adjust SDK Version 4.28 before submitting your app in order to comply with the new Apple guidelines on ATT (AppTrackingTransparency).
To learn more about the next steps for attribution, read this article.
How does this relate to ASO?
Because Apple Search Ads are, to a certain extent, exempt from this rule  (users have to actively and manually opt-out of tracking from their device settings), synchronizing ASA (Apple Search Ads) and ASO (App Store Optimization) efforts can help increase your app's visibility in the App Store. Remember that targeting relevant keywords in your app's metadata can help with the Apple Ads' visibility; the more relevant keywords are to your app, the more likely the ads targeting those keywords will reach your target audience. Apply prior ASO learnings with regards to keyword targeting and relevancy to ASA campaigns. This may decrease CPI (cost per install) and increase ROAS (return on ad spend). Also, use Apple Search Ad data to understand which keywords have the highest Conversion Rate and target them in your next ASO iteration. Read more about it here.
April 5 – Significant YOY Download Growth in Q1 2021
SensorTower is showing how global app revenue and downloads have changed since Q1 2020. Installs increased by 9% from 33.7 to 36.7 billion downloads in the first quarter of 2021. TikTok, Facebook, and Instagram took the top spots in terms of downloads, and TikTok's downloads dropped 44 percent Y/Y, probably due to the ban in India.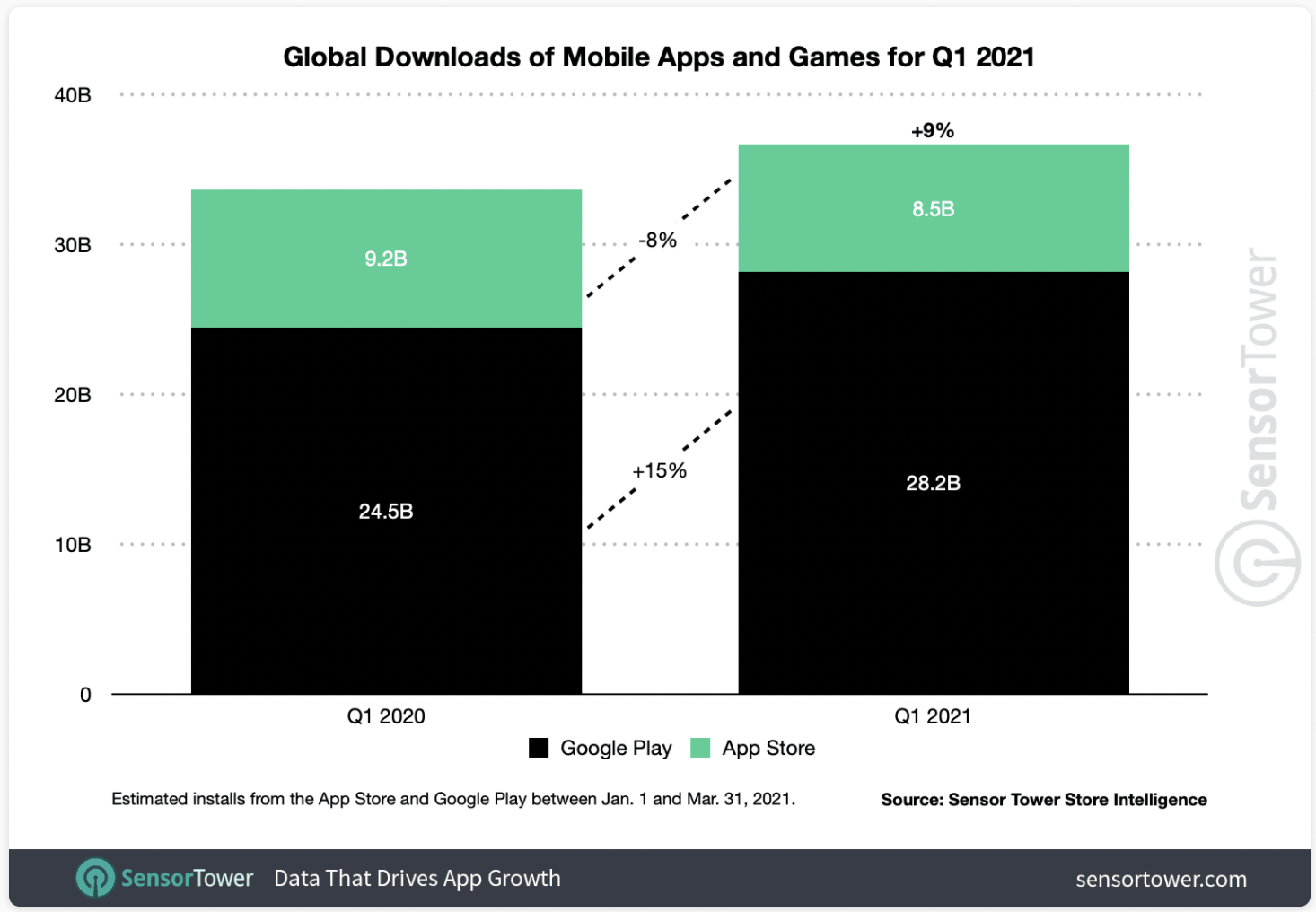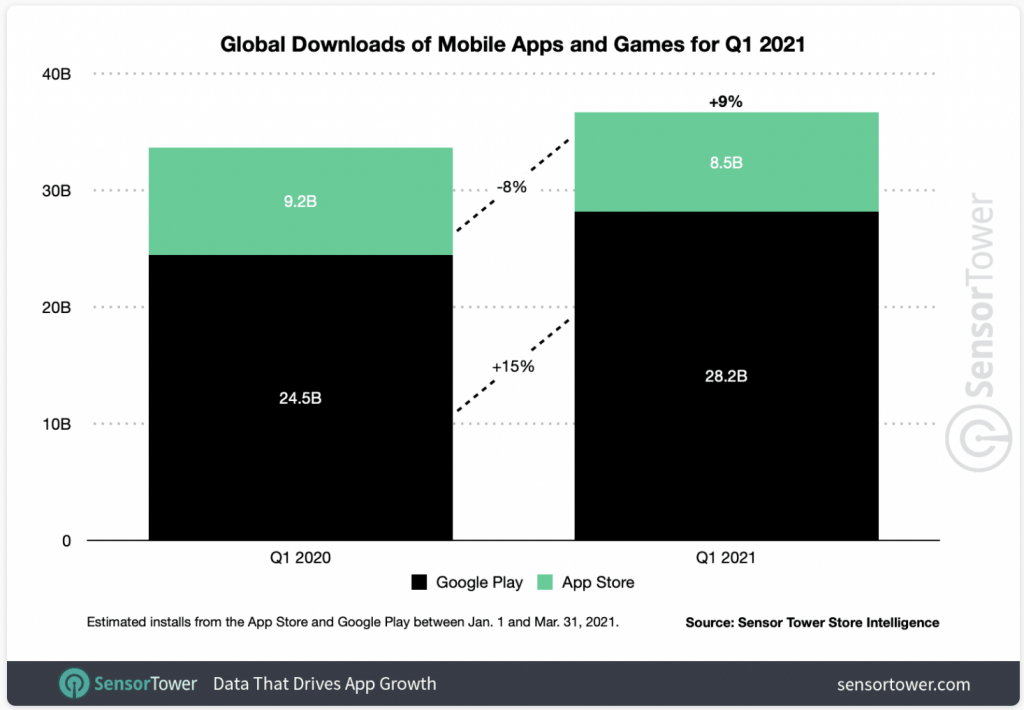 Source: Sensor Tower
However, it's more important to examine the breakdown per category vs store. The column chart shows that downloads on the App Store decreased compared to Q1 2020, while Google Play's installs have increased. Finance, tools, and social were the top categories and showed significant results. If your app is in one of these categories, keep in mind that the field may be more competitive now.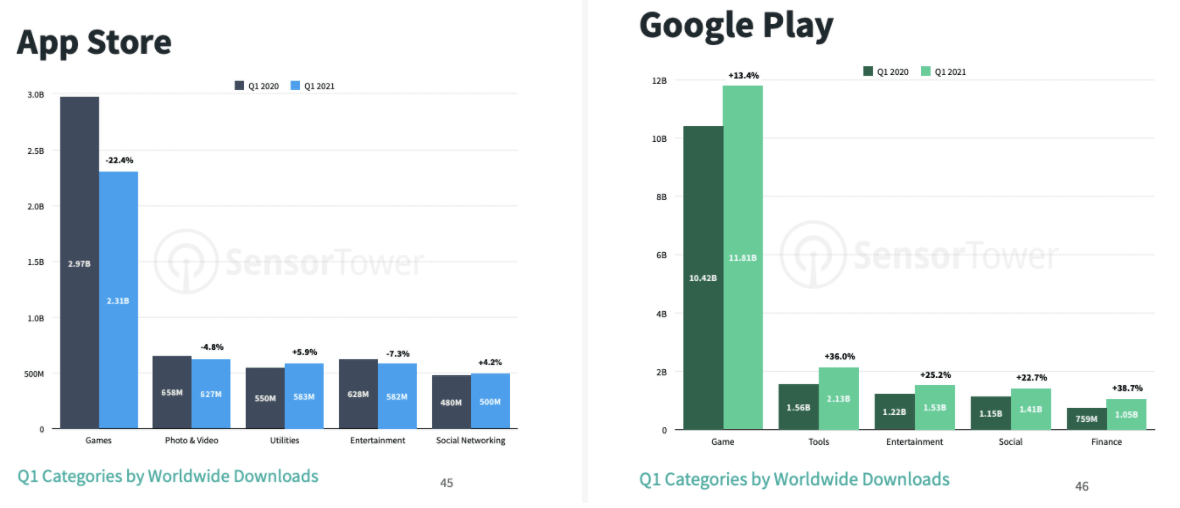 Source: SensorTower

April 6 – App Store Connect App Units & Impressions Glitch

A number of ASO Stack members noticed a drop in impressions and App Units charts on App Store Connect. More people are sharing their experience here in our ASO Stack Slack Group.
Apple is expected to fix the issue and update the data retrospectively. For now, be aware of the bug's potential to influence your reporting.

Source: Vadim Lysenko on ASO Stack Slack Group 
April 7-9 – Google Play Store Drop in Installs: Developers Suspect an Algorithm Change.
A number of Reddit users noticed a sudden drop in organic installs on the Play Store and linked the decrease to a potential algorithm change, although nothing is confirmed yet.
Did you notice a drop in organic installs on Google Play for your app? Let us know in the ASO Stack!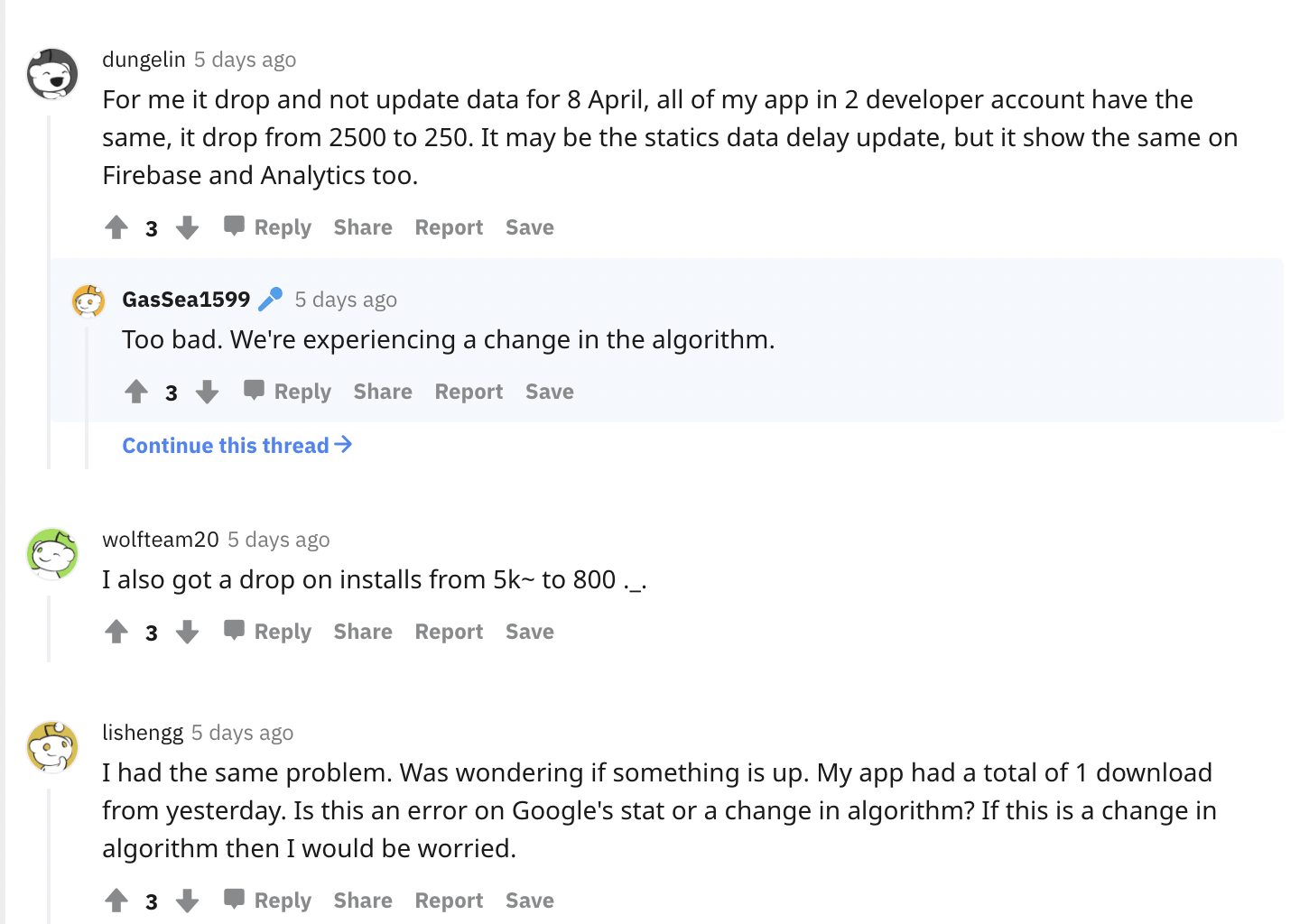 Source: Reddit
April 8 – [Free] Keyword on App Store Stopped Indexing
A few members of our ASO Stack Slack Group, @ilyakuh and @aso_rad, noticed there was a one-day issue on the App Store on the 8th of April. It seemed that the word "free" stopped indexing automatically for keywords. It was fixed the same day, so you don't need to worry about it.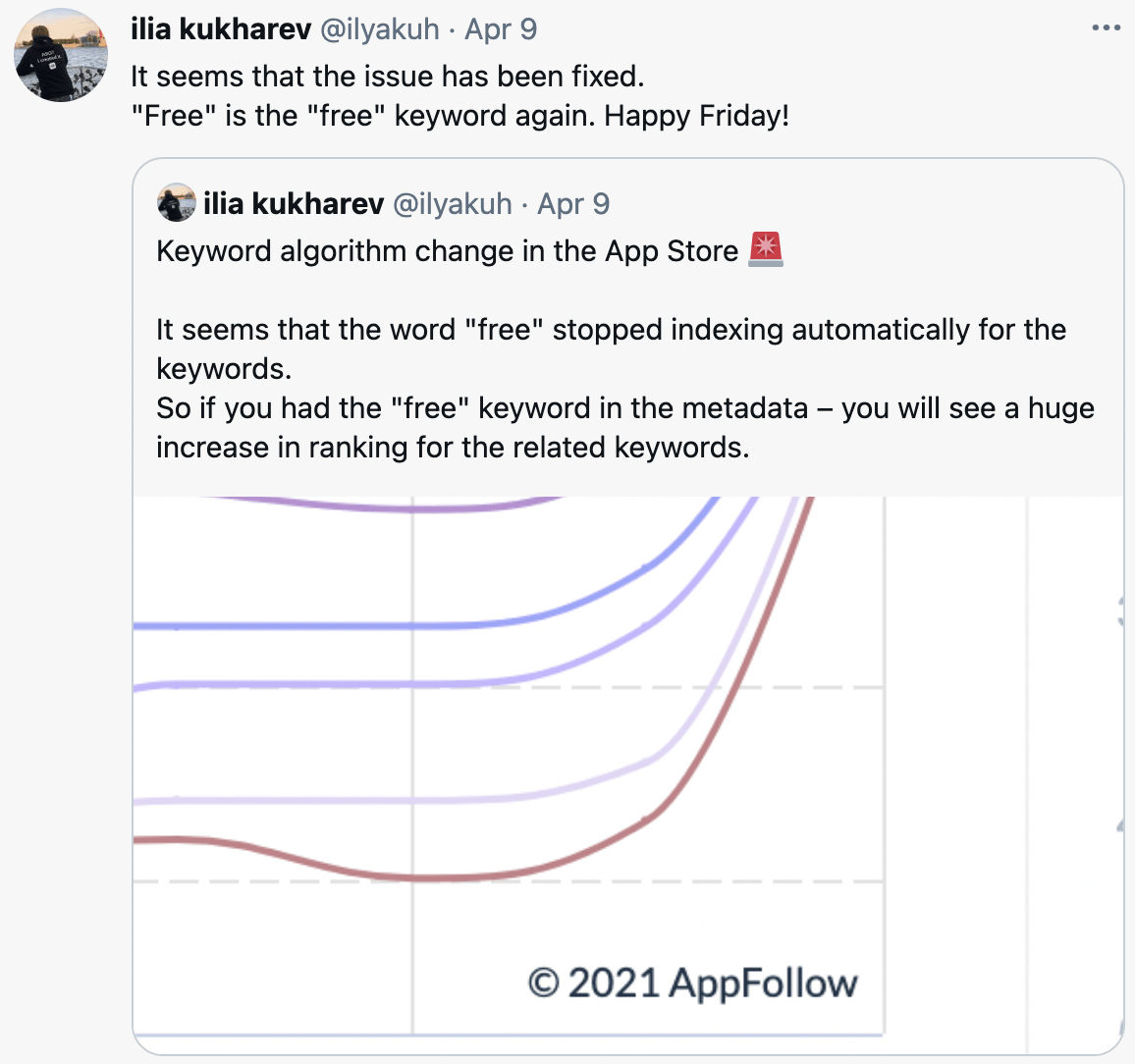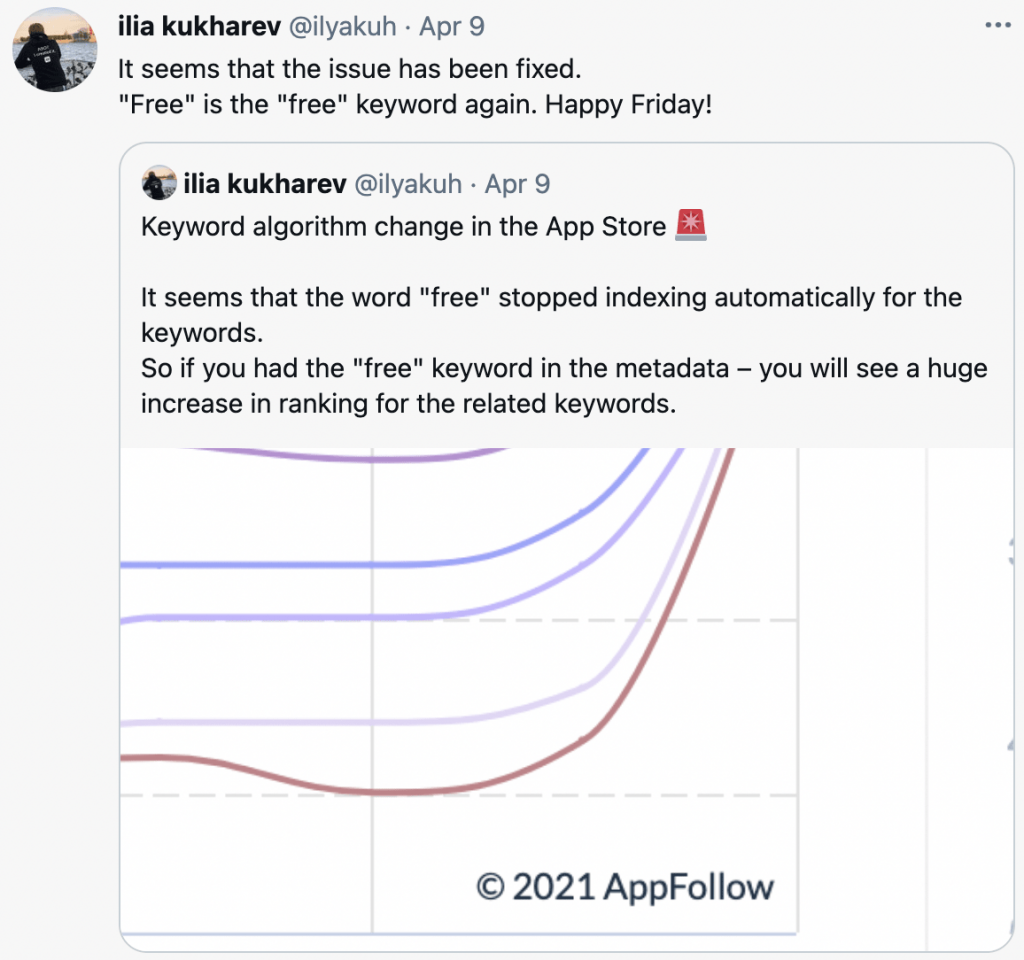 Source: @ilyakuh on Twitter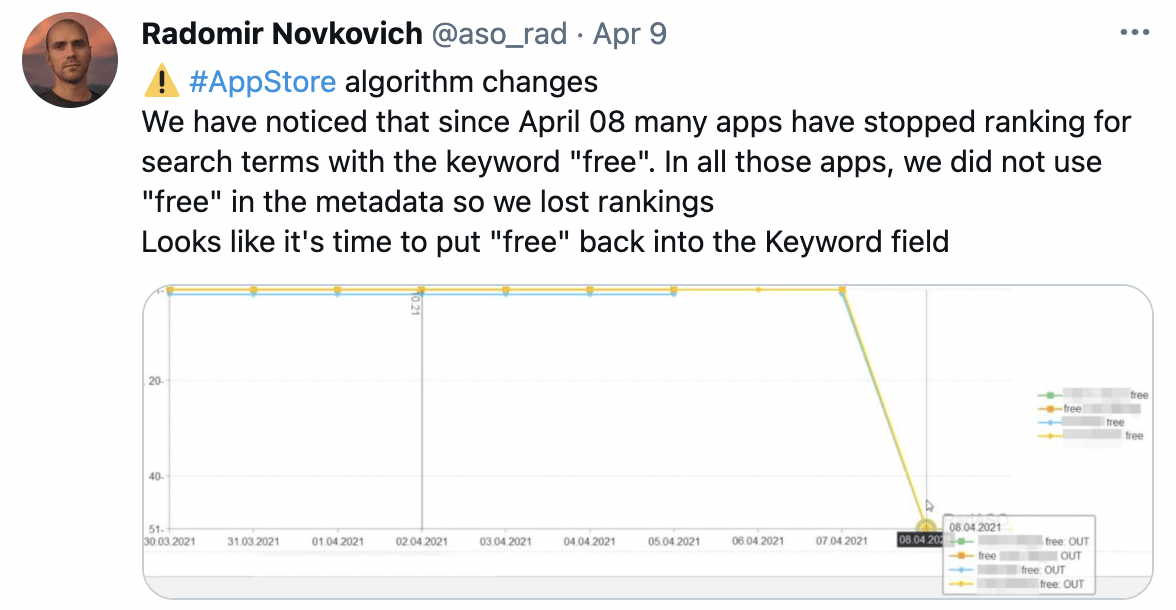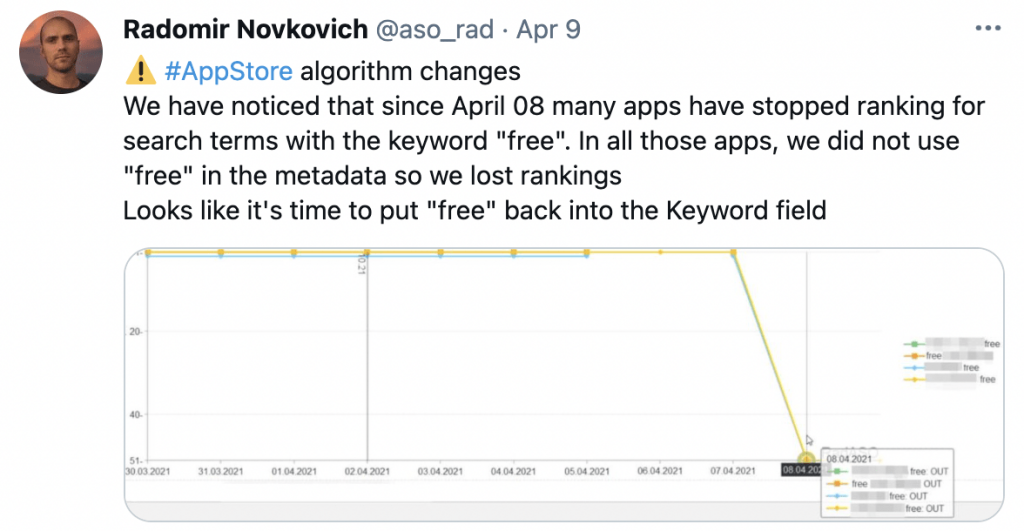 Source: @aso_rad on Twitter
April 14 – Huawei's App Gallery Announces New Partnership Program for Advertisers and Agencies in Europe
Huawei has stepped up its game and is competing with the biggest players. With the introduction of its ads platform (as mentioned in this blog), the telecommunications giant will grant developers, agencies, and advertisers access to a global audience of more than 700 million Smartphone users. Huawei assures that its new ads platform is the best way to reach high-value Huawei device owners and offers many benefits for direct advertisers and certified agencies.
Huawei's App Gallery is already available in over 170 countries and across 78 languages. The platform's layout focuses more on browse than search, and Huawei's operating system is both based on and compatible with Android, meaning developers can submit the same app to both platforms and increase their international visibility.
If your app is leveraging the Huawei App Gallery for distribution and in general or has many users in markets where Huawei devices are popular, consider joining the partner program to benefit from early bird incentives.
You can register here. Explore the Huawei Ads Playbook to learn about how to utilize Huawei's audience here.
April 22 – Average Daily Hours Spent in Apps Has Increased since the Beginning of Lockdown, and a Few Categories are Taking the Lead.
Since the outbreak of the pandemic, consumer habits have radically shifted, and users are spending more time on their phones. A few app categories have benefited from that shift more than others. 
Finance, Gaming, and Social categories saw an increase from the start of the pandemic and are still experiencing the greatest boost to date. Social Audio Apps have also seen a surge this year, especially Clubhouse, which went viral and reached 9.6 million installs in the month of February and 15.3 million installs globally in one year. Other apps in the same category have also experienced increased installs; Stereo and Spoon are other great examples of the change in consumer behavior and the trend highlights users' need for social connections during lockdown.

Additionally, because many people have stayed at home for the majority of the past year, users developed habits surrounding certain apps, and the average time spent on these apps has increased to more than four hours daily. This surge is present in countries such as Russia, Indonesia, Turkey, Canada, and especially India, where people spend 80% more time on apps compared to two years ago.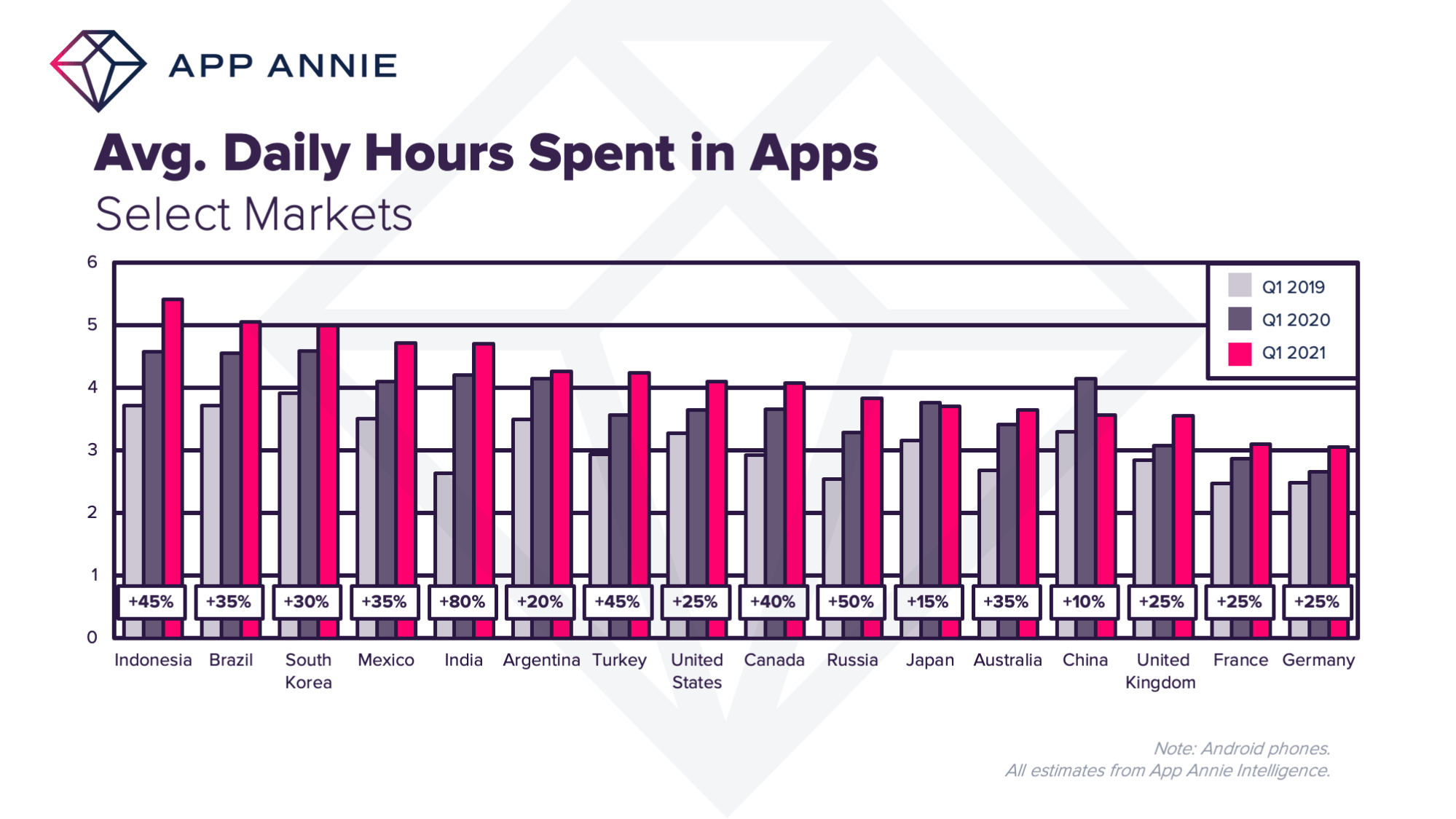 Source: AppAnnie
If your app is live in one of those countries or is part of the mentioned categories, make sure to keep track of keyword search popularity for all relevant keywords and prioritize trending keywords in your assets. Leverage Apple Search Ads on those keywords to help with your app's visibility, and lastly, keep track of your browse KPIs to see if your app is being featured on the App Store. 
Before you go:
Google Gathers 20x more Data from Android Users than Apple Gathers from iOS Users
Even if your mobile device is idle, fresh out of the box, or you've opted out of data tracking, Google and Apple still manage to collect some of your data. A new study conducted by Douglas Leith at Trinity College in Dublin revealed that Google OS collects 20 times more data than Apple.
Some of Google's services and pre-installed apps automatically connect to networks, despite having never been used or opened, meaning it's not only OSes sending data. On Apple OS, apps such as Siri, Safari, and iCloud connect to networks without warning, while on Android, Chrome, Google Docs, Safetyhub, Google Messaging, Clock, Google Search Bar, and even the Youtube app do the same even though the user may not be logged into a Google account.

Source: Douglas Leith's research
Considering changing attitudes towards user privacy, this could become problematic. Check out how Google and Apple have contested the research in 9to5Mac and Arstechnica blogs. 
Upcoming Events in May 2021:
Find more events at the Mobile Conferences & Events 2021.
Events planned as offline may suffer changes due to Covid restrictions. Check the event website to be up to date about the latest news.
Tools Updates:
Interesting Reads:
In this ASO Monthly series, the Phiture…
---
July 6, 2021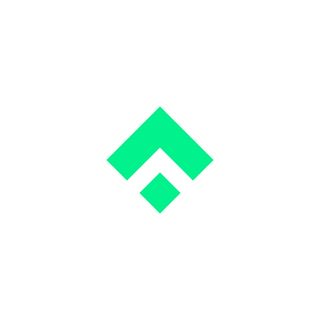 by Anton Tatarinovich and Peiyi Lin