In this ASO Monthly series, the Phiture team reflects on the previous month and sheds light on new trends in App Store Optimization, algorithm changes, insights into Conversion Rate Optimization, and tool updates.
NB: Phiture is hiring! You'll have the opportunity to join Phiture and help us lead the way in mobile growth. Check here for current positions.
This update was written by Junior ASO Consultants Julia Buzzi and Peiyi Lin at Phiture.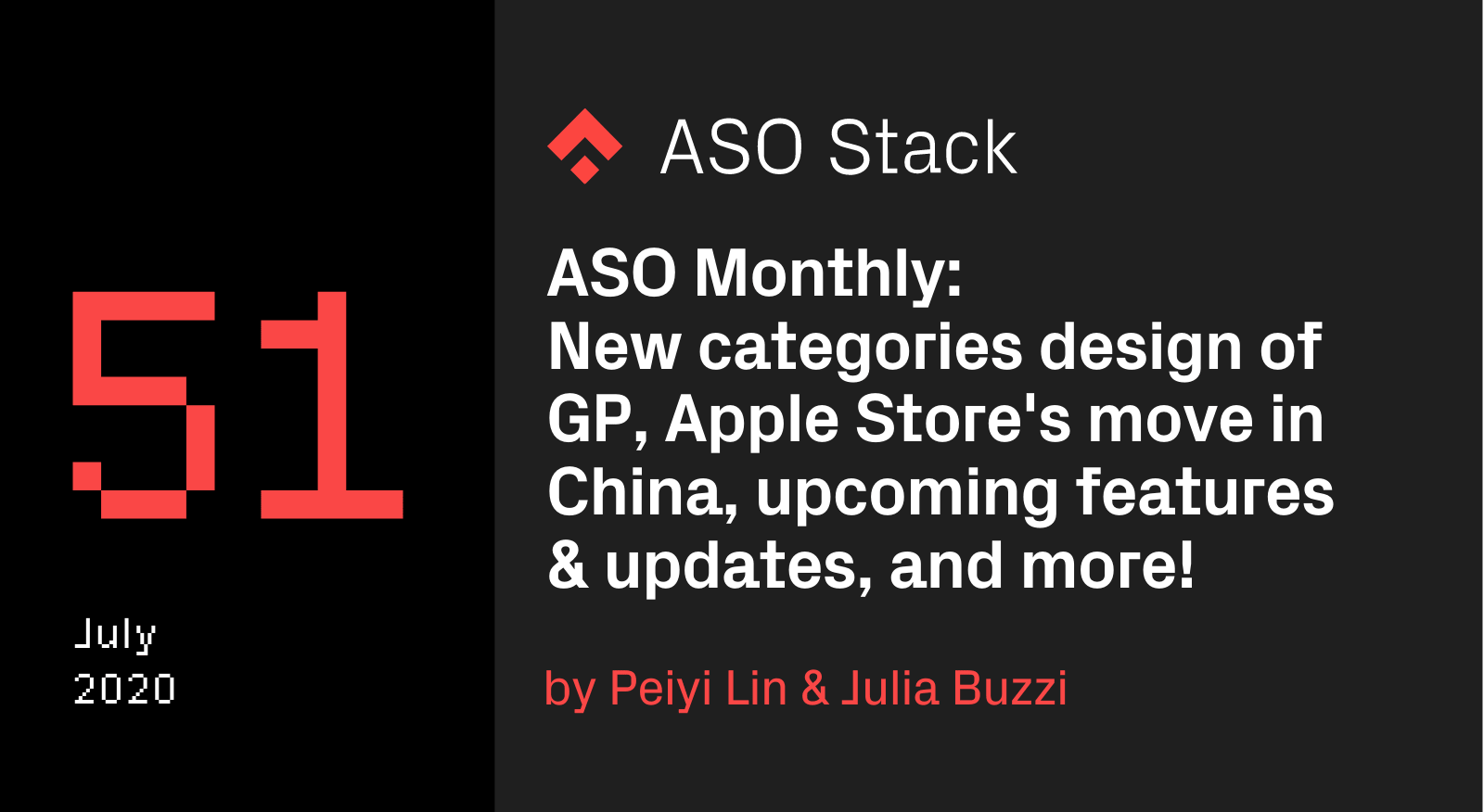 July 2nd – Companies are moving to increase their presence in the Indian market in the wake of the Chinese ban
At the end of June, the Indian government blocked 59 apps due to concerns raised over the threatened "national security and defense of India". Following this, Apple and Google complied with New Delhi's order by temporarily blocking access to those apps. The ban has resulted in other apps hustling to fill the void as India is a significant market for many companies due to its vast population. See, for instance: Instagram Reels tested in India following Tiktok's ban). ASO specialists will need to keep a close eye on ranking changes and be on the lookout for other changes that may have a ripple effect. (Sources: TechCrunch)
July 3rd – Safe sources from Apple iOS 14's Explicit IDFA Opt-In changes
CEO at Incipia, Gabe Kwakyi, posts an insightful article about where to find reliable information on the new iOS 14 Explicit IDFA Opt-In changes. The different resources vary, from slack channels to Apple's documentation, partner's posts, and more! (Source: Incipia)
July 6th – New mint green and cyan Category icon and missing Top Categories carousel is spotted
The rollout change is in the Category section, and you can see the differences clearly in the screenshot taken by a Reddit user. The Top Categories carousel has been removed and the white space gaps among categories in the All Categories section has increased. The new mint green and cyan color scheme has been applied to the Category icon. Similar changes have also been spotted in the Kids Category section in the Family tab. (Source: 9to5Google) It is unknown if there will be an official rollout for these changes. (Source: Android Police)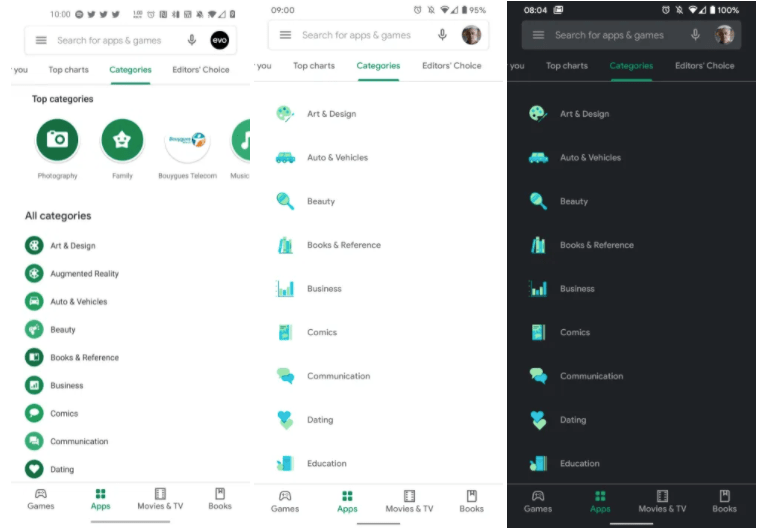 From left to right: original design, new design in light mode, new design in dark mode. (Sources: 9to5Google )
July 8th – The 2nd Beta of Android 11 is available for you to test its Platform Stability
It's no longer a secret that high crash or ANR rates violate the bad behavior threshold and can lead to significant decreases in keyword rankings in the Play Store. Apps can miss out on the opportunity to get featured and can experience reduced visibility frequency in Browse sections, such as Categories, Similar Apps, etc.). ASO practitioners need to avoid penalties from Google; the newly released Beta2 from Google has provided a way for developers to test their app's compatibility in Android 11 in order to get ready for the future Android 11 release. (Source: Android Developers Blog and Guide for the test)

Timeline for Android 14 Release 
(Source: Android Developers Blog)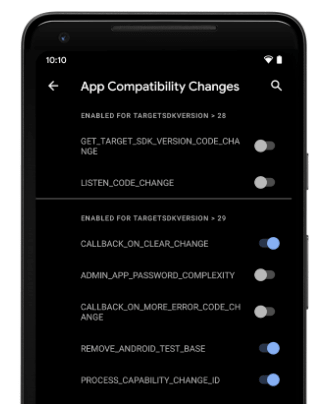 App compatibility toggles in Developer options 
(Source: Android Developers Blog)
July 13th – Google Play store is loosening up the restrictions for Europeans to browse content they can't buy
For various reasons, Google restricts access to users depending on what region they are browsing from. This means that if an app product is not available for purchase in their region, they won't even see the app listing. Google makes it possible, but not easy, for users from European Economic Area regions to browse the content they cannot see by opening the Play Store website on their phone's browser, rather going through the Google Play Store app. As Google will count the users who visited your app's store listing on the Play Store app, this will rarely affect the metrics we have for now. (Source: Android Police)
July 14th – Google Play Pass is now available outside the US. Nine more countries with an all-new yearly subscription
According to Google, Play Pass is a new subscription service offering access to hundreds of elected apps and games, completely free of ads and in-app purchases. The new titles are added monthly and will not be limited to games. New rollout countries are Australia, Canada, France, Germany, Ireland, Italy, New Zealand, Spain, and the United Kingdom. The ASO impact on the selected titles (it's an invitation-only program to developers) is still waiting to be measured. (Sources: Google Play blog and TechCrunch)
July 15th – Over 2,500 games removed from Apple's China App Store, including six notable games 
Strict laws for mobile games have been in place in the Chinese App store since they were first introduced in 2016. However, Apple has announced the deadlines for gaming apps to comply with Chinese law, and in the first week of July, more than 2,500 titles were removed.  
According to Sensor Tower, the removed games had generated a combined total of 133.4 million lifetime downloads in China. One title generated more than 10 million installs while 30 titles had over one million. The removed notable games include Contract Killer Zombies 2 from Glu, Solitaire from Zynga, ASMR Slicing from Crazy Labs, Nonstop Chuck Norris from Flaregames, and Hay Day from Supercell. From an ASO perspective, practitioners need to be mindful of the changes in the category ranking of the removed gaming apps, especially if Apple remove more gaming apps with big titles. (Sources: TechCrunch and Sensor Tower)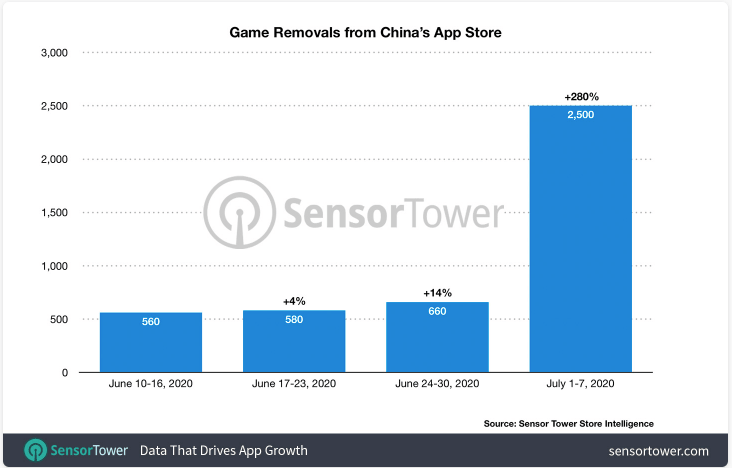 Removed Games from China's App Store
(Sources: Sensor Tower)
July 26 – New search filters in the Play Store
With the new filter introduced in the Play Store, where you can now filter by rating, new, and premium apps, they are hoping to make the search journey easier for users who are trying to find which apps are most suitable.
Google introduced filters a few years ago with not much success and tried again in May last year with a new look. Now, those filters have gained enough attention from different devices and countries. The filters can be found in older versions of the store, including v21.0.17, going back to July 15. (Source: Android Police)
In the picture below, you can see one example of the filter for 'email' apps with the filters 4 stars or above and premium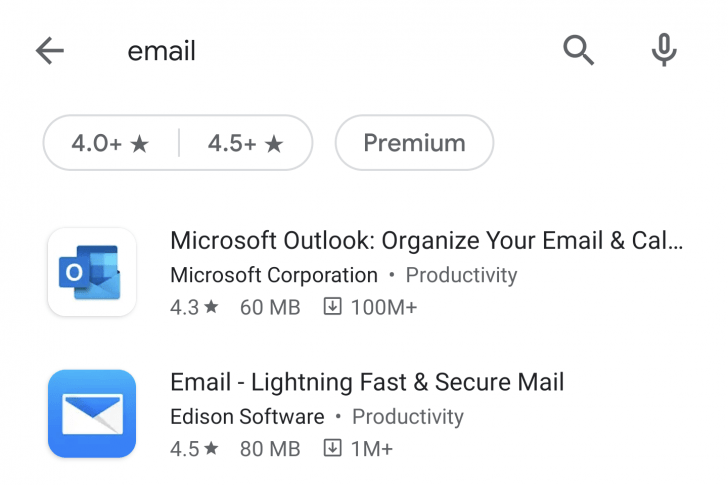 Upcoming events in August 2020
4th-6th August — Game Developers Conference Summer (online)
10th-12th August — ContentTECH Summit (online)
25th-29th August — Gamescom 2020 (online)
Tools updates
App Tweak: 
New Feature "App Campaigns" can reveal for which keywords Google is placing your ad. 
Track your app's share of voice on top keywords feature to see how often your ads were showing on the Play Store.
New release algorithm for more precise estimated downloads on the Play and App Store.
ASOdesk tools: 
The new CVR Benchmark, App Store Daily Impressions, and Keyword Manager, Daily Keyword tool.
Sensor Tower:
Enjoy Three New Updates to Sensor Tower's Platform
-App Teardown
-Keyword Downloads
-Regional filters in Top Apps
App Radar:
The new dashboard to evaluate the efficiency of your ASO strategy! 
Search Ads:
Labeling/Grouping: Group your keywords, name them, and track easily.
Export data feature: Export data in a more customized and detailed way.

Multiple storefronts: You can see the data from all the countries in your campaign in a single place.
Interesting to read (and listen)

App Store and Play Store Guidelines: A Bite-Sized Guide to the Do's and Don'ts for ASO Practitioners

Apple News launches new audio features, expands new offerings for readers
The Ultimate Identifiers for Advertisers (IDFA) Round-up
Do you know what the top 9 ASO mistakes are?
Here are some interesting life hacks that will help you when working with oriental languages on the App and Google Play Store, such as Arabic, Japanese, and Thai
Apple has a goal of committing to being 100% carbon neutral for its supply chain and products by 2030 
Interesting thoughts on what 2020 is bringing to Apple and Google Play were shared on July 16th
A glitch in Google Play search results…
---
August 3, 2018


by Aude Boscher
Google has released new organic search…
---
January 11, 2018


by Pablo Penny