Phiture is hiring for a key role to lead our evergrowing ASO team. You'll be responsible for leading and overseeing the success of our App Store Optimization service team and help Phiture to lead the way in mobile growth. Read more about the role here
Subscribe to receive the ASO Monthly via email.
This update was written by Adzsa Hatano, ASO Specialist at Phiture.

2nd October — Google officially releases dark mode on the Play Store
After being in testing for over a month, dark mode on the Play Store has finally been rolled out to the public. In comparison with the light mode, dark mode allows creative assets to stand out more due to a less shadowy effect. The main benefits of dark mode are longer battery life and a screen that is easier on the eyes, which is likely to encourage many users to switch to it. It's therefore important to make sure that creative assets look good in both light and dark mode.
Alessandra Izzo, an ASO Consultant at Phiture, found one of the innovative icons from Flipboard. The icon is designed to include a transparent background, hence the "F" in the icon works nicely on both a white and black background.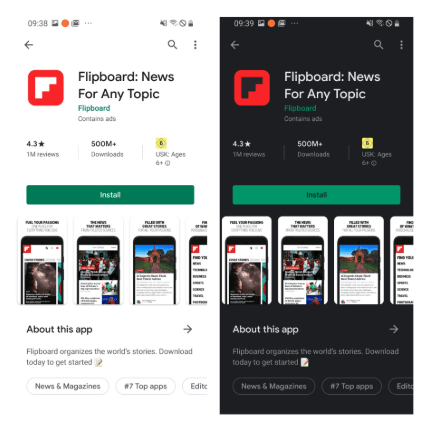 Flipboard's Store Listing page (light and dark mode) on the Play Store
13th October — Search Impressions attributed as Browse Impressions
Ilia Kukharev from the ASO Stack Slack community flagged an attribution issue in App Store Connect.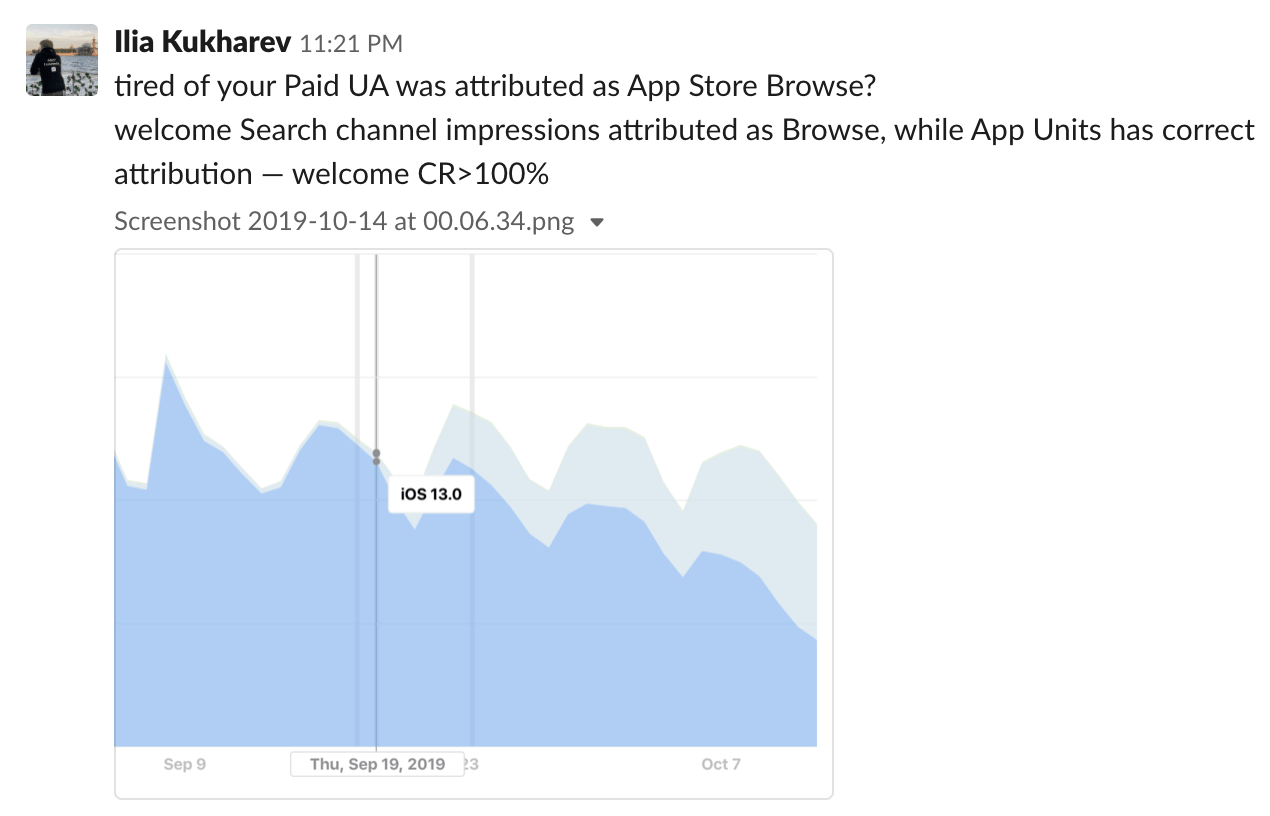 Source: ASO Stack Slack
Impressions from Search have been wrongly attributed to those from Browse across all locales, while Impressions from App Referrer and Web Referrer and App Units from all channels seem correct. It is most likely due to the release of iOS 13, in mid-September. This means that the Search conversion rate exceeds 100% and ASO practitioners face difficulty in analyzing the impact of ASO.
15th October — 50% of all iPhone devices have installed iOS 13
Apple has officially revealed the latest shares of iOS versions on iPhone devices, which suggests that iOS13 has been installed on half of the devices about one month after its release.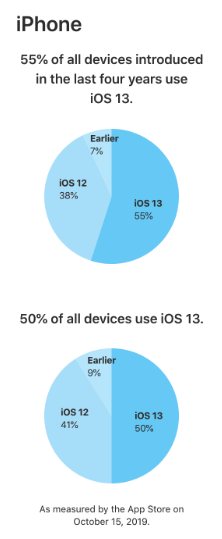 Source: Apple Developer
What does it mean for your ASO strategy? Today, a few impactful main features for ASO, such as Apple Arcade and dark mode, are present on one in two iPhone devices. Although there is no official statement on how many people use dark mode, we can estimate that the number will be relatively high, considering that it increases the life of your battery.
17th October — How does What's New look like?
You can probably still remember when Material Theme Design rolled out in the Play Store. It was spotted, once the new design had gone live, that the beginning and the end of the text in What's new appear in an app listing, and so the middle of it is cut off (see image below).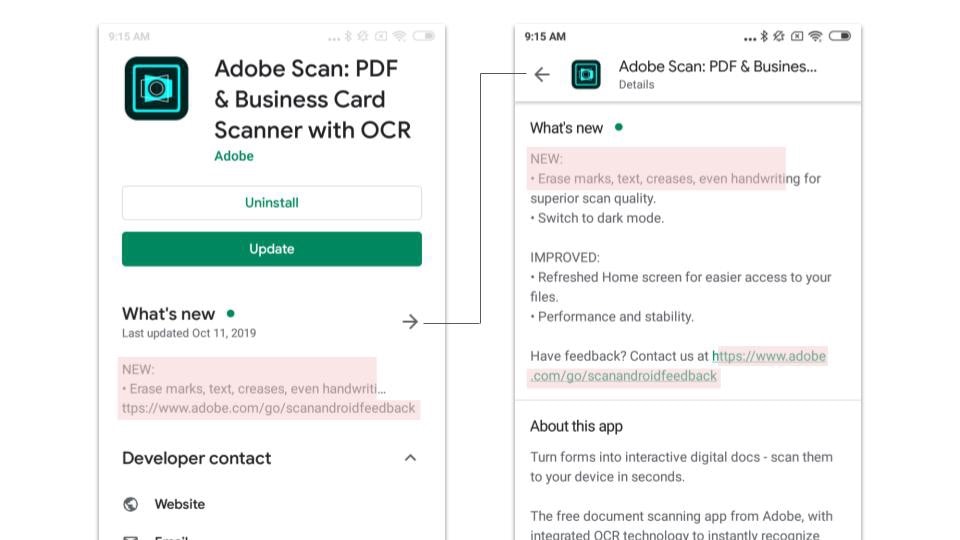 Example: Adobe Scan in the Play Store
XDA-Developers Android Forums reports that this has brought "some humorous and NSFW text combinations" because where it cuts off depends on screen size, font size, and orientation. You can't be too careful — so it's advisable to pay a little extra attention!

Source: XDA-Developers Android Forums
25th October — Google is testing a new review section
In ASO Monthly #41, we have seen that Google has been working on simplifying the review process with a new in-app review prompt on the Play Store, which hopefully will encourage users to leave valuable feedback for developers. Today, Rita El Khoury has found that Google is testing a new reviewing section under the My apps & games section, and it shows a list of apps that you have not yet reviewed and a list of apps you have. Whilst it seems functionally incomplete (e.g. including removed apps), it will prompt users to manage their ratings and reviews.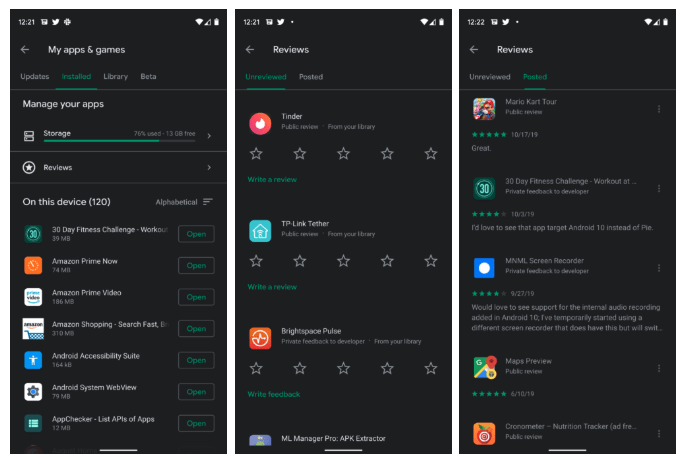 Source: Android Police
Left: New 'reviews' in the installed tab under the 'my apps & games' section.
Middle: The list of unreviewed apps with star ratings and "write a review"
Right: The list of posted reviews
28th October — More than 22 million reviews were temporarily unavailable in the App Store
Appfigures reports that over 22 million reviews were removed on the 23rd of October, which affected more than 300 apps in the App Store. Some apps (e.g. Hulu, Chase, Dropbox) lost 85–95% ratings in the US regardless of whether they were positive or negative, according to the report. Indeed, ratings for Hulu in the US decreased from 4.7 to 3.8, which is substantial. However, on 29th October, total ratings and average ratings recovered accordingly. Apps that have experienced this problem and also have weak brand recognition would see not a desirable conversion rate over a period of a few days.

Source: AppTweak
Left: Hulu's total numbers of ratings in the US.
Right: Hulu's average ratings in the US
Initially, this was considered as either an error or a deliberate action to clean up fake ratings and reviews. After efforts by ASO practitioners to inform them of the problem, Apple has now fixed the issue accordingly.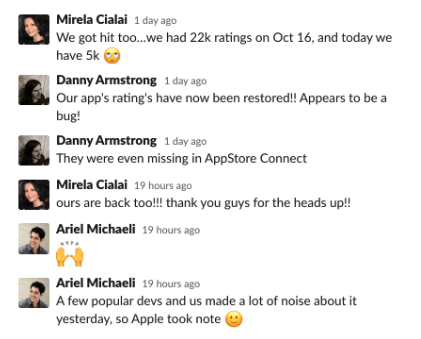 Source: ASO Stack Slack, 30th October 2019.
28th October — English (UK) is indexed in the Australia App Store
Rad ASO has identified that English (UK) has started being indexed in Australia again. It is widely known that, besides local languages, English (UK) is also indexed worldwide, except for a few countries including Australia. However, this change opens up an opportunity for ASO in Australia (and New Zealand) by creating more opportunities for keyword stuffing.
Note: Keywords cannot be combined from different locales: having "food" in your English (UK) keywords, and "delivery" in your English (AU) keywords, you won't rank for "food delivery".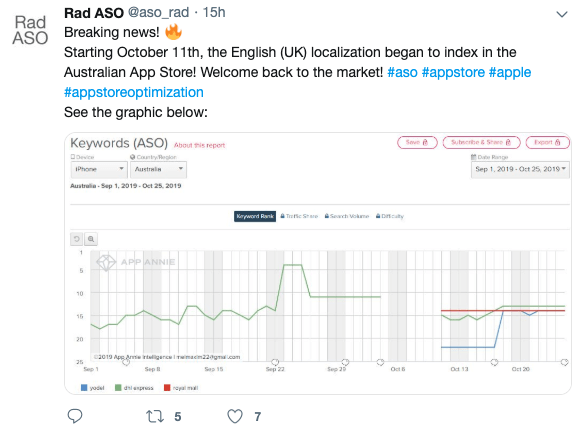 Source: Rad ASO
Upcoming events in November
5th in Berlin: ATS Berlin 2019
7th -8th in Oslo: Mobile Era 2019
7th-8th in San Francisco: Open Mobile & Digital Experience Summit SF
13th-14th in Paris: Mobile One
20th in Singapore: App Growth Summit Singapore 2019
…..
Find out more conferences in 2019 and 2020!
Tools updates
Interesting Reads
Thanks to Moritz Daan. 
In ASO, the standard way of doing…
---
November 26, 2019


by Aude Boscher
Competitor analysis can really drive…
---
December 6, 2017


by Pablo Penny