Apple search ads, botnet attacks, and more…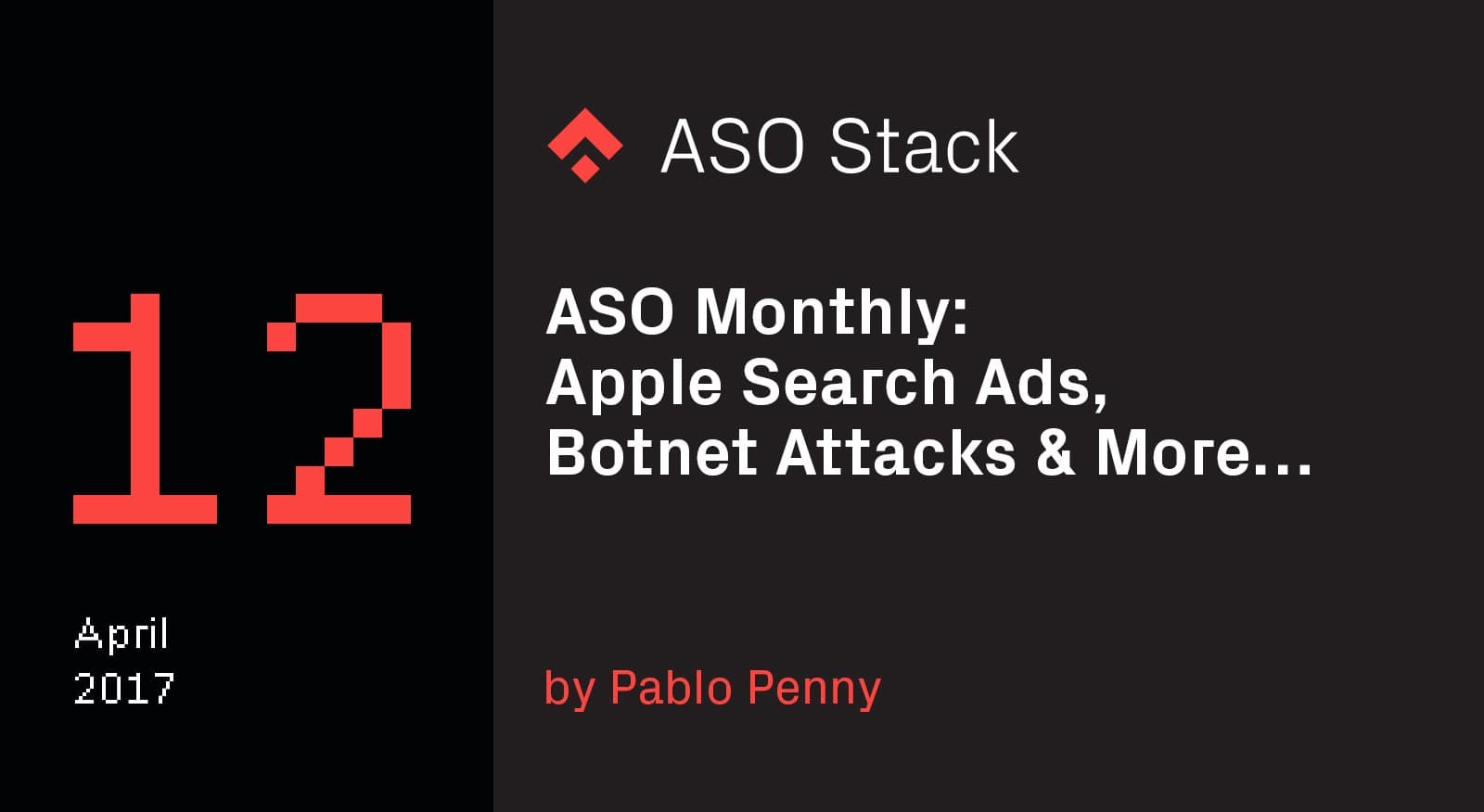 In the ASO Monthly-series, we want to reflect on the previous month, to shed a light on trends in app store optimization, algorithm changes, insights in conversion rate optimization and tool updates.
Let me start by introducing myself briefly. I'm Pablo Penny and I joined Phiture's ASO team after having finished my PhD in innovation management & consulted at a tech company for a while. I'm working with Moritz Daan on improving our clients' App Store visibility and conversion and helped with the ASO Stack and upcoming ASO eBook too. Now without out further ado…
App Store Optimization News from April 2017
6 April
First, an interesting finding from Daniel Peris who demonstrates that the URL / Package is a search ranking factor in the Google Play Store. Using Super Mario Run as an example he shows that the game also ranks for "zara" in the Google Play Store (top 10–20 depending on the country). This is due to Nintendo using the keyword in their package name (…id=com.nintendo.zara) and shows the usefulness of including important keywords in the package name. Why Super Mario Run has "Zara" in the package name remains a mystery.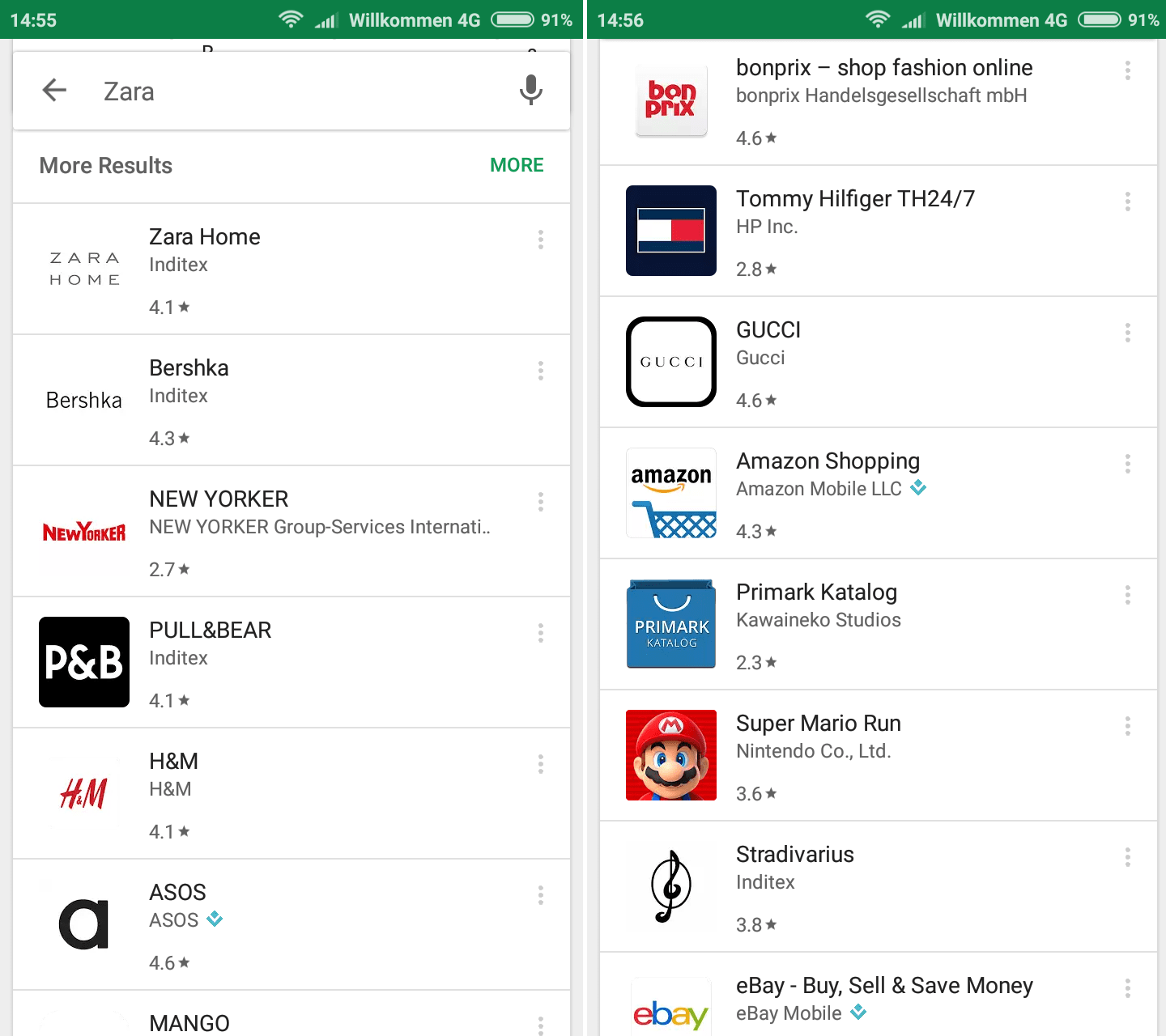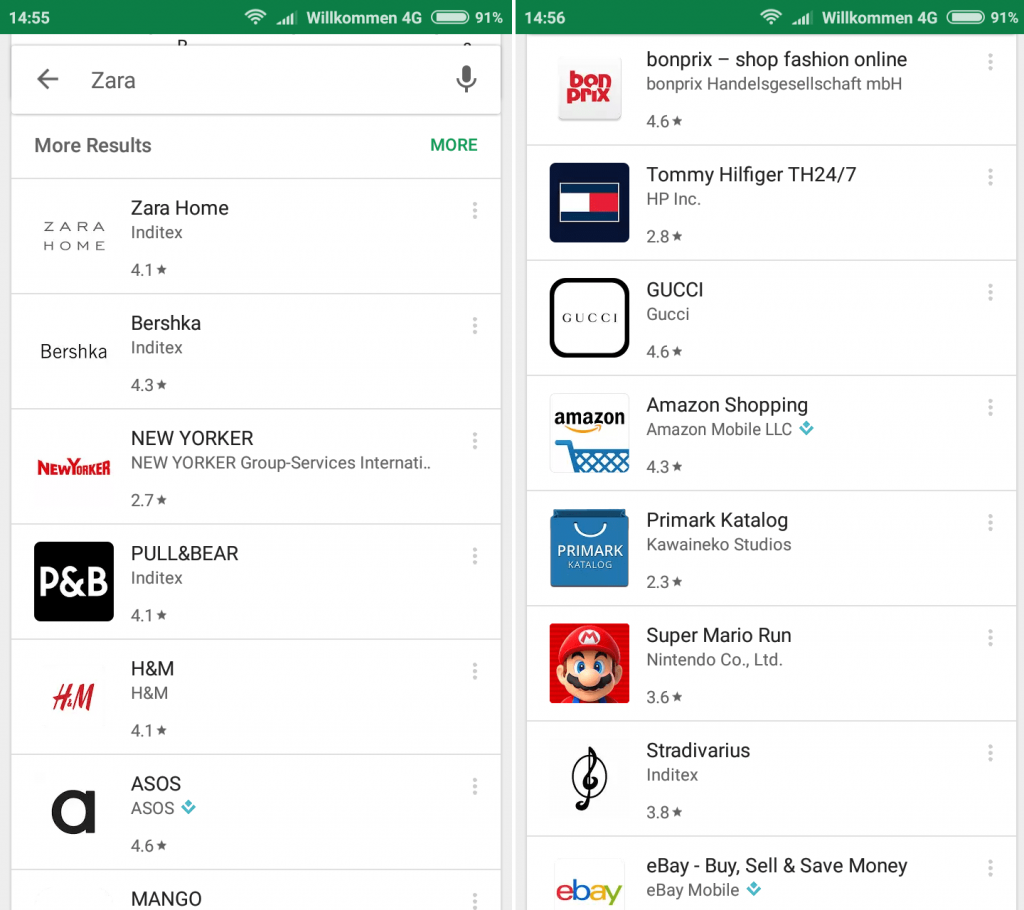 Super Mario Run ranks 20th in the German Play Store
4 April
The digital marketing agency yellowHEAD conducted a case study with 10 apps on the effect of the new Google Play Store search result layout on organic app installs. Google has tried to simplify the app installation process since November 2016. Info cards are now displayed when specific brand names are searched for. Two new layouts have been tested, the first displayed the app's icon and title, the second added screenshots and video (if available).
The analysis of yellowHEAD regarding the success of these new layouts concluded that the new layout does make users more likely to install an app without viewing the app page (non-page view installs). However, the new layout is not very successful in increasing overall conversion rates.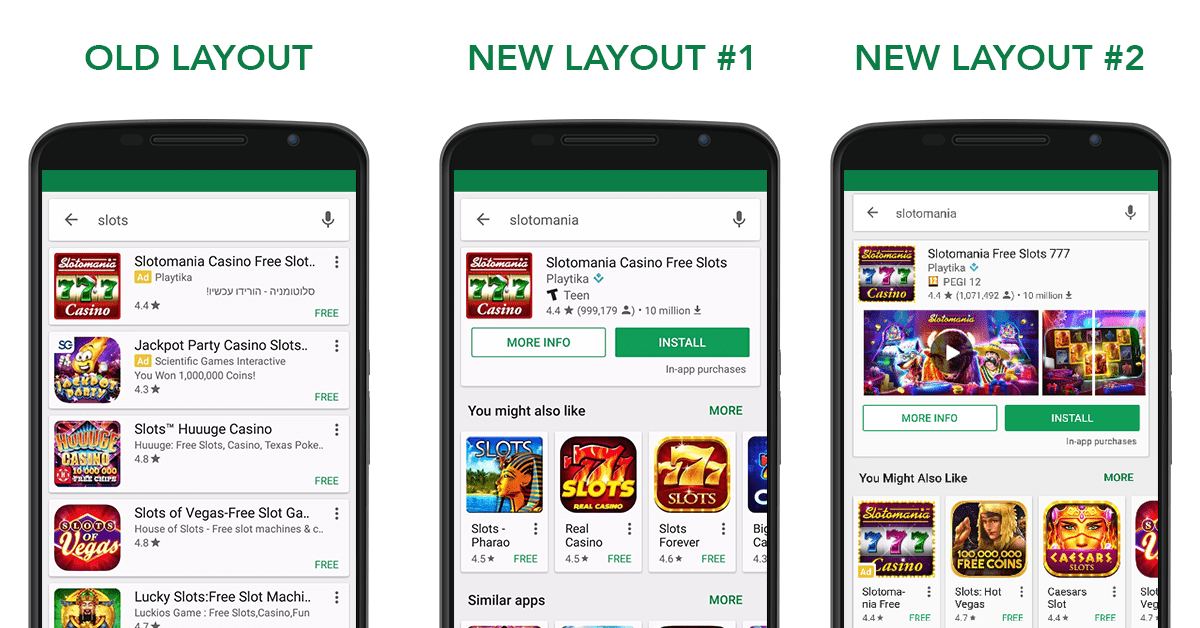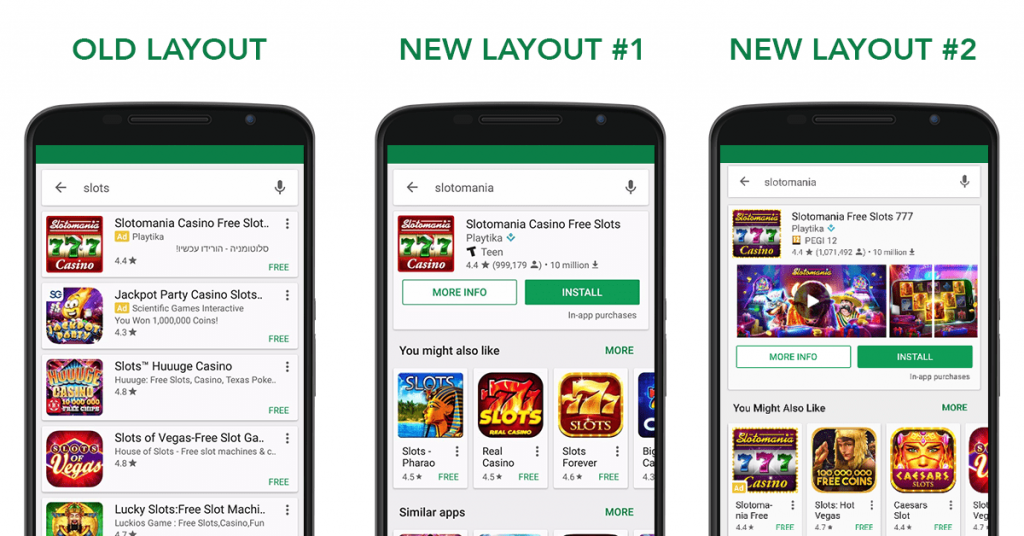 New search results layout in the Google Play Store (yellowHEAD)
5 April
According to TNW Google faces continuous attacks from a large network of bots, creating thousands of fake five-star reviews and growing bigger every day. Many popular apps such as WhatsApp, Chrome, Gmail and Messenger have been hit with fake reviews. Apparently, the botnet targets well-known apps to gain credibility for ratings from paying customers. The difficulty of distinguishing fake reviews from real ones is that many simply say "Useful", "Good" or "Great". Following a period of no reaction, Google stated its awareness of the issue and that it is taking action to remove the fake reviews.


Fake reviews in the Google Play Store
18 April
AppFollow has provided several new functions for their tools. Following up on user reviews can now be done more easily from AppFollow's dashboard, by integrating with iTunes Connect. Regarding their ASO Tools, several new functions such as release dates and featured tags have been added to the keyword graph as well as more detailed information in the summary table below the graph. New search ads scoring data also makes it easier to select keywords and evaluate competitors' apps.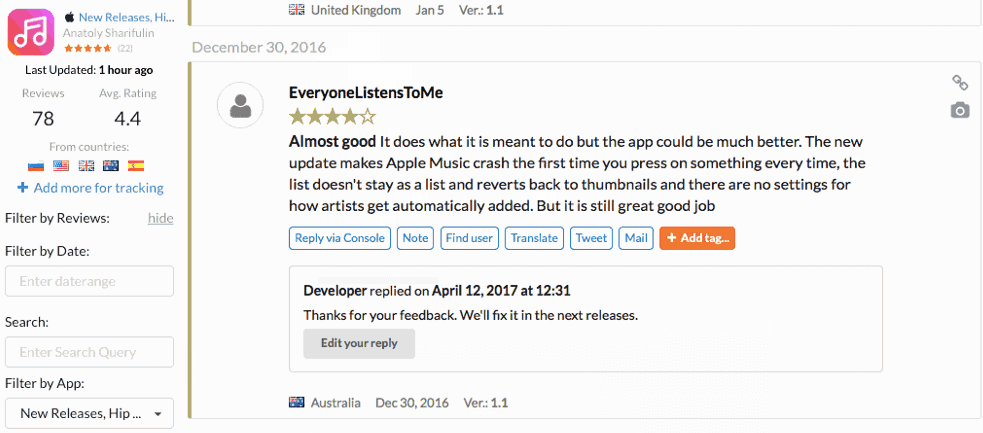 Replying to reviews in AppFollow
20 April
Following about a year without an update, the Google Play Developer Console has received a new material design and has been renamed Google Play Console. In terms of functionality few changes were made, although several new navigation items such as "Statistics", "Development tools", "Release Management", "Store presence", "User acquisition" and "User feedback" have been added. Also, additional country analytics and languages are now included:
Afrikaans — af

Amharic — am

Arabic — ar

Armenian — hy-AM

Azerbaijani — az-AZ

Basque — eu-ES

Belarusian — be

Bengali — bn-BD

Bulgarian — bg

Burmese — my-MM

Catalan — ca

Chinese (Hong Kong) — zh-HK

Chinese (Simplified) — zh-CN

Chinese (Traditional) — zh-TW

Croatian — hr

Czech — cs-CZ

Danish — da-DK

Dutch — nl-NL

English — en-AU

English — en-CA

English — en-IN

English — en-SG

English (United Kingdom) — en-GB

English (United States) — en-US

Estonian — et

Filipino — fil

Finnish — fi-FI

French — fr-FR

French (Canada) — fr-CA

Galician — gl-ES

Georgian — ka-GE

German — de-DE

Greek — el-GR

Hebrew — iw-IL

Hindi — hi-IN

Hungarian — hu-HU

Icelandic — is-IS

Indonesian — id

Italian — it-IT

Japanese — ja-JP

Kannada — kn-IN

Khmer — km-KH

Korean (South Korea) — ko-KR

Kyrgyz — ky-KG

Lao — lo-LA

Latvian — lv

Lithuanian — lt

Macedonian — mk-MK

Malay — ms

Malayalam — ml-IN

Marathi — mr-IN

Mongolian — mn-MN

Nepali — ne-NP

Norwegian — no-NO

Persian — fa

Polish — pl-PL

Portuguese (Brazil) — pt-BR

Portuguese (Portugal) — pt-PT

Romanian — ro

Romansh — rm

Russian — ru-RU

Serbian — sr

Sinhala — si-LK

Slovak — sk

Slovenian — sl

Spanish (Latin America) — es-419

Spanish (Spain) — es-ES

Spanish (United States) — es-US

Swahili — sw

Swedish — sv-SE

Tamil — ta-IN

Telugu — te-IN

Thai — th

Turkish — tr-TR

Ukrainian — uk

Vietnamese — vi

Zulu — z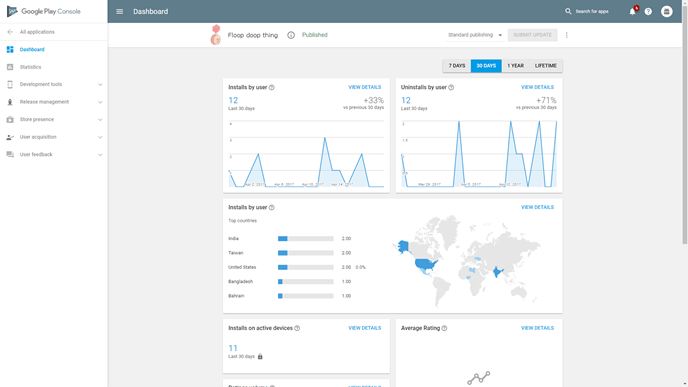 The new Google Play Console (via Android Police)
25 April
Apple Search Ads went live in three new countries, including Australia, New Zealand and the United Kingdom. Usefully, AppTweak has already included volume data for the three countries in their ASO tool. Apple's improved Search Ads platform also includes a new role and duplicate entries can be created. However, once set live, developer campaigns can only appear in one storefront at a time.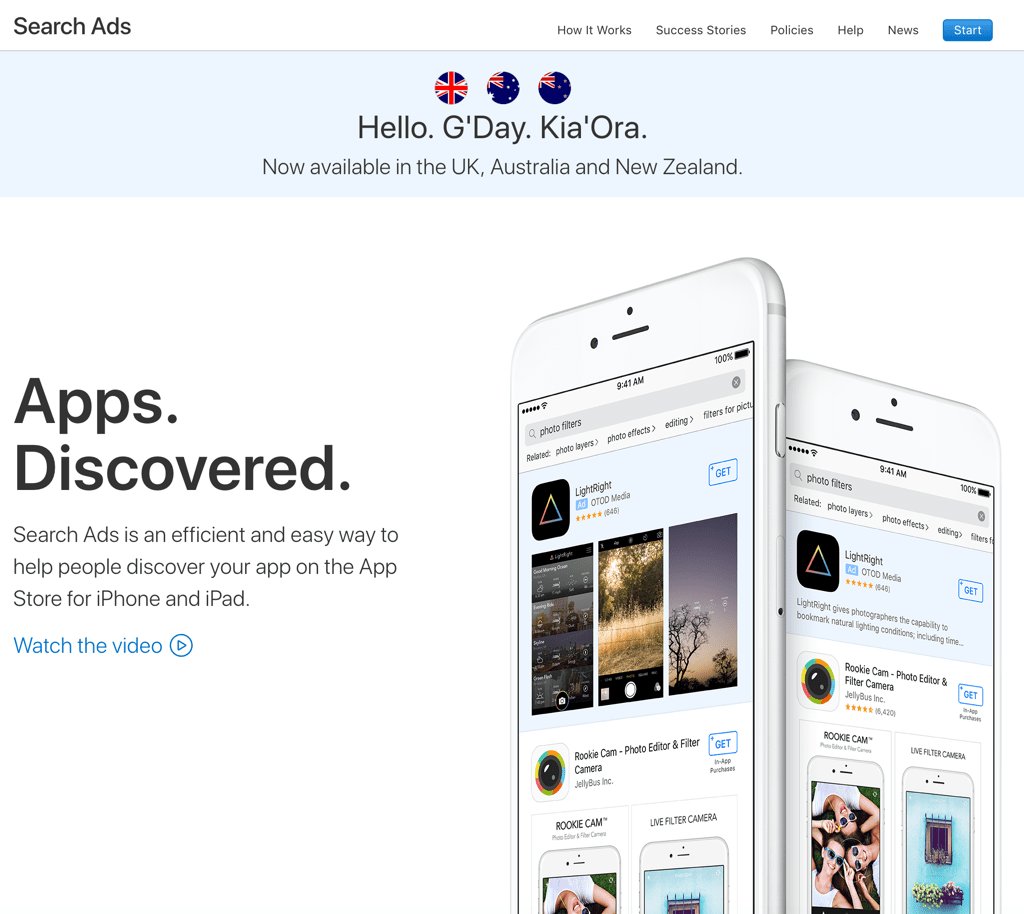 Search Ads are now available in the UK, Australia, and New Zealand
Thanks, that's it from us for April!
If you like the ASO Monthly series, please click the 💚 button below. Also make sure to follow the ASO Monthly-series or sign up to the left so that you're the first to hear when the next edition comes out.
By the way, have you checked out our new ASO Framework, the ASO stack?
Further reads:
ThomasBCN slides on leveraging paid search for ASO:
Gabe Kwakyi's hack to A/B test the Google Play Title:
Other ASO Monthly editions:
The complete 370-page guide to App…
---
October 5, 2017


by Oksana Iarosevych