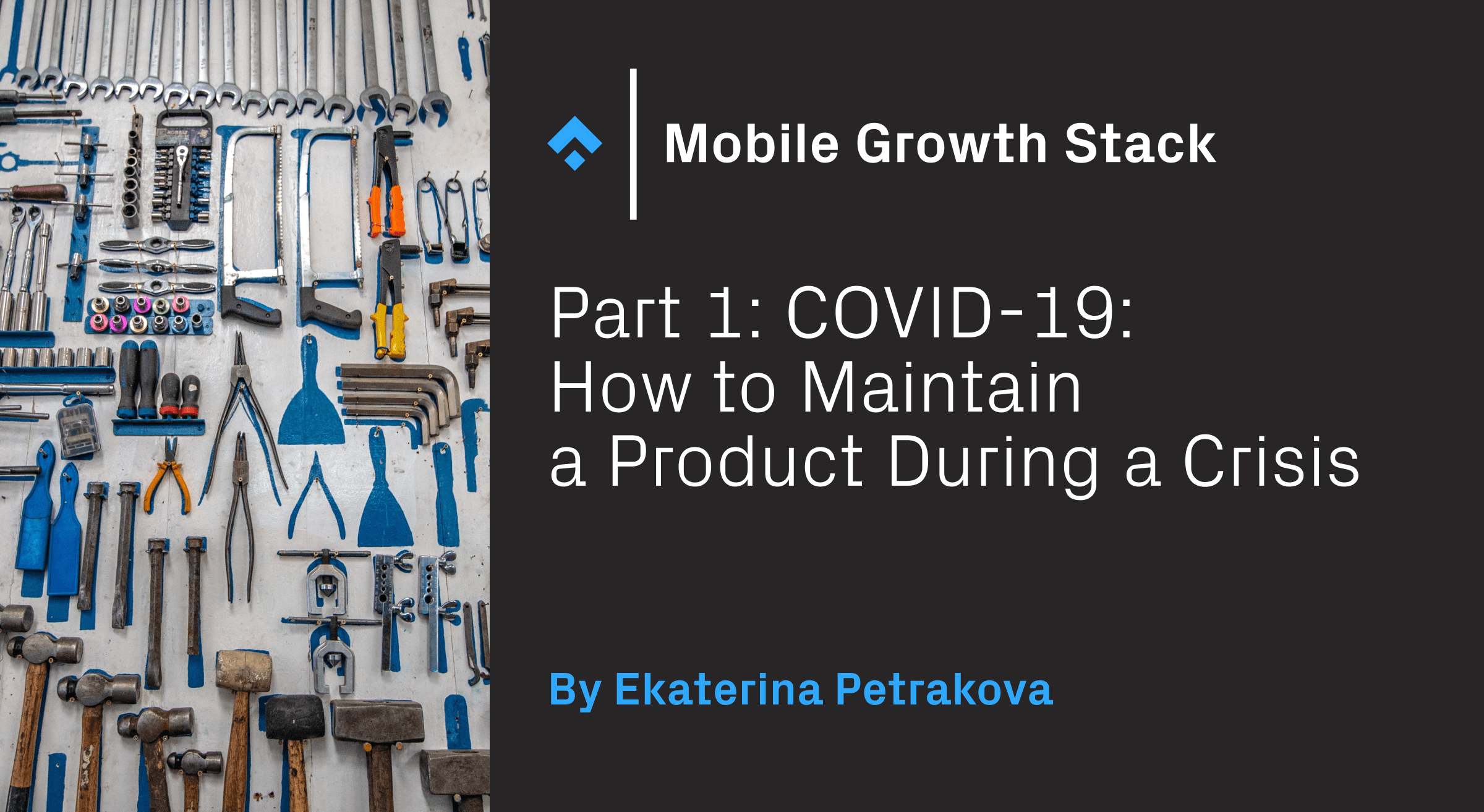 Editor's note: This is a guest post from Ekaterina Petrakova. Over the past 5+ years, Ekaterina Petrakova developed expertise in the majority of online marketing channels while helping to build and grow businesses within the company's investment and incubation network globally. She is currently leading Marketing at Rocket Internet while supporting AHEAD program of Fraunhofer Ventures in Marketing during her free time.
NOTE: This is part one of a two-part series on how to maintain a product during COVID-19. Part II, scheduled to come out in July, shares tips on how to launch a product during COVID-19. 
We've heard it before: COVID-19 has radically transformed the way consumers interact with the global economy. Users and companies alike have been dramatically affected by social distancing measures and travel restrictions across the globe. Many businesses have had to make substantial changes to their product⁠—fast⁠—as consumers adapt to a new world. 
But what does this look like on the product level? As companies begin to rapidly test and deploy new methods to both retain and engage old and new customers, respectively, there's an urgent need to understand how the product lifecycle has been upended by the onset of COVID-19. Whether you're a mobile marketing manager or a product manager, you've probably already thought about how to engage your users in a respectable way during this time, both adapting to their needs while understanding the general sustainability of your product in the long-run. But what's next?
In this article, I'd like to share some advice on maintaining a product during the current crisis. Across all areas of the product cycle, I've found that the pandemic has led to new considerations in three indispensable categories: your communication/marketing branches, your product, and, finally, your offer. It's imperative that you understand new trends among your audiences right now, especially with regards to how they engage, with which topics they engage, and their purchasing power. Only then can you use this information to evolve your product, and adjust your offer. 
A lot of the observations I share here also move beyond the digital/online marketing ecosystem and the mobile-app universe⁠—it's general advice for all companies who have been living through COVID-19. The world is changing, and your product better change with it. 
What Does the Product Cycle Look Like During Normal Times? 
First and foremost, it's important to understand what the product cycle looks like in non-crisis times. As visualized below using the example of Airbnb, there's a general development process when you launch a product, with only a few key stakeholders at the center of the process: you (as a company), your product, and your market. 
| | | | | |
| --- | --- | --- | --- | --- |
| NN | Step  | Main question | Value | Example (Airbnb app) |
| 1.1 | Product | What is your core product? | Value is created | Travel / Stay / Experience |
| 1.2 | Offer  | What does a user buy/consume? | Value proposition | Mobile app |
| 1.3 | Communication / Marketing | How do we attract a user / keep a customer? | Value is communicated, tied to audience | Marketing campaigns (UA, retargeting, CRM, etc.) |
| 1.4 | Service | Product / service provided | Value is received | Person stays in the flat |
| 1.5 | Feedback | Customer gives feedback (both actively and passively) | Value is evaluated (matching expectations) | NPS, ratings, reviews, surveys, retention, etc. |
| 1.6 (1.1) | Product (adjustment) | … | Value is corrected / adjusted | Product is adjusted… |
Each step reflects the development of the company's value as it moves forward, as the product itself develops through processes that help its objective and targets. Understanding the value of your product is the cornerstone of its success—and it's critical to understand it in non-crisis times if you are to adapt to the current context.
What's Going On During COVID-19? 
COVID-19 has had complex effects on companies across the globe, not least in the way it has compromised the general product development cycle above. Generally, I've observed that the pandemic has led to changes on three levels:
On the

company level

: 
Your teams might be getting smaller, or functions are being severely reduced.

Your teams may not be able to outsource work, given the availability, affordability, needs, and scale of your company.
2. On the product level:
Your teams may not be able to deliver or provide the product, given the current situation.

Your product updates and modifications take time, resources, research, and new concept ideation.
3. Lastly, on the market level:
The market may no longer need the product you're offering.

The market may not be able to receive/consume the product, especially if you're offline. 

Financial and consumption habits are changing rapidly.

User habits/behaviors are also shifting rapidly—so too are platforms and routines.
Overall, these challenges lead to questions about your marketing/communication strategy, the nature of your product, and what you offer your customer during the crisis.  But where do we start? How do we allocate resources?And, most importantly: how can you evolve/adapt your product?
There are
three ways
you can address the current circumstances during the pandemic: 
Start with communication (marketing)
Starting with communication is faster than doing immediate product changers or offer adjustments. You also can get additional brownie points by showing your current and prospective audiences that you're aware of the situation, and responding sensibly to it as a result. 
An interesting preface: on the whole, recent research by Smartly.io suggests that quite a low percentage of respondents don't want brands to advertise during the pandemic (see below):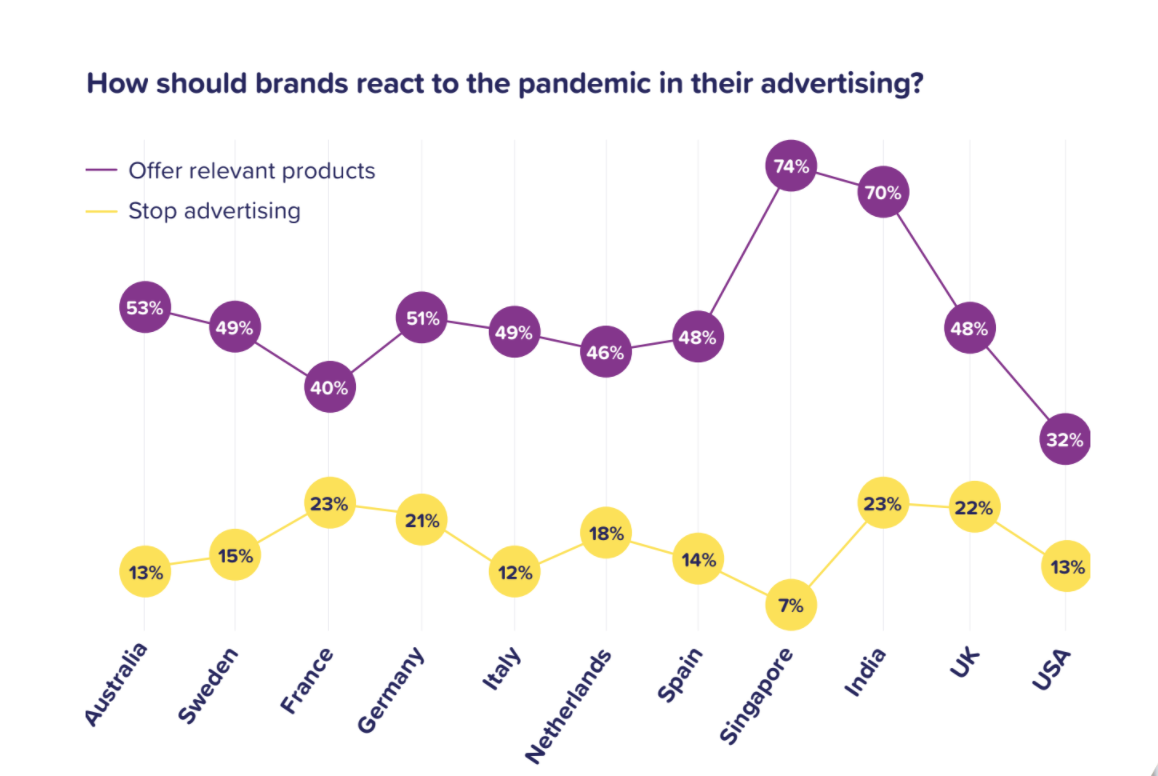 While advertising continues to be critical during this time period, it doesn't mean you're totally off the hook. There are a few key points to remember: 
You need to be privy to branding/marketing in the right tone.

It's absolutely necessary to clearly show the position of your product at this time, and communicate your values in a resolute, yet empathetic manner. Ads shouldn't be your only avenue of communication—an organic presence, coupled with communication, is essential. Empathy is pivotal here, too: you have to speak the language of your customers right now. For instance,

A recent survey by ACE Metrix shows

that 86% of respondents react favorably to ads that directly address the COVID-19 situation.

You need to focus on existing customers first.

Keeping a customer is easier and cheaper than acquiring a new one. Understanding the value of your current customers is foundational in preserving your user base intact. Losing them poses critical risks during the pandemic.

You need to consider new channels, platforms, and devices. The pandemic has radically altered your users' lives, habits, financial situations, and routines. You need to make sure you understand where they are now. Mobile apps, for example, would do well to consider optimizing for desktop,

as usage has increased significantly among younger audiences who were previously on mobile

.  

You need to prioritize localization and automation.

Automate everything that's possible⁠—that way, you have enough time to think about concepts and adjust your overall messaging. It's a rapidly changing time, and messaging may need to change week to week. Localization is also key: restrictions and political context change from country to country. As a marketer, you need to go deep to find the right cocktail of targeting, localization, and messaging practices that work best for your product. 

Think about expanding your audience.

A target market you were previously unable to reach may now be segmented differently, and should be prospected. New research by Smartly.io suggests that people

aged 55 and above are now more influenced by ads on social media than ever before.

The pandemic has opened a new avenue for changing user habits⁠—don't forget that new trends can be easily learned from, especially when it comes to creating a new target base. 
But what about the data?
It's no surprise: one of the most essential parts of the product lifecycle, both in normal and pandemic times, is having the right data infrastructure to understand your users and your product. But it's important that you understand that these are unprecedented times. The following two points should be considered:
There are no correct data/KPI comparisons during this period

. Comparing pandemic-era data and KPIs to previous years should be done with caution. The COVID-19 situation is unique, and by comparing performance across two different time periods, you might lose touch with the real data. 

Review and choose reachable KPIs that fit the current moment. Think about your usual KPIs—do conversation rates, ROAS, and average basket size still make sense at the current time? It's essential that you adapt your KPIs according to what the data is telling you.
The goal is to carefully consider your audience size, capacity, and budget when setting up campaigns—and having a fundamental data infrastructure, often easier when automated, ensures you have the right tools to make crucial decisions in a volatile time. 
Evolve your product
Once you get feedback from your campaigns, you can now use it to adapt your product to the current market. The pandemic may have totally changed what your product means to your consumers, and it's important that you evolve it to meet the demands of the current crisis. 
There are a few key points to remember here: 
Express your awareness about the situation

. Users should look at your product and walk away with the knowledge that you're aware of the situation and are prepared for it. Do not be afraid to use the word "crisis"⁠—the worst thing you can do is to keep everything as it was. They should feel safe using your app at the current time.  Airbnb's "Online Experiences" is a good example of the way a company can quickly adapt to the current situation while engaging its customers at the same time (see below). 
Use the insights/feedback you received at the communication steps phase of the product cycle. Chat communications, calls, questions, and reviews give you an indication of what's working and what's not, especially if you didn't have the capacity to change previous marketing campaigns at the onset of the crisis. Understanding what your user needs is the essential first step if you want to evolve your product. 
Find ways to expand and redefine your core product/service.

A good practice during this time is to shift your product, if applicable, to a common good or a community-based milieu. Social responsibility is now more important than ever: research shows that

customers are happy to support any brands that do any kind of charity.

Let's say you're an e-commerce company: donating 5% of all profit to fighting COVID-19 can help customer engagement, and assuage your users that you're on the ball.

If expansion isn't possible, unlock parts of your app/product that weren't previously available⁠—for free. 

Many apps have already opened new channels to retain/win customers. Coursera, a worldwide online learning platform, for instance, began offering

courses for free during the onset of COVID-19

. Language-learning app Babbel is now offering an additional 6 months for free after you purchase 6 months (see below). You may lose revenue, but you will keep and win new customers⁠—and it shows your ethics, responsibilities, and basic values during this time. 
Keep your tracking up-to-date.

You must make sure every new feature of your app/product is properly tracked and is up-to-date. Use the most of your MMPs and UTMs if you're using them⁠—not to mention behavioral analysis. Doing so allows you to see the long-term impact of your new projects, and empowers you to use the data later down the line. 
Fix and Adapt Your Offer
After these two steps, it's essential to also think about what⁠—and how⁠—you're offering your consumers at this time. You need to know what you're going to offer, and how you're going to communicate your value proposition during the pandemic.
Don't forget the following points:
Don't use aggressive marketing strategies during this time.

It's a sensitive period, and pushing your product down your users' throats will have an adverse effect. Instead, you should shift your marketing strategy towards what's accessible and what's useful to your customer at this particular juncture. Give your user more options. 

Focus on necessities and value for the customer.

Show how your product fits the customer's situation and life at this time. If you're able to update your screenshots to those "must-have products"⁠—such as sanitary products, if you're an e-commerce company⁠—then do so. If it's a new customer visiting your website, screenshots and new content signals to them that you're up-to-date, and are actually adapting to the COVID-19 situation. 

Update FAQs and security/safety. Make sure to cover all possible security topics. These should be visible, clear, and address as many, if not all, open questions your customer may have. Both

Helpling

and

Airbnb

provide good examples: they've created resource centers to address all customer questions and concerns, and do so in an empathetic and detail-oriented way (see below).