This is the third part of a three-part series. In the first part, I outlined how to audit your mobile app retention efforts and in part two, I wrote about Developing the Strategy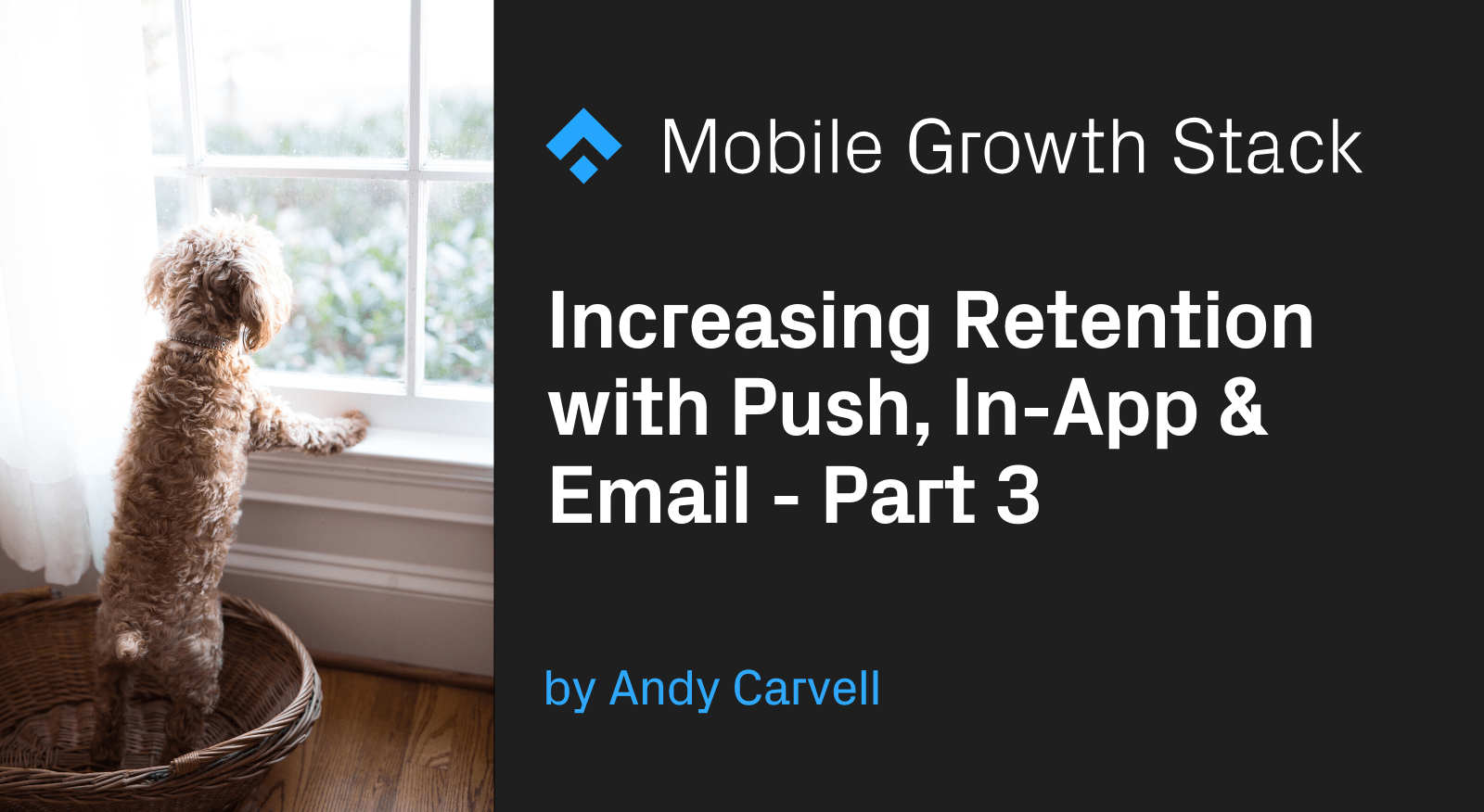 In the previous article, I outlined some different strategies that can be employed to increase mobile app retention. I also zeroed-in on four approaches which are particularly suitable for using CRM / Mobile Marketing Automation as a tactical lever. These are:
Improving Activation Rates

Increasing Frequency of Use

Increasing Feature Adoption

Re-Engagement of Lapsed or Churned Users
In this final part, I'll talk about how to tackle the implementation of each of these strategies through marketing automation of Push, In-App and Email campaigns. I'll also cover one critical pre-requisite for maximizing impact with these channels: optimizing reach.
Disclaimer: Every app is different and the examples that I provide in this article are illustrative rather than prescriptive. There is no one-size-fits-all approach to CRM and readers are advised to iterate toward increasing impact with their push, in-app and email efforts through continuous experimentation with creative ideas and data-informed hypotheses. Nevertheless, in this article, I'll endeavor to outline some tactics that might provide a useful starting point, or inspiration for your own experiments.
Reach: Nurturing Opt-In Rates for Push and Email
In order to leverage Push and Email as channels, it's necessary to secure — and ideally retain — permission to send push notifications (iOS platform. Android users are opted in by default) and also for the user to provide their email address. It's a good idea to collect these permissions early, so that these channels can be used to reach users who have failed to activate and are not seen in the app. It's inadvisable to wait too long to ask for Push and Email permissions; a large percentage (often more than half) of a new user cohort will fail to activate successfully and churn out of the app after their first session. Without push or email, there will be literally no way to reach the user to help them complete the onboarding process.
Improving the reach of opt-in channels like Push and Email increases the efficacy of all subsequent communications and will enable more impact to be delivered across the entire lifecycle.
Push Permissions
Apple requires that iOS apps request permission from users in order to send push notifications. To do this, the app must display a system dialog which ios known as an APN (Apple Push Notification) prompt. The APN prompt looks like this: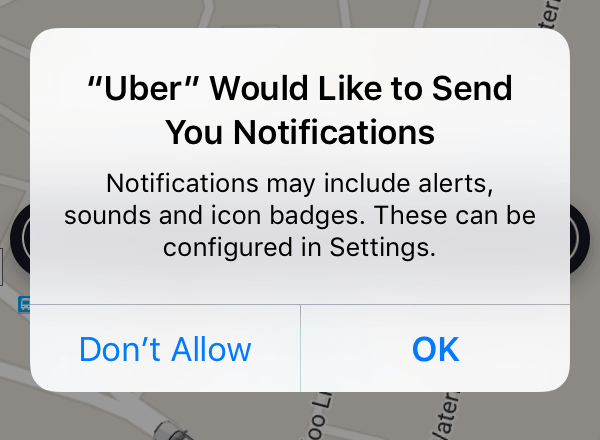 The iOS system prompt (aka APN prompt) for push notification permissions
The APN prompt can only be displayed to users once; if the user selects 'Don't Allow', it's not possible for the app to ask again, unless the user changes device or re-installs the app. It's therefore critical to show the APN prompt at a time when the user is likely to accept push notifications and hit the 'OK' button.
The APN prompt is not customizable; it looks the same in every app. In-App Messages provide a great way to increase the chances of acceptance in the APN prompt, through the use of "Push Pre-Permissioning". Using an In-App Message to communicate compelling reasons to enable push, then showing the APN prompt only to users who indicate they will accept the permissions, is a tactic that often proves useful in increasing opt-in rates. Users who say "Not Now" in the In-App Message are not shown the APN prompt and can be approached again later, in another app session, with another in-app message (possibly touting different benefits of enabling push) to see if they are now ready to turn on push.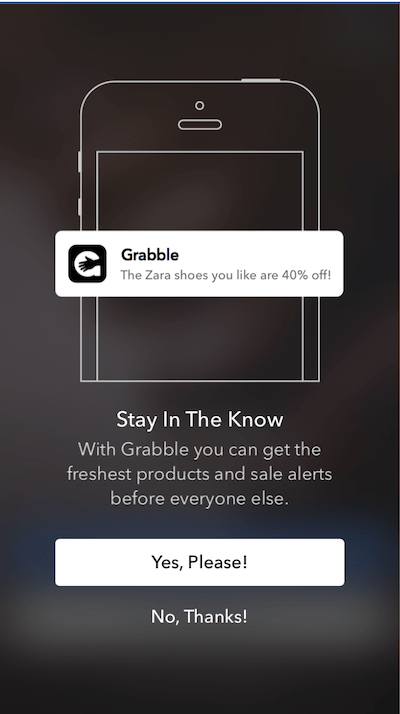 A Push-Priming In-App Message in the Grabble app
Users who saw the APN prompt and selected "Don't Allow" cannot be sent any push notifications. However, users who are still active in the app can be asked to turn Push Notifications on in the iOS Settings app and can even be deep-linked directly into the Settings App to make it as easy as possible for them to change their permissions. This approach, which I call a "Push Win-Back" typically yields strong results; a decent proportion of users who initially declined push are often willing to reconsider once they have become more familiar with the app and appreciate the value it brings.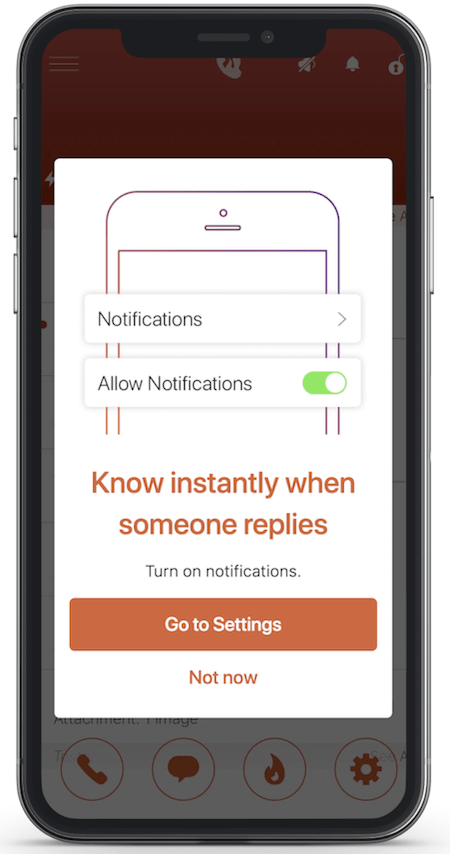 A Push 'Win-Back' In-App Message in the Burner app
The benefit of deploying push pre-permission and win-back campaigns as in-app messages (versus natively) is manifold: targeting, triggering and messaging can all be AB tested and iterated towards higher performance (in this case: higher opt-in rates).
Email Collection + Permissions
In order to send users email, it's necessary for them to provide their email address. This is often collected as part of the signup process and might also double as a unique account name / identifier. Note that users may provide invalid email addresses, either deliberately or through a careless typo. In order to preserve the email reputation of your domain — if reputation drops too low, emails you send will be automatically flagged as spam and fail to reach users' inboxes — it's advisable to implement email verification.
Companies such as mailboxlayer and 250OK provide solutions to streamline this process and catch bad email addresses before sending out a verification email, but many services still require this 'double-opt-in' of sending an email to the user asking them to confirm their email address. While increasing friction, email double-opt-in can also help to ensure you have the active consent of the user, an important component of GDPR, CCPA and similar privacy legislation.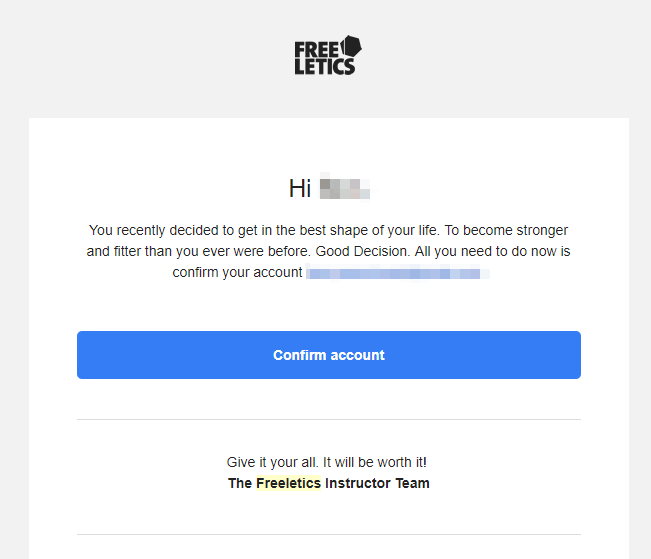 An example of an email double-opt-in (aka verification / account confirmation email) from Freeletics
Email reach is a big topic in its own right. Check out this article by Ed Burrows for a deep dive on how to measure, model and improve email reach.
Improving Activation Rates
Activation is a critical step; onboarding new users effectively is always a challenge and typically presents a great opportunity. Rarely does a growth team believe that their onboarding is optimal; there's almost always room for improvement.
Although the onboarding steps that lead to an 'activated' user are app-specific, there are some CRM tactics that can be applied in most activation situations. In this section, I'll lay out some basic approaches that often help.
Tackling Funnel Drop-Offs
Start by mapping out the key activation steps in your app and ensuring that each of these steps has an associated analytics event that is tracked. Create a funnel visualization of the activation steps:

Activation funnel example: in this case, activation is defined as making a first purchase (quite an ambitious definition, but can make sense for transactional products)
Analyze funnel drop-offs and create win-back campaigns
In every activation funnel (assuming the steps are measured at a suitably high granularity), you'll see some friction points, where there are significant drop-offs between steps in the funnel. If these drop-offs can be reduced (i.e. if more users can be helped to the next step in the funnel), the overall activation rate will increase. This approach can be used for any key engagement funnel: not just for activation steps.
As well as intervening with messaging to improve overall funnel completion, it may be possible to accelerate users through the funnel. When designing experiments, look at funnel stages with big drop-offs and also those with a long time between funnel steps: in the best case, you can improve and accelerate activation.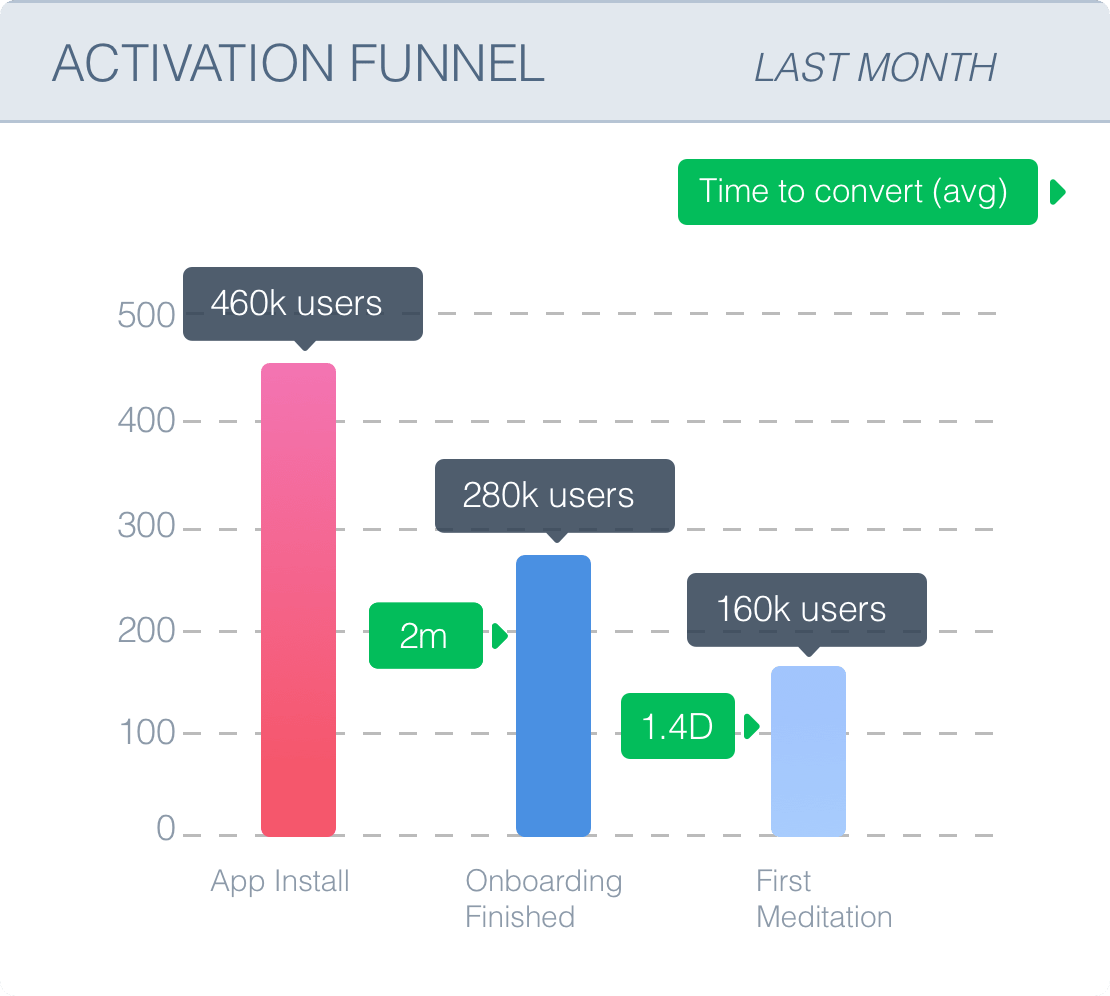 An example activation funnel for a Meditation App (fake data)
In the above example, we see that around 60% of users complete the app onboarding flow within 2 minutes. This represents a huge opportunity to "win back" the 40% of users are dropping out of the funnel before completing onboarding.
One simple, but effective tactic is to send a push notification reminding the user to complete the onboarding process. We can see from the average completion time that it would be fairly safe to send this message just a few minutes after the user started the onboarding process; likely the user got distracted and may be easily brought back to the app if reminded while the intent is still fresh in their minds.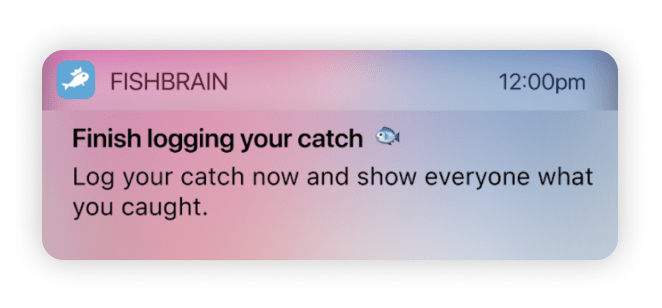 An example of a 'win-back' push campaign from Fishbrain
Email is another handy channel for win-backs: an onboarding win-back email could provide more detail about exactly what steps the user needs to complete. In either case, the message — when clicked — should deep-link the user back into the onboarding at the point they left off.
Experiment to uncover the right 'Nudge Moments'
If a user is stuck at a critical step in the activation funnel (often the last step, where they actually do the thing the app is facilitating and hence really get the value proposition), a gentle nudge may be all it takes to increase completion rate, as well as lower the average funnel completion time. A nudge will perform best if it correctly anticipates a time of need (e.g. sent around mealtimes for food delivery apps, for example, or when the user is likely to be at home on the couch for a streaming TV show recommendation) and all the more if it's personalized somehow using data collected in the onboarding process, the context of the advert they clicked on, or from real-world data such as weather, traffic info or other live APIs.
A carefully-constructed nudge leverages intent data and is sent at a time (or — better — an algorithm that personalizes the time) that is proven to be above-averagely effective by testing across multiple new user cohorts against viable alternatives. The below example from Headspace leverages user intent data collected during onboarding (user-selected time to meditate, user-selected reason for meditating) to create an experience that is welcomed by its recipients rather than feeling like a clumsy plea to use the app.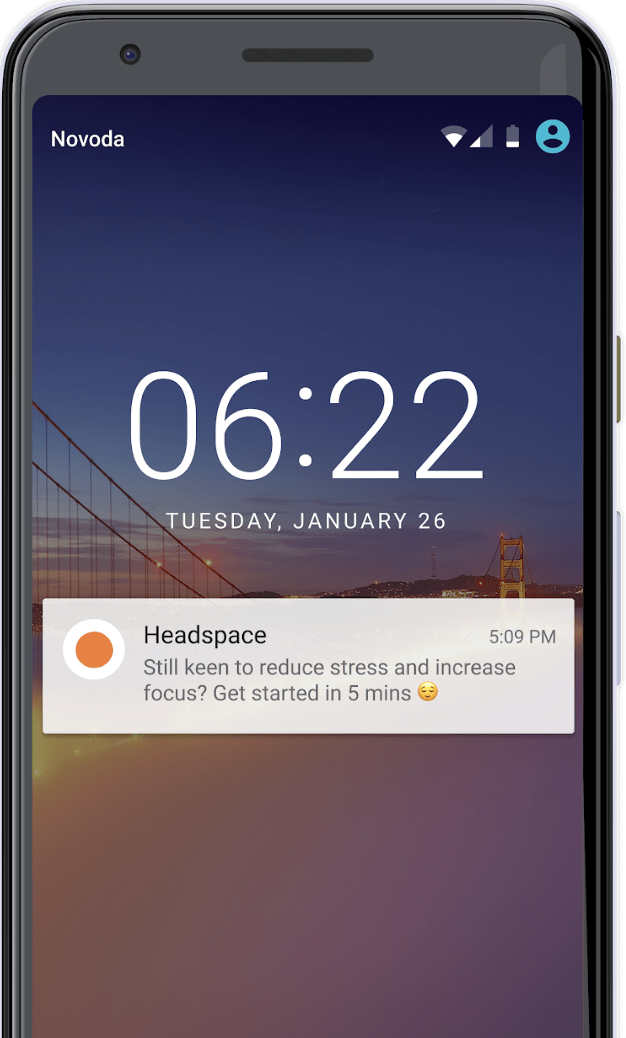 A carefully-constructed nudge leverages intent data and is sent at a time likely to be effective
Adaptive Onboarding (selective feature education)
While in-product onboarding experiences are often well-crafted and work well for the majority of users, activation of new users is always a challenge. One massive advantage of CRM-based approaches is that they can be targeted at specific segments of users who seem to be struggling or disengaged. By employing 'adaptive onboarding', users who activated already can be left alone, whereas those that need extra help can receive it in a targeted way via Push, Email or In-App.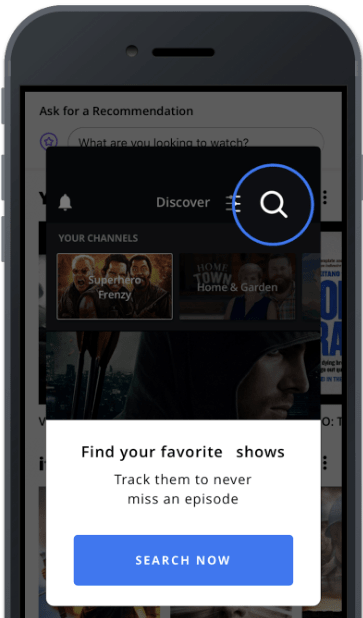 An example of adaptive onboarding: highlighting the Search feature to users who didn't use it yet
The same tactic can be used to drive feature adoption at any stage in the lifecycle, or when new features are introduced.
Welcome Emails: Still Worth Doing
Welcome emails are not exactly at the top of the hype curve these days when it comes to cutting-edge marketing, but they still work. A strong welcome email achieves a bunch of measurable and harder-to-measure objectives:
Setting the tone of a brand's communication with the user and getting across the brand personality

Reconfirming the user's expectations about the value the app will deliver (these expectations having been created by the app's store listing and any advertising the user encountered prior to downloading)

Providing additional information about the app's features and benefits

Communicating the next steps to help the user onboard successfully

Bringing the user back into the app to continue their activation journey with a clear Call-To-Action (CTA)
In the case of Lyft, the CTA is 'Take a Ride': a smart choice given that their definition of activation is almost certainly taking the first ride.

Lyft Welcome Email, via ReallyGoodEmail
Increasing Frequency of Use
To increase a user's average number of sessions within the app, the user needs good reasons to initiate their next session. For some apps, these reasons come very naturally: media apps that have regular fresh content and social apps where users interact with each other both provide rich pickings for activity notifications. For some other apps, the opportunities to legitimately interact with the user in a non-spammy way are more limited. In some cases, gamification tactics can prove highly effective in maintaining and increasing user motivation.
As always with CRM — but perhaps especially when trying to increase usage frequency — It's worth keeping in mind that there are limits to the effectiveness of notifications and lifecycle campaigns and no 'growth tactics' can compensate for a lack of substance in the product itself.
Activity notifications — notifying the user about something external to them —are by far the best lever for driving up usage frequency. Anyone who has used Facebook, Twitter or Instagram has experienced launching the app multiple times in an hour and possibly tens or hundreds of times in a day. Social apps that provide connections and feedback signals from real people.
What's worth noting about social apps is that the average user session is pretty short: these are almost micro-engagements: checking messages, responding to a comment, liking a new post, etc.
With analysis of user behavior in the app, it should be possible to observe such 'micro-engagement' sessions and, possibly, see some segments of users engaging more deeply while others limit their usage to frequent micro-engagements.
When you give users new entry points to the app (such as push notifications), reducing the friction to interact with specific (especially social) functionality, you can expect frequency to increase, and average session length to decrease.
An app is ripe for activity notifications if:
It has a lot of content, with new content becoming regularly available (e.g. media, news, workouts, books, etc.)

It provides access to a social network of other users who can interact with each other, either directly or indirectly, through the app (e.g. direct or group messaging, posting, like, repost, comment on posts, etc.)

There are significant real-world events that are relevant to the user (e.g. traffic alerts, weather updates, concert announcements, etc.)
To implement an effective set of activity notifications, follow this checklist:
Start by developing those notifications with the highest reach, according to the

RRF Framework

.

Build or augment a back-end system that can trigger notifications based on events that are being fired within the system. At the very least, your backend system needs to be able match events to users they are relevant for and to generate an API call to a marketing automation tool (or home-grown system) that can deliver the notifications.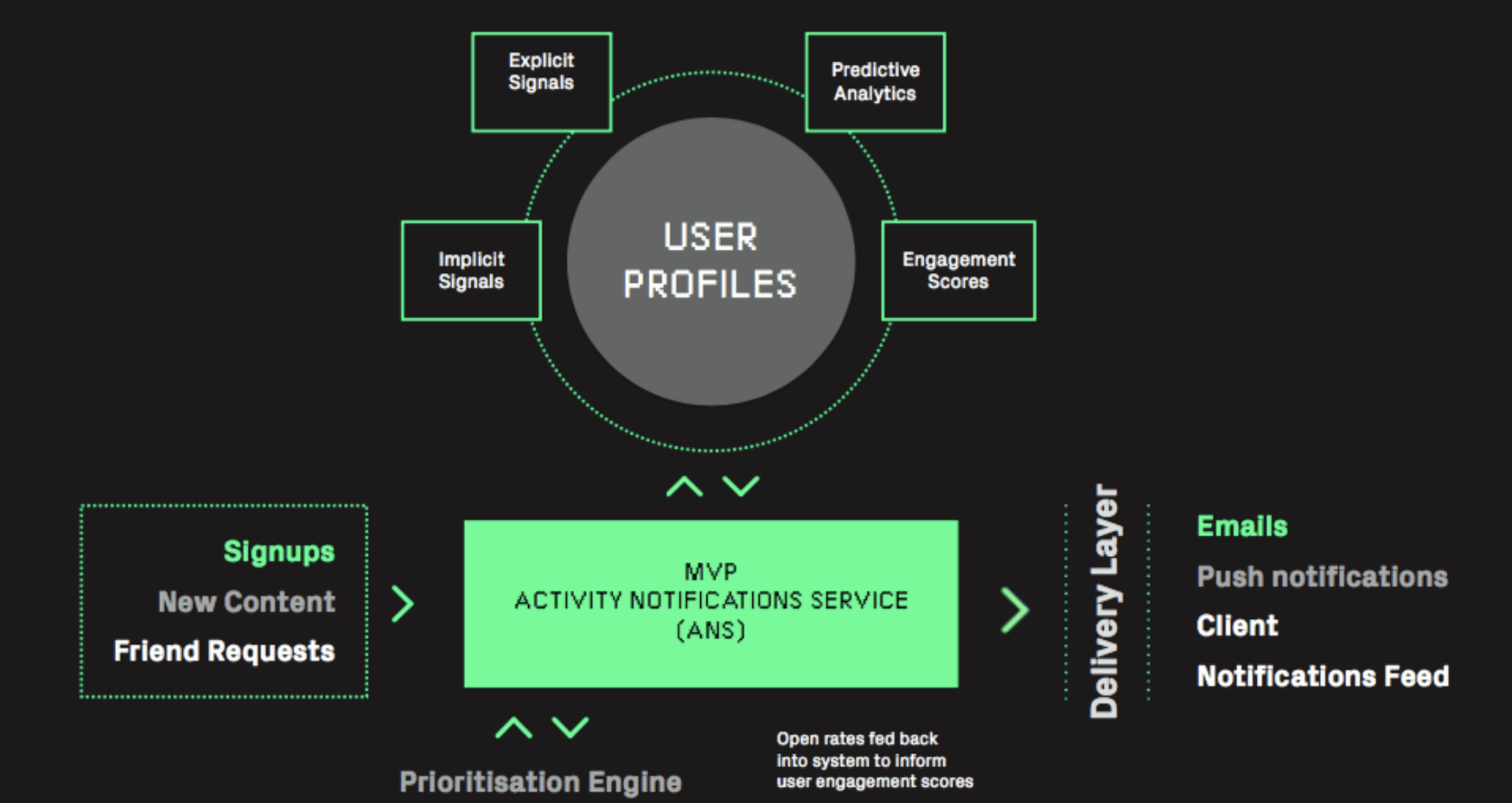 A high-level abstraction of a smart activity notifications service (more on how to build one)
Ensure that each notification has an associated Deeplink implemented in the app: the notification should be a short-cut to the specific content, update or functionality that it relates to.

Test out each new notifications with its own control group, to measure impact. Be sure to measure negative impacts too, including opt-outs, complaints and decrease in usage. Also build a global holdout that is never exposed to any notifications, as well as a test group that receives all the notifications.
Gamification
The concept of gamification comes from the video game industry. Game developers have known forever that players can be motivated by the idea of progress, high scores and competition (either against themselves or others). Other digital products have also had success with implementing such mechanics: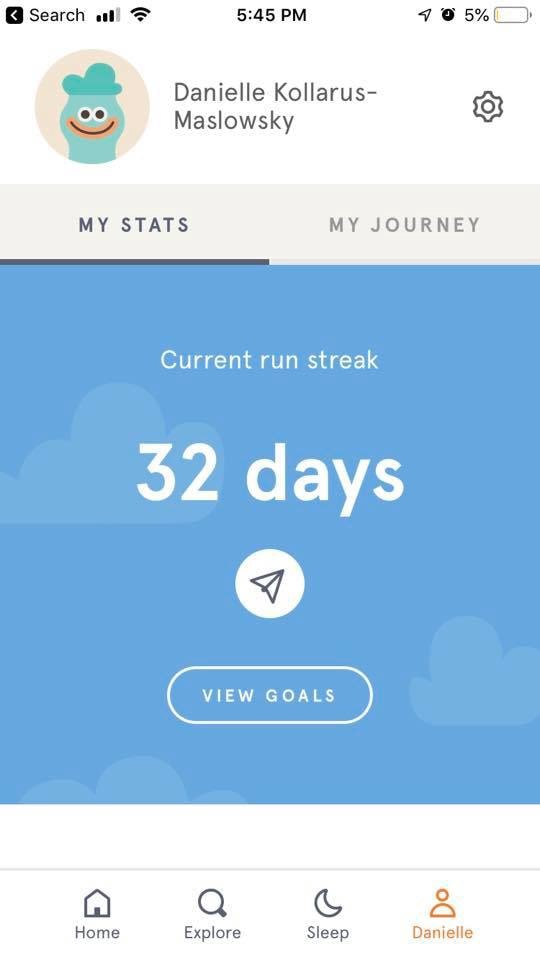 Headspace uses 'RunStreaks' (continuous days meditated) to encourage daily usage of the app
CRM can prove highly effective at re-enforcing gamification mechanics, for example through the use of reminders, congratulatory messaging. It's often even possible to implement rudimentary gamification in CRM without touching the product. In this way, a growth team can rapidly prototype and test a gamification approach to see if it delivers the desired uplift.
Gamification works best when it's baked into the app (see above), but simple Gamification mechanics such as Trophies, Runstreak Congratulations and even Goal Setting can be implemented and/or prototyped using CRM
Classic gamification tactics include:
Setting Goals and then holding users accountable to them / showing progress towards them

Tracking and reporting on 'streaks' (periods of regular use / achievement) of indeterminate length

Congratulating the user on personal bests, achievements (of any kind) or other forms of progress (inc. runstreak milestones)
All of the above can be prototyped using CRM (using In-App Messaging, even goal setting and progress tracking can be implemented without any native app code) even if they are ultimately implemented natively in the app. Even if the decision is made to build gamification in at product level, CRM serves as a great way to:
Remind users when a streak is about to expire or a goal is in danger of being missed — push notifications are a great channel to generate urgency in such circumstances

Congratulate users on achievements (Push, In-App Messages and Email all work for this, especially in combination)

Provide regular 'stats summary' updates
Below is a section of a stats summary from pet tracking app Whistle. It provides various 'quantified pet' data points to motivate users to exercise their pet (using the Whistle GPS tracker of course) more regularly. Human fitness apps also employ such gamification techniques extensively in their CRM programs.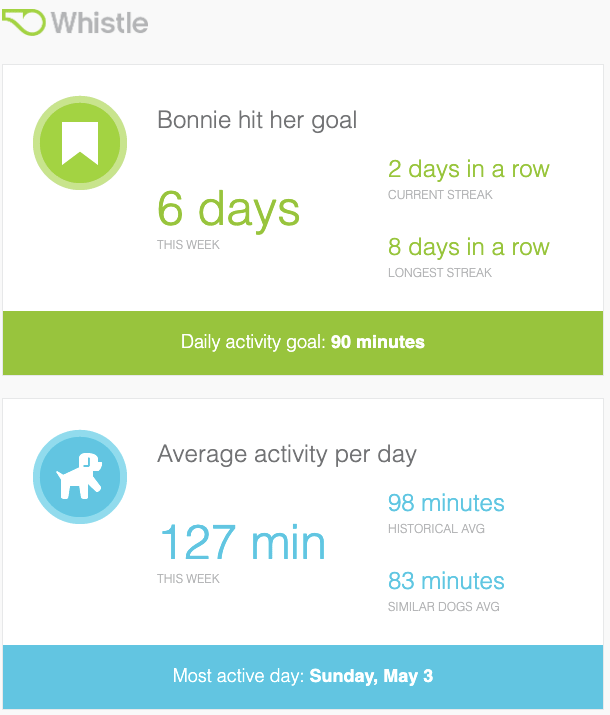 Whistle — a fitness tracker for pets — uses gamification in it's weekly stats summary emails (pictured)
Increasing Feature Adoption
There are three reasons a user will use a particular feature:
they saw it

they tried it and..

they found it useful when they saw it and tried it
Marketing Automation / CRM can be highly effective at increasing adoption. By targeting users who have never used a specific feature with an email explaining the benefits of it, many more users will be influenced to try it out.

An example of a 'new feature' email from MailChimp
A new feature's exposure rate (the %ge of users who actually see and interact with the feature at least once) is often far below 100%. This means that product teams spend a ton of time building features that users don't even see, let alone love.
Companies often put a lot of effort into 'launching' new features in order to mitigate this risk. While feature launches still have their place, this is an old-school marketing tactic. Only current users will experience any launch communications (often little more than an email and company blog post) and new users may not be exposed to the feature at all in the app onboarding. This leads to situations where features are poorly adopted and have poor engagement metrics. Recurring feature-education emails for new AND returning users (similar to adaptive onboarding, but could be considered 'adaptive engagement') are long-term far more effective than a one-off email blast trumpeting the launch of a new feature.
Naturally, it's recommended to prioritize feature-adoption campaigns based on organic discoverability metrics, which are quite easy to obtain by creating a segment of Users who never did Action X and seeing what population of a monthly cohort that is (spoiler alert: often a substantial %ge of users never use key features even once).
Even more effective than Email, In-App Messages can be deployed directly to active non-adopters when they are in the app and can usher them (via a deep-link) immediately to the feature to try it out.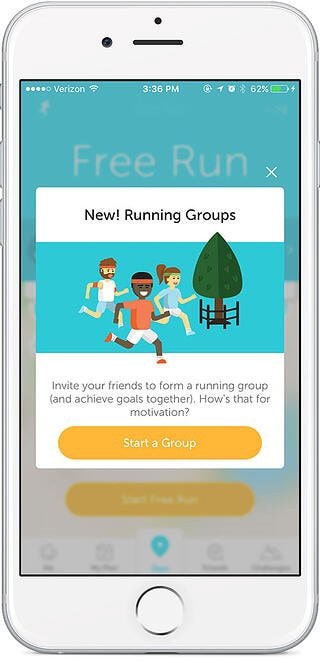 In-App Messages are the single best channel to drive awareness and adoption of new features
Design teams often decry such ongoing feature-pushing in the app. The rationale is sound: 'if the user needs to be told about the feature, the app is not designed well enough'. In a pragmatic world, this can be solved through the 'adaptive' characteristic of a segmented targeting approach: only users who have not discovered and tried the feature organically (e.g. after 3 sessions in the app, or after 1 week, for example) will ever see the in-app modal explaining the feature. If the app is designed (or subsequently redesigned) such that everyone discovers the feature within that window, the in-app campaign becomes redundant.
Even more effective than Email, In-App Messages can be deployed directly to active non-adopters when they are in the app and can usher them (via a deep-link) immediately to the feature to try it out.
CRM is less helpful in part 3 above (user finds the feature valuable / useful). This is beyond the scope of pure communication; for this, the feature must be implemented in such a way as to increase the overall value of the product (for at least some users). However, CRM can play a role: educating the user about the benefits of the feature, or highlighting great use cases from the user community can increase understanding and interest.
Disruptive email startup Superhuman is a complex product, with many innovative features, keyboard shortcuts to learn in the desktop app and many gestures / actions in the mobile app. Superhuman sends an email every day in an extended onboarding series, introducing features and explaining their use cases.
Re-Engagement of Lapsed or Churned Users
Re-engagement is typically hard to do, but — with the right value proposition and the right messaging — it's definitely possible to bring some users back to an app after a period of inactivity.
In order to implement re-engagement successfully, it's important to apply as much knowledge as possible about why users lapse. This provides the opportunity to conduct more targeted and relevant experiments, testing hypotheses about what might bring a user back.
The above assertion is very easy to make, but much harder to effectively execute. Gathering information from lapsed users is tough and should always involve qualitative as well as quantitative analysis; behavioural analytics data alone will never explain why someone falls out of love with the product. Getting in touch with lapsed users and offering them an incentive (voucher or cash) to provide more insight in a phone interview is a classic approach that can yield a lot of insight.
During my time leading the Retention team at SoundCloud, we were able to increase re-activation rates 5x (albeit from a low base) by personalizing re-activation pushes with information about the last track a user had 'liked' in the app. For our re-activation strategy, we segmented users into three buckets: those who had liked a track (an indication of strong preference), those who had played a track (weaker indication of preference) and those who had never liked or played a track (i.e. unactivated).
As with other parts of the lifecycle, segmented approaches tend to perform best when tackling re-activation. It's important to differentiate the formerly-active, lapsed users from those who never successfully activated in the first place: the former can hopefully be tempted to return with a reminder of the value they had experienced in the past, whereas the latter may benefit from additional product education, or respond to social proof / 'FOMO' messaging.
A word about measurement
When seeking to increase retention, LTV or any trailing metric, it's essential to maintain a holdout group that is not exposed to CRM efforts, in order to understand the aggregate impact of the program. Impact measurement probably deserves its own followup article, so I won't go into huge detail here, suffice to say that a long-term holdout group is the only way to see what's going on with a slow-moving metric like Retention.
Individual campaign experiments will be focused on leading conversion metrics that are hopefully inputs/drivers of retention (i.e. driving users to take certain engagement actions within the app) and should also be run with control groups, but campaign-level experiments will not give you a good picture of longer term retention for those users who are exposed to the whole set of lifecycle campaigns and activity notifications.
Moving a metric like M1 Retention is tough: you'll see the results of your efforts much quicker when focusing on early-stage retention of new users (i.e. improving activation) and it's satisfying to experiment early in the funnel because of the fast feedback loop between experiment and impact on e.g. D1, D3 or W0 retention. Low opt-in rates compound the problem, since CRM may only be impacting less than 50% of the userbase: it's worth looking at the impact on retention of opted-in users to see if things are on the right track, but ultimately success should be judged on retention of each entire cohort; CRM efforts need to significantly outperform the baseline in order to shift up the average. Expectations about the absolute impact that can be made with CRM on monthly retention typically need to moderated (read: adjusted downward): a 1 or 2 percentage point increase over a year should be considered a significant win in most cases. Just as teams often over-estimate their ability to move retention metrics, there's also a tendency to under-value modest gains: improving retention even by a fraction of a percentage point will deliver compound growth and increased LTV from every new cohort.
Summary
Push, In-App Messaging and Email are fantastic levers for improving retention, assuming a decent level of product-market fit exists. Different channels will be more or less effective, depending on the strategic goal. In-App Messages are highly impactful and are increasingly replacing native dialogs and prompts due to the ease of iteration that they afford. Whether trying to increase frequency of use, drive deeper engagement or re-activate users, investing in a mobile CRM program (and continually investing in channel reach) is a powerful weapon in the battle to improve Retention.
I'm always keen to hear from other growth practitioners; feel encouraged to leave a comment to let me know how you're leveraging CRM (or other tactics) to increase Retention and LTV.