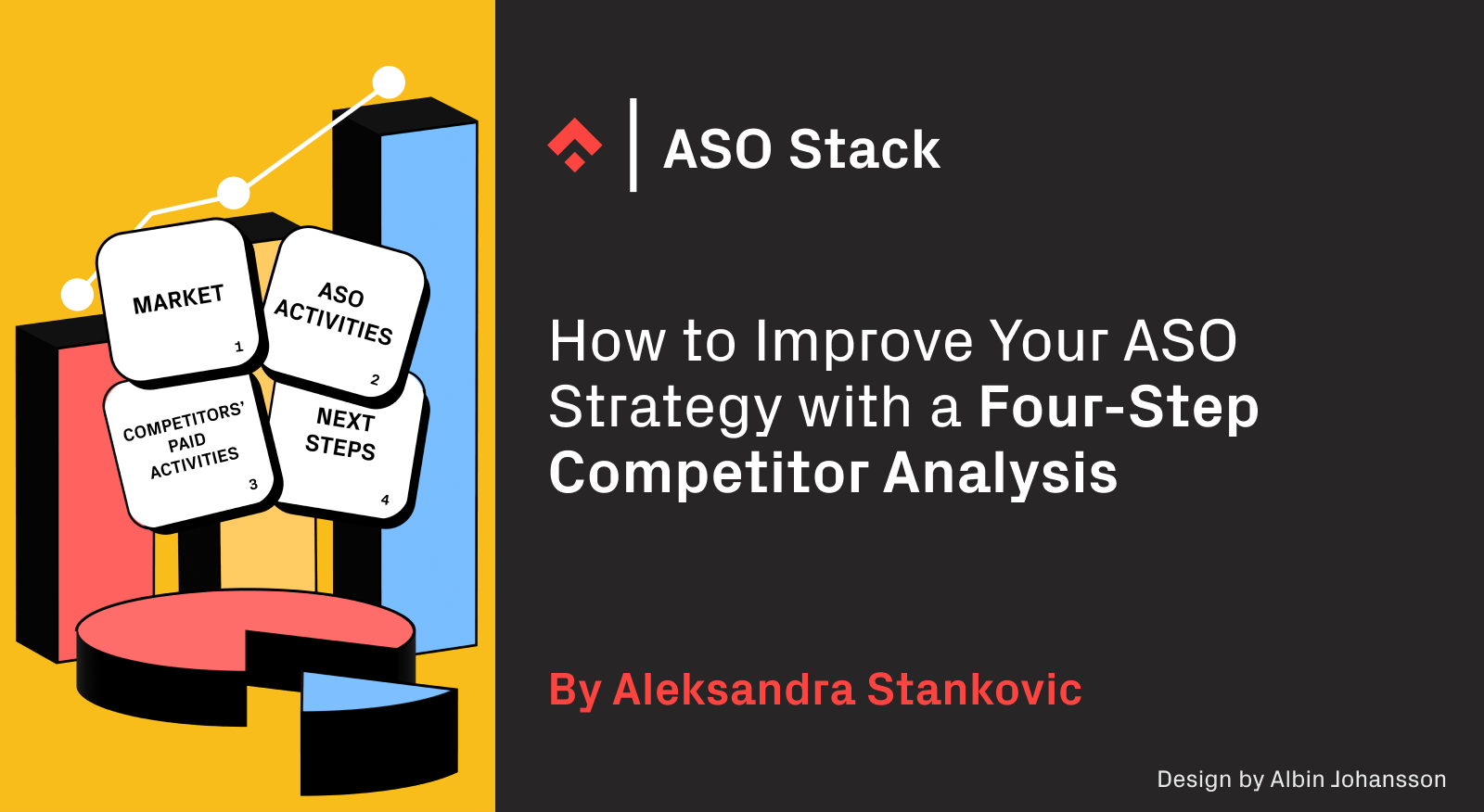 A comprehensive ASO (App Store Optimization) strategy should always include a competitor analysis. Why? Because keeping one eye on your rivals will help you identify opportunities and hone your own strategy, and it appears in the research stage of our CRO Loop. This means that competitor behavior will – to some extent – influence your growth strategies, though it shouldn't dictate your every move. 
For example, a common practice among app publishers is to target the same keywords and creative assets as their competitors, especially if the competitors are big brands. Ultimately, however, your strategy should rest on the strengths of your own product. In this article, we'll take you through how to perform a competitor analysis that will help you craft your own compelling optimization strategies.
Step 1 – Research the market  
The first step in your analysis is market research. As market research is such a broad term, we'll narrow it down to analyzing your direct competitors. ASO tools, such as AppTweak, can help you create a competitor list. If you click on 'add competitors,' you'll see a list of suggestions from which to choose. Additionally, on Google Play you'll see a section titled 'similar apps' where you'll find more apps to add to your competitor list. Phiture's ASO Plugin for ChatGPT can also help with keyword research and to understand your competitor's keyword strategy. You can find out more on how to use our tool here.

A look at AppTweak's Competitor Explorer. 
Sometimes, the number of apps you'll find can be overwhelming and not all of them are equally relevant. Keep in mind that you should focus on apps with the same target audience as yours – they're your direct competitors. 
Once your list is complete, you can start tracking their activities to inform your own strategies, however, remember to avoid the common trap of trying out everything your competitors are doing. 
Instead, take a good look at your own app and find out what its most used features are. Try out these two questions to guide your research:
Where do users spend time on your app? 

What do users enjoy about your app? 
You should also pore over user reviews and factor in that your app's data should always be the priority. If you're running ASA (Apple Search Ads) campaigns, research what keywords are converting the best. Check what your best-performing keywords on Google Play Console are. Once you've compiled this information, you can start creating your conversion optimization strategy. Develop an understanding of how your competitors' strategies fit into your goals, and only apply what makes sense for your app. 
Make a continuous effort to track your competitors' activity starting with their download levels over time. Note that you should only compare your app to other similarly sized apps as it's likely you'll be able to win over some of their users, instead of going after big brands. 

Tracking competitor's downloads with AppTweak's Download Estimates. 
Step 2 – Overview of ASO activities 
What do we mean by ASO activities exactly? We're primarily referring to any changes in app title, subtitle, icon, screenshots, and descriptions. However, it's also very important to track your competitors' use of new features such as In-app events, Promotional Content, and Custom Product Pages. This requires checking their store listings and websites regularly, as well as interacting with their apps. 
Observe market trends closely. This will help you understand if the market is shrinking in certain periods and how it's affecting the competition, as well as your own app. Track what your competitors are doing in down periods and how they're combating unfavorable conditions. 
As user behavior differs in each market – even if the language is the same – it's important that you track each of your target markets individually. Review three to six month periods at a time to stay on top of recent developments. 
For an easy overview of your competitors' textual and creative metadata, you can use Phiture's Screenshot Scraper. To learn how to use the Screenshort Scraper, check out this article here.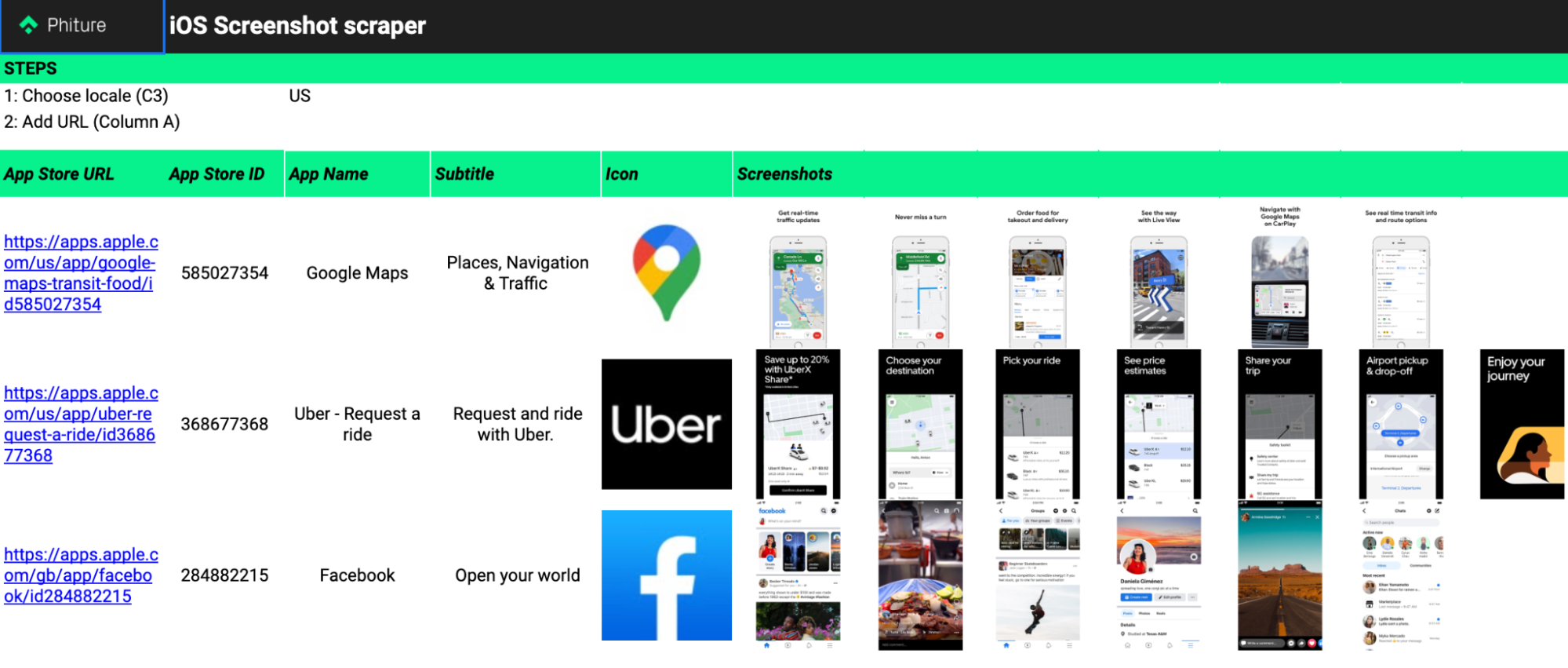 Phiture's Screenshot Scraper in action. 
To understand if competitor growth strategies are proving successful you can:  
Cross-check testing or update dates to their download estimates and find correlations,

And then create a backlog of testing ideas your competitors have tried.
The information you gather from this can inform your own growth strategy. 
Try answering the following questions: 
What new keywords are competitors targeting? 

Did they add new features? 

What are users saying in reviews? 

What do users want to see in the app? 
Use this opportunity to inform your product team if you spot an unmet need. That way you can move ahead of the competition. Once you develop and implement a new feature, use that opportunity to target new keywords, and create In-App Events and Promotional Content to increase user engagement and broaden your organic reach. It's also worth finding out how often competitors update their apps as Apple and Google both prioritize well-maintained apps. For this reason, as well as general user experience, make sure your app also has regular maintenance updates.    
Step 3 – Check your competitors' paid activities 
As the relationship between Organic and Paid User Acquisition continues to evolve, it's more essential than ever that you're informed of your competitors' paid activities. If you don't develop an understanding of these paid activities in relation to ASO, you can come to the wrong conclusion about competitor activities.
Use ASO tools, such as AppTweak or SensorTower, to prevent the above and to answer the following questions: 
Do your competitors have active ad campaigns? 

What do their ads look like? 

What copy and creatives do they use? 

Do they align with their app store listings? 

How well are the ads performing? 

Format Breakdown by Platform. Source AppTweak. 
In addition to tracking competitor ads, it's also very important to find out what keywords they're bidding on. It's very likely you're bidding on the same keywords, or that they're bidding on your brand. It's vital to protect your own brand.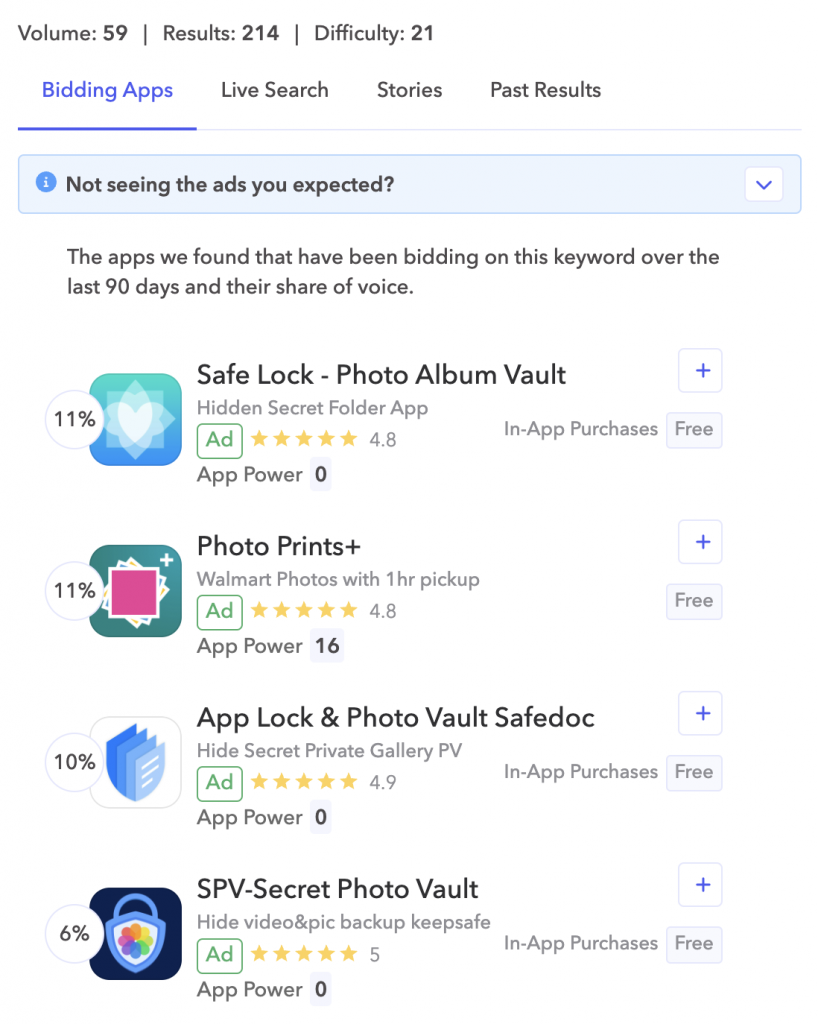 Keeping an eye on the competition's keywords with AppTweak. 
Don't stop here. Cross-check the keywords your competitors are bidding on and what you can see in their metadata. This will give you an idea of their acquisition strategy, which you can potentially apply to your own ASO. 
Step 4 – Learnings and next steps 
The final step in this process is drawing conclusions and planning how best to use the information you've gathered. With it, you should be able to develop a roadmap for the next six months of your ASO strategy. 
Combined with your app's data, competitor and market research will help you develop conversion tactics. For best results we recommend following the CRO Loop framework, developed here at Phiture.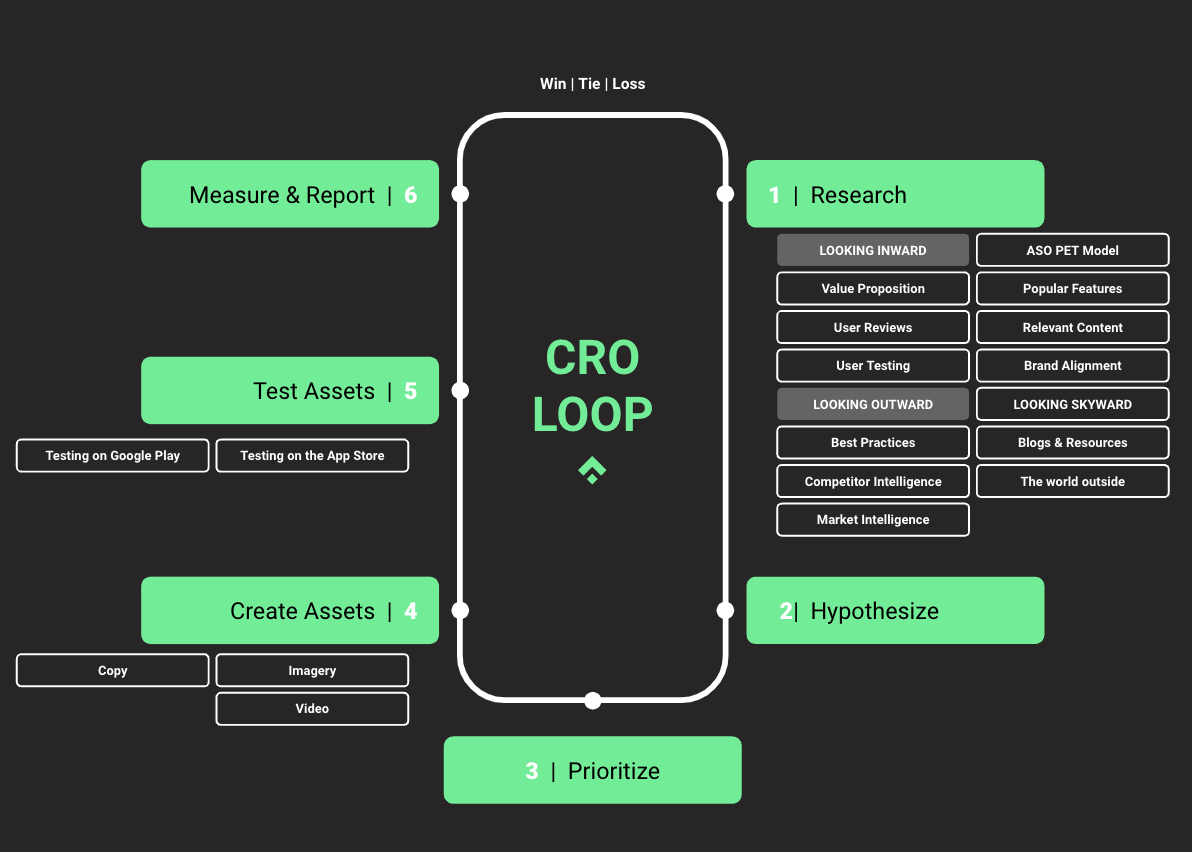 Phiture's CRO Loop
We recommend keeping detailed testing logs with all the historical results and learnings. Compare your own backlogs to those of your competitors' to find any missed opportunities. 
Conclusion
Competitor analysis allows you to harness the potential of your ASO strategies, and to get to the root of what your app does best for its target audiences. Although it can be time-consuming, regularly performing competitor analysis will help you establish more effective app-growth strategies. 
Once you've established what makes the competition tick, you should be able to clearly define lagging tactics or winning aspects of your existing ASO strategies. The overall benefit of competitor analysis? It gives you an edge in what is an increasingly competitive landscape.
Before you go 
We recently launched an ASO ChatGPT plugin that facilitates access to essential ASO information, such as keyword search popularity for iOS, estimated impressions, and more. It's a small step in our ongoing experiments to understand and serve the ASO community better. Find out how you can use the Plugin to

improve your ASO efforts here. 

Phiture's Screenshot Scraper tool

simplifies the process of testing various screenshot hypotheses. Alongside the app's name and icon, this is one of the top three elements in your app store listing that can influence your CVR the most. 

The 2023 ASO Conference was brimming with best practice advice from industry experts.

You can watch the recordings here. 

The App Teardown Framework

is designed for fun team-building sessions that also allow for a granular analysis of an app in order to reach a clear and precise understanding of its UX, CRM strategy, value proposition, and core functionality.
Learn how user surveys and pricing…
---
September 20, 2023
by Pierre Neau
Explore Phiture's AI Labs: Shaping the…
---
September 14, 2023
by Moritz Daan