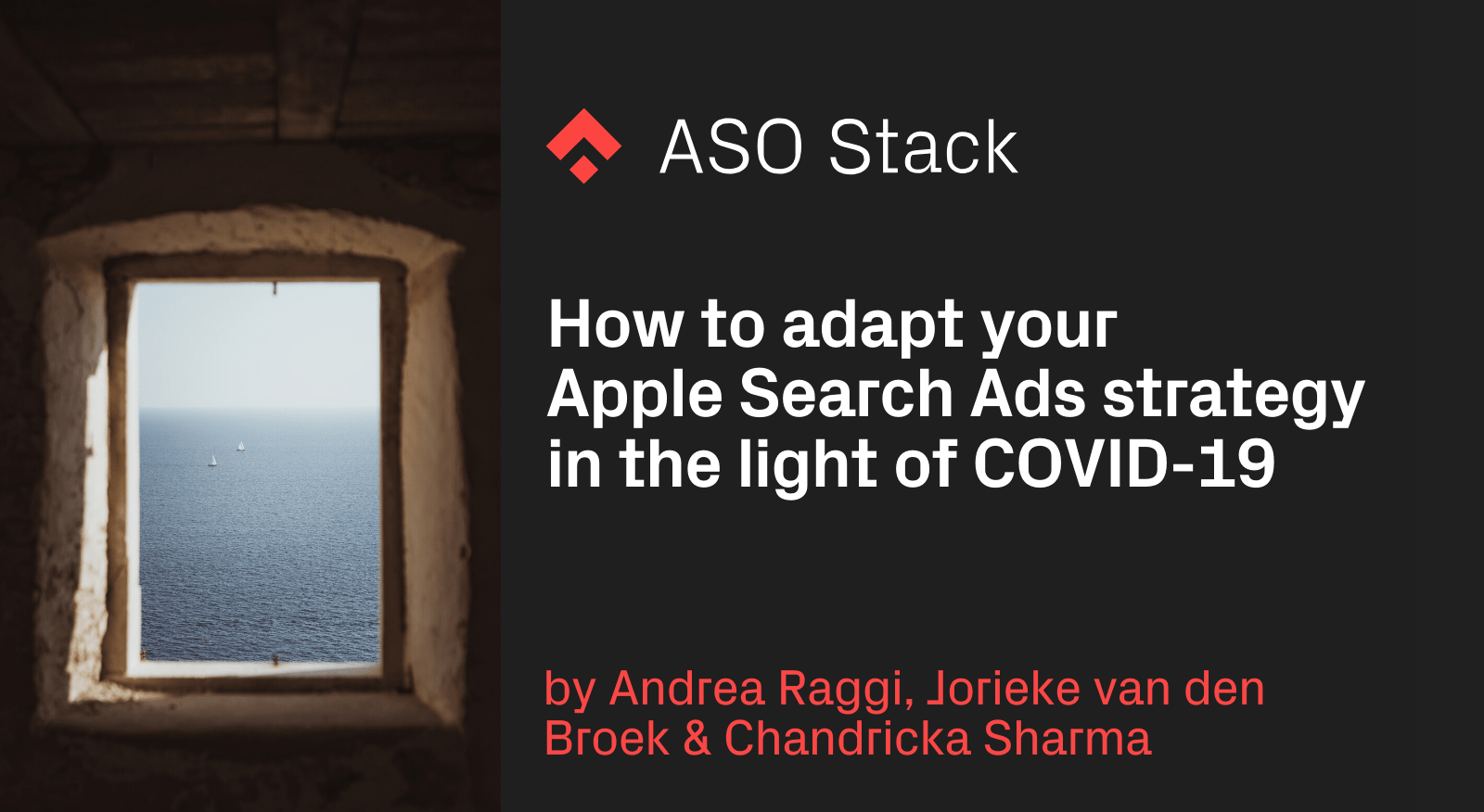 The coronavirus, now known as Covid-19, was first encountered in December 2019. By now it has come to affect every single one of us globally. The virus is spreading rapidly and governments are taking drastic steps to tackle the outbreak. Several countries have taken serious confinement measures, closing down schools, hotels and restaurants and ordering people to stay at home as much as possible. Consequently, the needs of a global community of consumers have changed unprecedentedly due to the pandemic and people are trying to adapt their routines and processes.
Following this abrupt change, the mobile and digital industry has been adapting too. Not only are people urgently switching to online solutions to support their daily work, they have also been forced to conduct much of their lives digitally. Will the overall impact be positive or negative in a time where we reach out to more digital resources?
Using Italy as a predictor
For the Western market, Italy can be a good predictor for observing trends that are likely to be replicated in other countries as more lockdowns are gradually enforced. The next two charts are focused on the Italian market. In both charts, we pulled download estimates from Apptweak and, as you can see in the first chart below, conferencing (Skype, Zoom) and productivity apps (Adobe Acrobat) have more than tripled their downloads as estimated by Apptweak.

Source: Apptweak
The opposite trend happened for restaurants. The Fork, Mcdonalds and other restaurant apps have been suffering, while online grocery services (Supermercato24 and EasyCoop) are clear "winners" and are currently overwhelmed by demand as people increasingly purchase their groceries online.

Source: Apptweak
What happened in Italy can be a predictor for trends that may be happening in other western markets very soon and may help you prepare for what's coming.
COVID-19 disruption is affecting all industries
The balance between positive and negative effects will be difficult to assess because all industries will be affected by COVID-19. On one hand, some industries have been suffering following a sharp decline in the demand for certain products and services. On the other hand, some verticals have been witnessing a huge surge in demand, benefiting from people being confined to their houses. In the digital world, fitness and meditation (self-care), mobile gaming, online learning, conferencing and streaming apps that keep consumers entertained, connected and informed remotely have already been benefiting from what is, hopefully, a temporary disruption.
Positively affected industries
There is one silver lining — some companies are experiencing a huge uplift in the number of installs. Since consumers have to stay at home, they need supporting technology to be able to work remotely and to maintain social interactions. Slack, a common communication tool for companies, has experienced 40% more than the typical quarterly growth in February (source FT). Similarly, on the chart below, you can see the surge in downloads in video-conferencing apps in the United States.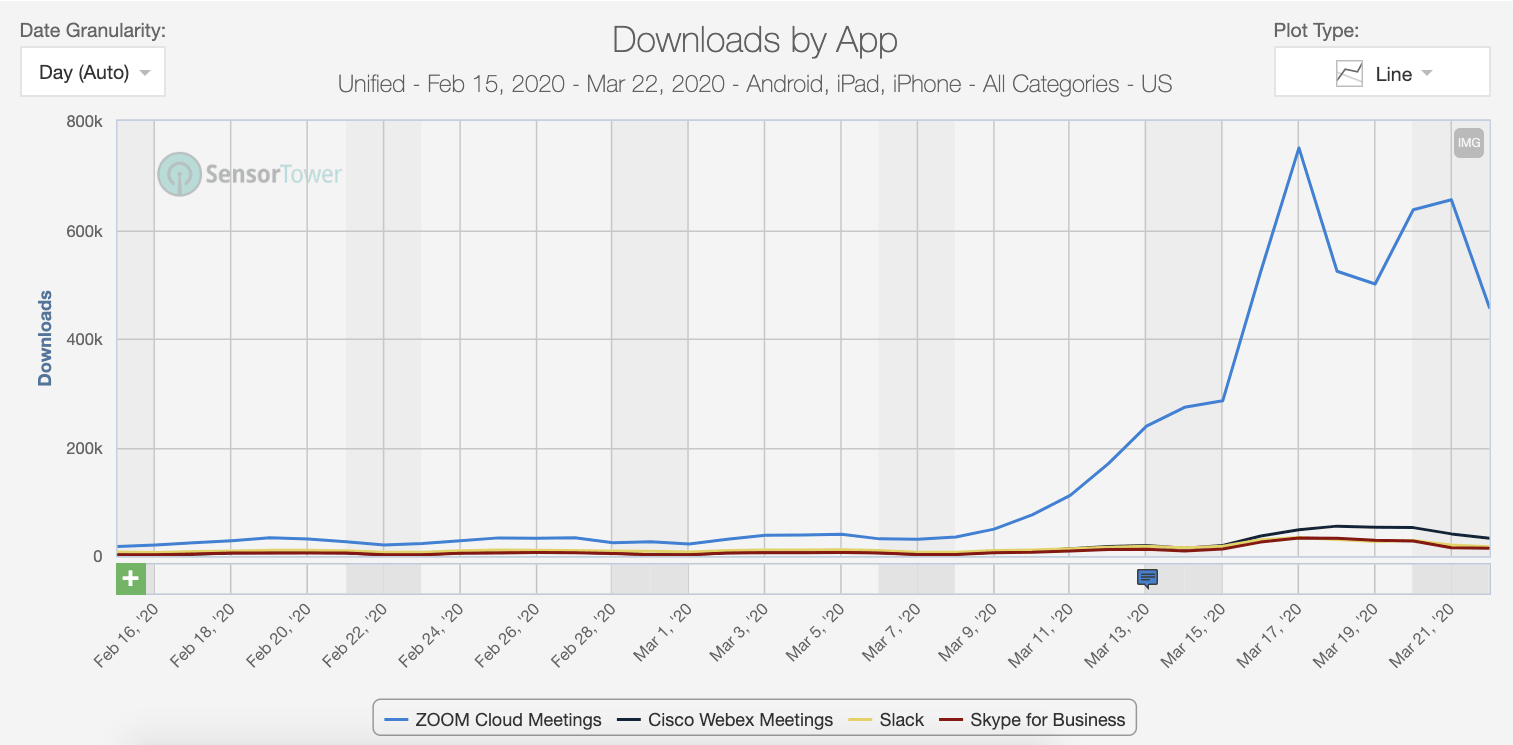 Source: SensorTower
Home exercise also plays an important part in the day-to-day life of many since gyms are closed. For this reason, we can see a big uplift in fitness apps. Some of our clients have seen an increase in downloads of 300+% with a pretty much stable Cost per Download.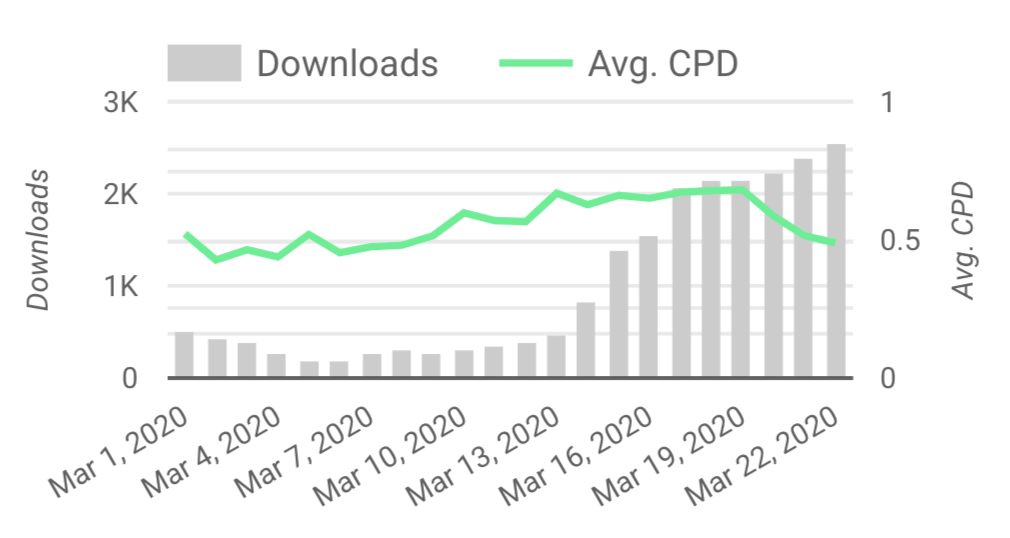 Source: Phiture
In order to cater to the trend and reach out to people with relevant intent, new campaigns could be added that relate to the situation we find ourselves in. Indeed, for these industries, it is a clear opportunity to establish themselves in the market and increase their user base dramatically.
Negatively affected industries
There is a steep decrease in demand in industries such as travel and mobility which could grow worse in the upcoming weeks. These industries will eventually suffer the most in terms of the effect of the COVID-19 virus on the real economy. As an example, we can see the effect on China's ride-hailing apps (Hello, Dida, DiDi). At first, we can observe a steep decline in installs at the end of January (when the outbreak began), after which we see a downward trend for 2 more weeks until downloads starts to slowly pick up again at the end of February.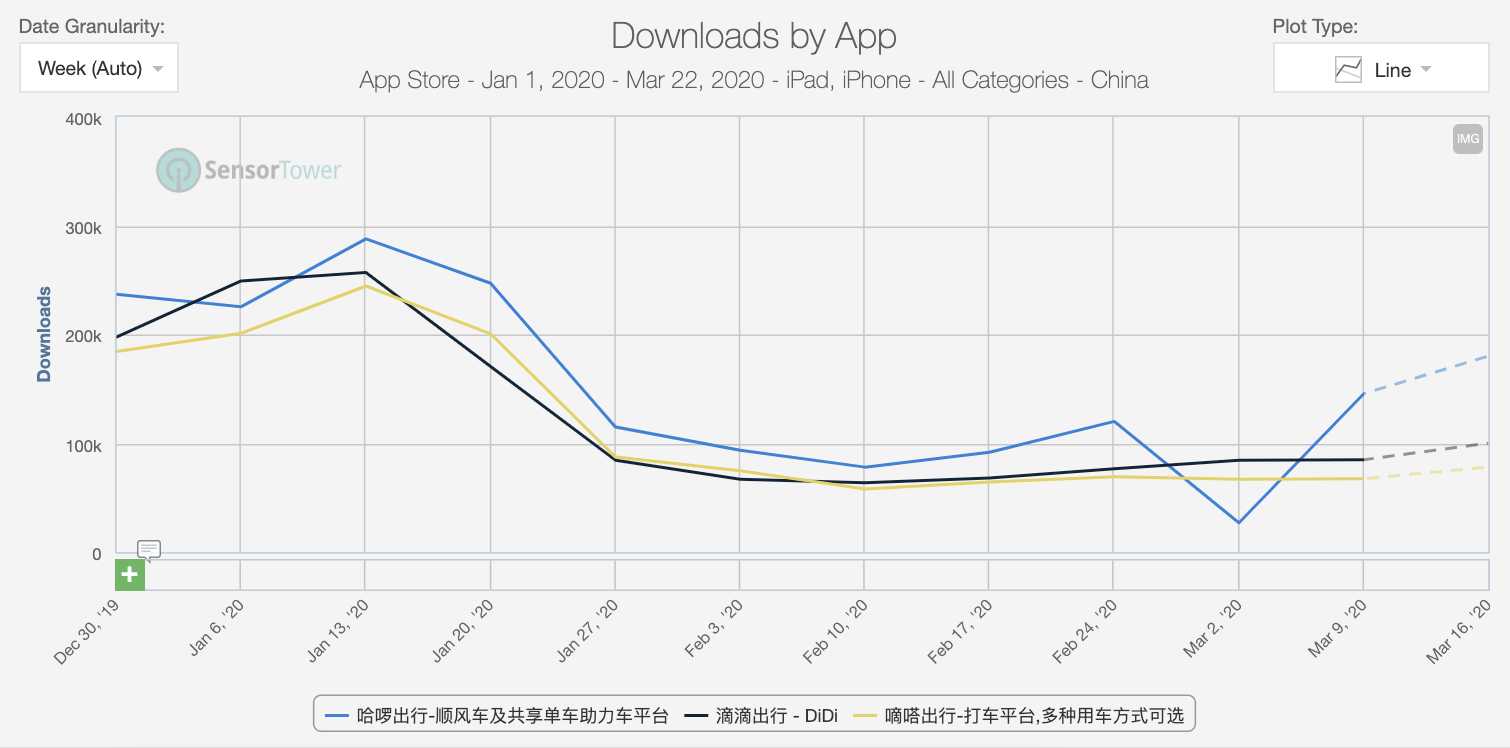 Source: SensorTower
After the encouraging news that the Hubei province will soon return to normal life, we could expect an increase in downloads for the worst affected businesses. China's experience is indeed teaching us that at least 2 months could pass until we can go back to our usual life and see businesses pick up again.
Indeed it seems it is either a win or lose situation. But is it truly like that or can we at least see something positive for the "losers"?
As an Apple Search Ads agency, we work with many different clients. When talking about user acquisition, which is the first thing to be affected by shifting budgets caused by economic shocks, we could focus for instance on Apple Search Ads. For some of our clients belonging to the above-mentioned suffering categories we started to observe lower spend. Specifically, spend decreased for these clients by 40 and 50% WoW (16–22/03 vs. previous week). However, notwithstanding the decrease in spend, there are users that still come through and want to download an app. Impressions, in fact, have not decreased: they are either stable or have increased. This clearly means that CPM has massively decreased as a consequence of the biggest competitors pulling out of user acquisition activities. This implies that all auctions are cheaper and that the average user acquisition cost has dropped (see below the average cost per tap and the average cost per download for a mobility app).

Source: Phiture
Downloads have been decreasing on average by 25% but there are users still downloading these apps with clear intentions. The fact that they installed these apps despite such circumstances can be indicative of their high intent: they must have a very specific need in mind. As a result of this sense of purpose, the customer acquisition costs are not skyrocketing, but rather remaining relatively stable. This means that the CAC has remained steady despite the COVID-19 earthquake. This can mainly be attributed to a decrease in competition in Apple Search Ads' auctions. In such a dramatic situation, this is indeed good news for these negatively affected businesses that can still rely on high intent users going down businesses' funnels.
Conclusions
In short, for the negatively affected industries (ride-hailing, travel, etc.) we see a decrease in installs, but performance (Cost-per-Goal) has been relatively unaffected for now. If cutting costs becomes a priority, we recommend doing so in a wise manner: stop highly expensive campaigns, but not those that are still positively influencing your ROAS if possible. If you pause those, your business will be even more negatively impacted by this crisis. We also recommend keeping a close eye on developments to make sure you are one step ahead in these unpredictable times, i.e. monitoring your campaigns' spend and ROAS several times per day. In turn, for the positively affected verticals, it can indeed be the opportunity of a lifetime and you should be quick if you want to capture this opportunity.
While the COVID-19 virus continues to have an impact on certain industries, leaving app developers in a frenzy, investing in user acquisition can still be a good choice if done appropriately.
For industries that have been positively affected, reaching out to users could mean generating installs from a multitude of consumers with unrealized needs. For industries that have been dealt a blow, trying to acquire them could mean softening the damage by still targeting high-intent users that generate high ROAS. Indeed, as with every investment, user acquisition needs to be done wisely and by closely monitoring the performance. Either way, it could be the right time to reevaluate and reshape priorities and plans.