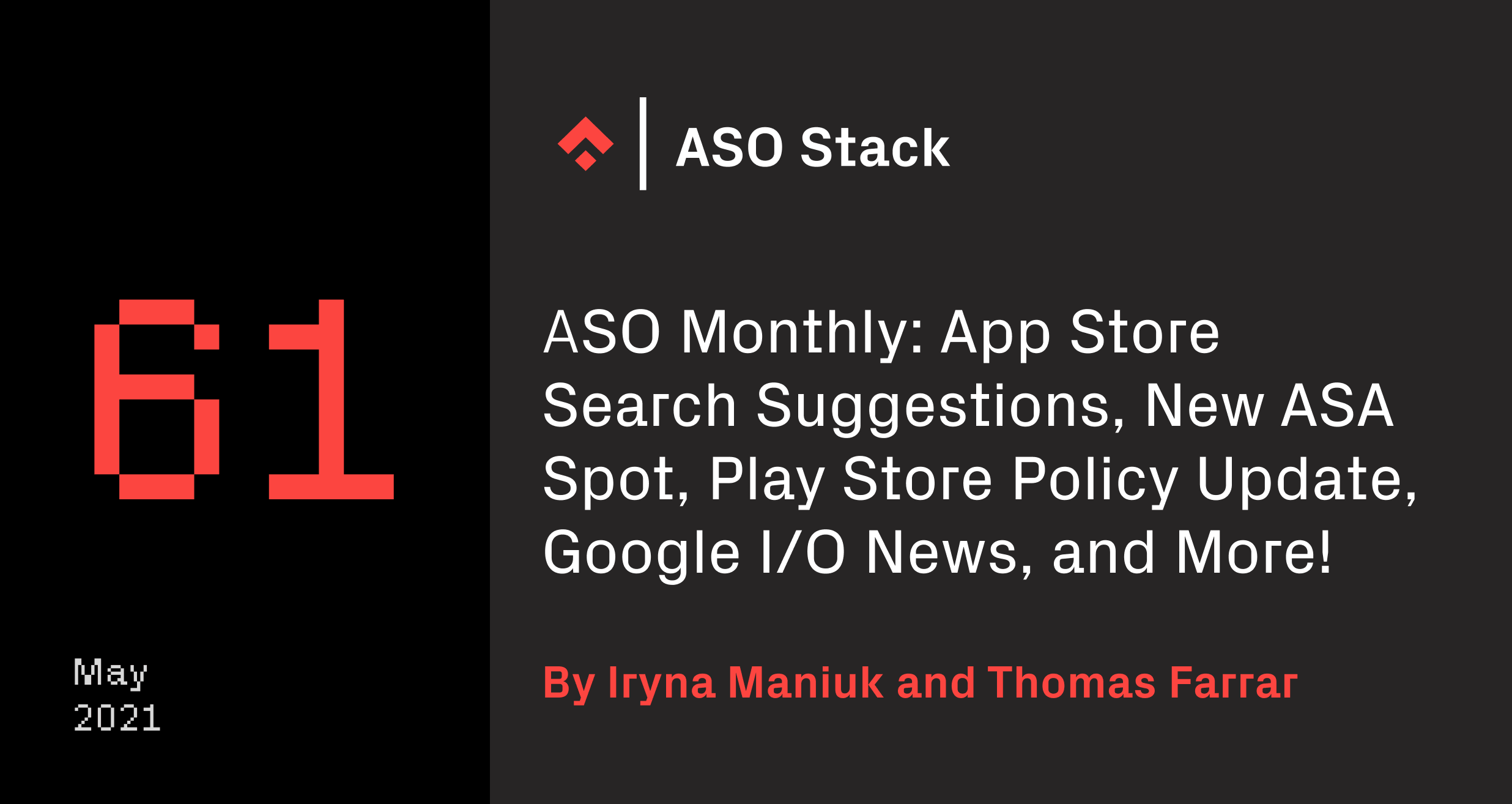 In this ASO Monthly series, the Phiture team reflects on the previous month and sheds light on trends in app store optimization, algorithm changes, privacy changes, insights into conversion rate optimization, and tool updates.

NB: Phiture is hiring! You'll have the opportunity to join Phiture and help us lead the way in mobile growth. Check here for current positions for ASO, Retention, Performance Marketing and other professionals.
This update was prepared by ASO Consultants Iryna Maniuk & Thomas Farrar at Phiture. 
ASO Conference 2021 Online: Official Recap
The 2021 edition of the ASO Conference took place yesterday. This year the conference was held online, with hundreds of ASO Experts present to exchange ideas and ASO tips. The official recap of 4+ hours of pure ASO knowledge sharing is now available here on the ASO Stack website.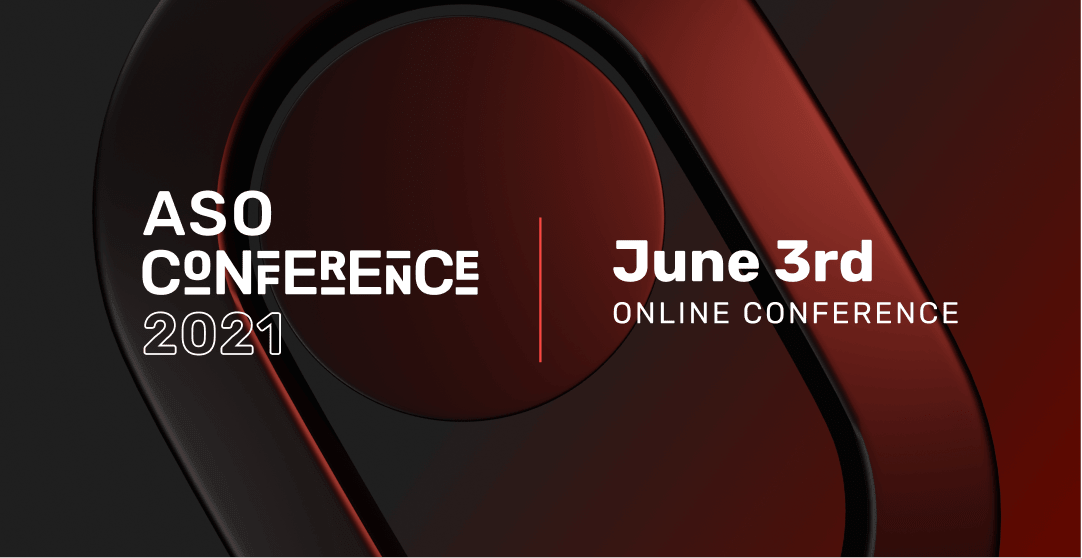 April 29 – The App Store introduced search suggestions 
With the number of apps in the App Store, finding the right one can be challenging. To help discover the apps that fit user's needs best, Apple has introduced search suggestions. They work similarly to autocomplete, except that instead of typing a search term, the App Store will suggest words below the search bar that may help narrow down results. The feature was rolled out in the US, Canada, Australia, and the UK. 
What does this mean for the ASO process? The search suggestions will help users turn their broad intent queries (e.g. pizza) into something more specific (e.g pizza delivery), thus likely causing an increase in the popularity of long-tail keywords (2 words and more). 
It's possible that low-frequency, long-tail keywords could become medium-frequency if people actively select them. As a result, ASO specialists will need to consider low-frequency, long-tail keywords when optimizing the metadata as the popularity of such queries may begin to grow rapidly. 
But keep in mind, a search query does not change when a suggestion is selected. It's also likely that only the initial search term in the bar is subject to changes in popularity.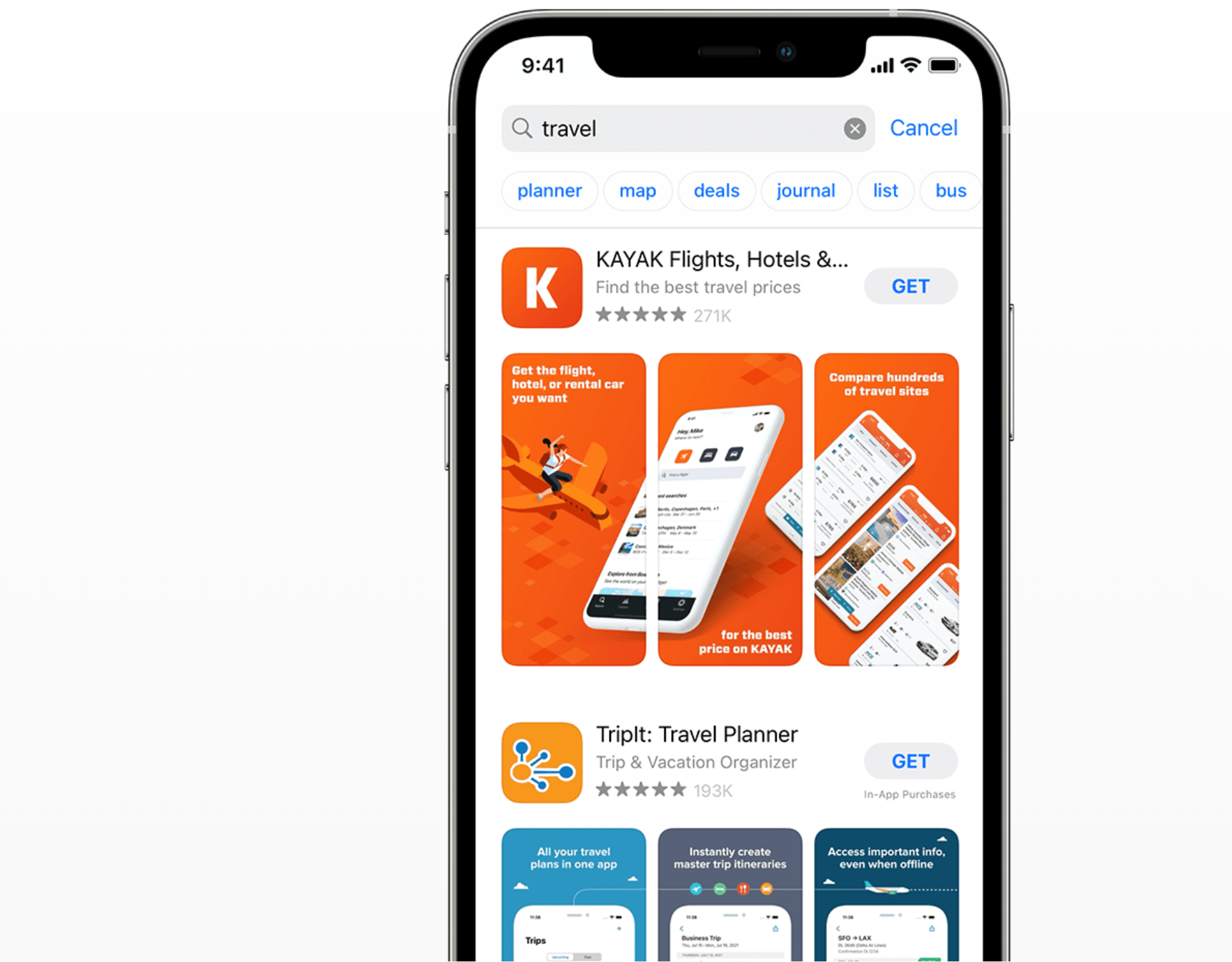 Source: Apple Developer News
April 29 – Google announced policy changes for app metadata and store listing assets
Google announced a new set of policies to ensure app metadata and store listing preview assets are unique and showcase an app's features accurately to drive meaningful downloads. 
The policy change to app metadata will come into effect later this year and applies to icons, titles, and developer names and focuses on:
limiting the app title to 30 characters;

removing text or graphic elements that indicate store performance/rank/price/ promotion or incentivize users to install the app;

removing emojis, CAPS (except for the capitalized brand name), repeated special characters.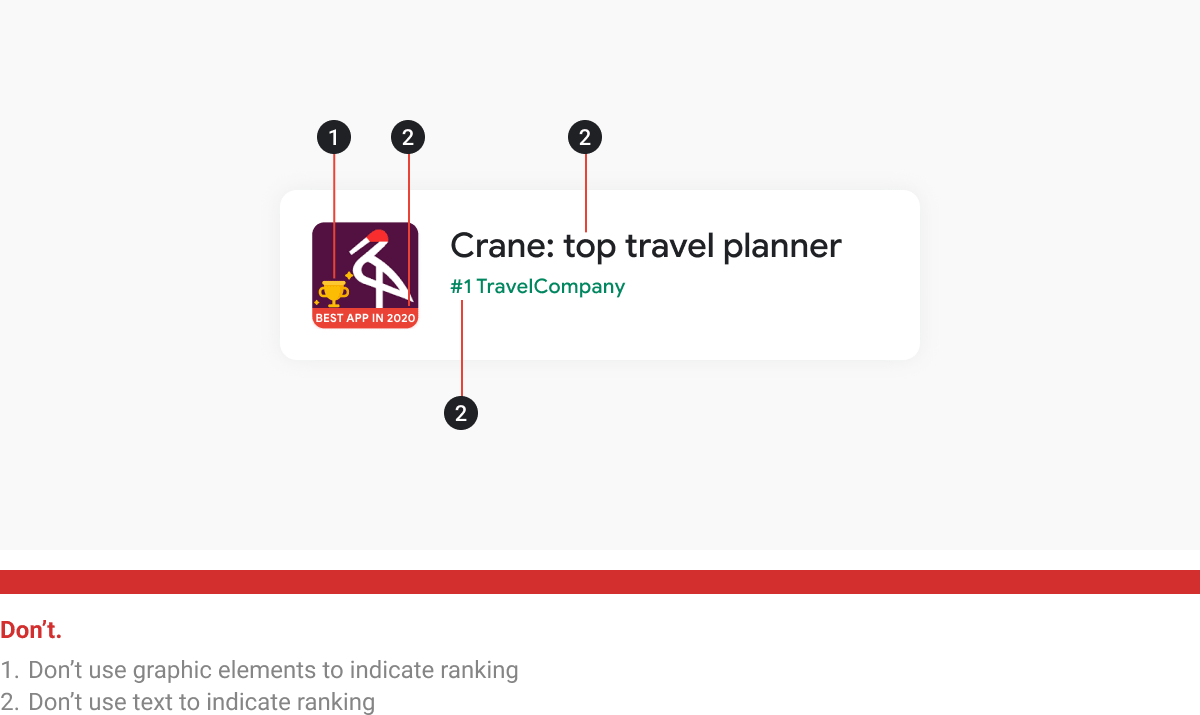 Source: Android Developers Blog
The new guidelines for store listing preview assets (feature graphics, videos, screenshots, and short descriptions) will go into effect starting in the second half of 2021. They require:
accurate representation of an app/game 

enough information for users to make a decision to install

meaningful information about the app's features (no buzzwords like "free" or "best")

easy-to-read and correctly localized assets

.
One of the most drastic changes ASO experts will have to consider is the new character limit for app titles. Under the new guidelines, titles must be under 30 characters as opposed to the current 50 character limit. This may pose a challenge as apps attempt to keep their high ranking positions for keywords that may need to be removed from the title. 
May 4 – Apple Search Ads get a new home in the Search tab
Apple has introduced a new way for developers to promote their app on the App Store. Previously, Apple Search Ads were shown only after users initiated a search by typing a specific keyword. The new ad placement, however, will expose the app to larger audiences because it will be displayed before users use the search bar. 
The current Search tab offers two sections: Discover and Suggested. The ad will appear in the latter section before Suggested apps. This could potentially drive millions of views and installs from App Store users.

The ASA Advanced service includes the new ad placement and requires only the assets that are already uploaded to the app page (the app's title, subtitle, and icon). No need to add keywords because developers will buy direct placements in the Search tab.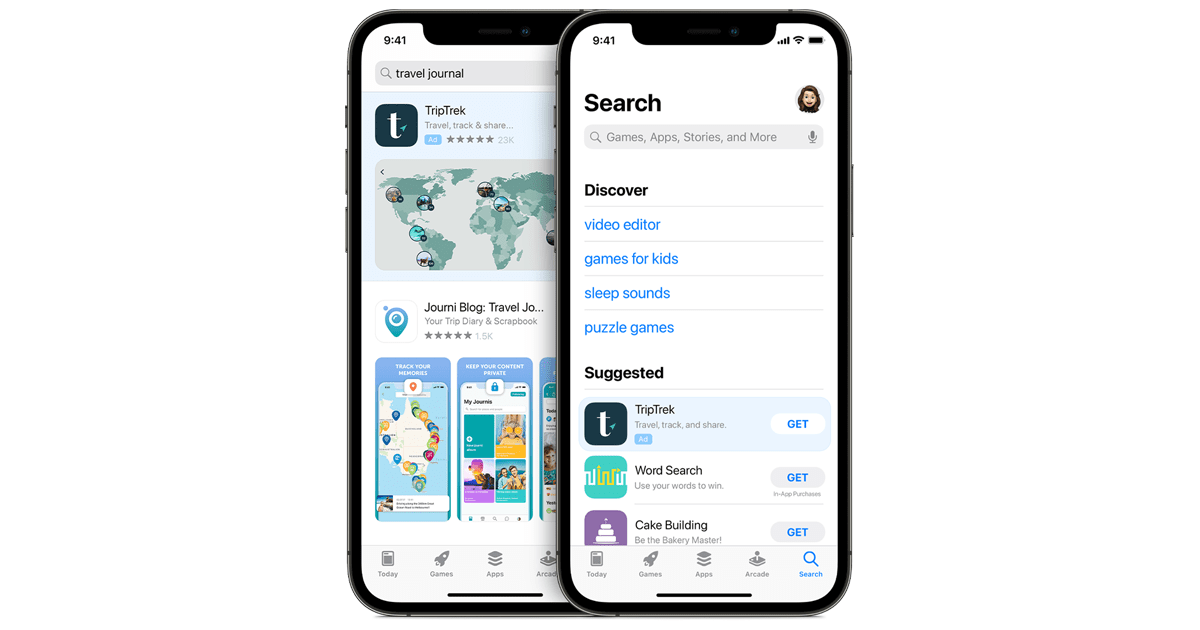 Source: Apple Developer News
According to early statistics, Search tab campaigns have much lower conversion rates compared to the standard ASA. However, they provide exposure and build brand awareness by showing the app to a wider audience. They don't require additional actions (the search itself), and users have yet to become accustomed to the new placement, meaning there's a higher chance they'll pay attention to it.

What does this mean for ASO? The new placement draws specific attention to the app's icon, title, and subtitle. Consequently, these assets should be optimized with great care. Make sure your icon follows the best ASO practices (e.g. brand or functional-centric, for games: the use of an easily recognizable character, etc.). The title and subtitle should also be well optimized, meaning that they are descriptive enough and give a clear idea of what the app is about at a glance. 
May 6 – Google Play pre-announced a new safety section to be enforced in 2022
Starting next year, Google Play apps will have to provide more details about how they collect and use user data. The new safety section was pre-announced 6 months after the App Store introduced its privacy labels with the same idea in mind—to provide transparency and help users make informed choices about how their data is handled.
The new section will include the types of data collected by the app (location, contacts, personal info, photos, videos, audio, storage files) and how this data is used (e.g. support the app's functions, provide a personalized experience, etc.).

The new policy will come into effect in the second quarter of 2022, giving developers time to comply with the changes. ASO practitioners should, therefore, ensure these details are up to date.
Will the new privacy section hurt conversion rates? So far there's no information on where this section is likely to appear (high or low on the store listing page). Users should start seeing it in the first quarter of 2022, and it'll be interesting to see whether Play Store users are sensitive to privacy issues and measure how the conversion rate might be affected.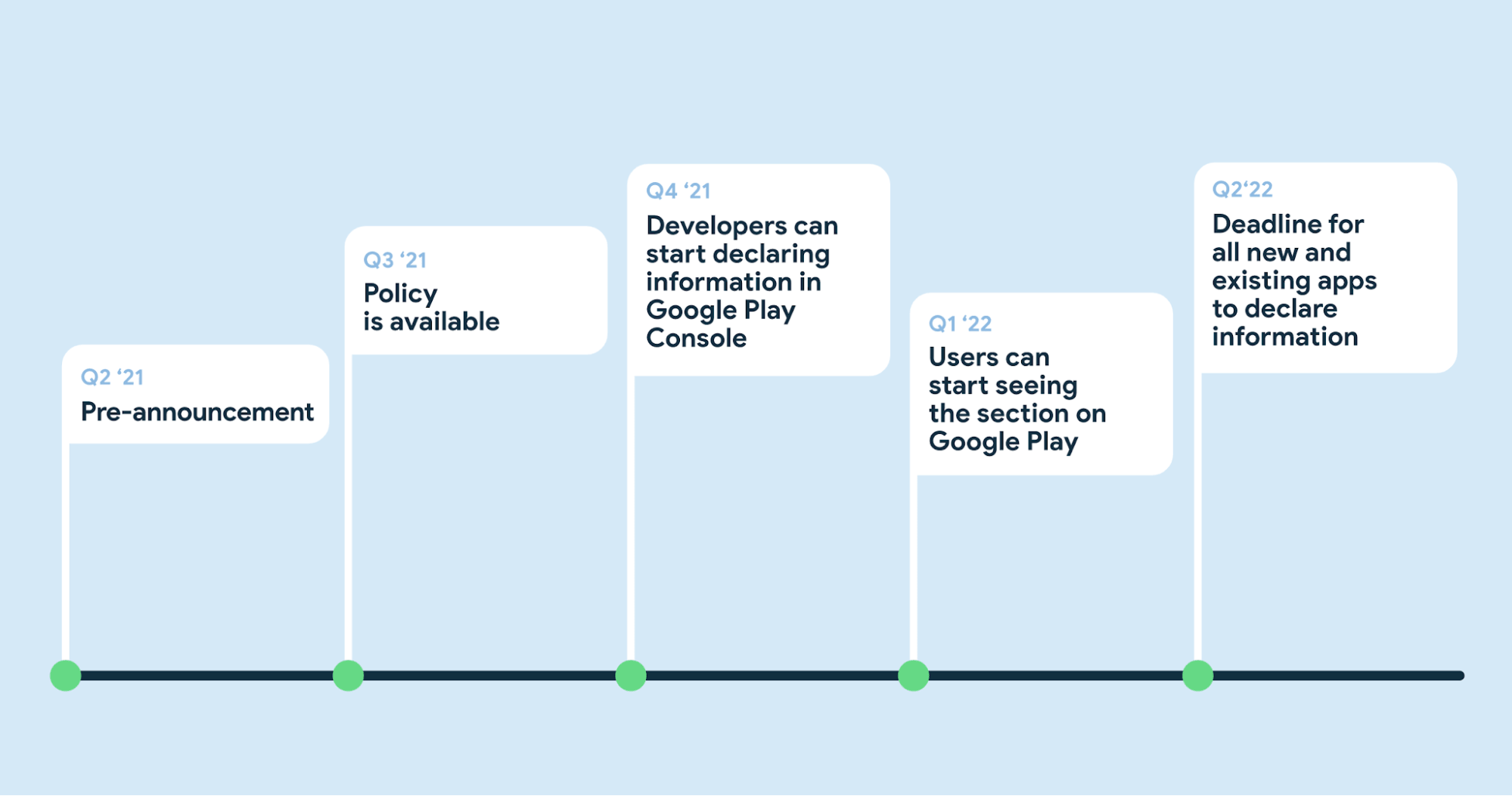 Source: Android Developers Blog
May 18 –  Google I/O: What's new for ASO?
The I/O session on May 18 announced many new features, tools and policy updates. But how does this apply to ASO? The two biggest ASO-related announcements touch upon app size and policy violations.
Starting August 1, 2021, all new apps will require the Android App Bundle, with 15% size savings on average. App size impacts conversion rates on the Google Play Store, especially in markets with low-end devices and small storage capacity. Thus, the new App Bundle is likely to increase the install rate and reduce uninstalls by delivering a great experience with a smaller app size. 
As for policy violations, Google announced the new policy and programs section in the Play Store Console, which will  inform app developers about upcoming policy changes as well as help fix the existing policy violations.
More details can be found in the official summary of the Google I/0 2021 updates.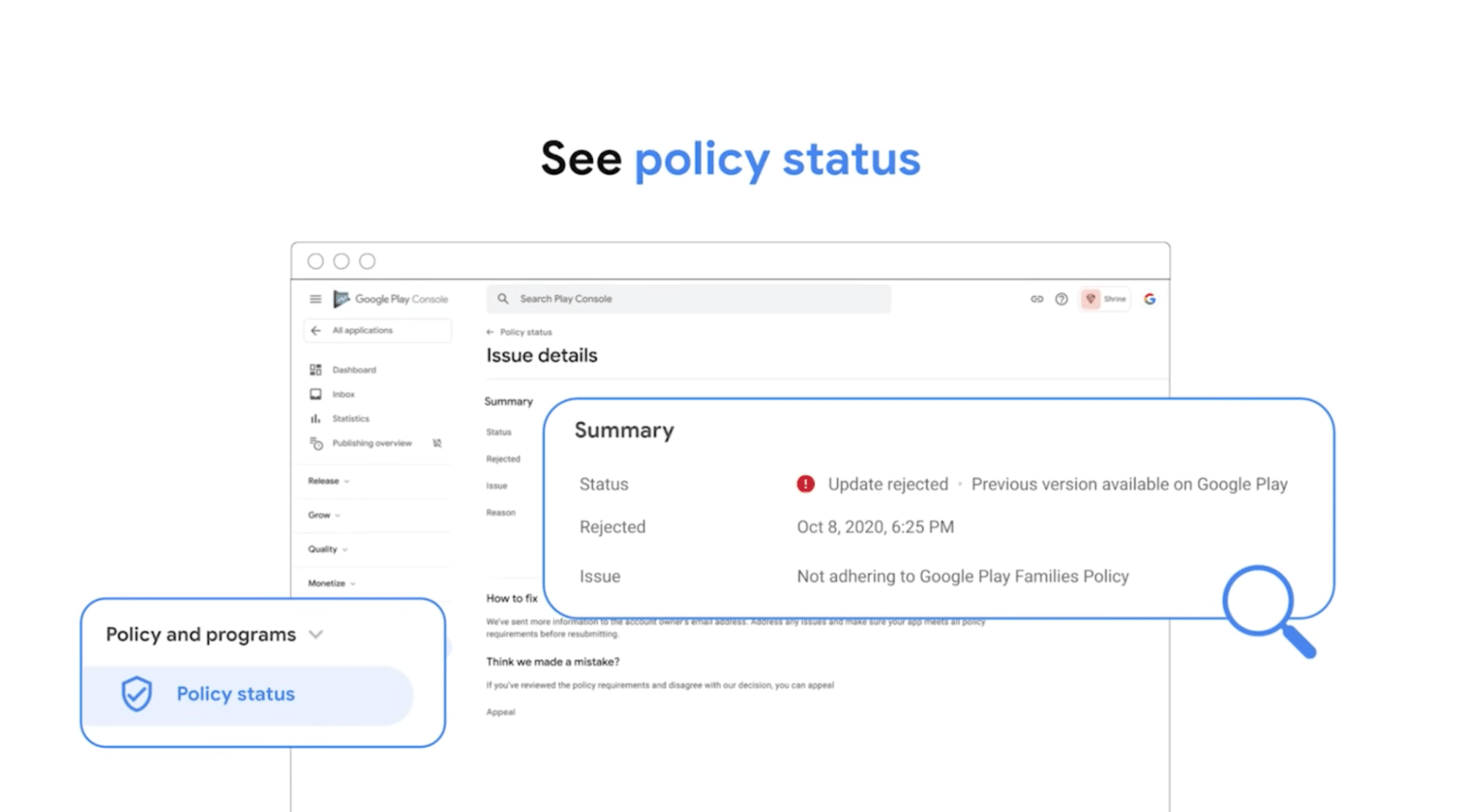 Source: Android Developers Blog
Upcoming Events in June 2021:
Find more events at the Mobile Conferences & Events 2021.
Events planned as offline may suffer changes due to Covid restrictions. Check the event website to stay up to date about the latest news.
Tool updates
Interesting reads

Mobile App Trends 2021 by Adjust
The Future of Mobile Advertising: Trends & Expert Opinions by SplitMetrics
iOS 14.5 Opt-in Rate – Daily Updates Since Launch by Flurry
How to save time building your app's semantic core by ASOdesk
Top ASO Lessons to Learn From Monitoring Your Competitors by AppTweak
Concept: How iOS 15 could boost widgets with interactivity and new stock app options by 9to5mac
Three Key Takeaways from Sensor Tower's 2021 State of Streaming Apps Report by SensorTower
Before you go…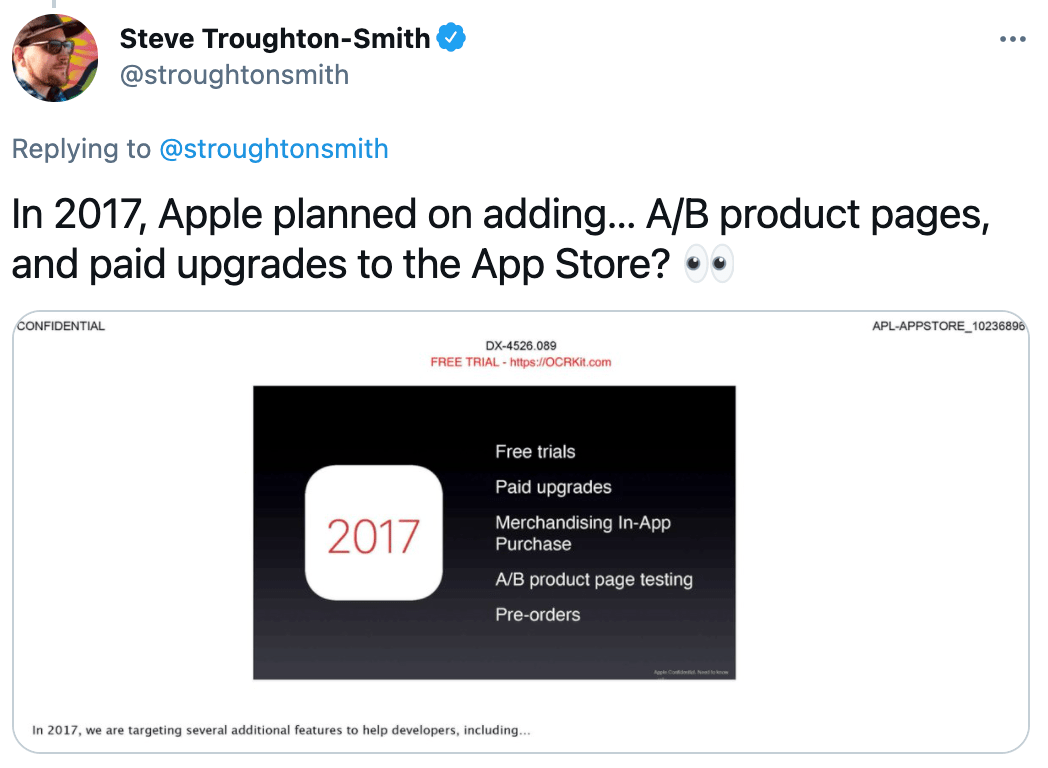 Source: @stroughtonsmith
In the August edition of ASO Monthly,…
---
September 3, 2021


by Anton Tatarynovich
iOS 15 is arriving, along with its new…
---
September 1, 2021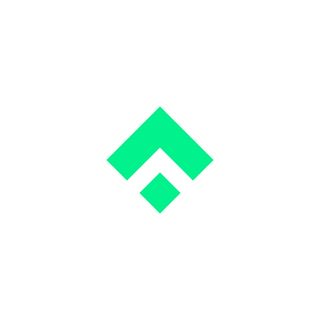 by Iryna Maniuk, Julia Buzzi and Skylar Grabecz