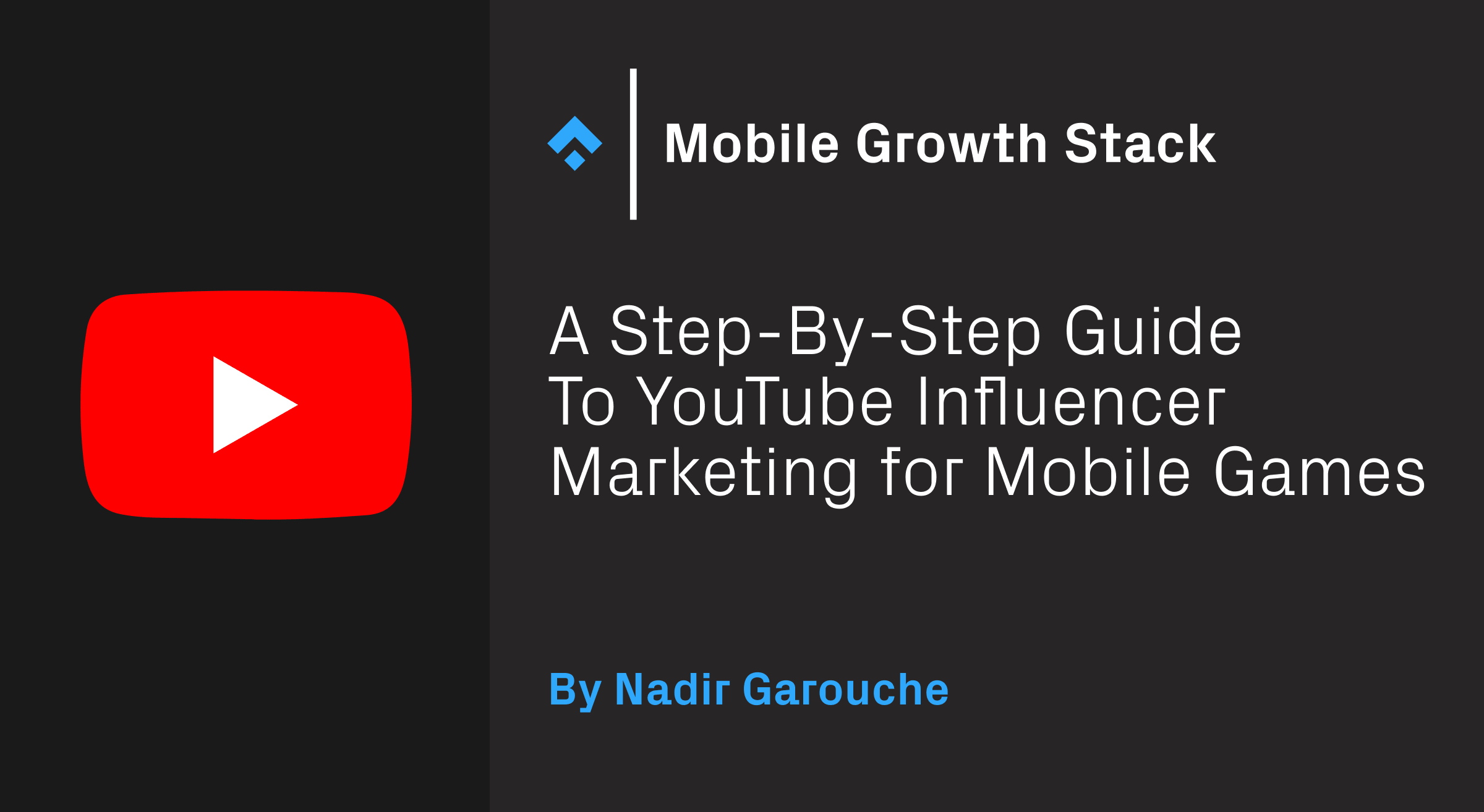 Editor's note: This is a guest post from Nadir Garouche, Senior Growth Marketing Expert. Nadir Garouche has spent over 9 years working in the gaming industry (Gameloft, Spil Games and most recently Tilting Point) where he held growth marketing positions and has been directly involved with ASO, SEO, paid User Acquisition, Influencer Marketing and Analytics/attribution.
YouTube influencer marketing. It's a term that creates doubt among many app marketers, who probably think that traditional ad platforms already deliver the best possible results—or because they're not sure how to start with it, let alone what kind of performance it can bring. Influencer marketing may seem like a bit of a dark horse, but in the world of mobile games, it's an excellent way to drive install growth. 
Gaming continues to be one of the top categories on YouTube: it has the highest number of subscribers after movies. Gaming YouTubers also have some of the biggest channels on YouTube, with influencers such as PewDiePie leading the pack with over 100 million subscribers, now the second most popular channel in the world. There are many other gaming channels that have over twenty million followers.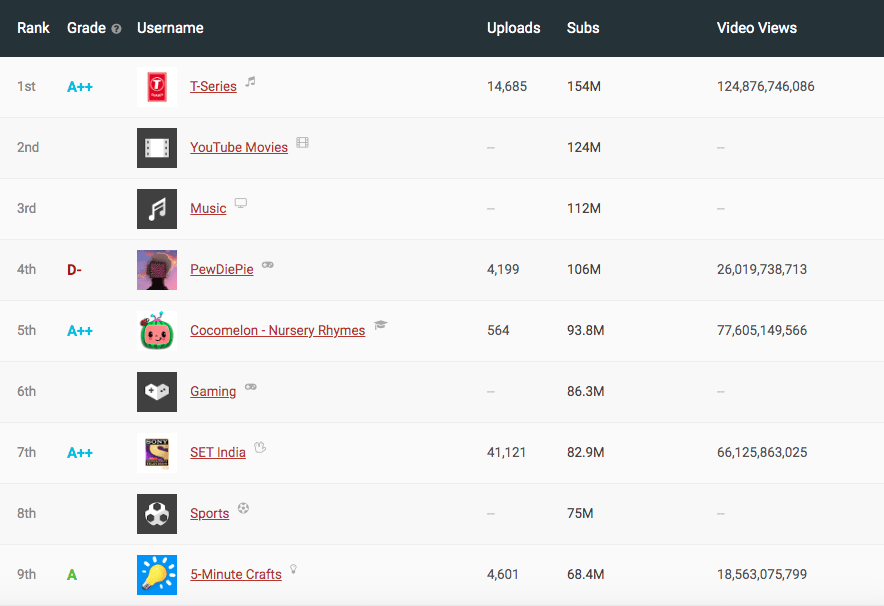 And it keeps on growing and growing. According to Google, search interest in "gaming" on YouTube doubled since last year. COVID-19 surely has contributed to that growth, but more and more people play games and love watching gaming YouTubers. Today, YouTube is still the best platform for partnering with influencers to promote your game.
I've decided to write this article to demystify influencer marketing. In this piece, I'd like to show its power and how to approach it, and create a 9-point, step-by-step guide to use influencer marketing for your own game. 
What does YouTube influencer marketing consist of?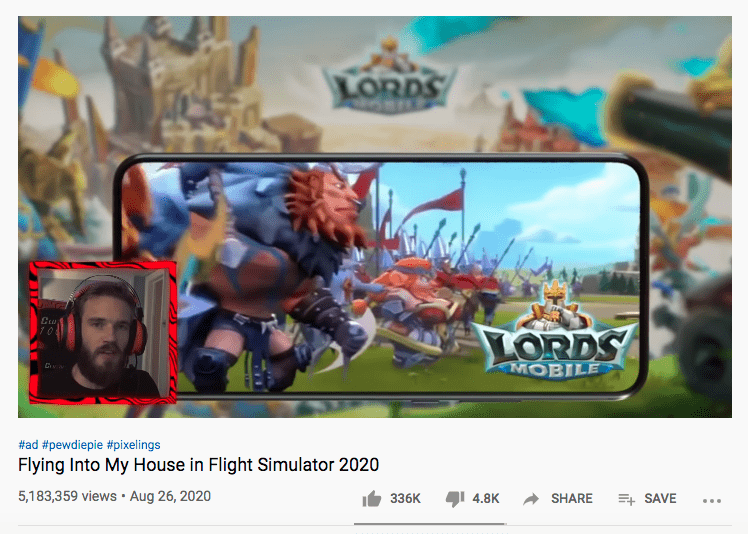 Let's start with the basics. YouTube influencer marketing is a way to promote your games via YouTube creators by asking them to include a sponsored message in their recorded videos. Usually, it consists of a two-to-three minute snippet placed early in the video, where the YouTuber introduces your game and presents its main features. 
You may already be asking: how does influencer marketing compare to Google Ads (Universal App Campaigns)? Your ads can, naturally, appear on gaming YouTubers' channels—but not always on the most relevant ones. A recommendation coming from a YouTuber will have a better impact than ads, especially with the gamer's audience, because they're deeply connected with their favorite creators and trust them. 
If you execute your influencer marketing strategy properly, it can easily lead to much higher ROAS than Google or Facebook ads. Evidence suggests that 6 in 10 YouTube subscribers would follow advice on what to buy from their favorite creator over their favorite TV or movie personality. 
IGG is a great example of a developer using YouTubers to scale their games. In August, they made a sponsored video for Lords Mobile with MrBeast, who has over 40 million subscribers. That video racked over 37 million views.
9 Steps to Creating a Great YouTube influencer marketing Campaign
You've seen the numbers. The next question is how to use Influencer Marketing on YouTube for your own campaigns. 
Is YouTube influencer marketing right for me?
It begins with asking the hundred-dollar question. YouTube influencer marketing is not for every type of mobile game.  It'is mostly suitable for mid-core mobile games, such as action, strategy, simulation or realistic racing games—anything that's not too casual. So if you have a game matching that criteria, it's time to plan your strategy.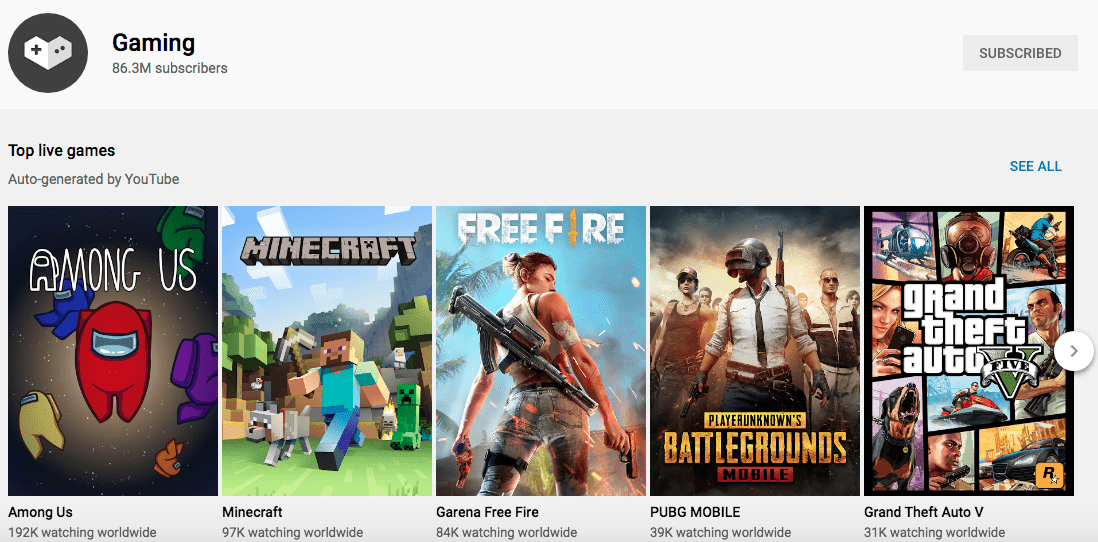 What's my target audience? 
The second step is to make sure you know your target audience. Assuming your game has been live for some time, you should have enough data about your current users– via Facebook Analytics, for instance.
List down the demographics of your top users in terms of revenue. Top countries, age and gender distribution are always measurable variables. 
You then need to find out which games or types of games your target audience likes to play on their PC/console, or know which other popular mobile game they're playing. Most of the gaming channels are about PC/console games, but you do have some that are focused only on mid-core mobile games. For instance, there are many popular channels around Supercell's Clash Royale or Brawl Stars. But let's say your mobile game is an RPG, however. You'll want to approach YouTubers who vlog about Diablo, Dark Souls or The Elder Scrolls, for instance.
A caveat, though: YouTube influencer marketing is a work of trial and error. You'll have to try several games before finding the ones that have the audience that respond the best to your game. And even then, you can have different results for two YouTubers who talk about the same game and have the same demographics.  Other factors will have an impact, such as how the sponsored message is presented or the theme of the video.
Searching for YouTubers
If you're just getting started with YouTube influencer marketing, I recommend you first do your influencer research manually, via YouTube's search feature. Say, for instance, that you want to find Minecraft YouTubers: use the search filters to select "Channel" for the type and sort by "View count". You will then get a list of YouTubers who make videos about Minecraft.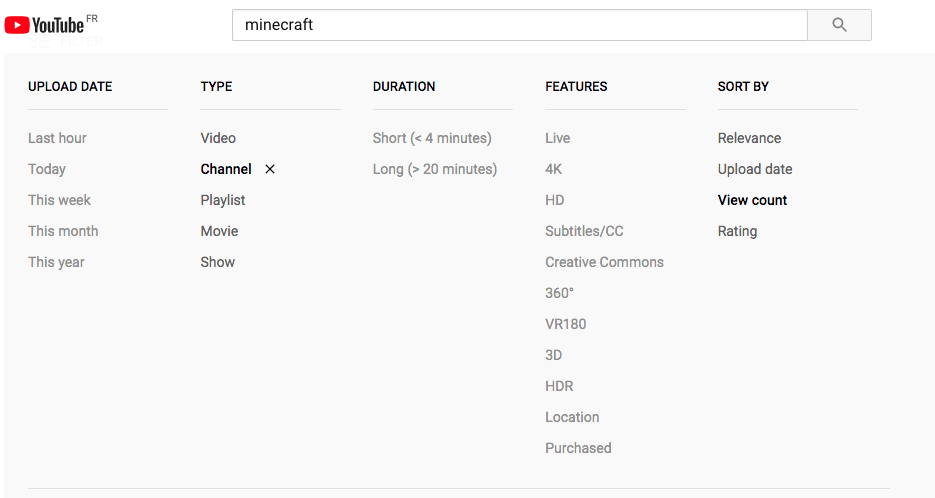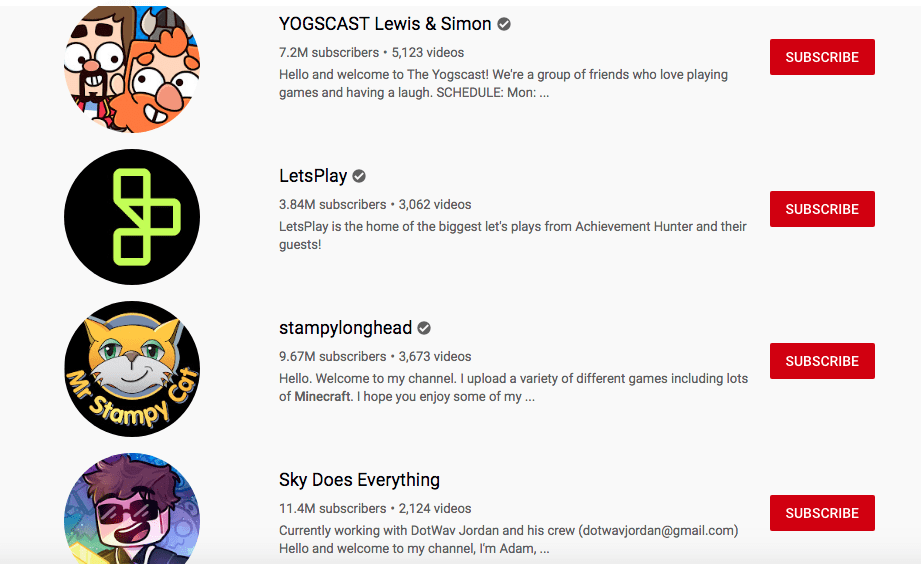 Note that the search function is not perfect. For instance, in the example above, YouTube returns channels that haven't made videos about Minecraft in a while. 
The best approach is actually to search for videos, use the filter "Video," and select videos uploaded recently using relevant search criteria such as the "this week" filter. Sort by "Views," and you then have a list of relevant YouTubers to approach.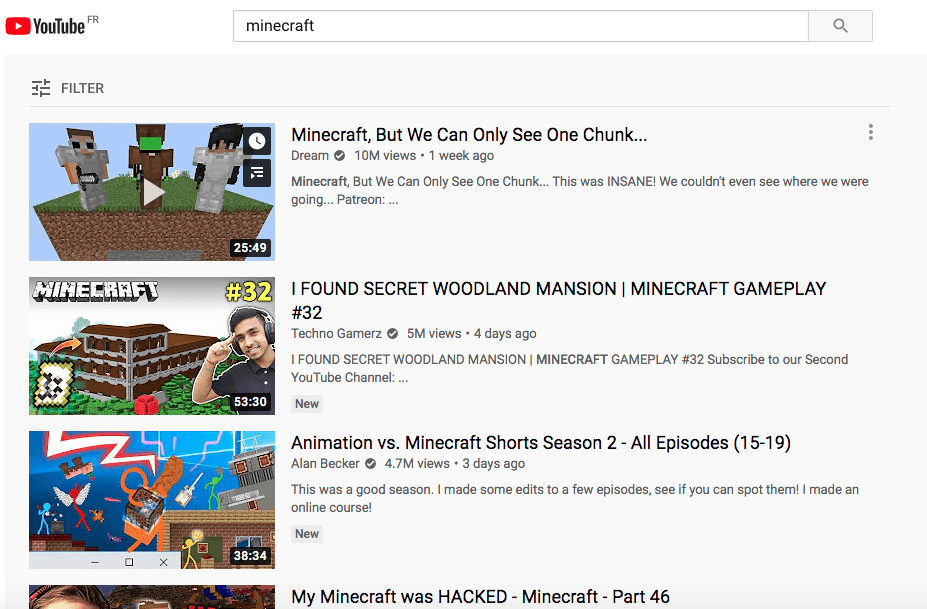 What kind of YouTubers do I work with?
Even though I previously showed you examples of sponsored videos on super large channels (PewDiePie with 100 million subscribers, and MrBeast with 40 million), they're actually not the channels that will bring the best results in terms of conversion rates and ROAS.
Typically, the smaller YouTubers will get you better results. That's because their audience is less diverse than that of big YouTubers, and they aren't doing sponsored videos so often.
If you're just getting started with influencer marketing, you always want to test things out. So start working with small/mid-size YouTubers—let's say who make on average 100-200,000 Views per video. As you go further and learn more about the type of audience and content that works best for your game, you can then move on to larger YouTubers.
How do I contact YouTube influencers? 
In terms of first contact, most YouTubers usually indicate the email through which they want to be reached for sponsorship inquiries. You will find their email in the "About" tab of their profile page: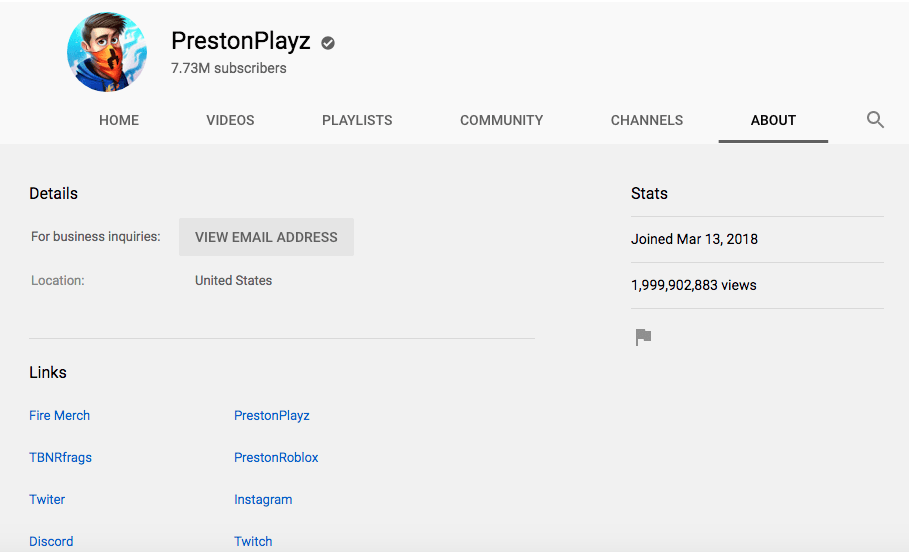 You can then email YouTubers you're interested in working with. For a start, do it manually to get a few responses and take it from there. To scale, you'll need to use a good emailing tool—such as Gmass—to automatically send emails, especially if you don't hear back.
After presenting your game and explaining why you think the YouTuber's channel is a good fit for you, ask if he/she is interested in doing a video to introduce your game. If the YouTuber is interested, they will typically respond in one of two ways: 1) they'll ask you how much you want to pay, or 2) say that they're interested, share their demographics so you can take a look, and then come back with an offer. 
The second answer is the one you want. YouTube offers a ton of demographic details, and it's essential to know before talking about prices. 
You need to obtain the most recent demographics stats of the channel—for the past 28 days, at least. Ask the YouTuber to share a screenshot of their demographic and audience details. The minimum you need to have are their top countries, age and gender details. That information is available in YouTube Analytics, under the Audience tab: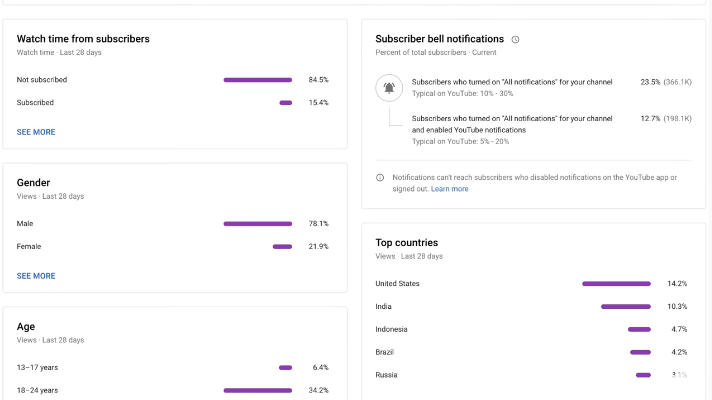 You may also ask for another useful metric to have: audience retention, which measures the average percentage of a YouTube video that people watch. It's an important measurement to know when negotiating where to place your promotion in the YouTuber's next video. If the curve goes down rapidly and the creator asks to place your ad in the middle of the video, it's a risky move. You want your ad to appear when most of the viewers are still watching because of the way pricing is determined, which I discuss in the next point.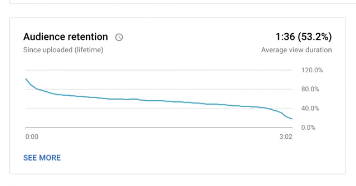 How do I make an offer? 
Once you receive a YouTuber's demographics, you need to come up with a price you're willing to pay. Typically, YouTube influencer marketing deals are negotiated on a CPM basis, meaning that you'll pay the Influencer depending on how many views his/her next video containing your sponsored message will make.
To come up with an offer, you have to go back to point number two: your target audience. Let's say your audience is mostly US based, male, and aged 25-34. You'll want to price based on the YouTubers' demographics.
The lower the share of a YouTuber's US based/male/25-34 years old audience is, the lower you'll pay per CPM.
This element is the most important part of an influencer marketing campaign: you need to make sure you are paying for the audience you're interested in. There are many influencers who do have a large audience, but the bulk of it will be from Tier 3 countries—there's nothing wrong with that, of course. But keep in mind that you want to focus on creators with a larger share of your top target countries.
There's no official CPM pricing list for YouTube influencer marketing, but you should consider the following range: normal pricing starts at $10 CPM for YouTubers with a low share of US/Tier 1 countries viewers to $40 for top YouTubers with a high share of US/Tier 1 countries viewers.
Note that some YouTubers, usually the larger ones, will only accept fixed, rather than CPM-based pricing. It sometimes may actually work better than a CPM based deal if the video is a hit; if not, it can be risky. 
When you're negotiating deals, make sure to always cap the amount of views you'll agree to pay. Let's say if the average views of the creator's recent videos are at 400,000. You'll want to set the cap around that figure. You also need to set a period for counting the views: for example 7/15 days after the video is posted.
Making a Brief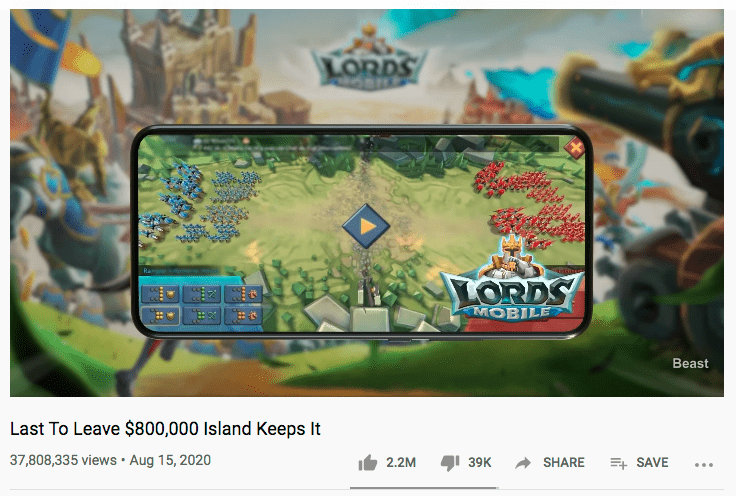 You'll always need to send clear guidelines to the creators you work with. Typically, you'll send them gameplay recordings that they can use while presenting your game's features. Sometimes, you can also negotiate to have the YouTuber install the game on his device and show it to the camera, like on the example below, on a video made for Raid: Shadow Legends.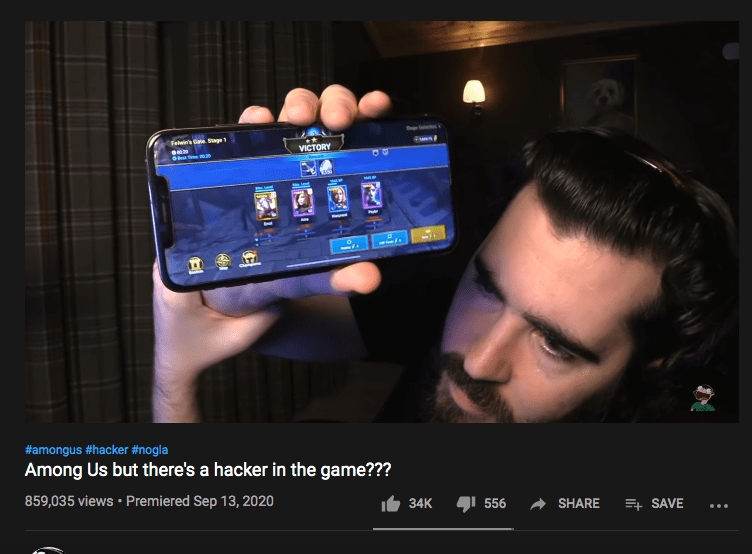 Another important item you should have in your brief is to have the YouTuber specify that his or her viewers should use the download link provided in order to optimize the accuracy of your reporting.  And generally, it helps to have a special offer, such as offering a generous welcome pack for users who use the dedicated download link. A good best practice is to also show your game's icon, so that people can easily locate it if they turn to the App Store/Play Store to search for it instead.
Tracking
With your MMP, create a tracker link for every creator you work with, and have him/her insert it in the description of the video and also as a pinned comment so it gets more visibility.

In the case of IGG, an intermediary step is added to the flow: users are first sent to a website, in which their welcome offer is introduced. This step helps explain the offer to users in more detail, and it's a safer way to control tracking in case the link needs to be changed or modified.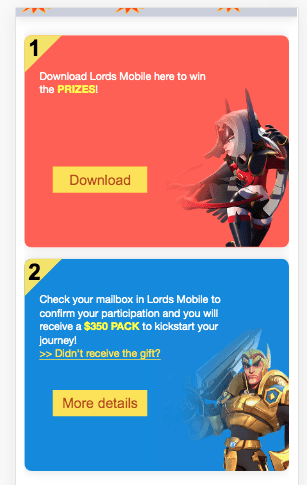 Measuring your results
Your MMP will report on the installs and events coming from each of your sponsored YouTube videos. To obtain statistics from the videos, you can use the YouTube API to pull metrics dynamically.

You can then build a dashboard that joins your MMP data with your videos statistics using the model below:
Channel

Video URL

Date

Number of Views

Engagement rate

CPM

Cost

Clicks

CTR

Installs

Installs

CVR

CPI

Revenue

ROAS
This model will allow you to track your spend against tracked installs and revenue. 
Note that there will always be installs that could not be tracked. People often ignore the link and download straight from an App Store search. As such, you need to consider both tracked and organic installs when evaluating your influencer marketing results. By measuring the organic uplift when you've had an influencer video and where the rest of your paid UA activity was stable, you'll be able to see the full picture.
WANT TO GROW YOUR APP?
---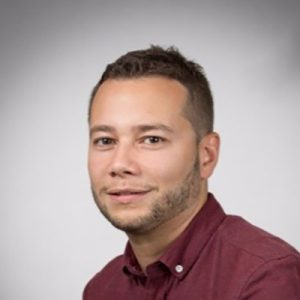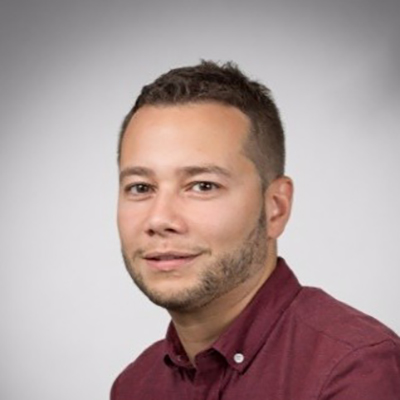 Nadir Garouche has spent over 9 years working in the gaming industry (Gameloft, Spil Games and most recently Tilting Point) where he held growth marketing positions and has been directly involved with ASO, SEO, paid User Acquisition, Influencer Marketing and Analytics/attribution.
All author posts
Efficiently compare the costs of your…
---
May 24, 2023

by Simon Thillay
Key subscription metrics help growth…
---
May 17, 2023


by Alice Muir and Sameer Ginotra