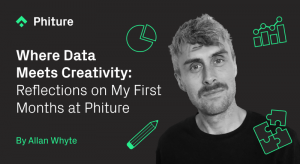 I'm Allan; I started as a copywriter last summer at Phiture in Berlin, where I've been living for just over a year now. My first few months of life at the company have been some of the most enjoyable and productive of my career, and now that I've settled into the role, it's a good time to look back and reflect on what I've learned, the new friends I've made, and the culture at Phiture.
I moved to Berlin after years of working for an environmental NGO as a parliamentary and policy officer. This meant years of research and writing reports, briefings, and articles that distilled complex, scientific, and esoteric information in a way that both the public and politicians could understand and connect with.
I then worked with an educational arts charity that worked with disadvantaged young people on the west coast of Scotland. After that, I worked for a Scottish Independence campaigning organization. In both roles, communication, balance and an inclusive attitude were essential in order to deftly and empathetically communicate with people at all levels on any issue, something I find important to incorporate into copywriting.
When I saw an opportunity to work as a copywriter at Phiture, I jumped at the opportunity to join such a dynamic, progressive, and forward-thinking company where I could utilize my skills and experience.
New beginnings
When I first moved to Berlin I worked as a freelance photographer and writer. As much as I enjoyed this, I really missed the energy that you get from a thriving office environment; like the one I would later find at Phiture. 
I saw the role advertised on Indeed, applied immediately, and not long later, was invited for my first culture-check interview with Zuzanna, Phitue's HR guru. This was an excellent opportunity for me to find out more about Phiture as a company and for Phiture to see that I was a good fit for their working environment.
The interviews that followed were opportunities to get an insight into what life is like at Phiture and, of course, for me to present what my skills, experience, and personality could bring to the company. I was particularly appreciative of my final interview in which I had the opportunity to meet the team I would later become part of and was overjoyed to later accept the job offer.
Where data meet creativity
One of the first client projects I worked on was with a huge clothing company, with a rich history of quality products and award-winning advertising. I have an undergrad degree in science and a postgrad from art school, so using data and research from our insights team to develop creative concepts is something I thrive upon.
After an ASO audit, we pitched our creative ideas; the client loved it and is now coming on board for further work with Phiture. It's awesome pitching these concepts to the client and then getting immediate positive feedback. A great start and the first of many successful client meetings.
Copywriting, like anything creative, has an element of subjectivity to what's good or bad. However, having data and insights from colleagues really helps inform the direction we take toward successful outcomes.

Learning about mobile growth
My time at Phiture so far has been one of hard work, and good fun, but, overall, a time of profound learning and development. There was a real change of pace from my previous roles and a complete shift in terms of the content and context of the work we do.
Mobile growth was a new industry for me, and I have since learned so much about the processes, insights, and application of mobile growth frameworks from real leaders in the field at Phiture. It's been fascinating to see the inner workings of an agency and develop my skills as a copywriter.
I have learned how to be very precise with the words I use. When writing copy for App Store Optimization, Performance Marketing, or CRM you're often restricted on how many characters you can use, so to engage someone and tell them about a product in just a few words can be an interesting and compelling challenge.
My main takeaway from the first few months is the significance and momentum that comes from an organization full of people passionate about their jobs. This outlook and attitude doesn't happen by accident; it's been curated through a hiring process that seeks the best talent to fit Phiture's people-centric culture of knowledge sharing, innovation, empowerment, and a systematic approach to everything.
A culture for success
There are so many things that I love about working at Phiture. Of course, the day-to-day work is excellent — I love the variety that comes with working with so many clients and the process of crafting copy that is powerful yet succinct. There's also this excellent, supportive working environment where everyone is available to help out with blockages, be a sounding board for new ideas, or talk about their work and how we can collaborate.
What's really great though, is that Phiture is such a forward-thinking company that's open, transparent, and looking to the future. There are weekly company-wide meetings that are about learning from different teams or updates on where we are and where we're going. This is really useful as it broadens your perspective from the minutiae of your everyday work and helps put what you do into a wider context.
Beyond client work, the culture at Phiture is supportive of personal growth. Already there have been opportunities to develop new ideas, contribute to projects alongside my core responsibilities, and attend external events. 
I have been given the time to develop a new copywriting framework, to help everyone write better copy. Initially, the idea started out as I wanted to consolidate my experience and new learnings into one document. In doing this I quickly realized the wider possibilities to help others write good copy for mobile growth. I'll be publishing more on this later this year. 
In addition to this, the flexibility of home working and the annual 1000€ educational budget every team member is allocated. There are so many courses to choose from to help you develop your career. It's such an amazing benefit — indicative of a company that believes in investing in its people.
Looking forward
This is a short reflection on the beginning of what I hope will be a long career at Phiture. A career through which I can develop and grow with the company and make new friends along the way. Prior to moving to Germany I didn't have a set plan and couldn't imagine myself in a place as good as Phiture, but now that I'm here, it has helped bring my future into focus and shown me new opportunities on the horizon. I can't wait to see what tomorrow brings.
Before you go
Allan is part of our award-winning Copy and Localization team, who help the world's leading apps adapt to local markets with slick and engaging design and copy. Read more about how we localize, with this guide to mastering the Japanese market. 
Interested in the topics Allan discussed? Enroll now for Phiture Academy Advanced ASO and spark your own career change into mobile growth!
Join our dedicated Mobile Growth Stack Slack community, to join other mobile growth professionals from around the world learning together and sharing best practice tips.
Learn how user surveys and pricing…
---
September 20, 2023
by Pierre Neau
Explore Phiture's AI Labs: Shaping the…
---
September 14, 2023
by Moritz Daan