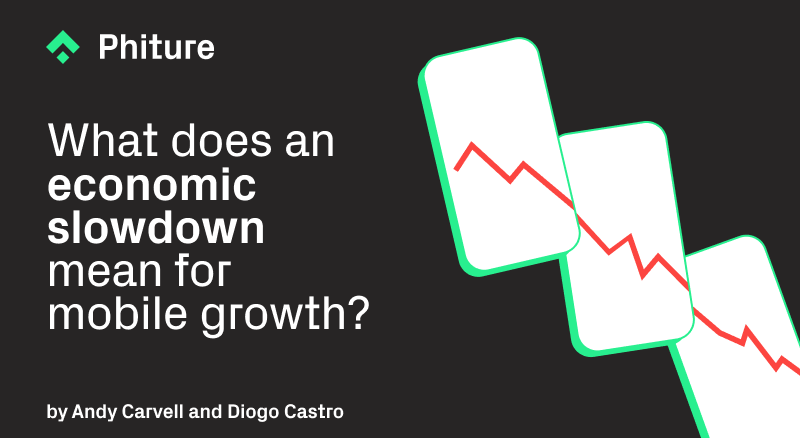 It's no longer a matter of if there will be an economic slowdown, but rather how long it will last. Across the world, inflation is eating into disposable incomes and consumers are tightening their belts. Much ink has already been spilled as to how this might play out, with frequent comparisons to previous decades. 
For mobile growth, there are no like-for-like historical parallels. The launch of the App Store was in 2007, and since then there hasn't been as severe a test of consumer spending as we're witnessing now. Today, mobile technology is ubiquitous and we can be confident that apps are here to stay as a feature of everyday life, but even so, intelligent resource allocation is a must for apps to navigate this economic slowdown. 
In this article we show why this recession will be different for mobile apps, and offer up our expertise to suggest some approaches to help your app weather the storm. 
Everyday and here to stay 
Since their launch, smartphones have gone from luxury items to essential purchases. Apple launched the App Store in 2007 and the Google Play Store was launched for Android devices two years later. During the 2008 recession the app stores were still in their infancy and too young to be compared to the market we have today. In fact, in 2009 Apple set revenue records on the back of the success of the iPhone. Many household names of today were founded and rose to prominence around this time, as millions of users experienced the 'aha' moment for these first movers. Netflix launched its streaming service in 2007; Uber was founded in 2009 as a cheap alternative to traditional cabs; Tinder was released in 2012 and transformed online dating. 
This ubiquity in everyday life has helped subscription become the natural model for driving app store revenue, (with the exception of games, where In App Purchases, Ad Revenue, and virtual currency micro transactions are the main revenue drivers). By the time the COVID-19 pandemic struck, the app stores were well-established, but the ensuing surge of digital and remote-first behavior meant downloads and app usership grew in spite of stalling consumer confidence. Overall, COVID meant boom time for mobile app and game publishers; Android and iOS app revenue reached $133 billion revenue in 2021 – a 19% year-on-year increase.
Furthermore, in the fourth quarter of 2021, 90 out of the top 100 top-grossing U.S. apps included subscription. It is subscription cancellations — and an associated reduction in new subscriptions — where we expect the economic slowdown to bite into app revenues the hardest. Already, many apps have shifted into a user retention phase and are grappling with the question of how to keep their users engaged.
Focus on customer experience and journeys
The answer to this question is only growing in importance, as macroeconomic events diminish consumer spending. In light of this, the downturn will inspire many companies to re-think customer experience and see what improvements can be made.
The tech stack used to support your user journey is key. For subscription-based apps we recommend a subscription management platform, rather than relying on what app stores offer; they provide higher flexibility for your users to manage their subscription and could aid you in tackling involuntary churn and declined payments
The winners in this downturn will be those who successfully identify the biggest opportunities or weakest links in the user journey to optimize their growth system and tackle these points with the most effective combination of growth tactics, data, and tech. 
These opportunities will depend on your existing initiatives, but, at a top level, you should be goal-orientated with every stage of the user journey. 
Onboarding stage: setting up users for success with your app. 
Activation stage: helping users to the 'aha' moment, that is, the moment the user realizes the value of your app. 
Engagement stage: Form habits to increase repeat users and increase feature adaptation. 
Lapsed stage: Try to re-engage idle users, and pre-empt churn. 
Churned stage: Win-back users (esp. payers) if possible. 
However incremental, there are always improvements to be made, whether that's a smooth onboarding before mandating registration or using targeted messages to boost opt ins, thus boosting engagement. Product data for this end is crucial, to personalize the CRM strategy. Indeed, during a recession a company has to understand the user segmentation better than ever to increase retention.
At the same time, maximizing revenue potential from all types of users – whether potential, new, existing, or lapsed subscribers – is the primary goal of any strategy. Existing users already know your product and saw enough value in it to stick around. Offering loyalty deals and promotions while also communicating more effectively with these users will be key in the coming months. Taking care of your existing user base is always a good marketing investment during uncertain times as well as prosperous ones.
We highly recommend focussing on the customer experience and journeys, with Alice Muir's Subscription Optimization Framework an excellent jumping off point to do this.
 The Stack is broken down into user journey stages to emphasize that subscription optimization isn't just paywall screens or churn prevention; to be truly successful you need to engage with customers at all touch points in the user journey, from acquisition to churn. 
Look within your product for wins
As well as ensuring frictionless user journeys, there are other ways you can adapt your product from within to boost retention during a recession. 
If you don't already have a referral scheme, we highly recommend implementing a creative referral programme that drives growth from the product itself. This is an excellent way to optimize for cost efficiency, as your users acquire new users without extra spend, and indeed can be used to reward your existing customers. It's not a natural fit for every product though, so do take a look at the User Acquisition layer of the Subscription Stack for best practice advice. 
Use elements of gamification in your app that encourage daily app opens, and interaction with less-used features might also be a solid avenue of approach to ultimately boost your retention rate. You can find out more about some common gamification tactics in this article here. 
We also highly recommend improving your reach with in-app messages, to capture the email address and marketing opt-in permissions from anonymous users. Our in-app message tool B.Layer offers a simple way to do this, and by improving your reach you could increase the % of lapsed users you reactivate through win-back strategies. 
Rethink your overall product offering
A rethink of your product offering in light of consumer profiles could also be useful as spending behavior changes markedly in a recession. Harvard Business Review for example, identifies slam-on-the-brakes consumers, the pained-but-patient, the comfortably well-off, and the live-for-today segment, each of whom have their own patterns of behavior. This could be aligned with other demographic considerations. For example, some studies also show that younger audiences are less loyal to a brand, and they value a hyper personalized user experience and/or a seamless user journey over a logo, but also higher flexibility in managing their subscriptions (Subscription Economy: a Transformed World).
That said, when rethinking your product and offerings, it should be grounded in the experience of your app rather than abstract consumer profiles. We recommend talking more with your users, understanding their pain points to make the best version of your app, and optimizing your subscription models accordingly. This should of course be underpinned by data insights into your cohorts. That is exactly what Netflix has done, with the launch of 'Basic with Ads,' a new subscription version with ads.

Netflix's new pricing structure. 
Hybrid monetization models that incorporate subscription packages (as well as one-off in-app purchases, or advertising) are a great way to extract more revenue from the existing user base, including the majority of users who will never purchase a subscription. 
Apps such as Planner5D employ such a hybrid monetization approach, proving that it's not necessary to 'pick a lane' when it comes to monetizing your user base.  App developers that figure out how to effectively monetize different segments of users through the most appropriate methods may be able to increase revenues despite the tougher macroeconomic climate.
Should user acquisition budgets be cut altogether? 
As the saying goes, it's easier to retain a customer than acquire one, and we're already seeing marketing resources reallocated from user acquisition toward retention and subscription revenue optimization in many cases. 
On the other hand, there's also a school of thought that marketing budgets should actually increase in the event of a recession, and it's a question that's resurfaced in recent months in the app space. The argument goes that while short term cuts can help companies become more cost-effective in the short term, this will only create a longer term problem. After the recession, those companies that reduced their marketing initiatives may have to invest more to get back to where they were, while competitors who didn't cut budgets may have gained a big advantage. 
Harvard Business Review's recent article on the subject demonstrates how and why certain companies have fared better maintaining or increasing marketing spend in the face of recession. The successful companies all had a strategy to underpin their approach, whether that's Reckitt Benckiser (a multi-national producer of health, hygiene and nutrition products), increasing their ad spend to convince consumers to purchase their premium brands, or Singapore Airlines using marketing budget to demonstrate how their grounded crews were being redeployed for worthwhile causes – generating consumer goodwill in the process. 
Again, there is no like-for-like comparison with the apps market. So much depends on the stage in each app's own journey as to whether User Acquisition is the priority. 
Furthermore, the field of mobile growth is dynamic with trends and best practices still emerging. The landscape we operate in is constantly shifting, whether that's Android's new push notifications policy, changes to the app stores themselves, with the increasing importance of Custom Product Pages, or the recent — and ongoing — privacy changes implemented by Apple and coming soon to Android. 
Potentially lower Cost Per Click (or Tap)
We are expecting, however, some pioneering apps to attempt bold User Acquisition strategies in order to consolidate market share. This could be aided by potentially better auction prices and lower costs, (in light of diminished competition from shrinking User Acquisition budgets). 
Of course, it remains to be seen how Cost per click will track, but there are some promising signs, at the very least. Skai Digital Marketing Quarterly Trends Report, for example shows that average CPM costs have been below $9 all year, and fell slightly further in Q3 of 2022. In a similar vein, Google US Paid Search CPC continues to slow down. Even though CPC in Q3 2022 was 6% higher than in Q3 2021, it continues to show a downward trend.
This is a trend we have noticed with many of our clients, and if we look at the chart below (from the SplitMetrics Apple Search Ads Benchmarks Report from H1 2022) the drop in Cost Per Tap (CPT) across regions is apparent.

A similar downward trend has been recorded on Facebook with a declining Cost Per Click (CPC) in the US ( Source: Revealbot).

New opportunities for User Acquisition
Additionally, new placement opportunities offer an advantage to early adopter apps wishing to maximize UA budgets, namely for Apple Search Ads and using the recently introduced CPPs on Facebook. 
The purpose of a Custom Product Page is to provide consistency of design and messaging with the original traffic source. The idea is that if both design and messaging are consistent between the source and product page, the user journey will have less friction, and, as a result, performance metrics like conversion rate will increase, leading to improved efficiency of user acquisition on the App Store and up the funnel. You can find out more regarding CPPs from our new CPP Playbook here. 
Alternatively, you may wish to re-evaluate your approach to creative testing and ideation.  Being a trusted brand is especially important when consumer confidence shrinks, so it might be prudent to focus on the 'trust' element of the Persuasion, Emotion, Trust Model. 
One avenue to help increase user confidence and relatability with your app is to use User Generated Content (UGC) and to partner with influencers and other content creators. According to Oracle, 37% of the consumers trust social media influencers over brands, while Gen Z and Millennials are two times more likely than the Baby Boomer generation to trust influencers.
Platforms like TikTok and BeReal are becoming increasingly more sophisticated with their UGC and influencer content creation options, and continue to grow their user base everyday. At Phiture we have seen great results developing TikTok ads for our clients. If you're thinking about advertising on TikTok, take a look at some of our actionable tips here. There are also plenty of platforms out there to help you find the right influencer for your product.
Conclusion
The prospect of recession will likely loom large over most app's mobile growth strategy for 2023 and the foreseeable future. There is no direct historical parallel for the current situation, though there are a few instances where history rhymes. While cutting budgets as a cost-saving precaution may seem like a great plan initially, you could end up missing out on some amazing growth opportunities further down the road. 
Whether you decide to consolidate and focus — for example on retaining existing users and optimizing subscription revenue — or instead pursue a bold expansionist strategy, you should not be sitting still. Even if you already have something that's working for you with demonstrable, measurable results, and the best option is to double down, the current climate should inspire some introspection.  
Ultimately, the way you go will depend on your product, target market, and customer base, as well as your appetite for risk. The Mobile Growth Stack and Subscription Stack are both good starting points to conceptualize where you could focus your efforts to ultimately push the needle on those metrics you care about. 
Before you go
Learn how user surveys and pricing…
---
September 20, 2023
by Pierre Neau
Explore Phiture's AI Labs: Shaping the…
---
September 14, 2023
by Moritz Daan