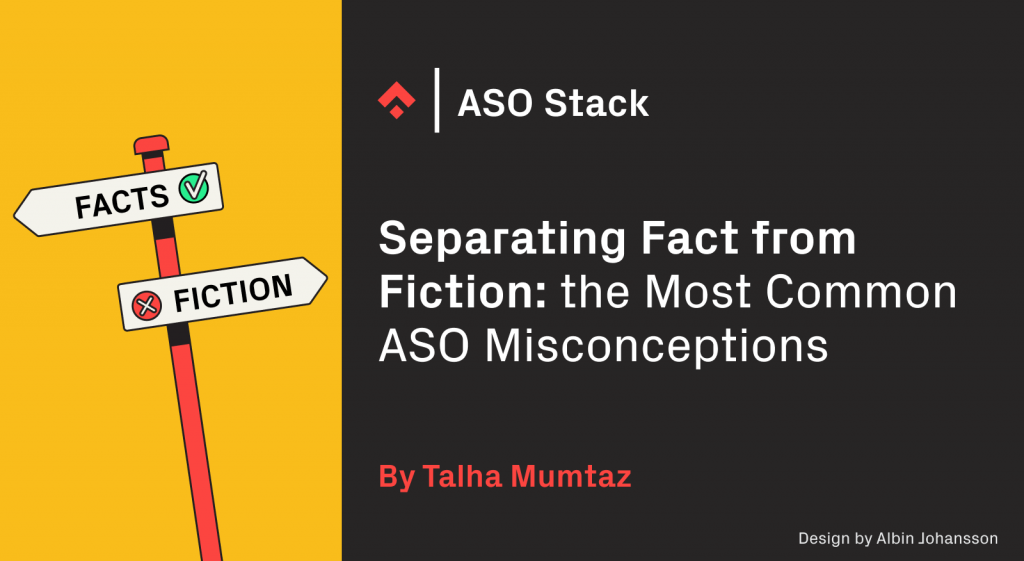 Does keyword repetition boost your app's visibility? Does optimizing the long description on the App Store actually make a difference? And is the number of ratings your app receives important?
These are common questions our ASO Team receives from decision-makers looking to boost their app or game's visibility and conversion. This uncertainty is unsurprising given that the app stores' algorithms are black boxes, while it can be that unreliable practices are advocated with the greatest confidence. 
The aim of this article is to address these misconceptions and give some guidance for your ASO strategy to help you avoid common pitfalls. To do so, we've leaned on the combined experience of our ASO Team, and the countless experiments we've run along the way for our clients to boost their app's visibility and conversion.  Under each of our seven myths, we've supplied some additional reading for you to go into more detail on these topics. 
The long description doesn't matter on the App Store 
While the long description optimization is important on the Google Play Store, that's not the case on the Apple App Store. The Google algorithm crawls over the app's long description and indexes it, whereas Apple only considers it if you run Apple Search Ads Discovery Campaigns. 
That said, this is no reason to ignore the long description on the App Store. While it doesn't play a direct role in increasing visibility, it does impact conversion, which in turn may indirectly increase your app's visibility. Furthermore, the information that only 2% of the visitors click through to read the full description on average is generic and case dependent.
In some cases, users prefer to read the full app description to understand its value. For example, with increasing privacy-oriented practices worldwide, users may want to read the long description for VPN apps to understand better how the app intends to provide them with a safe experience. 
Additionally, App Store visitors are becoming increasingly conscious and concerned about the apps they download on their devices  and may want to thoroughly investigate the app before deciding to download it. We therefore highly recommend you always write a meaningful long description that reflects the value your app is offering. 
Additional Reading:
ASO Keyword Optimization in Practice
Branding isn't important for small and medium publishers
In recent years, we have seen an influx of brands coming to the app stores, meaning more competition in specific categories. Most of these brands are popular in the offline world, and to provide a seamless experience to the consumers, they are now optimizing the online journeys of their users. So what should be your modus operandi if you are a small or medium publisher faced with this competition?
In the past, most generic apps never aspired to establish themselves as brands. Rather than investing in marketing and imprinting on their users' minds as brands, these apps focused on providing the service. For example, if you browse VPN and PDF Scanners categories, you will find a lot of generic apps. "VPN proxy master" is the top search result for the VPN category, which is a generic term rather than an exclusive brand such as "NordVPN" or "ExpressVPN." Similarly, if you search for a PDF editor, the top search results will be "PDF editor" or "PDF editor app." We agree that using generic search terms as app titles will give the app more leverage initially. However, in the long run, establishing a unique brand will always win. 
Establishing a brand is becoming a necessity, especially considering that brand search terms are increasingly gaining popularity across different categories. Unique branding helps users remember your product and relate to it better. On the other hand, a generic app is usually quickly forgotten once it serves its purpose and uninstalled.
Additional Reading:
Stuffing keywords in the Play Store metadata will help you reach the top positions
SEO and ASO for Google platforms both share the negative consequences of 'keyword stuffing' in the long description. Even though the dangers are common knowledge and can even result in an app being removed from the Play Store, it also remains a widely held view that keyword stuffing can help apps reach the top positions.  
The truth is Google's algorithm is much more refined than this logic, and instead combines the quality of the product with the relevance of the keywords. See Natural Language Processing for more information. 
A much more effective approach is therefore to consider keyword density. For example, if you have written a 2000 character long description, you shouldn't use a keyword forty times  to manipulate the algorithm into giving you more importance. The results can be dire. Instead, aim for an optimum density. 
The primary keyword you are targeting can be repeated a few times in the long description if it's of appropriate length to avoid undue repetition. A solid approach is to sort your keywords based on relevance and importance and then decide to include them according to standard density, such as 3% for primary keywords, 2% for secondary keywords, and 1.5% for the least important keywords.It's also worth mentioning the keywords in the first and last paragraphs carry more weight. Therefore, aim to place the most valuable keywords there. 
Additional Reading:
Products sell themselves
Optimizing how users find their way to your product is vital because products do not sell themselves. Nevertheless, many publishers still believe that a great product will sell itself, and that ASO is nice to have. The truth couldn't be further away from this. 
No matter the type of app, (or how good it is) ASO is essential. This is also because ASO doesn't just cater to the users in the App Store. It also works towards optimizing the experience of visitors coming from other sources, such as the web, social media, and emails. Without a properly optimized product page, the app will lose potential users. 
For these reasons the user journey needs to be considered while the app is still in production and a marketing strategy created. We've covered this extensively elsewhere, but useful questions to orientate your strategy here include: 
How effectively are different keywords describing your app to the potential user? 

What sort of creatives will the user relate to the most? 

What steps do you need to take to boost the app's visibility and user satisfaction? 
Additional reading:

Paid traffic is enough to ensure app visibility
The idea that paid traffic is enough to ensure app visibility is one of the most common myths in the app industry today. Many developers believe that running ads and investing heavily in paid user acquisition is the key to the "top spot" in app stores. However, this is untrue . App Store Optimization is not just a system to acquire organic traffic but also to support paid marketing efforts. 
For example, let's suppose a fintech app runs a paid campaign on Meta to bring users interested in blockchain transactions to their app on both stores. Should the product page creatives nor the textual metadata illustrate the benefits and value of using the app, the conversion rate will suffer as users struggle to relate to the app's service proposition. 
This is where ASO comes into play. Contrary to popular belief,  ASO is not keywords or experiments. Instead, ASO is about creating the most convenient and relevant experience for visitors arriving at the product page regardless of the source. The app product page should be optimized for both organic and paid visitors. In fact, with the recent tools provided by Apple, such as CPPs, it's actually become quite convenient to create unique and exclusive experiences for paid and organic visitors alike. 
Additional Reading:

Buying incentivized traffic is a necessity
Incentivized traffic (or intent traffic) is the process of offering a would-be user some type of reward, such as a discount for downloading your app, or even paying the user for the download. The goal of intent traffic is to get a large group of customers in a very short period of time. Buying incentivized traffic is neither necessary nor advisable. If Google or Apple spots this malpractice, your app or developer account could be terminated and removed from the app stores altogether. While small and medium publishers try to justify this practice as a necessary step in order to boost visibility to compete with bigger brands, it brings more risk than value. 
While not all incentivized installs are bot installs, Apple and Google both prohibit incentivized traffic them alike. Some publishers also try to incentivize users by running contests, sweepstakes, and other challenges on social media. Even if this traffic is not immediately identified as incentivized, customer complaints about the incentive are enough to put your app in danger. Therefore, using referrals or word of mouth as marketing techniques is preferable to incentivized installs. 
Additional reading: ASO Monthly #84; April 7 – Google's new policy to prevent user manipulation
The number of ratings is not important
Our final myth concerns ratings. It is a commonly held view that the average rating holds more weight than the number of ratings. Indeed, although the average rating plays a crucial role in converting visitors into users, the total number of ratings and their velocity is even more impactful. Experiments confirm that the more ratings an app gets after a new launch or version release, the higher it will be ranked, particularly if competitors aren't getting as many ratings.
Additional reading: Check out the excellent RevenueCat podcast with Ariel Michaeli from AppFigures where he discusses scenarios where apps with the highest recent ratings outrank apps that have been in the store for a long time. We recommend you improve the user journey and discover the optimum point of asking the users for ratings. 
Before you go
Need help on separating fact from fiction with your ASO strategy?

Reach out to us to see how we can help you. 

We cannot emphasize enough how important Custom Product Pages (CPPs) are for  creating the most convenient and relevant experience for visitors to your app.

You can see our Playbook here. 

What happens once you've acquired your user through ASO? If you've got a subscription-based model,

the Subscription Stack

is our framework to help you conceptualize your subscription optimization strategy and understand the essential components of running a mobile subscription business.
Explore the importance of free trial…
---
November 20, 2023
by Anastasia Karpikhina
This month's ASO Monthly edition…
---
November 6, 2023
by Ritwik Arya