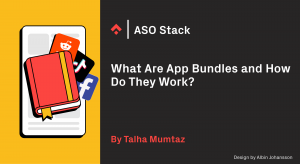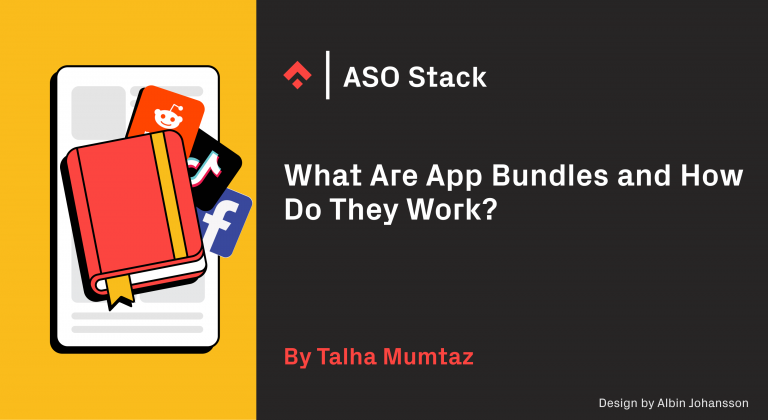 According to Apple, 65% of downloads come directly from search. This means we cannot ignore the importance of keyword optimization, conversion analysis, in-app events, and of course, app bundles when it comes to ASO techniques.
In this article, our sole focus will be on explaining Apple App Store bundles and how they can help you improve your App Store rankings. This is particularly useful if you have a portfolio of apps and want to improve their reach as part of your ASO strategy. We'll be following this article up with an overview of how app bundles work on the Play Store. 

What is an app bundle on the App Store?
An app bundle is a collection of relevant apps from your portfolio that you can offer to users collectively. You can have up to 10 apps in a single app bundle. Each app bundle has its own dedicated product page, icon, and title which is indexed on several keywords (E.g., your brand name). All the apps included in the app bundle should be either paid or free with a subscription. 
Please note that the combined purchase of the bundle needs to be less than the single purchase of items combined from the apps in that bundle. Basically, make sure you give a small discount for buying them all together.
If you look more closely at app bundles, you will see they have their own ratings and reviews. 
The icon on the app bundle is a square with the default app icon dimensions. It contains miniature versions of the app icons packaged within the bundle (up to a maximum of 4 icons). The screenshots for the bundle are chosen from the first app you add to that bundle. 
As it may not be immediately obvious that the title of your app bundle will be indexed, it is important to talk a little bit about keyword optimization. To make this easier, you can choose a unique name for your app bundle. It is highly recommended that you do your research and optimize your app bundle's title with relevant keywords. This will certainly help bring more visibility to your app portfolio alongside other mobile app optimization techniques.
How are app bundles tracked?
The App Store treats app bundles just like a stand-alone app. That means it also receives its own set of performance data insights. You can find a whole range of metrics to observe, analyze, and measure the impact of your app bundles including but not limited to:
Bundle Units (downloads)

Revenue

Returns

Gifts (E.g., if someone buys a whole app bundle as a gift)

Re-downloads
You should note that Bundle Units are not added to the App Install units of each app. To find the total downloads for the apps being sold via an app bundle, set the filter to "Total Downloads". 
How to not confuse the pricing between an app bundle and an app
Firstly, we need to understand that Apple wants the users to benefit above anything else. The purpose of offering an app bundle is to offer multiple apps to a user at a discounted price.This allows the user to receive a reduced price for more apps while the publisher enjoys more downloads and ultimately, more revenue.

But how do you actually decide the price?
Let's assume you have four games at $3 each. So, if a user wants to buy all four games from you, he or she would need to spend $12 buying them individually. However, when you offer all four games in an app bundle, Apple will ask you to keep the price lower than the original $12. If you set the price at $10, you are now giving your potential buyers an opportunity to buy all four games at a discount of $2.
Giving your lesser-known app the visibility it deserves
Another great benefit of using an app bundle is to boost the visibility of less popular apps in your portfolio. You may have some really successful apps and at the same time, some apps you would like to see get more attention. If you are confident about the quality of your product, then it's understandable you want to give it all the exposure it can get. 
As we have discussed in the previous sections, the app bundle gets its very own product page, it also gets its own unique title. As titles are indexed just like stand alone apps, we recommend you optimize your app bundle title with highly relevant keywords for increased visibility. Your app bundle may also appear against your brand and developer name. That will also give you an additional slot in the search results. Additionally, Apple states that it will compile all the keywords from the apps in the bundle and use them to craft your meta relevance and indexing. 
Impress visitors with your best graphics
If you have already seen an app bundle on the App Store, you'll realize that there is a very specific orientation to the apps included. The graphics are taken from the first app in the app bundle. Make sure that the featured screenshots are selected from the app with the highest search conversion rate. This is because the search for app bundles is randomized and highly related to "Browse". Your app bundle will need to utilize all its methods of attraction to convince visitors to download your apps. The better the creatives are, the higher the chances will be of  the visitors converting. 
Therefore be careful when selecting the first app you want to appear in your app bundle on the App Store, as the first icon and screenshots will be taken from that app. You can also upload a custom icon to be displayed as the icon of your app bundle.
What does Apple have to say about app bundles?
Apple App Store bundles can hold up to 10 apps and the user can buy all of them in a single purchase. If you happen to have a lot of apps, you can sort them into different app bundles and offer up to 10 app bundles at any time. You can include an app in up to three app bundles at the same time while having that same app available for individual purchases as well. 
Please note: If you remove an app from a specific market, the app bundle that holds the app will also be removed from that market.
Apple also strongly advises you to write an impressive first few lines for the app bundle's description. This is because a significant number of users do not read the full description and focus on just the first few lines to understand what the app is about. It would be highly recommended that you explain the value of the app bundle in the first few sentences.

To wrap up, if you have several great apps in your portfolio, app bundles have a strong potential to help you up your game and give your apps additional visibility. We hope this article proves to play a significant role in guiding you optimize your apps further. 
Before you go
Graphics play a crucial role when it comes to optimizing app bundles. Make sure to check out our article on how to

structure product page optimization

properly and create optimal graphics for highest conversion rate. 

Even if your portfolio doesn't include a bunch of apps you could put into an app bundle, you could still get more downloads beyond the storefront. Ever heard of app clips? Have a look at this

article

to find out more about these short app versions and give your app a boost.  

If you have any questions, please feel free to reach out to Phiture on

ASO Stack Slack channel.

 
Efficiently compare the costs of your…
---
May 24, 2023

by Simon Thillay
Key subscription metrics help growth…
---
May 17, 2023


by Alice Muir and Sameer Ginotra