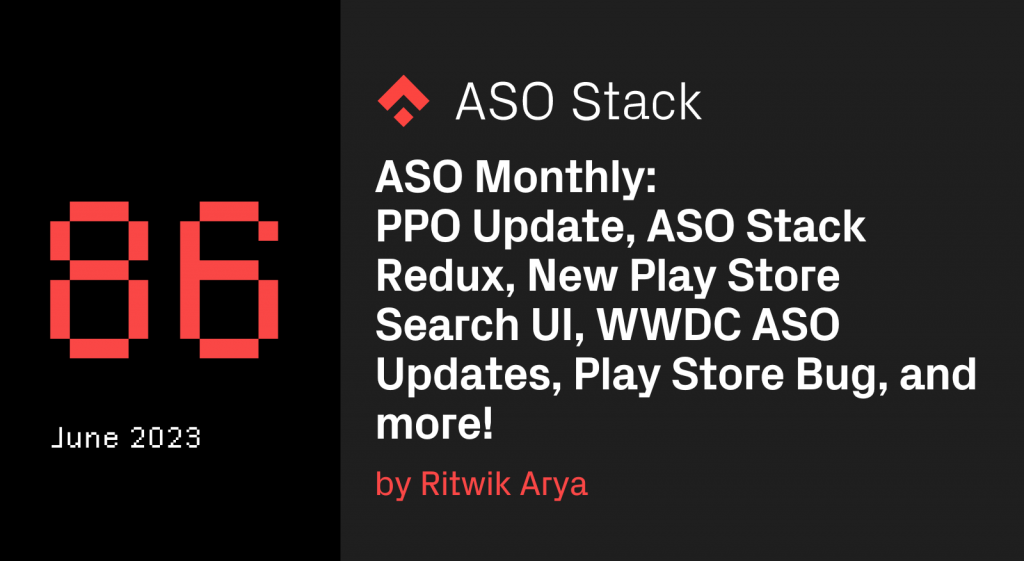 This month's edition of ASO Monthly outlines the most relevant ASO developments from June. Here, we shed light on trends in App Store Optimization, algorithm changes, insights into Conversion Rate Optimization, and tool updates.
This update was prepared by Senior ASO Strategist at Phiture, Ritwik Arya. 
June 1 – ASO Stack redux
We're delighted to announce we have reissued the ASO Stack in light of the ever-changing landscape ASO practitioners operate within. The framework remains the ultimate roadmap to optimizing app visibility and conversion and executing a successful ASO Strategy. With a user-centric approach, it reflects the latest updates from Apple and Google and presents new avenues for organic growth inside and outside the app stores. It's also future-facing with generative AI tools and the impending third-party app store distribution accounted for.
You can read our Redux here, which summarizes the principal changes to the Stack alongside additional reading materials to help you augment your strategy.

Source: Phiture
June 5 – Play Store: in-app product pricing A/B testing coming soon
Pricing in-app purchases across many local markets can be challenging. This is because you would ideally establish the optimal price points for each market, corresponding to local demands, expectations, and purchasing power. A one-size-fits-all global pricing strategy is therefore far from ideal.
To help with this situation, Google will soon allow apps to A/B test local pricing of in-app products using the Google Play Console. This will give the ability to carry out pricing experiments with statistical confidence. With the power to optimize pricing based on real-time market feedback, you can ensure that every penny you invest in user acquisition is worthwhile.
June 6 – PPO tests without app update interruptions are here
With the updated App Store Connect, ASO practitioners can now run Product Page Optimization (PPO) tests even after submitting a new app version. Previously, this was not possible, leading to a reluctance among many to engage in PPO experiments, and with some resorting to using Custom Product Pages for gaining insights into screenshot experimentation. Thanks to this new update, we anticipate a significant increase in the popularity of the PPO feature with ASO practitioners.
Bear in mind that making any changes to the baseline assets in any new app version updates will affect the PPO experiments, as the treatments are compared against the baseline. Therefore, if ASO Practitioners update the screenshots of the baseline while a PPO test is in progress, it will skew the KPIs and influence the outcome of the experiment.
June 13 – WWDC updates for ASO practitioners
WWDC 2023 proved to be as eventful and exciting as anticipated. The Vision Pro grabbed the headlines, while iOS 17 promised a variety of new features. There was plenty to take in from an ASO perspective too. From new App Store Connect capabilities (including the Vision Pro) to enhanced privacy measures. In our recent article, we outline the main strategic ramifications for ASO practitioners looking to stay ahead of the curve.
June 16 – Negative keyword targeting on Google Ads UAC campaigns
Advertisers on Google Play Store will soon be able to add negative keywords to their Google Ads App Campaigns. Unlike Apple Search Ads, where advertisers get complete control over their keyword targeting, it was not the case with advertisers on the Play Store. Earlier,  advertisers were required to get this done with the help of their Google Ads representatives.
But with the new update, we should expect to see more relevant ads in the Play Store, which may lead to more competition against organic results in the Play Store.

Source: Google
June 19 – Reporting bug on Google Play Console 
Ivan J, a member of the ASO Stack Slack community, posted about a Google Play Console reporting bug, due to which there was a sudden drop in the store listing visitors but a steep increase in the conversion rate.  Many other ASO practitioners also confirmed the issue. Additionally, the conversion rate benchmark can also be seen increasing suddenly in the picture below, which solidifies the evidence that this is a bug. Some ASO practitioners have mentioned that their numbers are slowly improving now.

Source: ASO Stack Slack
June 23 – New Play Store search box category brings new suggestions
Google Play Store continues to evolve, as evidenced by the newest UI design tests. More specifically, Google is testing a new search bar with suggestions to explore some categories underneath. We believe that app categories and the tag selection process on the Play Console will become more impactful as ranking high in these categories will increase Explore traffic. As a result, some apps might utilize paid acquisition to improve category ranking and gain more organic traffic. 
It is still unclear why Google chose these particular categories, and it will be difficult to predict what apps might benefit the most from this update.

Source: Google Play Store
Upcoming Events
Droidcon Berlin | Onsite | July 5-7
Fluttercon Berlin | Onsite | July 5-7
MGS Canada | Onsite | July 20-21
Tool Updates
AppTweak: Custom Product Pages Now on AppTweak: App Store Examples
AppTweak: Review Management: Save Time & Reply to Reviews with GPT-4
Apptopia: June product updates: Competitive Intel and Prospecting
App Radar: Why do Google Play Android Vitals matter for successful ASO?
Interesting Reads
The Importance of an Effective Mobile User Acquisition Strategy | AppSamurai
7 Takeaways from the ASO Conference 2023 | Phiture
Unleashing the Power of Promotional Content: Gain a Competitive Edge on Google Play | MobileAction
App Store Screenshots – Guide & Best Practices | Moburst
Phiture Academy 
Take a look at the new Advanced ASO course. Designed for organizations trying to build ASO capacity, or individuals looking to work in ASO. By the end of the course, individuals should have the knowledge and ASO skills required to create, implement, and continuously improve an advanced strategy on the app stores. 
Before you go
Executing successful creative experiments is an iterative process that requires ASO practitioners to continually test new hypotheses. The fundamental component in this journey is the application of learnings from past results to shape your upcoming experiments. More importantly, have you considered that your competitors' apps can offer a wealth of knowledge?
With tools such as AppTweak, you can analyze past A/B test experiments conducted by your competitors within the Google Play Store, even those that resulted in wins. This provides an opportunity to analyze the creative changes they incorporated. This approach will boost your ability to conduct more successful creative experiments in the app stores, enhancing your competitive advantage.
Learn how user surveys and pricing…
---
September 20, 2023
by Pierre Neau
Explore Phiture's AI Labs: Shaping the…
---
September 14, 2023
by Moritz Daan