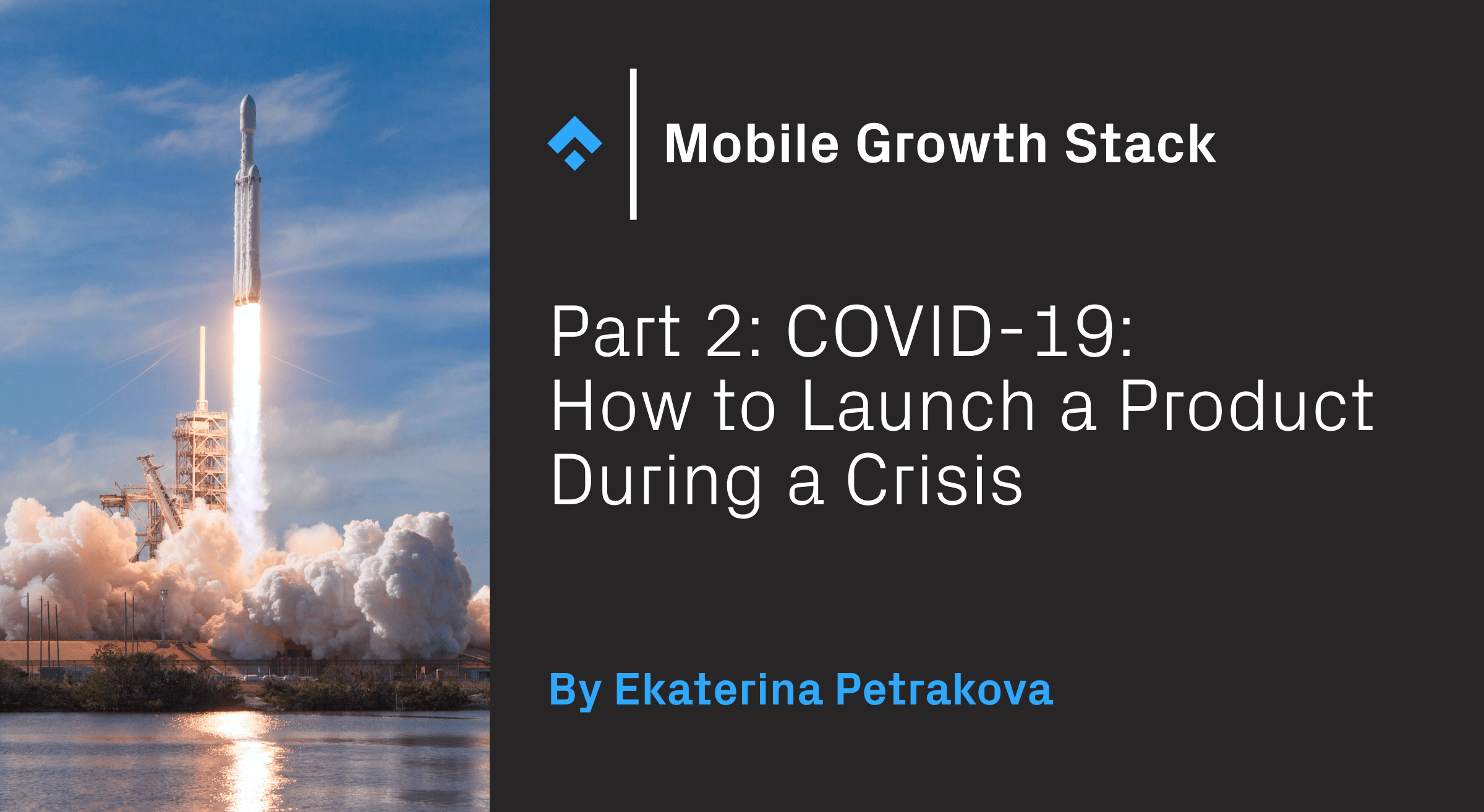 Editor's note: This is a guest post from Ekaterina Petrakova. Over the past 5+ years, Ekaterina Petrakova developed expertise in the majority of online marketing channels while helping to build and grow businesses within the company's investment and incubation network globally. She is currently leading Marketing at Rocket Internet while supporting AHEAD program of Fraunhofer Ventures in Marketing during her free time.
NOTE: This is part two of a two-part series on how to launch a product during COVID-19. Part I, which came out in June, shares tips on how to maintain a product during COVID-19.
Behold COVID-19. Six months after the pandemic, businesses are finally rebounding as they begin to deal with the current situation. In Part I of this two part series, I outlined the importance of maintaining a product during COVID-19, as well as the crucial steps involved in order to do so.
In Part II, I'd like to move one step forward, and talk about how to launch a product during the pandemic. To successfully launch a product during COVID-19, you have to understand what's changed, how your product must be adapted, and what channels/strategies to use. Many of the essentials—understanding your offer, streamlining communications and marketing, and re-working your KPIs—may be the same as when you're maintaining your product during the pandemic. But if you want to successfully launch your product during COVID-19, you need to think about the big picture.
What Does Launching a Product Look Like During Normal Times? 
Before we move into how to launch a product during COVID-19, let's revisit the normal product cycle.  When you launch a product, As visualized below, there's a general development process, with only a few key stakeholders at the center of the process: you (as a company), your product, and your market.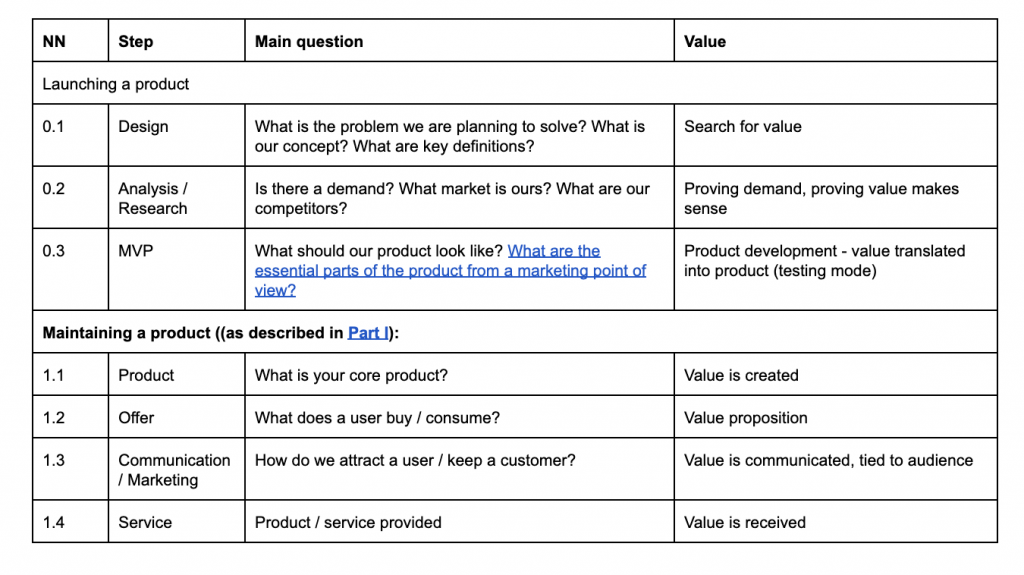 What's Going On During COVID-19? 
As discussed in my previous article, COVID-19 has affected both the launching and maintaining steps of your product. The same issues exist in both camps. Generally, I've observed that the pandemic has led to changes on three levels:
1. On the company level: 
Your teams might be getting smaller, or functions are being severely reduced.

Your teams may not be able to outsource work, given the availability, affordability, needs, and scale of your company.
2. On the product level: 
Your teams may not be able to deliver or provide the product, given the current situation.

Your product updates and modifications take time, resources, research, and new concept ideation.

The product was made for a previous state of the market. 
3. Lastly, on the market level:
The market may no longer need the product you're offering.

The market may not be able to receive/consume the product, especially if you're offline. 

Financial and consumption habits are changing rapidly.

User habits/behaviors are also shifting rapidly—so too are platforms and routines.
You should also consider the following questions at this stage too if you're about to launch a new product: should we postpone the launch? Does it make sense to adjust your product? And how do we allocate resources? 
Thinking about it from the user-perspective, you should also be asking questions around what your marketing should look like. How can we prove that a product is needed when our core audience is no longer there/has changed? During COVID-19, your communications and marketing need to be adjusted alongside your offer. The rest of this article will focus on how to show and market your product—less on the product adjustment side.
And if it's possible to postpone the launch until the situation stabilizes, that's probably a great idea. However, if the pressure is on, then read further. 
Two ways to address the circumstances during the pandemic if you want to launch a product:
Let's start with addressing the circumstances. Starting from ground zero ensures you get a full picture of what's going on during COVID-19.
      1. Start with the offer
a.  If there was no offer before, it's critical to do it right. You upload your app to the app-store and it's there. Apple and Google favor new apps—that means that if you have good engagement, you can move much faster. Make sure there are no bugs, all tests have been done, and that you can manage all the users you have.
b. There's no trust built between your brand/product and customers—yet. At this point, there is no legitimation for users to download your app, especially if it's a subscription-based app. Customers need to feel safe using your app, so sensitive marketing campaigns and creating the right touchpoints are essential during this time. 
c. For that reason, consider that your future and reputation is at stake. When you launch your product, make sure every bug or potential pitfall has been addressed. Fail in the beginning and you probably won't be able to come back. Every mistake will increase the chances of the user not coming back, too.
With these three points in mind, there are a few offer adjustment must-haves during this period: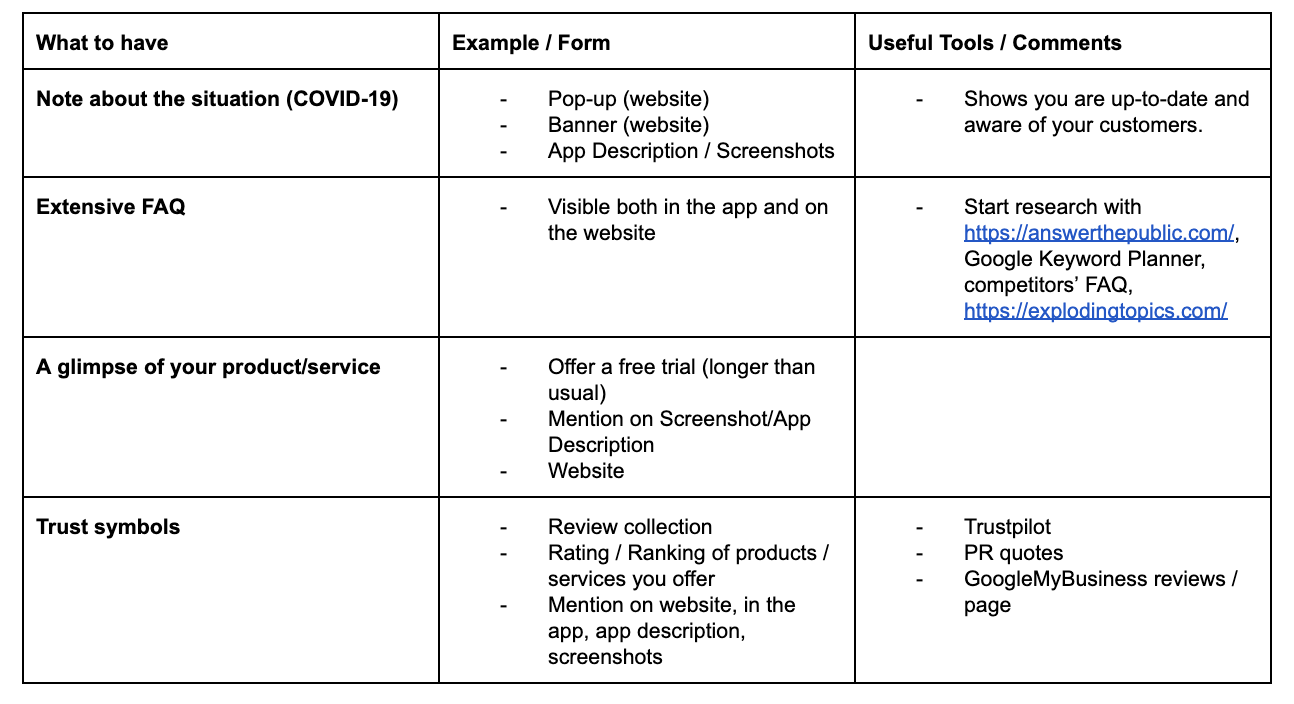 2. Continue with communication and marketing channels
a. Review your KPIs. The primary goal of every new business is to prove that it's needed, and is providing value to its users. In normal times, KPIs are measured along growth and revenue lines; but during the pandemic, this may seem slightly challenging. In terms of KPIs, the current crisis should shift your focus from your top targets to move them one step lower—and redefine the lead capture process. By collecting these leads, you prove that there's demand, and that there are potential customers that have already already entered the first step of your product's customer lifecycle.
For example, if you had Downloads/Installs targets, it might be difficult to reach them at the moment. However, you can focus on engagement with those customers who actually installed your app: focus on DAU/MAU or average repetition of key events per user. Optimize for the time being for these KPIs while other KPIs are not representative yet.
b. Look at consumer behavior, not just static KPIs. We all love MMPs and acquisition data. However, these variables don't always answer the questions that are critical during the crisis. Invest in analytics and make sure you keep an eye on what the user is actually doing in your app, and what the journey looks like.
Some questions you should think of: what does the average user journey look like now? What does the user journey of your highest customer look like? Think about drop-offs, feature usage, and touchpoints too.
c. Advertise products/services out of necessity, well-being and helpfulness during the crisis. If you're a fitness app, you should focus on home workouts and workouts with no equipment instead of group, high complexity and costly ones. Fitness app Freeletics is a great example of doing exactly that, and making some of their paid content free since the onset of the crisis. (see below).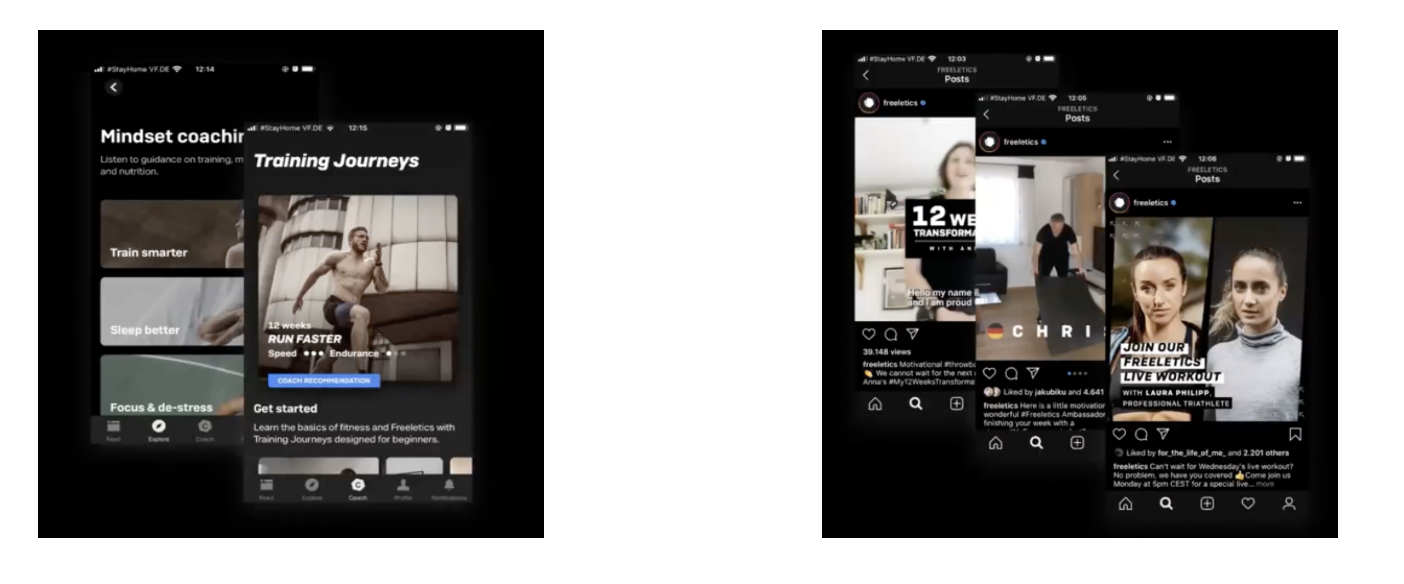 If you're an e-commerce app, focus on products that are useful in the time of crisis, including loungewear, comfort wear, sports outfit for workouts at home, hygiene products. 
d. Do not allocate all your budget at once—and only on one channel. Previous expectations and calculations probably won't ring true anymore—that's why it's important to test channels and look at a broader landscape. If you have to choose between channels, target ones that are most trusted by users or have a higher level of control over an audience that you can target. 
Where to look at potential channels? Tools like smartly.io have the whole bunch of recommendations on social media strategies during COVID-19. The majority of tools have provided webinars and training during that time—make sure you participate in those that are relevant or unlocked by you yet.
e. Think twice about your tone and message. During the pandemic, many users are very vulnerable and sensitive in terms of how they relate to your product. Don not manipulate medical information, and avoid using crisisterms  in your ads/messages. Instead of using "signup for free during COVID-19" use "Free signup for you to train in the comfort of your home," for instance. Use this opportunity to showcase your brand and your values. Challenging times are not the right ones to use shady messaging—people need to know whom they trust, and your brand needs to be in the spotlight during this period.
f. Prioritize your markets. You might not be relevant or able to go full speed in every market you've previously considered. Check the situation per market and adjust your marketing strategy respectively. It might make sense to postpone some market launches before users get a taste for your product, or explore your product in full. When choosing, prioritize digitally advanced markets and markets with lower level of restrictions during the crisis.  SimilarWeb created an open source of information regarding COVID-19 impact on main industries—look where your potential customers spend time (even Statista is relevant for checking) and what they are doing.
Adjusting Your Product Once it is Launched
It might be challenging to do product changes if you've just released it. There's not enough data to make assumptions and have hypotheses, and resources may be limited. You also have limited time to develop and launch a product. User behavior is constantly changing in concurrently with the development of the pandemic.
Here's what you should prioritize:
Always have detailed tracking.

Tracking is king: if you don't know what your customers are doing in your app, you don't know anything about your product. Having a proper

tracking concept

can be especially handy when you are trying to find new KPIs and trends among your customers. 

Easy onboarding.

Onboarding should fit your product

: if half of the features you showcase during the onboarding process are not relevant for the time, then it'll be frustrating and annoying for users.  Adjust your onboarding and focus on free features you have unlocked/offer—they should be visible. 

Anything that reduces the crush rate and increases the stability of the app.

It's always important. But it's especially important during the pandemic, and especially for new apps. Google and Apple statistics show it all: you do not want to frustrate your customers at this time. It's better to take on less features and keep it stable than have more that simply don't work. 

Easy features that are relevant during the pandemic.

The final easy check: would you use this feature now yourself? If yes, work on it. If not, postpone it until the pandemic subsides, and the market is more stable.