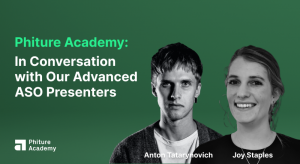 With the release of the new Advanced ASO course for Phiture Academy just around the corner, we caught up with instructors Anton Tartarynovich and Joy Staples to reflect on the learning material and the flourishing field of ASO. Anton and Joy come with a wealth of mobile growth experience and are key components of Phiture's ASO Team. Let's meet them.
Anton Tatarynovich is Phiture's Senior Acquisition Strategist and brings a wealth of knowledge and experience to the Advanced ASO course. Anton has worked with companies ranging from startups finding their feet in the app stores to Future 500 enterprises keen to safeguard commanding positions. Anton has also worked with apps of all stripes, including health and fitness, utulities, navigation, entertainment, shopping, news, graphic design, and photo and video. The insights gained from working across multiple categories translates into a wide ranging understanding of how to approach ASO, and Anton regularly shares these insights by speaking at conferences, writing blogs, and leading discussions online. 
Joy Staples is a Senior ASO Consultant for Phiture, working closely with numerous clients and their apps to optimize their presence on the app stores. Joy's expertise rests primarily in mobile app localization, however she is also responsible for driving forwards Phiture's ASO user research efforts. Because of Joy's experience of conducting user research, she is well-known in the industry and is regularly invited to speak on panel discussions, at conferences, and on webinars to share her wealth of knowledge. Joy is also a regular writer for Phiture's blog and contributed to the Advanced ASO eBook. 
What is your ASO origin story?
Anton: My first job in the mobile growth industry was with a company called Split Metrics. They are responsible for developing an A/B testing tool for creative optimization for ASO. They also created a platform for managing Apple Search Ads. By working with those products I was given my start in the ASO industry. After that I learned as much as I could about ASO. If only there was a Phiture Academy then! After that I started to work with ASO in a more hands-on fashion.
Joy: My story is a little less direct. My educational background is actually in tourism. When I graduated COVID was seriously impacting the tourism industry – not a great time to join. I did a few digital marketing courses online, not specifically ASO.
I got a job with a company in Berlin working with Swiss clients. I was trained on-site to become their ASO manager. This meant plenty of localizing work in French, German, Italian, and some English. This was a smaller company with limited budget, so it was a great opportunity to learn the ropes and work efficiently. My theoretical knowledge was formed there but there wasn't much chance to develop my practical abilities. Once I joined Phiture – larger clients and larger budgets – that's when things really started to take off.
Self-paced online learning gave me a chance to retrain and change tracks into a growing industry. That's why I think it's so great that Phiture Academy is offering these courses.
For anyone interested in becoming an ASO manager, what does a typical day look like?
Anton: It's a cliché but it's true – there is no typical day in ASO. There's a different job to do for every day of the week and then more. From reporting, keyword optimization, and marketing competitor analysis, to creative optimization, hypothesizing on strategy and A/B testing to optimize conversion rates. Bear in mind we don't just focus on one at a time. These staple tasks are constantly competing for our attention. It's a real mix and the ability to prioritize is key.
Joy: I would just add to that, communication is a big part of our day. Responding to Slack and email messages, as well as keeping clients up to date with current statuses. They often have questions that need answering quickly. Another large part of my particular job in ASO is setting up experiments, running them, and analyzing the results. This is a continuous process to create reports and readouts for the clients.
Creating roadmaps and strategies you can follow in the long term is also an important part of an ASO manager's day. You can't be reactive and try new solutions on a daily basis. There needs to be a defined path to follow and each day should be planned around that long-term vision.
So, what are you both teaching in the new course, Advanced ASO? 
Anton: I'm the presenter, together with Joy. We cover everything from search and conversion rate optimization to topics such as Custom Product Pages and in-app events. So, you'll see my face a lot.
Joy: I'm presenting the how-to videos. The how-to videos are basically there to complement Anton's lessons. Everything that Anton explains in the lesson will be demonstrated in a very hands-on way. So, Anton's side is more theoretical and I'll be showing people how to actually do things.
What can learners expect from this new course?
Anton: After completing the Advanced ASO course learners can expect to have an up-to-date understanding of advanced ASO practices. We should mention that advanced doesn't mean complicated. Learners can expect bite-sized lessons where important points are supported with a practical demonstration. It's all self-paced so we won't rush ahead without you. Once the course is complete learners can expect to practice ASO in the app stores with confidence.
Joy: Because this is Phiture Academy, learners can expect more than the average e-learning offer in mobile growth. With a highly motivated and engaged ASO team, the collected knowledge of that team is what makes Advanced ASO so valuable. Learners can expect detailed insights, with up-to-the-minute information. For example, we have whole chapters and sections dedicated to the latest Apple and Google releases, Custom Product Pages, Product Page Optimization, and more.
We provide regular opportunities to improve the learner's retention through quizzes, reading materials, and, of course, the how-to videos!
Who is this course for? Should they already have ASO knowledge?
Anton: Of course, it helps if learners already have some familiarity with ASO practices. Ideally, it's for learners who have already completed ASO for Beginners. Advanced ASO carries on perfectly from where the beginners' course left off. We highly recommend learners check out that course first before moving on. The good news is that the beginner's course is still free on Phiture Academy.
If you're jumping in with some ASO knowledge already built up, you'll get what's going on right away. All the lessons are structured in a really clear way. Phiture has a long history of sharing ASO knowledge with the field, so we've got pretty good at communicating it well.
What's great about this course is it's also for those who may already be ASO experts. As Joy said, these lessons have loads of up-to-date tips and information – it's perfect if you want a refresher of new industry standards.
Lastly, even if learners aren't involved directly with ASO, it's still a great opportunity for them to add another string to their bow and understand what happens on an ASO front – performance marketers, product teams, and these kinds of professionals.
Joy: I also think Advanced ASO would be beneficial to one-person 'teams.' There are a lot of professionals out there handling multiple apps and locales by themselves. That's a huge amount of work. Advanced ASO gives them new insights into how to make their processes more efficient. We give loads of tips on how to get the best results through optimized and prioritized work.
Why is learning about ASO so important for mobile apps?
Anton: It's incredibly important because no matter where a user has come from – performance marketing, PR, web traffic, organically – they're all going to end up on either the Apple App Store or Google Play stores. Understanding how these environments work and how to optimize them for your product is crucial.
ASO teams are often tasked with organic user acquisition. Bearing in mind the recent privacy changes and other changes in the industry, it becomes even more important to maintain a steady flow of organic users. Having a trained and up-to-date ASO team, or solo ASO team member, is crucial to making sure that happens. Advanced ASO is perfect for that.
Joy: The app stores are also highly competitive spaces. If your product page is sub-optimal or you're not ranking for the keywords your audience is searching for then someone else will take over. So, learning about ASO is critical to being found. Once your app has been found through optimized keywords you need to make sure your product page is up to scratch and actually appealing to your potential users. Product page visitors can't touch or hold your app like a physical product, so screenshots and app icons become the packaging. App creators will want to make the best and most accurate impression they can.
Good ASO doesn't guarantee success on its own. Mobile growth professionals will need to implement various other acquisition practices too. However, it is a crucial one and without it, it will be a lot more difficult for your app to be discoverable without ASO.
Before you go
Phiture has acquired ASO Giraffe, now…
---
November 29, 2022
by Wolfgang Peters
Learn the strategies and techniques for…
---
March 14, 2022
by Phiture