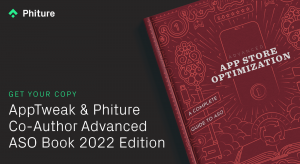 March 2022 saw the launch of the latest edition of the eagerly awaited Advanced App Store Optimization eBook. Following the success of the first edition in 2018, Phiture has partnered with AppTweak for this updated version to evolve and strengthen ASO community knowledge. 
Back in 2018, Phiture partnered with Incipia to co-author Advanced App Store Optimization: The Complete Guide to ASO. This fast became an essential resource for the industry and sold thousands of copies around the world. Now, Phiture has partnered with AppTweak to bring you the updated version, which includes all the latest strategies and techniques for app store success in this fast-paced and ever-changing industry.
With their renowned app store knowledge and a shared desire to educate the ASO community, AppTweak was the clear choice to partner with Phiture. The industry has evolved a lot since 2018 with algorithm changes, new features, and advanced functionality, so it was time for a new and revised edition to shed light on these changes.
"In this big endeavor to get the 2018 version up to the 2022 App Store Optimization standards, we were fortunate to get the help of our talented friends on the AppTweak team. The result is a fantastic 600 pages, counting all-encompassing work for App Store Optimization practitioners around the globe."
Moritz Daan, Co-Founder & Partner at Phiture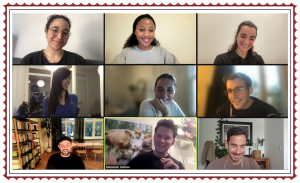 Weekly Zoom call between Phiture, AppTweak, and Haystack Reviews (picture from November 15, 2021).
What can you expect from Advanced App Store Optimization?
Written by Moritz Daan and Maggie Ngai, this book combines the knowledge and experience of some of the leading experts in the field. With contributors from AppTweak, Phiture, Haystack reviews, and more, there are 8 chapters packed full of strategies, tips, expert advice, and discussions that take a deep dive into ASO. 
Introduction

– Learn how App Store Optimization has evolved over time. 

Increasing Visibility

– Understand how to drive awareness and increase visibility in key mobile marketplaces.

Increasing Conversion

– Learn how to develop strategies to turn visibility into conversions.

Localization & Seasonality

– Understand how to open your app up to a global audience through localization.

Ratings & Reviews

– Acquire user feedback and make the most of the data through triggers, prompts, replies, and more.

Store Promotional Tools & Customer Information

– Get a walk-through of all the promotional, search, and developer tools and information at your disposal and learn how to use them to deliver the most impact.

Performance Reporting Dashboards & ASO Tools

– Understand how to use dashboards and third-party tools for performance reviews. 

A Guide to Apple Search Ads

– Find out how to utilize the ASA Stack and tools to develop your ad groups and keywords. 
"Among the best resources I've seen for ASO. As the amount of information around ASO grew, the quality often didn't follow — and it's not uncommon to read plain wrong advice, even from respectable sources. That's where this book really stands out from the crowd by the depth of information it gives, but also by the rigorous standard its authors aimed for."
Thomas Petit – Growth at 8fit
About the Authors
Moritz Daan co-founded Phiture alongside mobile industry expert Andy Carvell in 2016. Since then, he has helped develop ASO strategies for a variety of apps including Bumble, Headspace, LEGO®, and komoot. Maggie Ngai leads a team of ASO experts providing mobile growth consultancy services to brands like Adobe and Headspace. Maggie shares her expert knowledge of mobile growth and ASO at various conferences and advocates for the collective growth of the industry. 
The ASO Community
This eBook is both by and for the ASO community and draws on the amazing knowledge within a community that has always embraced collective learning. The ASO community's values of research, innovation, and community engagement are at the heart of this book. That is why the Advanced App Store Optimization includes:
600 pages of compelling, insightful, and easy-to-read content that will add value to your understanding of ASO.

30 pro tips highlighting industry best practices.

35 data/case studies leveraging our deep learning algorithms to highlight actionable insights.

20+ contributors drawing on collaborations between Phiture, AppTweak, Haystack Reviews, and more.

"Our strong partnership with Phiture is the result of our shared cultural values and commitment to ASO education. We are very proud to have collaborated on Advanced App Store Optimization to provide the ASO community with an updated version of this fundamental resource." 
Olivier Verdin, CEO at AppTweak
Since the beginning of 2021, AppTweak and Phiture have enjoyed a business partnership based on mutual respect and collaboration. They co-hosted the ASO Conference in 2021 and now, with the release of Advanced App Store Optimization, they continue in their shared mission to support the ASO industry with expert knowledge and advice.
Explore other recent articles