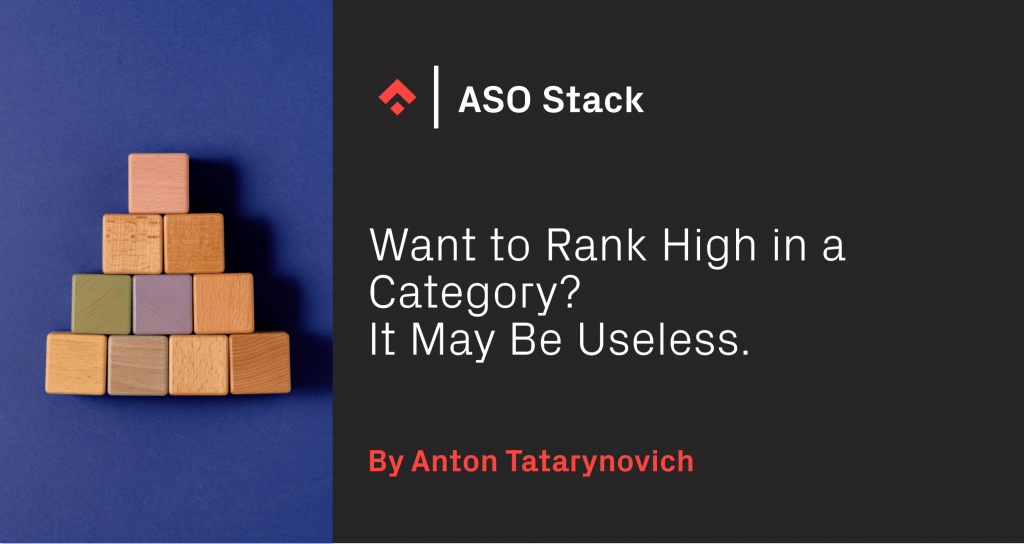 On a list of the top questions our clients ask, "How can we rank higher in our category?" would definitely make it to the top five.
The good news is: we know how to make an app rank higher at Phiture.
The bad news is: it doesn't really matter — on the App Store at least.
The following article is based on research done on iOS 14.6* in the German storefront. I suggest that category rankings, which used to be one of the best ways to increase Browse visibility on the App Store, are far less important on iOS 14 to the point that rankings optimization may not be worth the effort.
*On older versions of iOS the layout of the App Store may differ.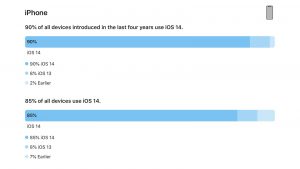 To support this claim, let's first try to find a list of categories.
To find a list of available categories on the App Store, a user has to scroll down (approximately 5 times) to reach the very bottom of the "Apps" or "Games" tabs. On their way, the user sees collections and editorial stories, as well as a cumulative "Top Free" ranking, all of which are distracting and decrease the likelihood of our user ever reaching the list of categories.
But let's assume our user is motivated (or very bored), and reaches the very bottom of the Apps page. At this point, they'll only see a shortlist of the top six categories. If we're lucky enough to have our app in one of those categories — great! If not, a user will have to tap on "See All" and find our category like that.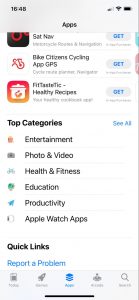 NB: The top 6 categories on the App Store are not based on overall downloads or revenue volume. Sensor Tower data shows that of the top six categories by downloads volume/revenues, only three made it to the App Store's list. This list is most likely compiled manually and takes into account downloads and revenues, as well as factors like interest to Apple (Apple Watch Apps) or perceived importance of certain categories (Education).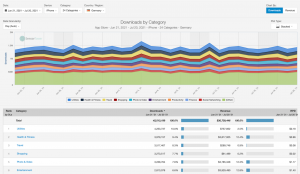 The process to reach the list of categories requires 6-15 taps. On Google Play, it only takes one.
Once we reach the desired category, let's see who ranks in the Top 10. This means that we need to find the "Top Free" ranking on the category page.
We found out that of 27 App Store categories, only 7 have Top Paid and Top Free rankings on the first screen after opening the category.
Top ranks on 1st screen:
Books

Finance

Magazines & Newspapers

Medical

Navigation

Reference

Weather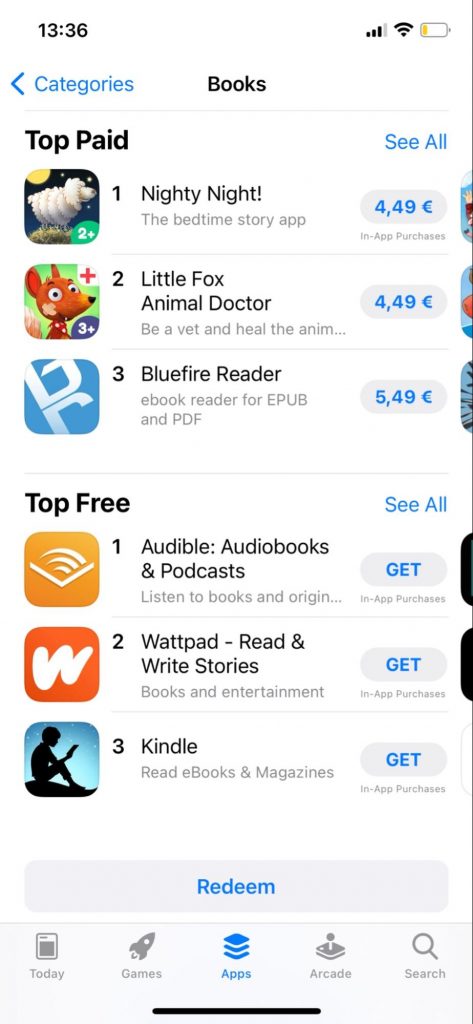 For the other 20 categories, the user is first greeted with editorial collections: generic, such as "Apps We Love" and "Editor's Choice," or category-specific, such as "Brush Up Your Skills" (Business). The Top Free and Top Paid rankings can also be found at the very bottom of these category pages, usually only accessible after scrolling through 7-18 editorial sections.
Needless to say, every one of the editorial collections further decreases the user's chances of reaching the category's Top Free rankings.
Reminder: On Google Play, the same process would take us 3-4 taps, with no exposure to editorial stories.
Even after going through that process, there's no guarantee that a user will reach Top Free category rankings because, for some categories, Top Free and Top Paid rankings aren't visible at all.
I repeat: some categories have no Top rankings whatsoever. They are visible in ASO tools' data via RSS feeds provided by Apple but not on the App Store itself.
During my analysis, I found that the following categories have no Top Free and Top Paid rankings:
Apps:
Apple Watch Apps

AR Apps

Developer Tools

Graphics & Design
Games: 
This means that if a game or app is in one of those categories, even ranking #1 will not guarantee to generate any significant number of Browse impressions. The only chance to gain any Browse visibility, in this case, is to get featured.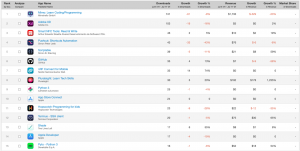 Final thoughts
The easiest way to increase category ranking is to switch to a less competitive category. As discussed above, this likely won't drive a substantial increase in organic Browse impressions and app units. However, if you are thinking about changing category to increase organic Browse visibility, consider the following:

Influence on Editorial featuring
So far, we have no proof that changing categories affects an app's featuring. E.g. In the story "Create a blockbuster movie," we found apps from both Photo & Video and Entertainment categories.
Influence on search rankings
As the category name is indexed, changing a category may affect your app's visibility. To prevent that, make sure to include keywords from the category name in your metadata.
Visibility of Top Free category rankings in the new category
As we found out, some categories don't show rankings at all. Moving to such a category for the sake of increasing organic visibility would be useless even though ASO tools' data will show an increase in position. Before changing categories, check if your new category has Top Free rankings visible in your key storefronts.
Influence on conversion
While ranking in the Top 10 in a category may not deliver substantial results in terms of visibility, it may positively impact conversion rate. Your app's category ranking is highlighted right below the "Get" button, and if the ranking is high enough (i.e., Top 10), it may work in your favor in terms of social proof and could increase your app's conversion rate.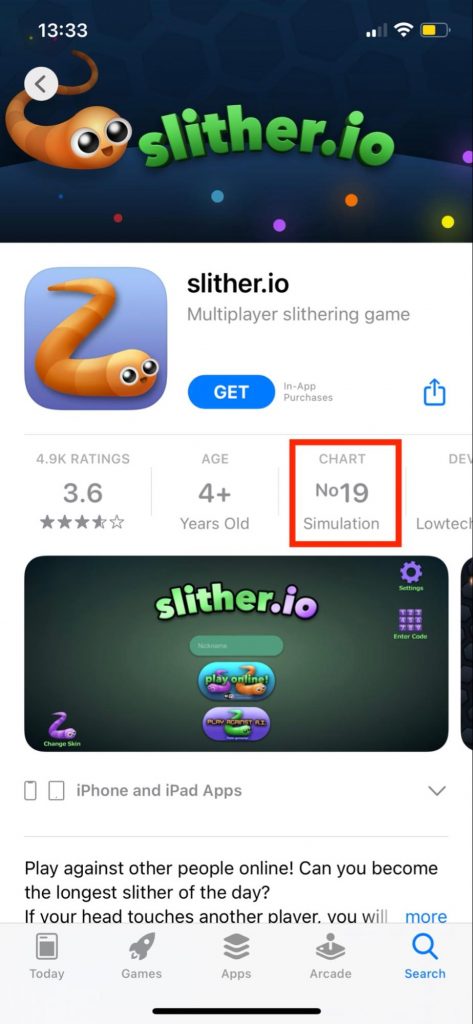 Additionally, tapping on the category ranking opens the Top Free rankings page, which is arguably the fastest way to get there.
Have any thoughts or additional information about category rankings in other markets or different versions of iOS? Share in the ASO Stack Slack group. We'd love to hear back from the community and further solidify the research.
Edit, August 6 2021:
Reaching Top category rankings:
There are a few other ways to reach the Top Free category rankings besides the process described above:
Aggregate Top Free rankings are prominently available on the Apps and Games tabs. To reach the category rank, a user has to go to the aggregate ranking, tap on the "All Categories" icon in the top right corner, and choose a category. Arguably, this route is not obvious to many users.
When visiting a product page, a user can tap on the ranking icon below the "Get" button and reach the category's Top Free ranking page.
Visibility of Top Free rankings on category pages:
In the US, there are no "Top Free" or "Top Paid" rankings in the following categories: Apple Watch Apps, AR Apps, Medical, AR Games, and Indie. There appears to be some variation between different storefronts.
In the US, Top Free rankings are not visible on the first screen for any category. Every category has a number of editorial sections before Top Free and Top Paid rankings.
Learn how user surveys and pricing…
---
September 20, 2023
by Pierre Neau
Explore Phiture's AI Labs: Shaping the…
---
September 14, 2023
by Moritz Daan