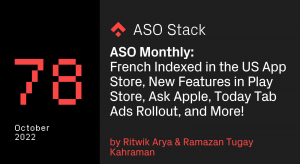 In the ASO Monthly series by ASO Consultancy Phiture, we reflect on the previous month and shed a light on trends in App Store Optimization, algorithm changes, insights in conversion rate optimization, and tools updates.
This update was prepared by Senior ASO Strategist, Ritwik Arya, and Ramazan Tugay Kahraman, Senior ASO Keyword & Metadata Specialist at Phiture. 
October 4 – Algorithm update in Google Play Store
AppTweak's App Store Algorithm Change Detector picked up an algorithm update in the Google Play Store on October 4. This update mainly affected the US, France, Spain, Norway, Finland, Malaysia, UAE, and a few more countries besides. Algorithm updates lead to changes in keyword movement and the overall app store visibility of apps. This requires ASO practitioners to gauge the impact of this shift on the organic performance of apps and look into the signals that are more valuable for the algorithm.

Source – AppTweak
October 4 – Drop in App Store net revenue in September
Morgan Stanley reported the Apple App Store witnessed a 5% drop in net revenue in September. This decline was mainly driven by a fall in gaming revenue by 14%. The worldwide economic slump has been cited by Morgan Stanley as the cause of the App Store's decreased sales. Consumers are switching from purchasing digital goods to more essential items as a result. Because of this, apps with high-value in-app purchases could become less popular in the App Store. 
October 6 – US App Store now supports French localization
Vadim Lysenko, a member of the ASO Stack Slack community, shared a screenshot of the French language now being supported as a localization for the US App Store. This would allow ASO practitioners to further boost app visibility in the US using cross-localization, as apps localized in French will also become ranked in the US App Store.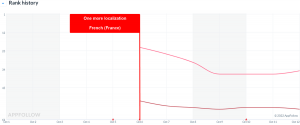 Source – ASO Stack Slack
October 11 – Apple introduced Ask Apple for developers
Apple announced Ask Apple, a new series for developers to directly connect with Apple experts. From October 17 – 21, app developers and marketers were able to get their questions answered by Apple experts and also request a one-on-one 25-minute consultation to discuss topics ranging from the App Store to Design and App Services, to Augmented Reality, ML & Vision, and so on. This highlights Apple's efforts to help app developers and marketers deliver high-quality apps to the App Store. We expect to see similar series by Apple in the near future for app developers and marketers.

Source – Apple
October 13 – New features added by Play Store to showcase apps
Google is redesigning the Play Store for large screens like tablets, foldables, and Chromebooks. Now app marketers can expect more exposure to their Store Listing creatives as Play Store will be using app screenshots, videos, and descriptions directly in Apps and Games Home. This increases the opportunities to better highlight app offerings for a more general audience exploring the Play Store. Play Store has also enabled screenshot support for Chrome OS to accurately portray the Chromebook experience. This is an added opportunity to optimize store conversion rate if your app is available on Google Chromebooks. Lastly, Play Store added "Homepages for Other Devices", to curate sections of apps for devices such as watches, TV, and car technology.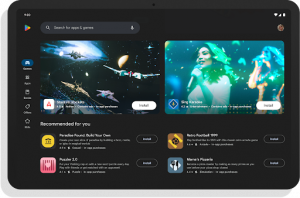 Source – Android Developers Blog
October 20 – Preview video support on App Store web
Vitalii Hubaryk, a member of ASO Stack Slack, reported that the web product page version of the Apple App Store now supports app preview video. Previously, app preview videos on product pages were only visible within the mobile version of the App Store but now users browsing the internet on the desktop will also be able to see preview videos. It will be interesting to see the impact of this change on the users landing on the web version of the App Store product page.

October 24 – Updated App Store Review Guidelines
Apple App Store updated the store guidelines for app reviewal. Now Apple requires app publishers to "Provide App Review with full access to your app. If your app includes account-based features, provide either an active demo account or fully-featured demo mode, plus any other hardware or resources that might be needed to review your app (e.g. login credentials or a sample QR code)."
You can find the link to the complete set of guidelines here. According to Apple, this update will help in protecting customers, improve the app approval process, and detect harmful and misleading apps. 
October 26 – Today tab placement in Apple Search Ads is live
Apple Search Ads has begun rolling out ads on the homepage of the App Store, i.e. the Today tab. This placement is very prominent because millions of people launch the App Store and land on the Today tab. Having ads running in this space will make the Today tab much more competitive, and also provide app marketers an opportunity to showcase their app on the same spot where other apps are organically featured thus leading to higher brand exposure. It is yet to be seen what results this new placement can yield for apps in terms of acquisition and cost, or how it can be combined with other ASO efforts.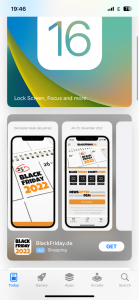 Source – Apple
Upcoming events
App Growth Summit Austin 2022 – Onsite – November 16
Tool Updates
Sensor Tower: Pathmatics by Sensor Tower – Social Channel Expansion
Adjust: Conversion Hub: Adjust's all-in-one solution for smart, easy, & effective conversion value mapping 
Mobile Action: Find High-Intent Paid Keywords with Search Ads Intelligence 2.0!
Interesting Reads
Which apps need ASO: global market research ASO Index 2022 | ASO Desk
App Not Responding and Crashing? How Poor App Health Affects Visibility and Conversion in the Google Play Store | Phiture
App Indexing: How To Index Your App on Google | Apptentive
What They Don't Tell You About Apple Search Ads and ASO | App Figures
Tips to Monitor ASO Performance & KPIs to Measure Success | AppTweak
Optimizing For the Most Competitive Keyword in the App Store |App Figures
Before you go
Aleksandr Nechaev shared an interesting tactic on LinkedIn to improve CPI and store conversion rate of games. By applying black and white filters to screenshots of games, we can see the contrast between the main character, the objects in the background, and the environment. By changing the contrast levels of different elements, the main character could be made more prominent and noticeable, helping the main character stand out and making the creatives more clear for colorblind users, possibly leading to an improved store conversion rate.
There are solid reasons you should be…
---
March 22, 2023

by Gizem Akgül and Natalie Rozenblat
Here we outline why Apple Peer Group…
---
March 21, 2023

by Ramazan T Kahraman